No Comments
Staying Warm with a Barrel-Aged Ultimate 6er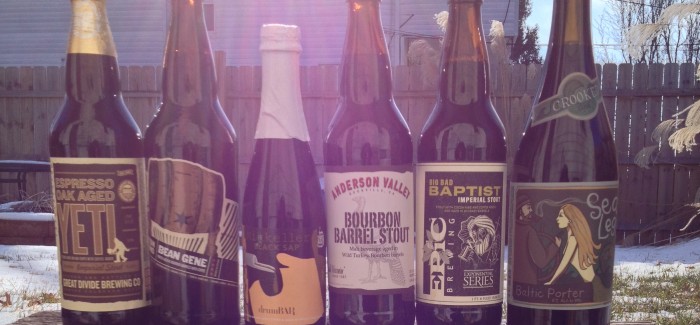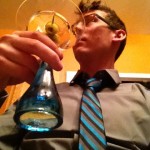 Unlike our friends in Denver, the rest of the nation has been getting cold. Really cold. So cold that there are swirling cyclones of polar bears flying across the country biting our faces off as soon as we walk outside. Well my friends, lets not get polar vortexed and instead stay inside and have a beer. But not just a beer, six beers, and not just beers, but barrel aged high ABV warming goodness. Let's face it, when you want to be warm you need a drink that's not only alcoholic, but one that has been aged in alcoholic vessels. So let's not fool around anymore and get this barrel aged ultimate 6er started.

A great beverage to start out with to get that nice and cozy beer jacket on is the Anderson Valley Bourbon Barrel Stout. This stout has not been aged in any old bourbon barrels. It has been matured for three months in Wild Turkey bourbon barrels. You know, that shit your cousin makes you take a shot of whenever you go over there. Yes. With an ABV of 6.9% and smooth bourbon flavors, you'll be feeling warm in no time. Who knows you may even see that beer with antlers out walking around in the tundra.
---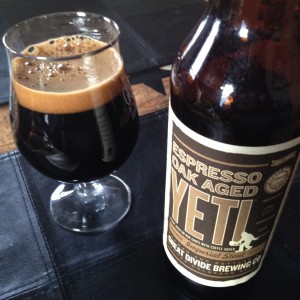 After the first beer you may be thinking, "I've got my beer cardigan on but I'd really like to have a beer parka". So this next beer will take you there. Although the Espresso Oak Aged Yeti is not barrel aged, it still spends plenty of time maturing on new French and American oak chips. The intense espresso flavors and the thick bold body gives this beer a rightful place in the 6er. The 9.5% ABV will wrap you in a beer parka in no time. On second thought, after finishing a glass and stripping down a layer you might even feel like your wearing a yeti coat. Boozy, espresso-packed and full of great flavor, the Espresso Oak Aged Yeti will make you forget all about the rampaging polar bears outside.
---

Looking out the window, I see cars struggling to get up the hill. There are a group of five guys standing idly by watching its endeavor. Not one of them lifts a finger. It is the polar apocalypse. Man against man. So I decided it's time for the third beer in this 6er. A brew from the Crooked Line series by Uinta, Sea Legs baltic porter is a robust beer that has been aged in wooden barrels and has an ABV of 8%. Gotta keep that beer parka on. A vanilla bourbon nose, that looks into a dark, inky body is the first sensory satisfaction of diving into this beer. Flavors of clean new oak and smooth coffee will keep you sipping on this and watching the chaos of the winter world out your window.
---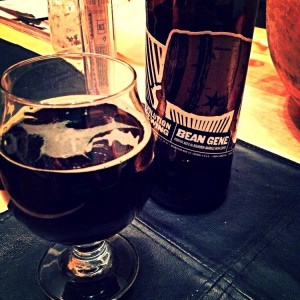 Feeling sleepy yet after all the barrel aged monsters? Well fear not, this next limited release from Revolution will be sure to wake you up and help you continue your banter of all those trudging in the cold. The nose alone smells like a fresh pot of coffee and the flavors of vanilla, bourbon, and dark chocolate will dance on your tongue as you sip this bottle of freedom down. You want coffee, bourbon, and beer all at the same time? Well find yourself this rare beer from the Deep Wood Series of Revolution Brewing and pledge allegiance to the freedom of brewing.
---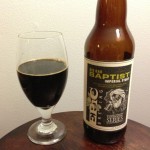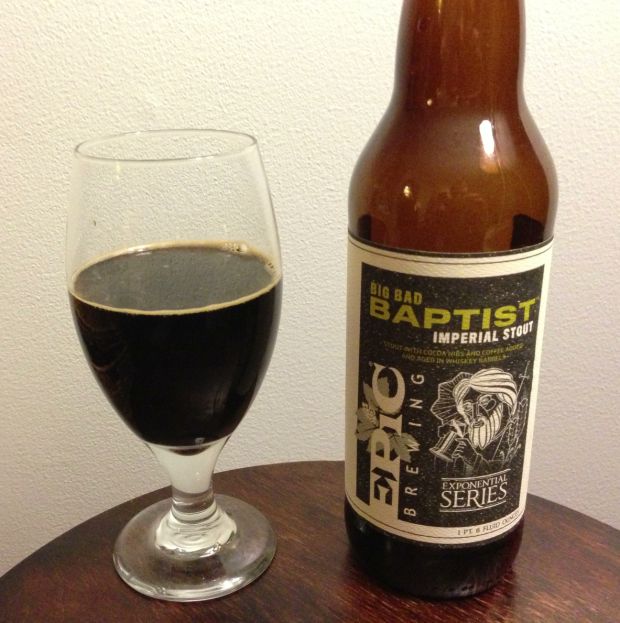 Pushing onward and following the strong coffee flavors of the Bean Gene, we are going to raise our hands in sweet praise for the Big Bad Baptist by Epic Brewing Co. Preaching straight from the bottle to your soul with strong coffee aromas, bitter sweet chocolate flavors, and a whiskey finish to put you on your knees in repentance for drinking any other beer. With a strong ABV of 11.5% and bold flavors this quickly becomes a favorite. The smooth chocolate flavors blend excellently with the whiskey notes and will indulge you in a warming and righteous paradise of vanilla, booze and coffee.
---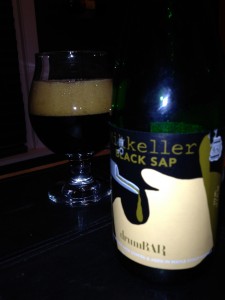 After all these great beers you may be ready to take a nap or you might be brave enough to take that cold hike down to the local watering hole. Well to help you make that decision the final chapter of this barrel aged ultimate 6er is Mikkeller's Black Sap. An imperial porter brewed with coffee and aged in maple syrup barrels. This power breakfast beer exhibits strong dark coffee flavor, a rich bold body, and a smooth maple finish. It also has an ABV of 10%, to either give you that extra kick to punch polar bears in the face, or a night cap to put you in hibernation for the next ten hours, which is the reason this beer is the finisher of the 6er. Black Sap can be the dessert of the five course beer meal or the game changer to help you take on the polar vortex that is outside.
---