3 Comments
Yuengling Traditional Lager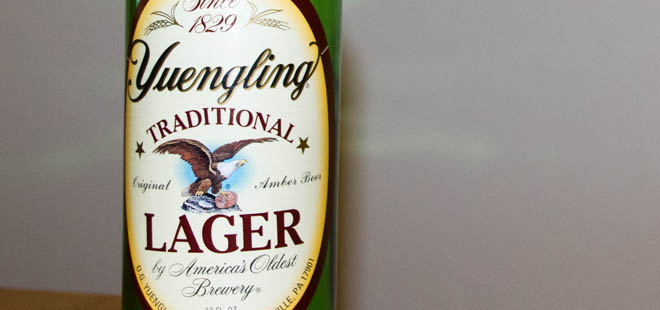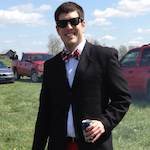 ABV: 4.4%
Everyone has a hard day at work every once in a while. You know, the one where you come home and want to do nothing but turn on the TV and watch Tosh.0 until your brain turns into jelly. And you're thirsty – very thirsty. You need a drink that will let you take your mind off of everything.  I love a quality geuze or a big Belgian quad, but sometimes I need to give my palate a bit of a break. Sitting down to a copy of Ulysses can be a rewarding challenge, but sometimes I just want to read The Hunger Games. So I crack a Yuengling Lager and zone out.
Yuengling Lager is a staple for those that live within the magical triangle loosely bound by Ohio, Florida and New York. In locales where it's available, it costs about the same as a Bud Light. For those who live outside their distribution area – it often takes on legendary status. I know that before Yuengling came to Ohio, I would stock up with 2-3 cases every time I made it to Pennsylvania or West Virginia.
I won't maw on about the malty body or notes of elderberry and freshly cut spruce in the finish – they're not there. What is there is a nice, crisp lager. You can taste the toast on the barley just a little more than most of the other mass distributors flagships. The Pottsville operation has shunned the rice revolution that so many other big brewers have gone to. That's not to say this is a 100% barley grain bill – there's some corn, and you can taste it. Remember though, that 24 pack cost you $17, and the Yuengling family still has to make some money.
This is an honest, working man's beer. The thing about Yuengling is that it's there (if it's there where you are, that is). If it's available in your market, you can find it at almost any corner bar. At the end of a night when you want one more, but don't want your head to pound the next day, or a dive bar where your choice is limited to Budweiser, Yuengling, or Old Crow – Yuengling is there to quench your thirst. Out for wings and have a craving for those XX hot wings, but know water and ranch will not be enough? Yuengling is there to help bite through the tears, but more so, you can have a second pint without putting you over the limit to drive home at the end of the night.
I don't think anyone is going to compare Yuengling to some of the better known lagers from craft brewers like Bell's or even some of the bigger breweries that sit in the brackish between craft and mass market like Sam Adams. It's easy enough to talk smack about the mass market beers – but let's put things in context, would anyone in their right mind compare Pliny the Younger to Dale's Pale Ale? They're both in the same (general category) but on different planes of existence. Both are enjoyable, but should we discount Dales because there's something better out there? Certainly not. There's no reason to get pretentious when you see someone drinking Yuengling at your favorite multitap, maybe they've had a hard day.
---