2 Comments
PorchDrinking's Weekly Denver Beer Beat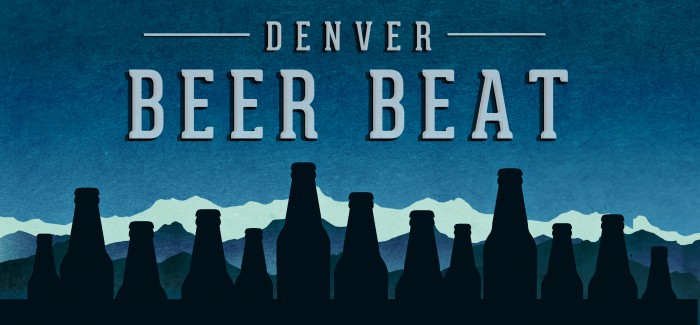 Holy Fuck Farts! Craft Brewer's Conference 2014 week is here. Strap it on. Denver is being invaded by many a beer nerd, connoisseur and hophead. And that is a great thing! Ladies and Gents, keep posted to our social media outlets for live tweeting, pre-and-post event coverage and all around updates on all things craft beer in Denver during CBC and the World Beer Cup. The Craft Brewers Conference is the premier craft brewing industry educational event bringing together more than 4,000 of the world's leading brewers, brewery owners, brewery/brewpub marketing and management, and brewing supply professionals.
While I divulge in great specificity, all events are subject to change, so it's always good to follow up with your favorite craft brewery, delicatessen and brewpub through social media, and to check back with PorchDrinking.com for updates on all things craft beer!
Wednesday, April 2nd
River North Brewery (Denver) – This Wednesday, April 2nd, River North will be tapping two of their beers for Wayward Wednesday. First up will be their India Brown Ale. Secondly, they will tap a Belgian-style Dubbel. There's just 5 gallons of each and the first pilot brew taps at 3pm. The second taps later that night.
Thursday, April 3rd
Yak & Yeti Restaurant & Brewpub (Arvada) – on Thursday, April 3rd at 4pm, stop in to try "Devil's Wine." It's the 2014 Pro-Am Barleywine that will be entered in to the GABF Pro-Am competition this year. (Note: Pro-Am beers are a Professional-Amateur collaboration that can be entered in the GABF competition. The homebrewer must be an AHA member and the beer must have won a medal at a competition.)
Saturday, April 5th
Funkwerks (Ft. Collins) – On Saturday, April 5th – Funkwerks' Cameo, a Saison style ale, will be released. It's 5.5% ABV and was a special beer brewed for the film "CRAFT" as an experiment to distinguish a "brewhouse terroir". The film CRAFT will then be presented later that night at The Lyric Cinema Cafe.
Yak & Yeti Restaurant & Brewpub (Arvada) – On Friday April 5th at 11am, they'll tap the "Rupee Red", an American Red Ale. This session-able 4.9% ABV, 32 IBU brew is deep amber in color and has many malty additions to it and balanced out with Cascade and Centennial hops.
Sunday, April 6th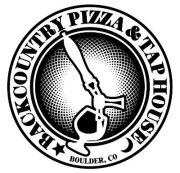 Backcountry Pizza and Tap House (Boulder) – On Sunday, April 6th, celebrate International Sour Sunday with Backcountry Pizza. They'll have 25 of the best sours from abroad and some food pairings compliments of Chef Anthony Lopiccolo. Taps start flowing around noon.
Monday, April 7th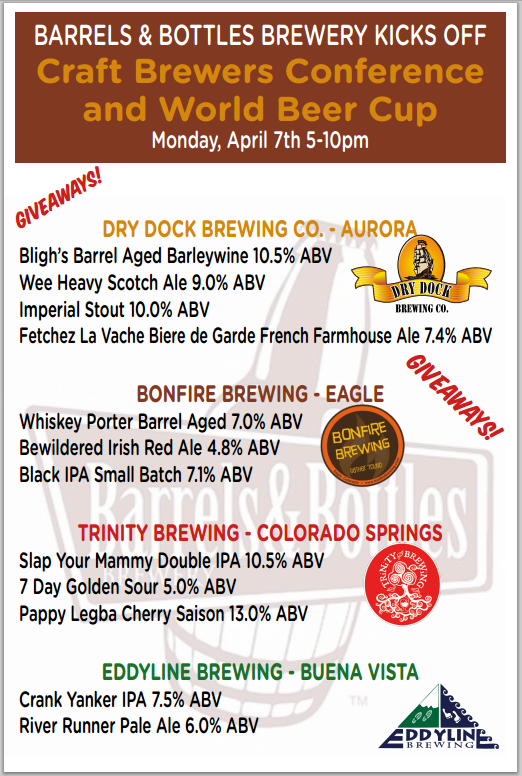 Barrels & Bottles (Golden) – Western Distributing Tap Takeover! Help kick off the Craft Brewers Conference & World Beer Cup with a unique tap takeover featuring 4 different Colorado Breweries bringing 12 different beers. Brewery representatives and owners will be here with giveaways and to talk about their delicious beers. Not To Be Missed!
Beers from:
Dry Dock Brewing Company – Aurora
Bonfire Brewing – Eagle
Trinity Brewing – Colorado Springs
Eddyline Restaurant and Brewing Company – Buena Vista
Backcountry Pizza and Tap House (Boulder) – Crooked Stave Artisan Brands Night! Selections from Crooked Stave, Perennial, Prairie (they will definitely be pouring some Prairie Bomb!) and much, much more.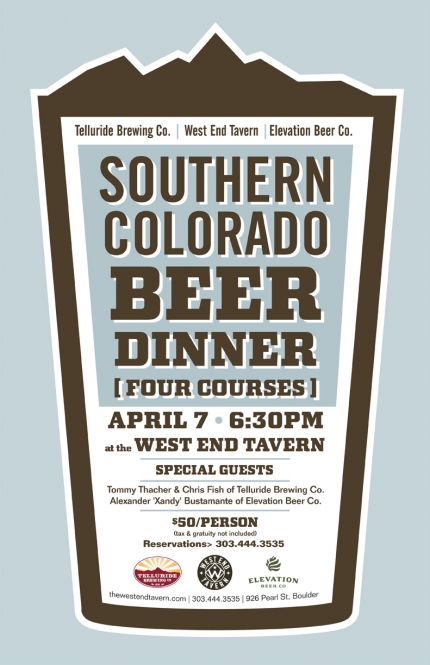 West End Tavern (Boulder) – Southern Colorado Beer Dinner With Elevation Beer Co. and Telluride Brewing Co. $50/person (tax & gratuity not included) 303.444.3535 to RSVP. Chef Jimmy Giesler will be preparing four courses, each paired with a beer from Elevation Beer Co. and Telluride Brewing Co., with specials guests Tommy Thacher and Chris Fish of Telluride Brewing Co. and Alexander 'Xandy' Bustamante of Elevation Beer Co. Check out the menu by clicking the link below.
Southern Colorado Beer Dinner Menu
Tuesday, April 8th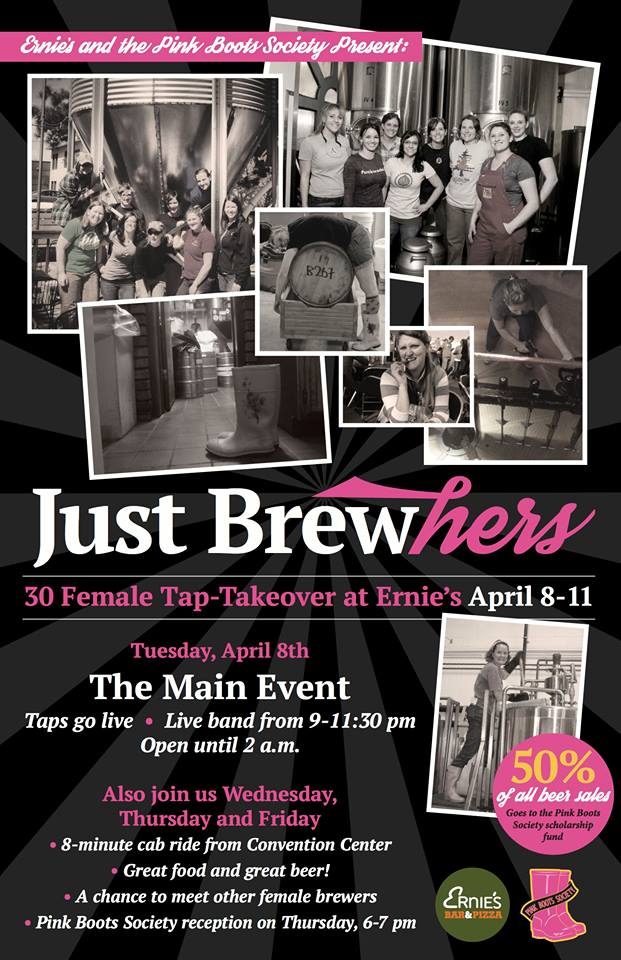 Ernie's Bar and Pizza (Denver) – Just BrewHers: 30 (Female Brewer) Tap Takeover!
Meet the brewers and experience delicious beers April 8 through April 11: Open til 2am
Special Pink Boots Reception Meet & Greet on Thursday night from 6 – 7pm!
Ernie's Bar & Pizza will launch a 30 female brewer tap takeover featuring females from all over the United States, with a focus on local female brewers.  This unique tap takeover will kick off on Tuesday, April 8 when the majority of brewers will be on hand at Ernie's to mingle with guests and enjoy some live bluegrass music after a long day at the conference. The beers will remain on tap through Friday, April 11 and are expected to sell out fast!  Ernie's will donate 50 percent of the beer proceeds to the Pink Boots Scholarship Fund to help send a female brewer to school.
Star Bar (Denver) – Cigar City Brewing Highlight at 4pm – Sliding into CBC week with some great beers is the always eponymous Cigar City Brewing (Tampa, FL). Come on out to Star Bar for Florida Cracker Belgian-style White Ale, Jai Alai IPA, Tocobaga Red Ale, and Passion Fruit Guava Grove via draft, as well as some Invasion Pale Ale and Humidor Series IPA via cans! Then, at 9:30pm until close, Star Bar hosts "the" Welcome Reception After Party! Join Odell Brewing at 9:30 pm for special Odell Brewing beers, including Fernet Porter, Friek, Wolf Picker, and Loose Leaf! Word on the street is that Perennial and Prairie will also be in the house this evening. Star Bar is THE place to be on opening night of CBC!
Odell Brewing (Fort Collins) – Odell Pink Boots Society Dinner – For a special beer dinner catered by Odell's own Katie Guiffre and other local women chefs! They will be pairing their beer with locally sourced food from their hometown of Fort Collins, Colorado. The dinner is open to all who love craft beer. Tickets are $20.00 each for PBS members who have access to the promotional code (check your PBS emails!) and $30.00 for non-PBS members. All proceeds will go to the Pink Boots Scholarship Fund. Come support women in the brewing industry and ladies loving craft beer!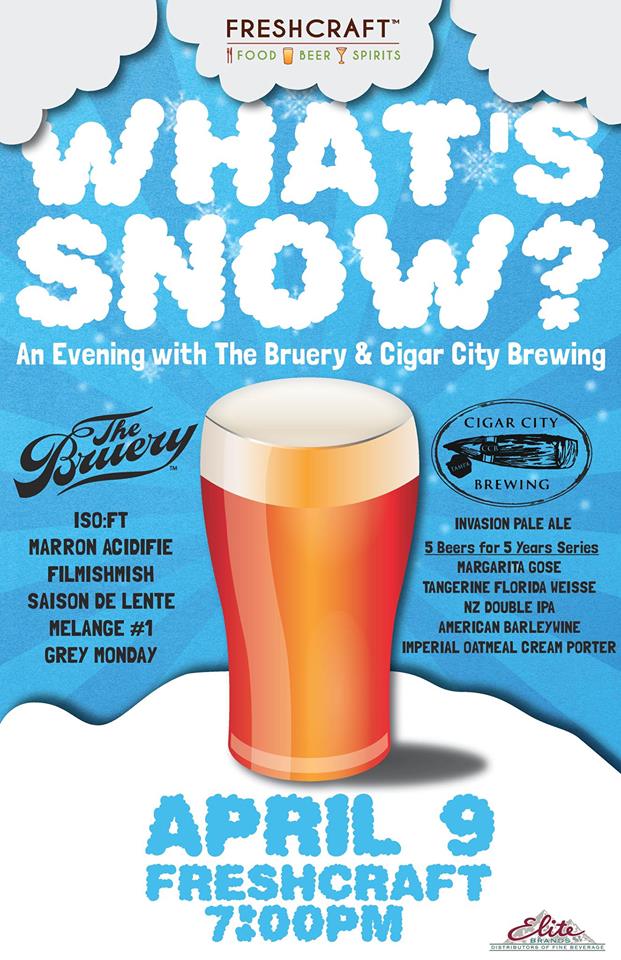 Freshcraft (Denver) –  'What's Snow?' I don't think we need to get into detail about what's going on here. To say that you should be excited to sample The Bruery and Cigar City on the same night is an understatement. The beer speaks for itself, nuff said. Tapping at 7pm. See ya there! 
From Cigar City on draft will be: 5 for 5 American Barleywine , 5 for 5 Imperial Oatmeal Cream Porter, 5 for 5 Tangerine Florida Weisse, Invasion Pale Ale
From The Bruery on draft will be: Filmishmish, Saison De Lente, Melange #1, Grey Monday
Bottle pours of both Collaboration beers made by both will be available – ISO:FT, Marron Acidifie.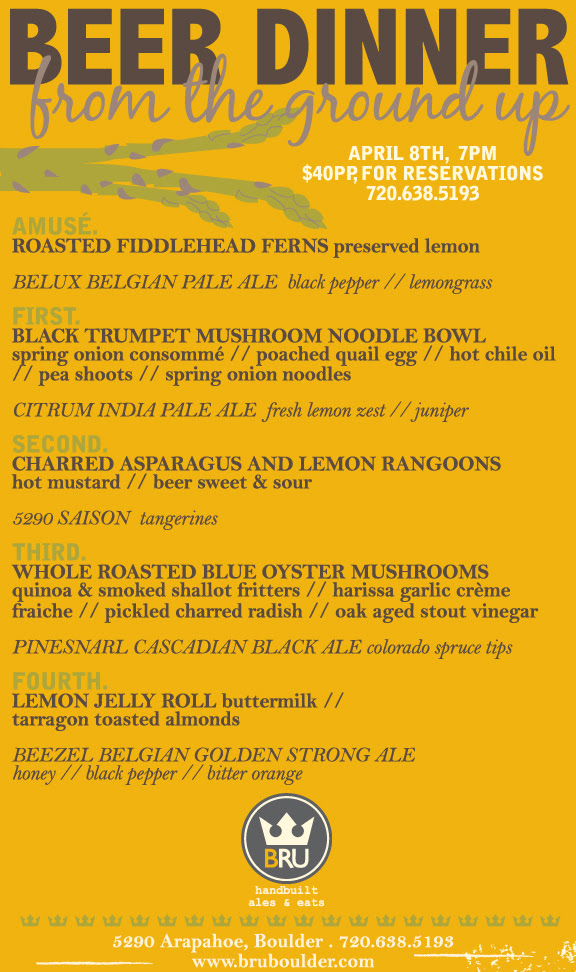 BRU Handbuilt Ales & Eats (Boulder) – Join Bru Handbuilt Ales for their next Beer Dinner, 'From the Ground Up' on Tuesday, April 8th at 7pm. $40 per person, seating is limited, for reservations call 720.638.5193.
Marlowe's (Denver) – Boulder Beer's 35th Anniversary Imperial Black IPA Release Party! The "After Party" following the CBC Welcome Reception.
When? Tuesday, April 8th, 9:30pm – 12:30am
Where? Marlowe's – 501 16th St., Denver (corner of 16th and Glenarm downtown)
Live music from Gipsy Moon.
Open to the public, but all CBC badge holders get two free Boulder Beers!
Hope to see you there!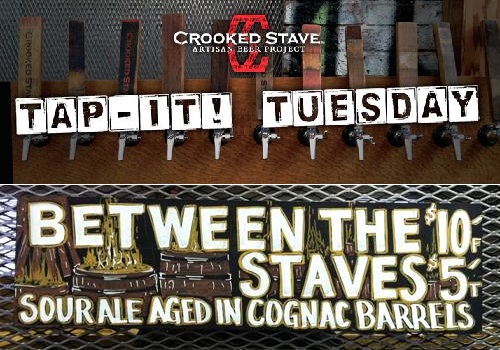 Crooked Stave Artisan Beer Project (Denver) – On Tuesday, April 8 @ 6 p.m. they will be tapping Between the Staves, a collaboration brew with Anchorage Brewing Company. Celebrate CBC with this dark sour ale fermented in oak and aged in Cognac barrels.

The Kitchen (Boulder) – On Tuesday, April 8 @ 6:30 p.m., The Kitchen Boulder presents a beer dinner featuring brews from Crooked Stave Artisan Beer Project & Melvin Brewing. There will be four courses with a beer from each brewery per course (eight beers total) for $75. Call the restaurant (303) 544-5973 for reservations.
Crooked Stave
– Vieille
– Surette
– L'Brett d'Plum
– Raspberry Dark Origins
Melvin Brewing (Jackson Hole, WY)
– Melvin IPA
– Asterisk Double IPA
– 2×4 Pale Ale
– Ch Ch Cherry Bomb
Further into the Craft Brewers Conference 2014 Week
Wednesday, April 9 – Ale House at Amato's (Denver) – SweetWater Brewery of Atlanta, GA and Breckenridge Brewery have partnered on "O' Tay," a collaboration beer. The brew will be a dry-hopped red wheat wine ale and will available later this month on draft in Colorado. On Wednesday, April 9, the Ale House at Amato's will be tapping a keg of the beer.
Wednesday, April 9 – Join Denver Beer Co for a good old-fashioned pizza party tonight at 6 p.m. when the brewery welcomes in two of the city's best pizza trucks, Basic Kneads Pizza & Brava! Pizzeria. There will also be live music from Modern Whiskey Market.
Wednesday, April 9 – Lucky Pie (Denver) – Odell Brewery Beer Dinner! A very special beer lovers event.  A one of a kind and one-night-only collaboration between the brewers of Odell Brewery in Fort Collins and the Chefs of Lucky Pie have created a 6 course beer dinner pairing 6 varieties of a specially made Schwarzbeir.  The exceptional German dark lager will be crafted 6 different ways to be paired with 6 outstanding courses of food.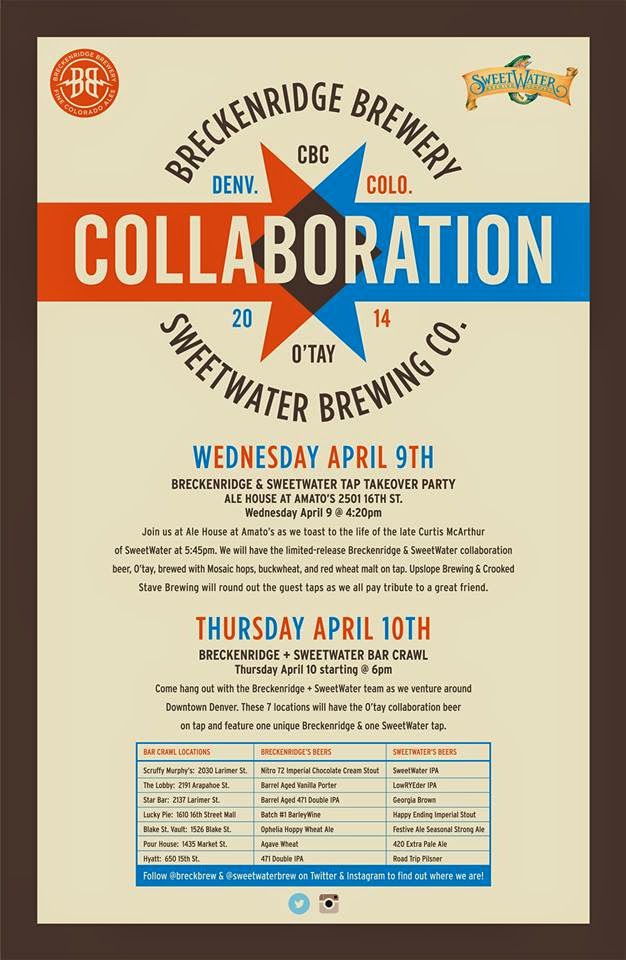 Thursday, April 10, SweetWater Brewery and Breckenridge Brewery will embark on a crawl to seven Denver bars including: Scruffy Murphy's,The Lobby, Star Bar, Lucky Pie, Blake St. Vault, Pour House,  and Strata Bar at the Hyatt Regency. Each account will carry the collaboration beer and an additional unique beer from each brewery. Follow @BreckBrew and @SweetWaterBrew on Twitter and Instagram to locate the crew and join the crawl yourself.
Stay tuned to PorchDrinking.com and our social media outlets for further goings-on and event news and catch the Denver Beer Beat each Wednesday!
Stay thirsty and keep Denver Beer'd!