No Comments
The Ultimate 6er: Tour de France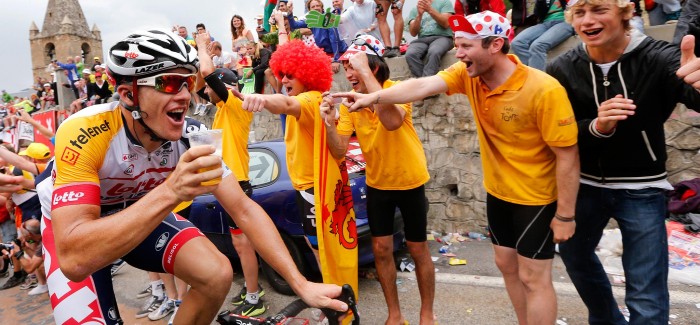 France has taken its sweet time getting around to craft beer, but the French are finally starting to realize what they've been missing out on. Thanks to some passionate brewers in all six corners of the Hexagon, local craft beer is now readily available alongside imported favorites. This Ultimate 6er is a mélange of new and established breweries from around France. It's not a "best of," just a peek at the variety of what's happening out there and some breweries to keep an eye on.
Brasserie Sainte Cru
White Rabbit
ABV 5.0%
Like everyone else, Vivien Remond started his brewery in a garage. Now, a year later, this Alsatian brewer is putting out some pretty decent beers, most with an irreverent nod to the 1970s: Orange Mécanique; Apocalypse Now; Sex, Ale and Rock & Roll—you get the picture. A "nihilist" white beer, White Rabbit is one of the most successful in the series so far, with a floral nose, fruity body and lingering bitter finish.
Brasserie Corrézienne
Dordogne Valley
ABV 8.5%
IBU 66
Being in the middle of nowhere is not always a bad thing; it's the perfect place to while away the hours making good beer. Tucked away in central France, in the region of Corrèze, near Curemonte (officially one of the most beautiful villages in France), the Brasserie Corrézienne has been churning out tasty beer since 2008. This douple IPA is one of my favorite French beers. Chinook, Centennial and Nelsen Chauvin hops deliver a triple-whammy hop blast that lingers long after the last sip.
Brasserie de la Vallée de Chevreuse
Rotten Skull
ABV 9.0%
Situated in the Chevreuse Valley Regional Park, la Brasserie de la Vallée de Chevreuse is just a short train ride from Paris. They've been brewing tasty organic beer since 2008. Rotten Skull is one of my favorites, a hoppy American IPA with a sneaky ABV. It seduces with a caramelized banana aroma and then opens into citrus with a hint of sweetness and a nice bitter finish, thanks to Galaxy and Cascade hops.
Akim T
Super Power
ABV 8%
French "gypsy" brewer Akim T works regularly with several breweries in France—Brasserie Thiriez, Brasserie du Pays Flamand and Brasserie Saint Germain—in addition to collaborating with breweries in other parts of Europe, including Nogne in Norway. Drawing on diverse flavors from jasmine to alpine elderberry to rye, Akim T crafts interesting brews that stretch French craft beer beyond its comfy blond-ambrée-brune boundaries. Super Power is a citrusy pale ale with a full, juicy-pear body and a bitter finish with notes of pineapple and grapefruit.
Brasserie Bendorf
Miel Harmonie
ABV 7%
A relatively new brewery located in eastern France, Bendorf is working hard on its range of beers. I was pleased with their Neudorf Red Ale on tap at Les Trois 8 a few months ago, and since I love anything with honey (miel), this was a must-try. A hint of wildflower honey underscores caramel sweetness and a slightly bitter finish in this dark beer.
Brasserie Craig Allen
2 Craigs Unstout
ABV 2.0%
Well-known for his Belgian-style golden ale, Agent Provocateur, France-based Scotsman Craig Allen is a pioneer in French craft beer, and he's at it again with the 2 Craigs Unstout. Brewed in collaboration with Cromarty Brewing in Scotland, this low-alcohol beer gets its stout-y body from a high quantity of un-malted ingredients and an unusually high mash temperature. The "un" comes from a bold mix of Cascade, Columbus and Chinook hops. A smooth beer with notes of espresso and licorice and free of any cloying sweetness, this is a session-worthy beer that doesn't skimp on flavor.