No Comments
Mosaic Black Bitter — La Brasserie du Mont Salève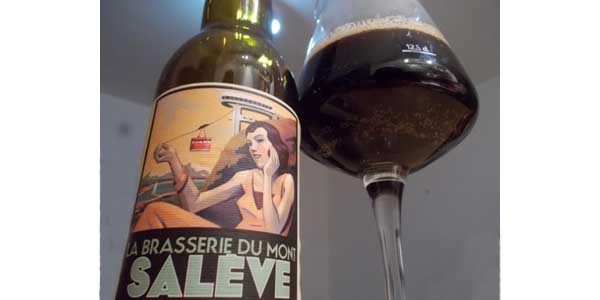 La Brasserie du Mont Salève wears its name well: nestled at the foot of Mont Salève near the Swiss border, this French brewery has been turning out some of France's most interesting beers since 2010. Head brewer Mickaël Novo likes to experiment with strong flavors, but don't assume that means strong beers. The Mosaic Black Bitter is an intensely hoppy beer that surprises at a mere 3.5% ABV.
Hops are what drew Brewer Novo to beer and they're what tend to define his products (when he's not experimenting with more obscure flavors). The Mosaic Bitter is no exception; this dark beer is all about the hop. Mosaic is appreciated for its capacity to do triple-duty in beer, providing aroma, flavor and bitterness: in this curious beer, it's present from nose to palate and lingers long after the last sip.
The beer pours a molasses brown topped by a rapidly dissolving caramel-colored head, each bubble burst releasing more herbal citrusy Mosaic aroma. After the first sip, it's quite obvious why this is a bitter—it's pretty, well, bitter. But it has a very clean, bright bitterness followed by a rumbling hop flavor that tapers to a pleasant, lingering bitter finish. While there are definitely roasted resinous hints in the low-carbonated light body, the malt is really just a canvas for the hop to shine against. With such low ABV, this would make a great session beer for hop fiends.
La Brasserie du Mont Salève is definitely a French brewery to watch. Novo doesn't limit himself to experimenting with hop flavors; last year's limited-run summer seasonal beer was a stout brewed with three dozen freshly washed oysters on the half shell. If that's not pushing the proverbial envelope, I don't know what is.
You can't get Mont Salève in the States yet, so put it on your list of must-try beer for your next trip to France or Belgium.