No Comments
PorchDrinking's Weekly Denver Beer Beat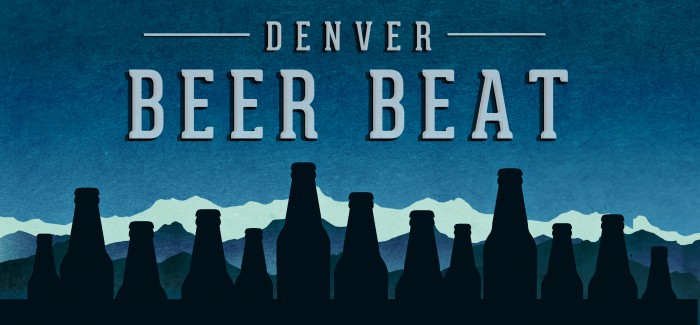 Hey there PorchDrinkers! Native to the city and looking for events to tide you over for the week? New to the city and looking for the best place to find tasty suds? Visiting and looking for events to hit while you are in town? Check out this week's Denver Beer Beat . . . did we miss any events in this week's? Let us know. Welcome back to another installment of PorchDrinking's Weekly Denver Beer Beat. The Denver Beat brings news of openings, releases, dinners, anniversaries, etc. This is a busy week. We are now in festival season and a lot of the events in Denver are starting to overlap. Remember, if you are trying to hit a couple of events in one day, make sure to use safe transport such as a taxi, Lyft or Uber and please drink responsibly.
** New Brewery Openings: Joyride Brewing Company in Edgewater opens on Wed. July 16th at high noon**
Wednesday, July 16
Joyride Brewing Company (Edgewater) – GRAND OPENING – In 1910, George Knoll opened up Edgewater's first grocery store at 25th and Sheridan. Just over a hundred years later, the city's first brewery is opening in the same building. The brewery opens today at noon. They have five brews in tap including two pale ales, an amber, a wit and a Kölsch.
Pairsine – The Taste of Elegance at The Omni Interlocken Resort (Broomfield) –  6pm to 9pm. Pairsine – The Taste of Elegance, is a signature foodie event by Wine Country Network. This edition pairs award winning craft beers from the 2014 Denver International Beer Competition with outstanding culinary creations prepared by Colorado Master Chefs. Pairsine is where premium beverages and spectacular cuisine collide. The Pairsine Chefs Food & Wine Competition has evolved into Denver's most coveted annual culinary/wine event selling out each year and celebrates Colorado's reputation for being the epicenter of the beer industry and its culture. It also helps passionate foodies experience some of the best gourmet food pairings with award-winning beers. Tickets and info can be found here. Twenty dishes, twenty beers. See you there!
Powder Keg Brewing Co (Niwot) – Powder Keg Brewing Company is now officially open for business 7 days a week from 2pm to 9pm daily. If you pack the house, they can stay open until 10p *wink, wink*. They serve not only their own delicious beer, but also host several guest beers as well.
River North Brewery (Fivepoints/Ballpark) – For this week's Wayward Wednesday, River North Brewery will showcase their IPA Yeast Series! IPA fermented three ways, because, you know, 'yeast is cool.' First pours are starting at 3pm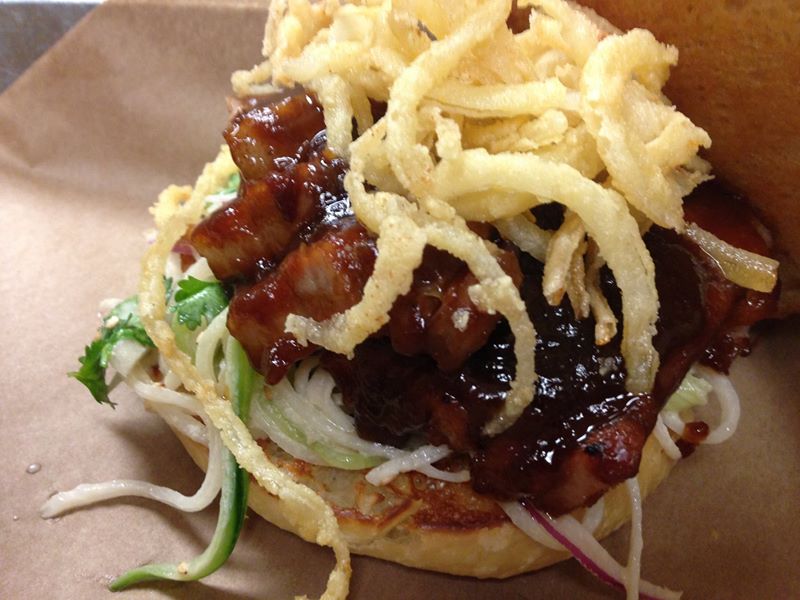 Hops & Pie Artisan Pizzeria and Craft Brew Taproom (Berkeley) – Hops and Pie's Wednesday special is $2 Craft Can Night from 5pm to close. Also, this week's artisan sando: Confit Pork Belly, Korean BBQ Sauce, Miso Slaw & Fried Onion Strings on House Made Roll!!
High Hops Brewery (Windsor) – High Hops is tapping a new firkin this Wednesday, July 16th at 5pm. This week it's a "Raspberry Wheat". You can pair that with food from Bedrock BBQ.
Thursday, July 17
Wild Woods Brewery (Boulder) – On Thursday July 17th, they'll tap their new small batch of "Blackberry Midnight Wheat". AND, they now do 32oz growler fills!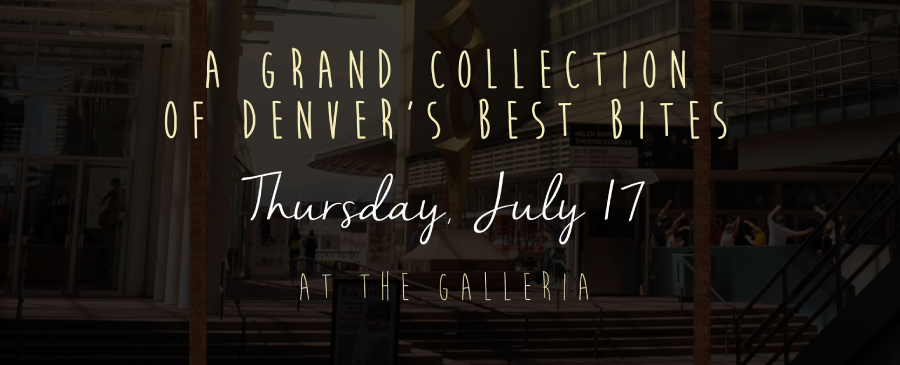 Denver Performing Arts Complex (Central Business District/Downtown) – The Big Eat Denver at the Galleria in the Denver Performing Arts Complex is this Thursday.  Find tickets here – 36+ of Denver's hottest indie restaurants, wine, beer and spirits will showcase their magnificence. These fine venues and more will be in attendance: Ace-Eat-Serve, Adelitas Cocina y Cantina, Ambli, Appaloosa Grill, Argyle Whiskey Bar, Carmine's on Penn, Central Bistro & Bar, Euclid Hall, Gallo di Nero, Harman's Eat & Drink, Interstate, Jonesy's Eat Bar, Krewe BBQ, Limelight, Little India, Lou's Food Bar, Low Down Brewery, Marco's Coal-Fired Pizza, Mountain Sun Pub & Brewery, Panzano, Rialto Café, Snooze, an A.M. Eatery, Ste. Ellie, Steuben's Food Service, Steve's Snappin' Dogs, Stoney's Bar & Grill, Tana's Delights, Trillium, The Lobby, Vesta Dipping Grill, Work & Class, Wynkoop Brewing Co.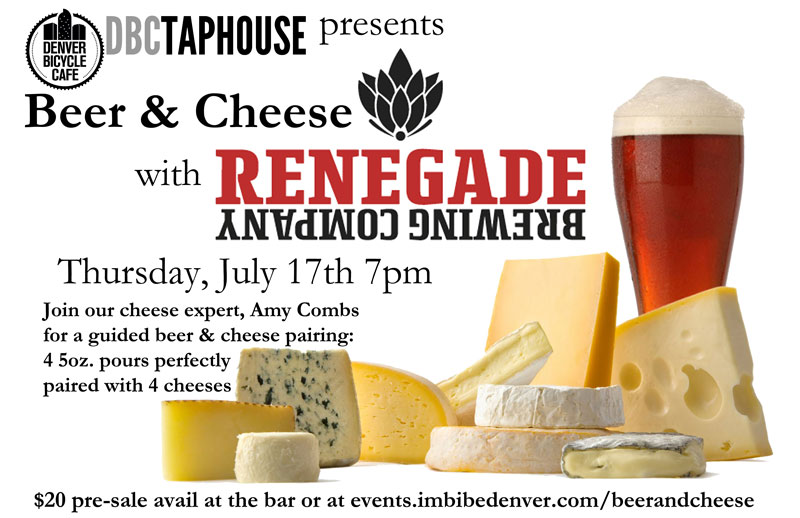 Denver Bicycle Café (City Park West) – Join Denver Bicycle Cafe for a beer and cheese pairing featuring gourmet cheeses hand-picked to match a selection of four beers. This month's focus is with Renegade Brewing Company. Pair four 5 oz craft beer pours with four different cheese while discussing and learning from our cheese expert, Amy Combs.

Upslope Brewing Co (Boulder) – Upslope Brewing Co's Lee Hill location is the spot where Upslope will be working on and releasing beers in their quarterly "Lee Hill Series" of barrel-aged beers. Their first such release is today and is a Barrel Aged Brown Ale – which will be packaged in 19.2oz tall cans.
Friday, July 18
The Colorado Keg House (Broomfield) – There's a new sports bar that focuses primarily on Colorado craft beer. They have 30 TVs and a lounge area with couches and a fireplace. Here is the cool part. They have 75 taps of Colorado brews! They offer a limited food menu now, but always encourage their guests to bring in their own food or to order delivery to the tap house. They have a small selection of Colorado wines, but no bar service for cocktails and spirits. Like sports? Like craft beer? Need a place to get comfy? The Colorado Keg House has got a seat for you.
Bootstrap Brewing (Niwot) – Bootstrap is unveiling their new Insane Rush IPA cans this Friday, July 18th and want to invite everyone to celebrate with them and enjoy this first batch. Meet in the west side of their building in their new expansion area. There'll be a Private Party sign on the door but come on in. Kick off starts at 6pm. Let Steve or Leslie know if you'll be able to make it so they can try to get a head count.
Saturday, July 19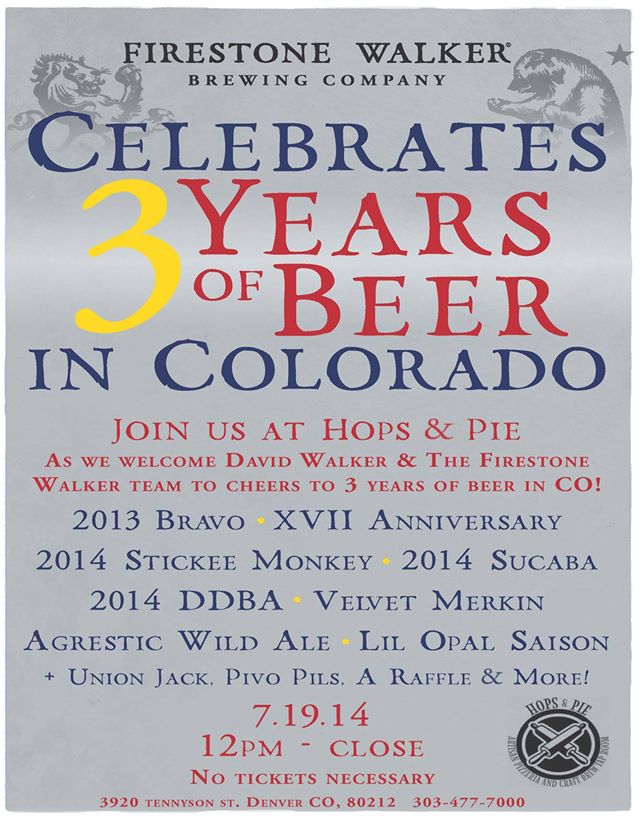 Hops & Pie (Berkeley) – Come help celebrate 3 Years of Firestone Walker beers in Colorado at Hops & Pie on Saturday, July 19th from 12pm to close. David Walker and the Firestone Walker team will be on hand to help celebrate. They plan to bring some special beers with them including: 2013 Bravo, XVII Anniversary, 2014 Stickee Monkey, 2014 Sucaba, 2014 DDBA, Velvet Merkin, Agrestic Wild Ale, Lil Opal Saison, Union Jack, & Pivo Pils. There will also be raffles and more!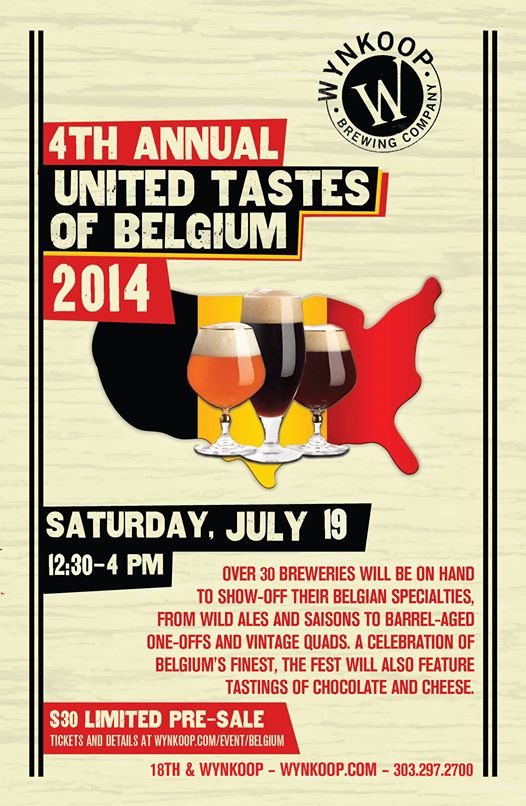 Wynkoop Brewing Co (Union Station/LoDo) – Wynkoop hosts the 4th Annual United Tastes of Belgium. The event brings reps and brewers from over 30 breweries to show off their finest Belgian and Belgian-inspired styles of beer. Limited Advanced tickets are available for $30, buy now to save $10!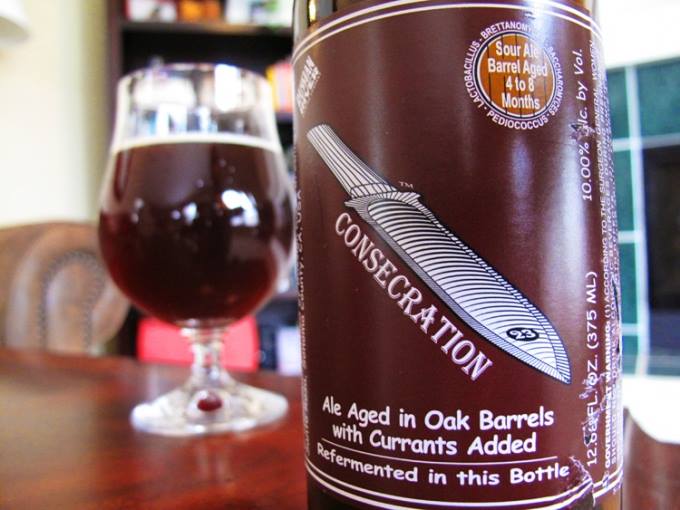 Freshcraft (Union Station/LoDo) – This week's 'Rare Beer Saturday' will be Russian River Brewing Company's Consecration. A beautiful sour dark ale aged in Cabernet Sauvignon Barrels with Currants added. This beer has been aged in local CA wine barrels for 4-8 months with Black Currants, brettanomyces, lactobacillus, and pediococcus. This brew boasts rich flavors of chocolate truffle, spice, tobacco, currants, and a bit of Cabernet. See you at Freshcraft 1pm!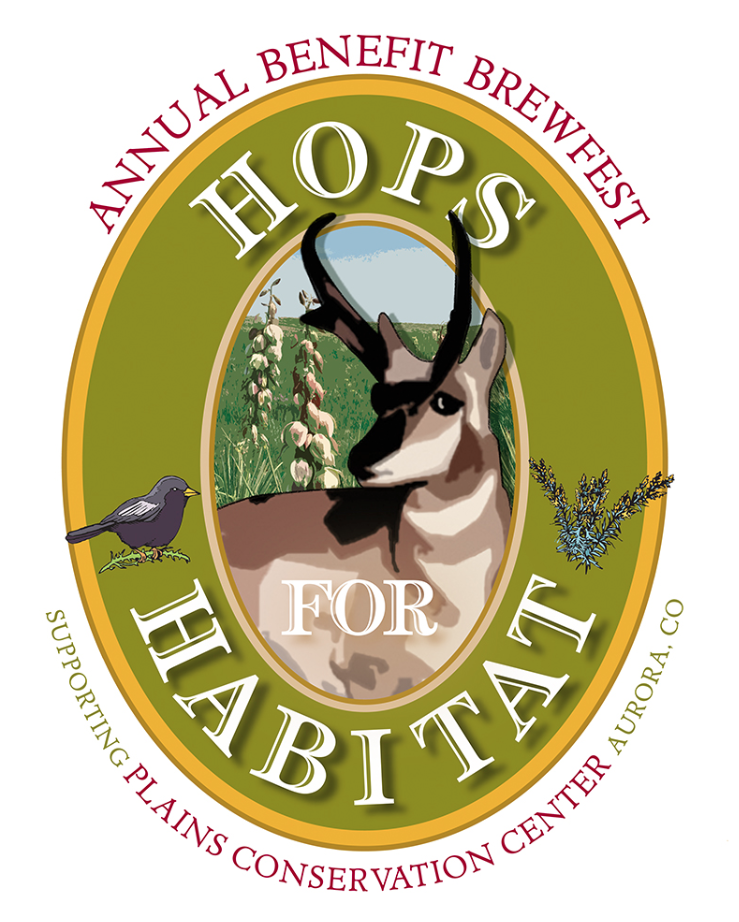 Hops for Habitat (Aurora) – 6pm-10pm – Join the Plains Conservation Center for the 10th annual Hops For Habitat beer tasting fundraiser. Taste dozens of beers from micro-brewers from across the Front Range and take home a commemorative glass. Enjoy live music and grub from the local food trucks. Proceeds from the event are used to support the prairie preservation and education work of the Plains Conservation Center. Who knew that drinking beer was good for the environment?
Jul-IPA Festival (Boulder) – From 1pm to 5pm at the Millennium Harvest House will be West End Tavern's Jul-IPA Festival. Jul-IPA is bringing beers, bands and community together to the creek at the Millennium Hotel in Boulder. There will be 35 breweries with endless samplings of tasty IPA's. There will also be some jammin' music, food from Rolling Smoke BBQ, and raffle drawings for great prizes. Don't forget to join in the Wing King Challenge. 100% of the proceeds go to benefit Safehouse Progressive Alliance for Nonviolence (SPAN). Entry includes a commemorative glass. Tickets available online.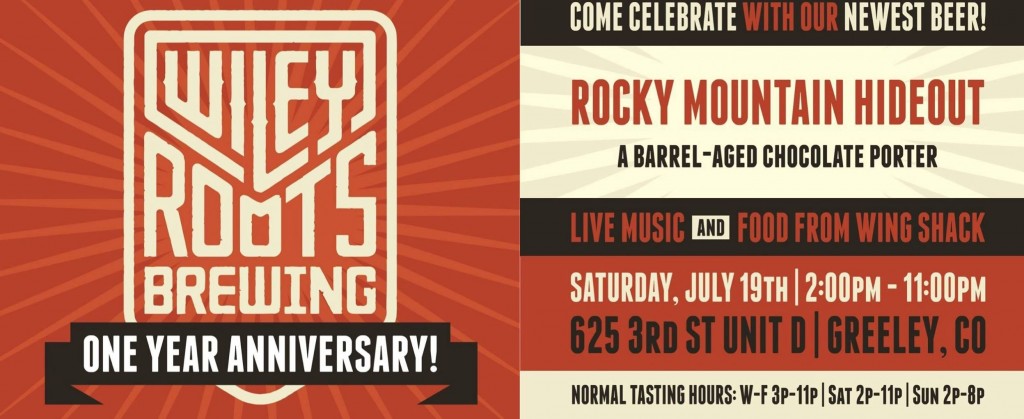 Wiley Roots Brewing Co (Greeley) – 2pm to 11pm – Take a day trip north as Wiley Roots Brewing Company in Greeley celebrates their 1st anniversary with the return of their Breckenridge Distillery Bourbon Barrel Aged Chocolate Porter "Rocky Mountain Hide Out", as well as special small batch releases! Come and enjoy live music throughout the day and wings from the Wing Shack! They hope to see you and all of their Wiley Roots Brewing Company friends and family for this fantastic celebration!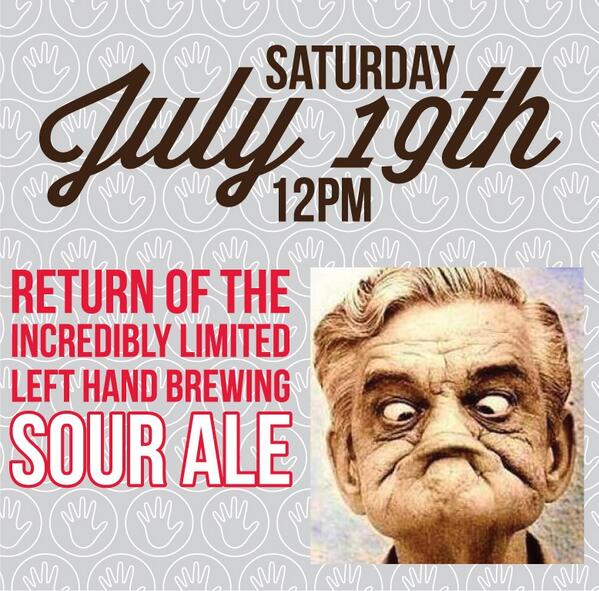 Left Hand Brewing Co (Longmont) – Sour Beer Folks Rejoice! This Saturday, July 19th starting at 12pm only in the Left Hand tasting room you can be one of the very few who get a taste of their incredibly limited Left Hand Brewing Sour Ale. Sour lovers won't want to miss this return of their rare brew.
Stapleton Beer Festival (Stapleton) – The 2014 Stapleton Beer Festival is scheduled for Saturday, July 19 from 4pm-8pm on The Green (29th and Roslyn Street). Tickets can be purchased online or in person at the Stapleton MCA office (2823 Roslyn Street). This festival features a variety of craft breweries, local food trucks, live music and more!
Sunday, July 20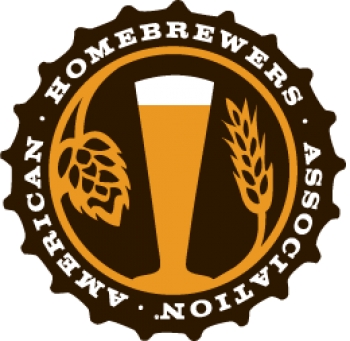 Epic Brewing – Denver Taproom (Five Points) – Epic Brewing's Denver Brewery Hosts AHA Rally from 1p – 4p. Participants will have the opportunity to participate in a Firkin Design Workshop, Meet Epic Brewing & AHA Staff, Take a VIP brewery tour, Mingle with local homebrewers, and enjoy special tappings. Win great prizes from the AHA and Epic!  AHA rallies are free to current AHA members. Non-members can join online or sign up onsite at a discounted member rate. Don't forget to RSVP to help us properly prepare for the event. For more information about the rally and to RSVP please visit here.
A Night to Remember Beer Festival at Four Mile Historic Park  (Washington/Virginia/Vale) – Copper Kettle Brewing Company will be holding the 3rd annual "A Night to Remember" Beer Fest on Sunday, July 20th from 4–8pm. Copper Kettle Brewing Company along with the Alex C. Teves Foundation and whole community will come out to celebrate and remember the twelve innocent victims of the 2012 Aurora Theater Shooting, including the company's own Brew Club member, Alex Teves. Over 20 breweries expected to pour. Tickets available at Eventgrid.
Great American Beer Festival (Central Business Distrcit/Downtown) – The tickets are expected to go on sale July 29th @ 10am MDT for Brewers Association/AHA members and on July 30th 10am MDT for the General public. If you want to join the AHA to get access to early tickets you must join by July 20th 12am. Better save up for this as ticket prices are expected to top $80 plus Ticketmaster fees. The 2014 GABF will take place at the Colorado Convention Center in downtown Denver October 2-4, 2014 and will be bigger and better than ever (let's hope). More info here.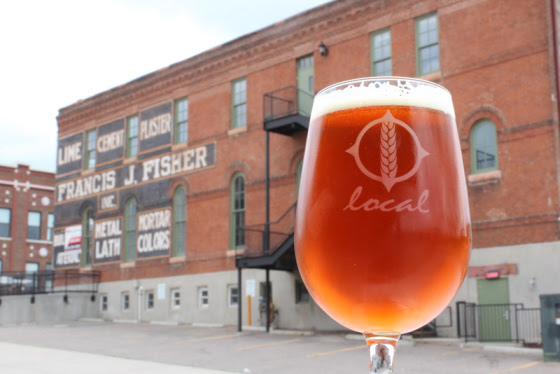 River North Brewery (RiNo/Five Points) – New spots in River North Brewery's 2014-2015 Locals' Club will be available Sunday, July 20th at 1pm on a 1st come, 1st served basis in the taproom. As always, last year's Locals will have a chance to renew before new spots go on sale (check your emails, Locals – spam folder too!). We will keep the cap at 100, so we expect to have only a couple dozen spots for newcomers. We'll announce the exact number shortly before the public sale. Membership includes: $1 off every beer you consume in the taproom for the entire year, exclusive stainless steel swing-top 32oz "Locals" growler, Mega-official keychain bottle opener (this is your membership card), a Locals-only holiday party, exclusive usage of Locals glassware in the taproom, and after-the-fact bottle release purchases. The 2014-2015 Locals' Club membership will sell for $60. After this year, new members will only be allowed to join when existing members choose not to renew, so if you want in, don't miss out this year!
Monday, July 21

Golden City Brewery (Golden) – On July 21st, Golden City Brewery will host their "Beachless Beach Party". There will be plenty of beer, beach activities, live music from the Jeremy Steding Band and a food truck. Wear your beach gear and party from open until close! Federal Bar & Grill (Jefferson Park) – Monday night Beer Club tonight! They have select craft pints for $3 from 6pm-11pm for Beer Club members. Sign up is free.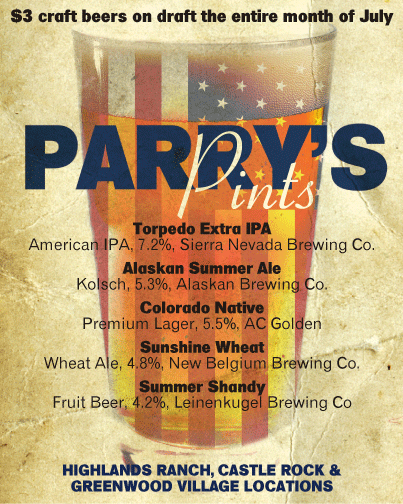 Parry's Pizza (All Locations) – $3 pints of craft beer for the month of July. Don't miss out on these fine craft beer pints for only $3. Highlands Ranch, Greenwood Village and Castle Rock locations. AC Golden Brewing Company New Belgium Brewing Jacob Leinenkugel Brewing Co. Sierra Nevada Brewing Company Alaskan Brewing Co.
Lone Tree Brewing Co (Lone Tree) – It's Growler Monday! Bring in and fill your LTBC logo'd growler and receive a discount. Not that you needed an excuse for beer on a Monday…but now you have one. Slainte!
4 Noses Brewing Co (Broomfield) – It's Anarchy Monday! Get $4 Anarchy mugs and $1 off all pints all night long.
Tuesday, July 22
Jagged Mountain Craft Brewery (Denver) – Jagged Mountain will release "Voodoo Goat Barleywine" on July 22nd, and "BrettBagger", a barrel-aged Brettanomyces version of PeakBagger Imperial White IPA on July 29th. BrettBagger was a beer created in collaboration with Dragonmead and Kuhnhenn breweries.
Funkwerks (Ft. Collins) – Don't forget that every Tuesday is Double Stamp Tuesday at Funkwerks. Stop in and buy a bottle to go and get your card stamped twice today. If you get 6 stamps you get a free bottle of Funkwerks beer!
Our Mutual Friend Malt & Brew (Five Points) – Keep the Glass! Every Tuesday for $10 you get an artist series glass (10oz) and three fills (under 8% abv). Every month (or while supplies last), Our Mutual Friend will feature a new artist. Support local art and local suds!
Odyssey Beerwerks (East Arvada) – Get a FREE BEER every Tuesday from Odyssey Beerwerks when you buy a growler fill. Offer good all day on Tuesdays. Also enjoy Happy Hour 3pm to 5pm.
Future Events
July 23rd – Odd13 Brewing  are pumped to announce the pairings for their Summer Beer Dinner with WongWayVeg. Take a look. Tickets are selling quickly, so be sure to sign up in the tap room before they're gone.

July 24th – Colorado Plus (Wheat Ridge) – BEER DINNER!!!!! are you ready for another amazing night at the apex of taste experience?!!!#strangecraftbrewing and #coloradoplus are celebrating excellence and we invite you to join us. Call for reservations today as every beer dinner has sold out!
July 25th – Beer Camp Across America (Civic Center Park – Denver) – Eighty Colorado breweries have signed on to join fellow brewers and beer lovers at Sierra Nevada's Beer Camp Across America, an unprecedented traveling beer festival that will take place later this summer. July 27th – Avery Brewing Co (Boulder) – Five Monks Quintuple Release – This ludicrously massive (19.4% ABV) Belgian-style 'quintuple' ale aged in bourbon barrels is set to release at the brewery on Sunday, July 27 at 1pm. The details:$12 per 12oz bottle, Limit 12 bottles per person, Limited beers on tap beginning at 11am.
Aug 2nd – Leftapalooza 2014 (Longmont) Left Hand Brewing Company's ultimate music and craft beer experience!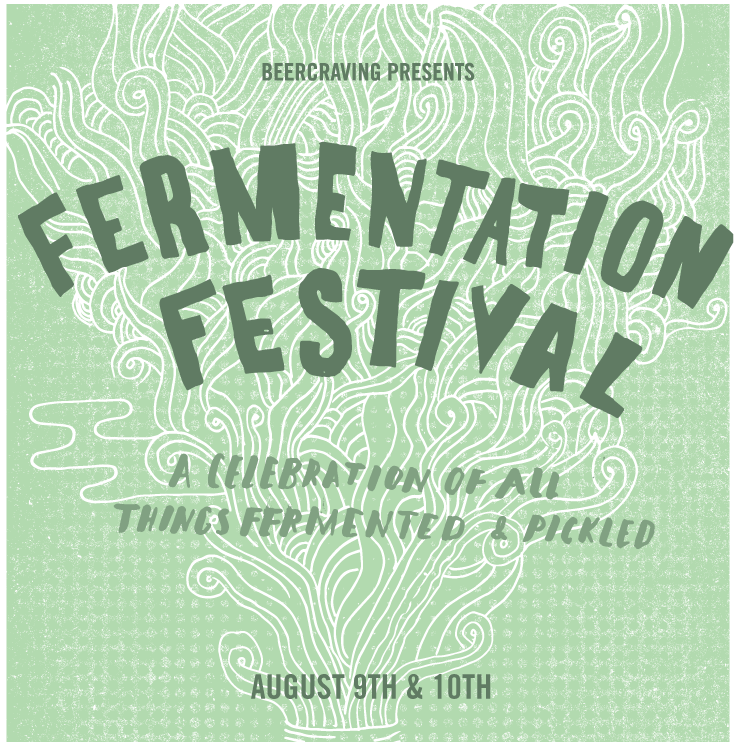 Aug 9th & 10th – On August 9th and 10th at Denver's Highlands Masonic Center (Highlands), Fermentation Experts from across Colorado will gather to share their knowledge with the eager ears of attendees at the 2nd Annual Fermentation Festival & Market.  The event will feature unlimited tastings from craft brewers, distillers, sauerkraut makers, Kombucha brewers and much more.  Education is the main goal of the organizers with home fermentation classes offered on every subject from lacto-fermented veggies to how to make sake.  Nowhere else will you find this many fermentation gurus gathered at one event.
That's a wrap for this week's Denver Beer Beat.
Cheers to ye and may eternity find us in as good company as this!
Check ya later! Did we miss any events in this week's? Let us know.