No Comments
Asheville Brewing Company | Ninja Bread Man Porter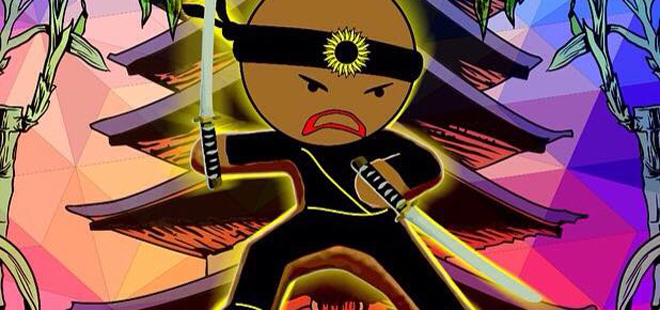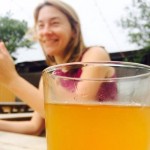 Somewhere between the huge patio (where vintage airport chairs used to serve as seats), the killer pizza, cornhole and the mini hop infusing baskets, Asheville Brewing Company has become the place that's often my first stop in a city so full of incredible beer.
When we hit up ABC's downtown location to grab lunch before heading to some breweries, I thought the biggest surprise was there were enough Big 10 conference football fans in the house to convince the manager to turn the tv to the Minnesota vs. Ohio State game (a rarity in the South, my friends).
But my beloved brew pub had yet another surprise waiting: the delightful Ninja Bread Man Porter.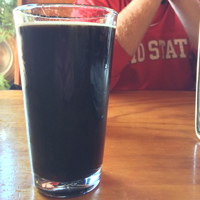 I first discovered Ninja Bread Man on tap at the brewery. It was a brisk mid-November day in the mountains — one where layers and gloves were mandatory. Holiday decorations already lined downtown Asheville, turning a beer drinker's palate toward the tastes of the season.
Ninja Bread Man is the holiday take on the brewery's award-winning Ninja Porter, which came home from the 2014 World Beer Cup with a gold.
The beer pours brown-black, with a thin head. Warm cookie spices greet you on the nose, a faint reminder of the smell of my grandfather's ginger snaps.
Those cookie spices come through on the palate, but much lighter, so you'll still get the slightly malty, bready, nutty backbone from the original Ninja base. Ninja Bread Man isn't at all overpowering to the point where it feels like a dessert beer.
Although it was only available on tap when we were there, Asheville Brewing released it in 750 ml bottles the week before Thanksgiving. When an Atlanta friend of mine announced he was heading to Asheville, I immediately enlisted him to help me secure a few bottles from the brewery – – an assignment he kindly accepted. Now Asheville Brewing Company is helping "Santa" bring a few surprises to my beer-loving family and friends for Christmas.
---