No Comments
Dry Dock Brewing Co. | Signature Series Double Hazelnut Brown Ale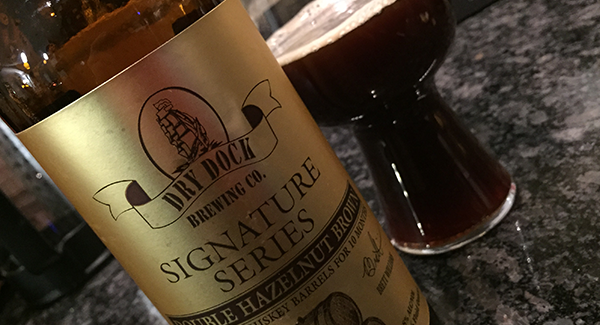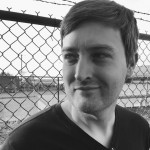 8% ABV
30 IBU
It's fair to say I have a soft spot in my heart for Dry Dock Brewing Co. Their Aurora taproom is one of the first breweries I visited after moving to Colorado, and its proximity to my office made it a frequent haunt for happy hours with coworkers and friends. With a lineup of beers running the gamut from a really solid Hefeweizen to one of my favorite double IPAs in the state, I didn't need many excuses to return. One of their most highly-anticipated releases has always been Signature Series Bligh's Barleywine, an excellent take on the style aged in whiskey barrels. This winter, Dry Dock added several companions to their Signature Series including one that caught my eye while shopping several weeks ago, Double Hazelnut Brown Ale. Deciding that a big brown ale plus whiskey plus hazelnuts sounded like one of the most delicious things ever, I grabbed a bottle and headed home.
This beer poured a deep, dark mahogany with a thin tan head that receded very quickly. The first whiff was all whiskey, but letting it warm up a bit exposed dark brown sugar, toffee, and a hint of the promised hazelnuts. Likewise, the first sip was whiskey first with beer playing catch-up. As the glass warmed up, all the other flavors came in to focus, and they were fantastic: sweet caramel, toffee, and milk chocolate from the malts followed by oak, vanilla, and spice from the barrel with the nutty flavor of hazelnut running beneath. The body was slightly syrupy but also creamy with a pleasingly sweet finish. I drank this beer over the span of an hour or so it and it just kept getting better. The experience was basically like drinking a Nutella milkshake from a whiskey bottle.
This is an excellent addition to Dry Dock's Signature Series, and is well worth trying along with its friends that include a hazelnut-free version of the double brown, a double coffee porter, and an incredibly delicious double vanilla porter. I could happily drink this beer again right now, but I'm curious to see how a few months will affect the second bottle I have stashed in my cellar.