No Comments
Upland Brewing Co. | Blackberry Lambic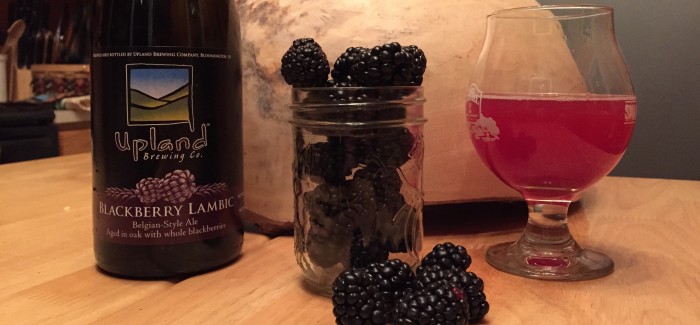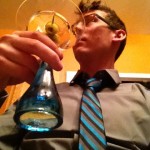 It is open season in Bloomington, IN. Open sour season that is with the recent release of Upland Brewing Co.'s highly regarded sours. A sour ale from almost every fruit imaginable, Upland has created some of the most sought after sour beers in the country—and I got my hands on one!
It was just last weekend that my band decided to have a recording session in Bloomington, IN. I thought to myself, "perfect, I finally get to check out Upland Brewing Co!" I had high hopes I might find a straggling sour or two still floating on the shelves, after all it was rumored that there was a lot more produced this year and you didn't have to win the lottery to get your hands on one. So after a long 10 hour day of recording, I convinced my bandmates to have dinner at Upland's brewpub. I figured going to the source would be my best chances of scoring any sours. Low and behold, there they were, glowing in the glass cooler lights. Now, I just had to make my decision.
I had a few choices to choose from, and as much as I wanted to buy all of them, $25/bottle can be a bit much to sink on multiple beers, even if they are 750ml bottles. So after some quick research and deliberation I decided that the Blackberry Lambic was coming home with me. My band mates thought I was crazy for buying a beer that was more expensive than my entire dinner, but I assured them, it was more than beer, it was an Upland sour!
Now this Belgian beauty is fermented with wild yeast and aged over a year in oak casks. Ripe, luscious local blackberries are then added during the secondary fermentation process to create a tart, refreshing sweet taste incomparable to other brews. The blackberries are sourced from local fruit farmers which add to the exclusivity of the beer and support local pride of this exquisite sour. The aroma consisted of fresh farm air. The smells you might expect when picking the actual blackberries themselves. The color was an extraordinary bright ruby red with sparkling tones throughout. I wasn't sure if I should drink it, or just set it on the mantel to impress guests….I drank it, and it was awesome! Bright blackberry flavors immediately filled my palate with dark fruity tartness. Refreshing light carbonation came from the result of bottle conditioning which made for a lengthy pink frothy head and bubbly notes throughout. A tart citrusy smooth finish completed the Blackberry Lambic on the last tasting notes before it was washed down.
This beer was next to perfect. One might wonder if you can make it any better. Well, remember the picture at the top of the article? See all those blackberries? It would have been a shame if they went to waste, so yes, I put a few in my glass. Fruit goes great in beer. Just ask any Blue Moon lover. Then ask any craft beer lover and they will tell you the same. Certain fruits will compliment certain beers in amazing ways. So did fresh blackberries in a Blackberry Lambic! Fear not, I didn't crush up the blackberry and put it in my beer, instead I let in soak in all the flavors of the wonderful lambic, and then devoured it on my last sip. Best blackberry ever!
I have tried many of Upland Brewery's sours and lambics now. The Blackberry Lambic was one I was able to cross off my list for the first time, which was a nice treat. I highly recommend grabbing a bottle if you ever have the chance. Taking the trip to Bloomington and entering the lottery would be totally worth it. Or you could just plan a convenient recording session in Bloomington with your band during sour season and land one "by chance".