No Comments
Holy City Brewing Company | Chucktown Follicle Brown Ale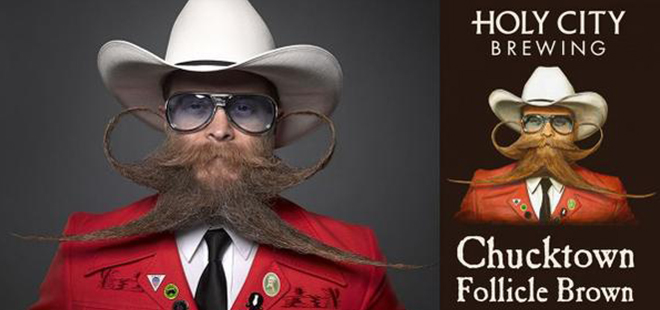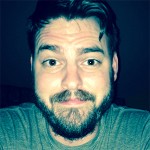 Beer can change a man's life; it has certainly affected mine. We hear of men who leave their stable jobs at the age of 40 to turn their homebrew into a full-fledged brewery, beers that alter the shape and direction of the whole industry, and beers that get professors fired.
Wait…what?! Don't fret; I'm getting to that.
Chucktown Follicle Brown is one of those beers. This American Brown Ale brewed by Holy City Brewing Co. out of Charleston, SC – arguably, the state's mecca for craft beer – was originally brewed for the 2013 Beer and Mustache Competition based in the Holy City. The brewery had been a sponsor for this event for the past several years and saw fit to turn over the naming rights of their brown ale to the host of the competition, the Holy City Beard and Mustache Society. The goal of the competition was to help raise money for the Lowcountry Women with Wings, an ovarian cancer awareness group. It was a success. Their organization helped raise over $6,000 for the cause, per a Facebook post on the charity's profile page. According to the Holy City Beard and Mustache Society, over the years, the event has raised a cumulative $30,000 for the campaign.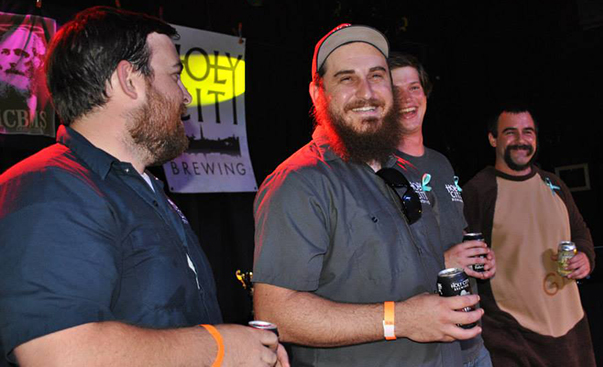 Chucktown was also a success. So much so, the brewery decided to can the beer and make it available (mostly) year round. When designing the label for the can, the brewery thought, "Who else is better to grace the cover of the can than the founder of the society that named and helped birth the beer?" That man was Paul Roof, who was also a six-year professor at Charleston Southern University. Chris Brown, founder of Holy City Brewing, notified Roof that they were going to use his likeness through a photograph taken at one of the beard competitions that Roof had participated in. Roof was stoked, but his employer would be less than pleased.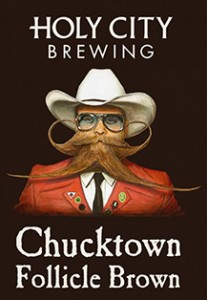 This is when things got hairy. After CSU found out about the venture, they grew concerned that having one of their professors on the face of a beer might compromise the integrity of the Christian university's values. The school approached Roof and asked him to remove the image from the beer or risk not having his contract with the institution renewed. When interviewed by local news sources, Roof quoted Vice President of Academic Affairs, Jackie Fish, as having said, "This was not an image for the Christian environment and that it may seem to students that I am endorsing the use of alcohol." Unfortunately, Roof had no rights to the image used, which meant he had no legal authority to have the brewery remove the image from production. The original photo of Roof was taken by Sean Williams under the Greg Anderson Photo label. I spoke to Chris Brown, and he informed me that he and Roof had talked several times during this controversy. According to Brown, he asked Roof if he wanted him to stop production and pull the label. Roof told him that he would much rather be buried with a beer that had his likeness on the label than keep his job. This left Roof in a tough spot. His values and that of the university were on a collision course. At the end of the day, the university felt they had little choice but to follow through with their ultimatum and fired Roof.
This was very difficult for Roof. He was, as he puts it to most people, "glad, mad and sad." He had made his home at CSU and earned a great deal of respect from the faculty and the students. It was going to be hard to let this go. However, his roots in craft beer were much deeper, dating back to his own college years at Appalachian State University in Boone, NC. Classes were less than a football field away from what is now Cottonwood Brewery, then just a brewpub called Tumbleweed Restaurant, which he frequented. Roof was also then a member of the Beers Across America Program that would send members two six packs of craft beer a month. Roof still has all the old newsletters and an unopened bottle from each six-pack they sent him! It was not just a love of beer that got him through this storm. Through all that happened, he saw the love and devotion of his friends and family that helped carry him from day to day during the trying times as he doubted his own convictions.
The beer that Roof would like to be buried with, Chucktown Follicle Brown ale, is brewed with Weyermann, Crystal, Roast, and Barley malts and Amarillo and Nugget hops to give it a balanced flavor. The beer pours smooth with adequate lacing from the tan head atop a cherry brown colored body. The first sip gives a nutty and roasted impression that's succeeded by a subtle bitterness from the hops. The flavor is mesmerizing as the malts and hops waltz on the tongue's dance floor. The mouthfeel is smooth and the ABV demands respect. This is the epitome of a well-rounded brew. To top it off, it has a controversial backstory that helps fill the time between sips. That is what craft beer is all about, drinking great beer and sharing crazy stories!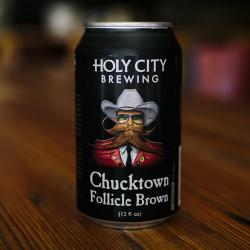 Chucktown Follicle Brown has remained a mainstay brew and can be found on shelves across South Carolina. If you contact The Charleston Beer Exchange, they will ship Holy City Brewing Co. brands across the nation. Following the controversy, Charleston Southern University reported record numbers in enrollment and fundraising. As for Chris Brown and Holy City Brewing Co., they continue to brew some of South Carolina's finest beer. In fact, they are releasing a very rare version of the Chucktown Follicle Brown Ale this month which they aged in tequila barrels (my favorite style of barrel aging) called El Chucktown Follicle Brown.
Paul Roof has moved on with his life. He is currently a professor of Sociology at College of Charleston and, according to Chris Brown, has free beer for life at Holy City Brewing Co. Roof has also conducted seminars and lectures specifically on the events surrounding his termination from CSU. As a Doctor of Sociology, he was able to find the intricacies of the whole occurrence fascinating and created a case study out of it. For more on this, see the video below where Paul Roof discusses Crossing Over.
Special thanks to Chris Brown [founder Holy City Brewing Co.] and Paul Roof [founder Holy City Beard and Mustache Society] for taking the time to talk and correspond with me.
---