4 Comments
Ultimate 6er | Carolina Cans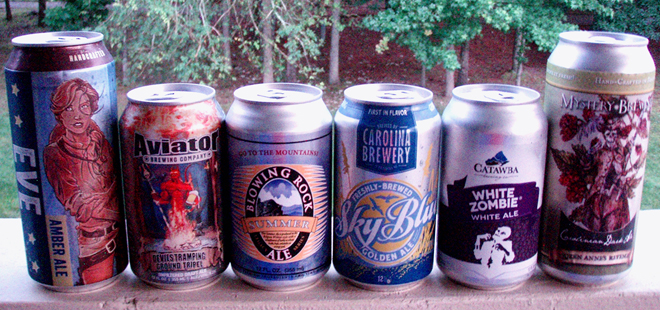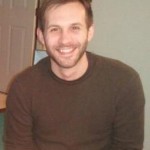 Today, we're going on a little adventure with six new (to me) North Carolina beers, all of which come in cans. There are brews representing the piedmont cities of Raleigh, Pittsboro, Hillsborough, and Fuquay-Varina; those in the foothills, Hickory and Morganton; and the Land of the Sky, mountainous Asheville. We're gonna see a lot, so hang on and please enjoy.
Aviator | Devil's Tramping Ground Tripel
ABV: 9.2% | IBU: 31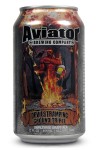 A golden tripel, the Devil's Tramping Ground pours as smooth as it goes down. An effervescent bubbliness teases the nose and tongue along with a mild sweetness owing to the presence of added sugar. If you're apprehensive about extra sugar, I understand. I was too at first, but trust me on this, the Devil's Tramping Ground is no beer to be trifled with or dismissed out of hand. The hops take any too-muchness out of the sugar, while the high alcohol content provides a punch you might not notice until you've put down the can. The label art is also totally wicked (pardon the pun). Fuquay-Varina, home to Aviator, should be proud.
---
Catawba | White Zombie White Ale
ABV: 5.1% | IBU: 10-17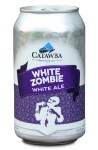 I wasn't aware Catawba Brewing Co. existed before my trip to the bottle shop the other day. Western North Carolina has done well to reach us here in the Piedmont. But that's the NC beer scene for you, so many breweries it's hard to keep track with new ones popping up all the time. The White Zombie pours a pale straw color with a permanent haze. The head vanishes readily, and the nose smacks of wheat. According to the Belgian Witbier tradition, the White Zombie is brewed with unmalted wheat. For the unknowing, unmalted wheat conveys the light color and haziness of the beer while also imparting a bolder, crisper wheat flavor as compared with other malted wheat styles. Light-bodied and refreshing, this citrusy and mildly spicy beer won't disappoint on a warm summer day.
---
Mystery | Queen Anne's Revenge Carolinian Dark Ale
ABV: 5.8% | IBU: 40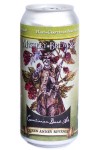 A short drive north of Chapel Hill, NC, will put you in Hillsborough, the home of Mystery Brewing. If the Queen Anne's Revenge is any indication, bold graphics and bold flavors are the secret behind the mystery. She's dark mahogany in color and fills the nostrils with the sweet, floral scent of hops. Medium in body, she goes down smooth, but not without making her presence known by her bitterness. The frightful, colorful depiction of an undead pirate mistress (Queen Anne herself?) compliments the flavor well, and together they stain the memory with pleasant feelings. Lastly, she comes in a 16-ounce pounder. For those wondering, that's a full 33% more than you would get in the standard can. As they claim on the side, it's beer for drinking, and they back it up.
---
ABV: 5.0% | IBU: 15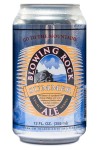 Blowing Rock's Summer Ale comes from a different school of Belgian Witbiers than that of Catawba's White Zombie. Based on appearance alone, it's apparent Blowing Rock malts their wheat. If my little pun wasn't clear enough, the Summer Ale pours a perfectly transparent golden color (come on, I'm killing with these). Contrary to the relative absence of hops in the White Zombie, the Summer Ale is strong with the hop, but more the floral side than the bitter. They also throw in a combination of coriander and sweet & curaçao bitter orange peels to add spice and citrus, and to deepen the complexity of the experience. The Blowing Rock Summer Ale is a bright, sunshiny beer, full of hoppy aromas and flavors.
---
Carolina | Sky Blue Golden Ale
ABV: 4.8% | IBU: 20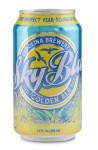 This German-style kölsch is the self-proclaimed "perfect year-round beer". With a bronze medal from the 2012 Great American Beer Festival under their belt, it's hard to say they're wrong. As a year-round beer, one expects it to be light enough for the hotter months and flavorful enough for the colder months, and this is exactly what you get with Sky Blue. It appears a very clear, pale straw color with a finger's breadth of head which dissipates somewhat quickly. The nose is light and wheat-yeasty, and so is the taste. Hops are present, but subtle. One can expect smooth, easy drinking with Sky Blue, reminiscent of the Helles lager style. In fact, Carolina Brewery reports using a cold aging process similar to that of a lager. After having one for myself, I find I agree with their tagline. I'd feel comfortable recommending this to anyone in the mood for a light-bodied ale regardless of the time of year.
---
ABV: 4.2% | IBU: N/A (tastes moderate ~30-40)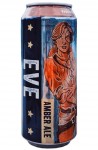 I thought I knew Lonerider's family pretty well. That was before I met Eve. (Turns out they let her out less than a year ago.) I was delighted to find Eve's an amber ale. It's something Lonerider hadn't done before, or just hadn't released. Regardless, she came in a pounder and pours the rich golden red for which these beers are named. The head is smooth and lingers a bit before leaving a white halo around surface of the beer. Most prominently, you can smell the hops wafting up from the glass. And just beneath, you'll pick up the malt sweetness. Eve is a smooth drink with prickling from the hops and balanced with malt. The bright and earthy flavor lingers on your tongue and lips so you don't forget what you just tasted. All told, Eve is a welcome addition to Lonerider's repertoire.
---