No Comments
Melbourne's Good Beer Week | Drinking in Style Down Under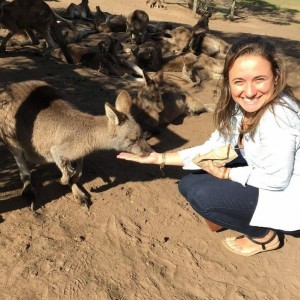 What Melbourne, Australia lacks in flip flop weather and surfable waves, it makes up for in a revolving door of cultural stimulation. Living in Melbourne means access to month-long comedy festivals, pop-up croquet clubs (a clever disguise for a place to get drunk with friends), tiny art festivals tucked into laneways, trendy restaurants hidden behind dumpsters or above unassuming book stores, and wine tastings galore. Although devastating to the wallet in this supremely pricey city, I've enjoyed the inspiring ritual of every day expanding my horizons beyond the beer and cheese binoculars I happily wore in my former Sconnie life.
That said, when I heard about Good Beer Week in Melbourne, all of my horizons shrunk back into one manifest destiny: Taste all of the beer. The line-up of Good Beer Week was impressive. Enjoy a five-course beer-paired meal inside an otherwise abandoned prison, step into a speak-easy to learn about the magic of mixing beer with cocktails, meet brewers from your choice of country in the Pint of Origin series, or just play arcade games all night as the games and the beer flow freely.
In the haze of a cheery, beery week, a few moments stick out as perfect examples of what it's like living in Melbourne, and why I love it here.
At a blind taste test in a cozy upstairs bar, I'm told feverishly by rambunctious Aussie's that Fosters is unheard of here and they've only ever tried it outside of Australia. Our taste test begins, and among the lagers there's a clear loser – a grainy, flat number. We were all shocked to discover it was Fosters. Imported for our taste test all the way from wherever it is they brew it (not Australia, I'm assured by the Aussies). The unanimous winner of the lager round was James Squire Four Wives Pilsener, a light craft that snuck some hops into the recipe. A small floral bite accompanied this sessionable lager, and the hop-heads loved it.
James Squire was represented this evening by master brewer Chuck Hahn, who you may know as a former long-time brewer over at Coors who literally wrote the book (or recipe) on Coors Light and Killians Irish Red. The guy knows his beer, and I was a bit star struck to get the chance to talk to him between tastes. His message was clear – American beer is over-hopped and over-alcoholic, and Australian beer is just a few years behind that train. A perfect example is the unanimous vote for a slightly hopped lager over any other quality lager. The craft beer drinker knows what he wants, and it's hops. I can only hope that America is on the down-slope, and that Australia will skip that hoppy slope entirely, and sessionable or at least malty will become the brewing buzz word.
New Zealand gives me hope. In a stroke of luck, Good Beer Week led me to Roxwell & Sons where a shipment of never-before-seen cans had just arrived from the North Island down south. In the meal of the century, Roxwell served up a saucy fried chicken sandwich paired perfectly with a hearty 440 mL can of Panhead Brewery's Hardtail Henry, a malty, light, cocoa sweetened craft darker than the badass can and better than any beer I've had in a long time.
Now that Good Beer Week is over, and we're back to talking about AFL while we eat meat pies and drink Carlton Draught, I'm happy to know that an excellent beer culture exists here too. The enthusiasm Melbournians showed for really good beer, and for the process of tasting and appreciating and discussing it, was impressive. Good Beer Week warmed my heart, and not only via high-ABV crafts.