No Comments
Good People Brewing Co. | Brown Ale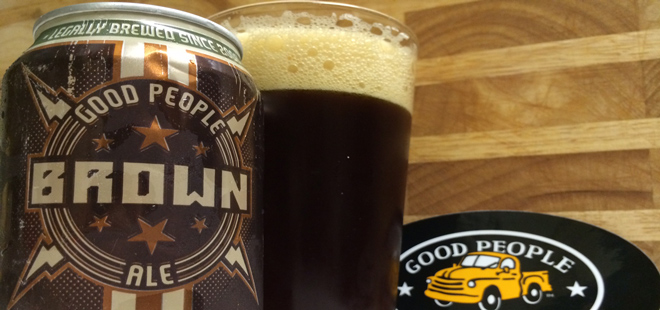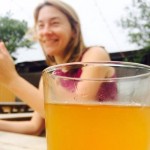 Birmingham, Alabama's Good People Brewing Company is growing, but the brewery is firmly rooted in the best of its past. The Brown Ale has been pouring from Good People's cans and draft lines since the brewery opened in 2008, offering a sweeter take on this classic style.

Birmingham's Good People Brewing Company is considered the state's oldest craft brewery (selling its first beer on July 4, 2008) after the state repealed ugly Prohibition Era laws that sent the legal ABV limit from 5.9 percent to 13.9 percent, Porch Drinking's Becky Kellogg reported in an earlier article.
The Brown Ale has been a year-round offering since the beginning, and you know it has a soft spot in the founders' hearts.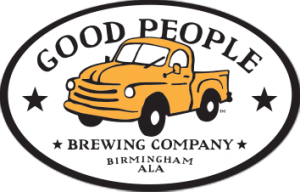 The original version of the Brown Ale remains carved into the founders' garage workbench to this day.
Brown Ale, poured from a can for this article, arrives smoothly in your glass with a good-looking, thick tan head — reminiscent of the foam on top of a silky sweet root beer. Under that tan head, the beer has a slightly copper tone to the brown.
Your first whiff will be a mix of malty notes you'd expect from a brown, mixed with a splash of hop floral aroma, priming your palate for what's coming next.
On your tongue, the sweeter side of the malts blossom first, threaded with a hint of the floral hop flavors that are still lingering in your nose. There's a noticeable light bite to finish, but it's certainly not overpowering or strongly bitter. Just enough to balance the sweet front end.
As that lacy tan head slides deeper in the glass, I can see myself sipping the Brown Ale at Good People's newly-renovated taproom they've dubbed "Community Hall," made from reclaimed, local wood. The new taproom held its official opening party when the brewery celebrated its 7th anniversary this past July 4.
You can get Good People Brewing Company's Brown Ale in Alabama as well as Nashville. Later this year, GPBC will be expanding distribution into Florida.
Good People Brewing Company
114 14th Street South
Birmingham, Alabama 35233
---