No Comments
Witnessing History as Georgia's New Beer Laws Take Hold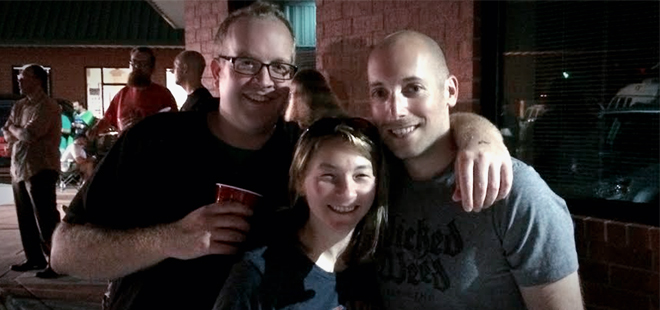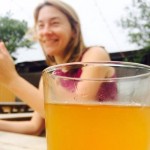 As a hazy orange moon, colored by far away wildfires in Canada and Alaska, hung high in the late-July sky, a line snaked the length of half a football field outside the front door of Burnt Hickory Brewery in metro Atlanta Tuesday night.
The people at the very front of the line had been there since 3 p.m., tolerating Georgia's heat and humidity for hours. Others had wandered up to the Kennesaw brewery after work or after dinner.
Craft beer lovers in other states may wonder, "What's the big deal? People stand in line for bottle releases all the time." But you'd be wrong. This doesn't happen in Georgia.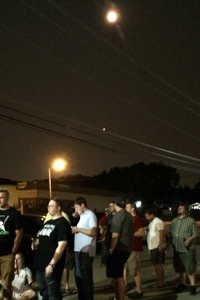 The 150-some people outside Burnt Hickory late Tuesday night weren't there to buy beer. They were there to be part of history, as midnight ushered in looser regulations for Georgia beer laws — and BHB was the first state brewery to open its doors to celebrate.
"This is a watershed moment for Georgia's craft breweries," said Burnt Hickory's founder and brewmaster, Scott Hedeen. "You are witnessing history tonight," he told the crowd.
Georgia craft brewers endured a long, passionate fight during the 2015 state legislature hearings, in support of SB63, also known as the Beer Jobs Bill, which was meant to put Georgia on par with neighboring states, whose laws allow breweries to sell straight to the consumer.
The Beer Jobs Bill was stripped of a lot of heft, still holding tight to the three tier system that mandates brewers sell to distributors, distributors sell to bars, restaurants, and grocery stores, and those establishments sell to you.
No, you still can't sit down at a brewery, order a pint and start a tab. You still can't buy growlers to-go from Georgia brewpubs, either (a cause brewers vow to keep fighting).
"Repeat after me: You are not buying beer. You're buying a souvenir tour package," Hedeen repeated to the crowd, trying to impress the new guidelines.
But breweries did come away with some small, significant victories in a state that's consistently crushed any attempt at change. As of midnight July 1, Georgia law allows breweries to offer take-home beer as part of an expanded tour package (i.e. You are still paying for the tour — not the beer). The law also increases the amount of beer you can consume at a brewery, so you'll get a little more beer in those taster pours than you're used to seeing.
Burnt Hickory's midnight event gave craft beer fanatics a chance to buy a brewery tour that included a special souvenir package of BHB's rare vintage bottles. The first 20 people in line could have two vintage bottles as part of the deal.
https://twitter.com/BHB_brews/status/615945140608344065/photo/1
Georgia beer fans will see events at breweries all week, from the "Georgia Craft Beer Independence" celebration at Three Taverns in Decatur to Freedom Weekend at Red Hare in Marietta.
Mark your calendar for next Wednesday! #gacraftbeerindepdenceday pic.twitter.com/uY3KCxto2I

— ThreeTaverns (@ThreeTaverns) June 24, 2015
These celebrations are just the beginning. Many Georgia breweries are expanding tasting room days and hours. The links below provide details of how the law will change tour times as well as pricing. Check back as the list grows in the coming days
Check out the list below, and be sure to check back for updates as breweries announce changes.
Blue Tarp Brewing, Decatur
Burnt Hickory Brewing, Kennesaw
Coastal Empire Beer Co., Savannah
Eagle Creek, Statesboro
Jekyll Brewing, Alpharetta
Monday Night Brewing, Atlanta
Orpheus Brewing, Atlanta
Reformation Brewing, Woodstock
Red Brick Brewing, Atlanta
Red Hare Brewing, Marietta
Southbound Brewing Co., Savannah
SweetWater Brewing Co., Atlanta
Terrapin Beer Company, Athens
Three Taverns, Decatur
Wild Heaven, Decatur
---