No Comments
My Night at Eleven Madison Park | A Lesson in the Do's and Don'ts of Fine Dining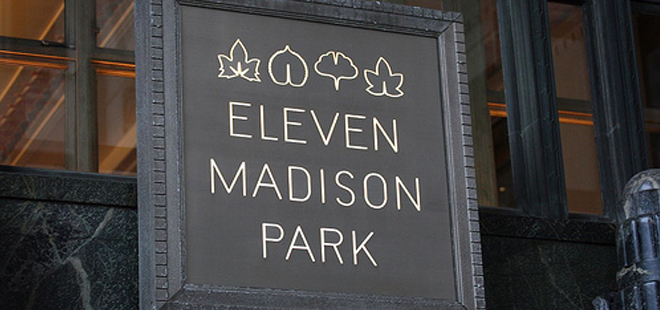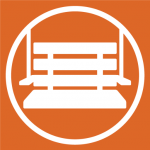 There are moments in a cook or food junky life that one will never forget – those moments we have been planning for so long that when the occasion finally arises you simply don't know what to think. Two years ago, I had one of those "pinch me" moments in New York City. I was about to eat at Eleven Madison Park, a three Michelin star restaurant currently ranked No. 5 in the world on the prestigious San Pellegrino Top 100 Restaurants List. As a complete nerd about food and the total dining experience, for me this was Mecca! Add on top of that a beer cellar that rivals many of the best beer cafes in the world and you have one hell of a night ahead! Let's just say I was a little too excited.
This was not my first time eating at a restaurant of this caliber, but when you visit restaurants of this nature the anticipation never ceases to be overwhelming. I woke up that morning feeling great, but obviously a bit anxious. I had a whole day off with my family in NYC to explore. Normally, I would have begun eating my way through a city of this caliber, as I am without question a pain-inflicting glutton, but of course I opted to completely fast after a simple egg and toast breakfast that morning in preparation for the nights festivities. This would become error number one.
Obviously, we arrived to the restaurant thirty minutes early, because what else are you going to do before a multi-course tasting menu but have a cocktail at the bar prior to being seated. This would be error number two. Walking into Eleven Madison Park (EMP) is like walking into a place "where time has stopped." The renovation of the old 50s art deco architecture was close to several million dollars back when it first opened as a bistro in 1998 under the guidance of the legendary Danny Meyer. The original touches from the period's architecture are ever present in everything from the ceilings and chandeliers to the windows and marble floor. It is one level, but the ceiling is probably two-three stories high. The space is beyond grand, but completely unfussy and comfortable at the same time. No expense was spared in the vision of this restaurant!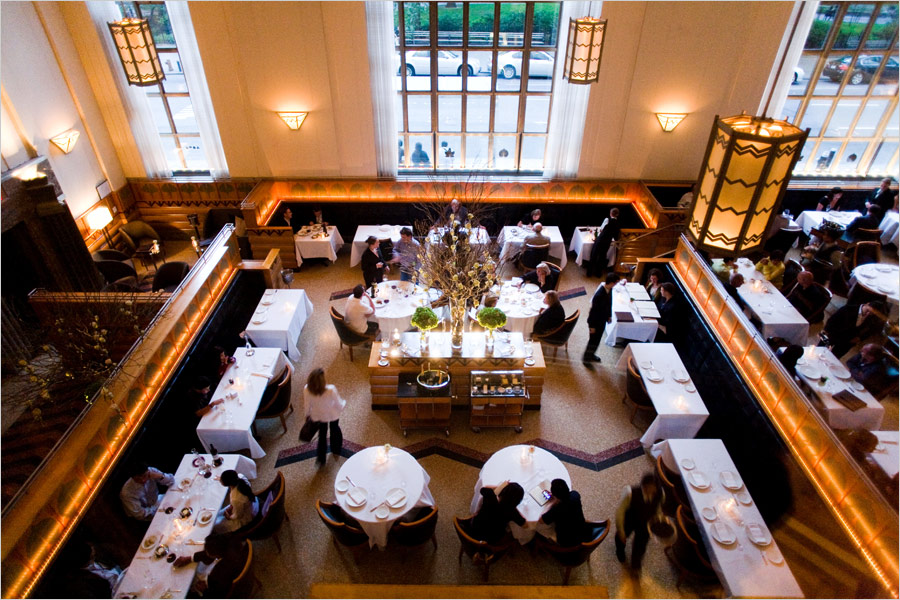 Restaurateur Will Guidara has re-invented the whole fine dining experience with his partner, head chef Daniel Humm. Both Guidara and Humm began working for Danny Meyer in 2006 and ended up purchasing the restaurant in 2011. Over the years they began transforming the original bistro concept into a world-class destination, leading the way in fine dining excellence! They have re-vamped the whole ritzy experience by making it less formal and more fun with a lot of "tongue & cheek" approaches to your meal.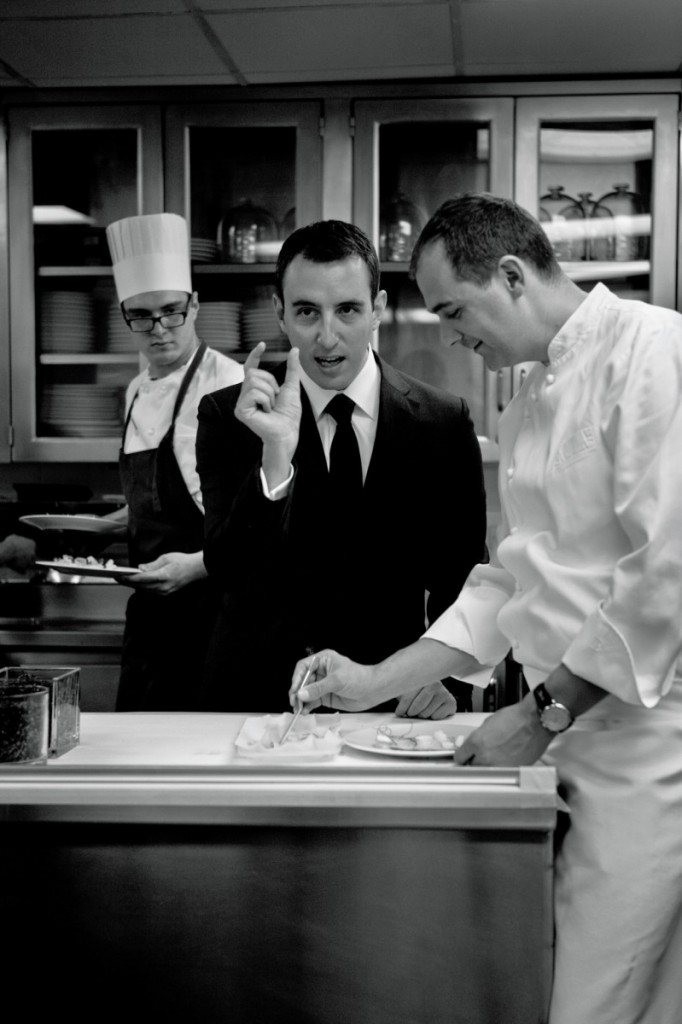 For instance, the meal started with each of us receiving a "golden ticket" that we were asked to select one provided flavor profile, to which the meal would hint at through out the dining experience (coffee, cherry, strawberry or celery). They also have dishes like a New England lobster boil, where the contents of a large pot are dumped onto a cutting board in the center of the table that you then eat with your hands, or a picnic lunch where a basket is dropped off at the table with everything inside for you to create your own little escape from the city. Do not let this be mistaken for a laid back position in hospitality. The whole staff floats around you like a baseball team, giving hand signals from across the room that might indicate something as simple as "bring table six another napkin" or "pull the seat out for the gentleman on seat three." They seriously rely on a set of hand gestures from across the floor or simple Morse code like tapping on the shoulder, elbow or back when passing to indicate different process that must happen at any given time. It is a real nutty thing to witness if you pay attention, but it works perfectly and the staff rarely misses a beat.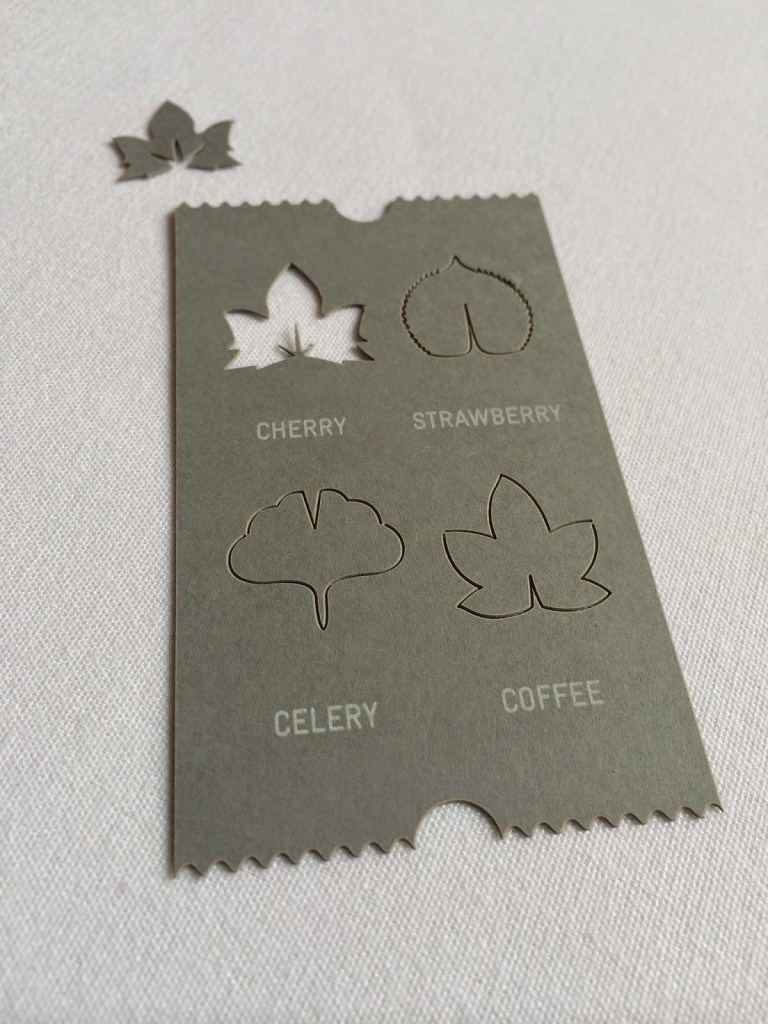 Upon being seated, I immediately asked to speak with the Sommelier, when our server responded, "I was just about to ask if you'd like to speak to our Somm." I began talking to our nice lad about how amazed I was at the beer cellar (which I had already looked at online) and would love to have him curate a beer pairing for us during the coursed out meal. His response was perfect: "Absolutely! You know I love beer just like wine, but people rarely come here and ask to do a beer pairing. This should be a lot of fun." At places like EMP, you do not get to choose your menu, nor do you even get to see, let alone understand, what it is that is about to happen; knowing that, the Sommelier and I began talking shop in order to make sure we were on the same page. I told him I completely trusted him to guide me through the courses, but that I only have one request, "I would like to see a bottle of Cantillon make an appearance at some point." This began a beautiful relationship between the lad and myself. We bonded like two brothers who had been separated at birth. My last words to him, as he left the table prior to our meal starting, would undoubtedly seal my fate for the night Don't be afraid to bust out the big guns!" This would become error number three.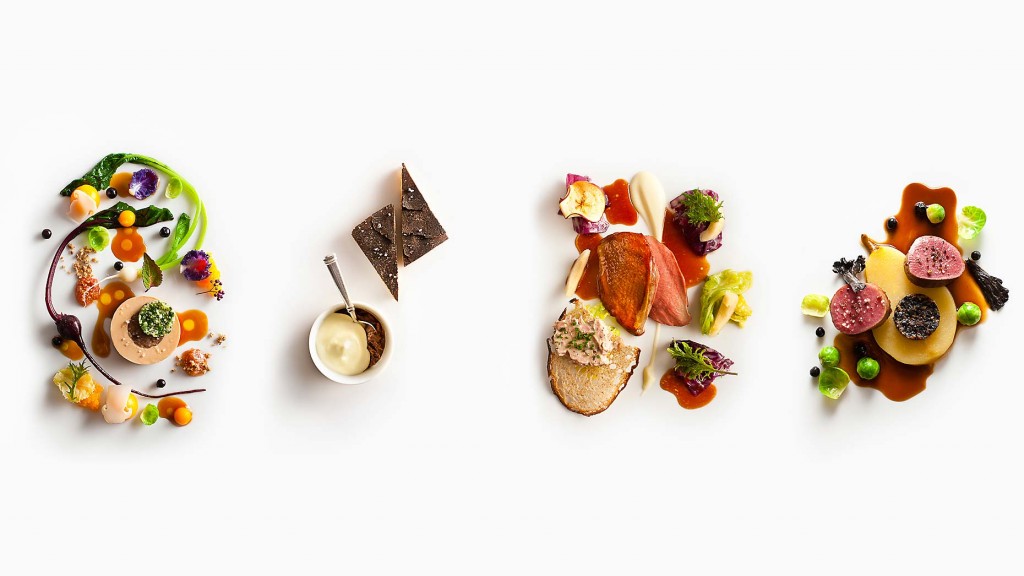 Once the meal started there was no turning back! A 5 hour – 14 course – 10 beer explosion was under way! The beer selection was as follows: Freigeist – Kolsch, Thornbridge – Jaipur IPA, Full Sail – Black Session Lager (This was a funny beer for such an occasion, but perfectly paired with a fancy take on pastrami sandwich. The sommelier was laughing as he brought me the bottle, but insisted I trust him. It was spot on.), Allagash – Victoria, George Gale & Sons – Prize Old Ale (1997), Cantillon – Gueuze (2013), De Dochter Van De Korenaar – Embrasse, Cervejaria Colorado – Bertho, Ithaca Beer Company – EMP "Picnic Basket" Beer, and Del Ducato – Bacaiami Lipsia. Below is the entire menu from that night. My final error in this extravagant onslaught, was trying to never waste a drop. When you are presented with such amazing selections of beer in a situation like this, it is tough to say you don't need to finish everything.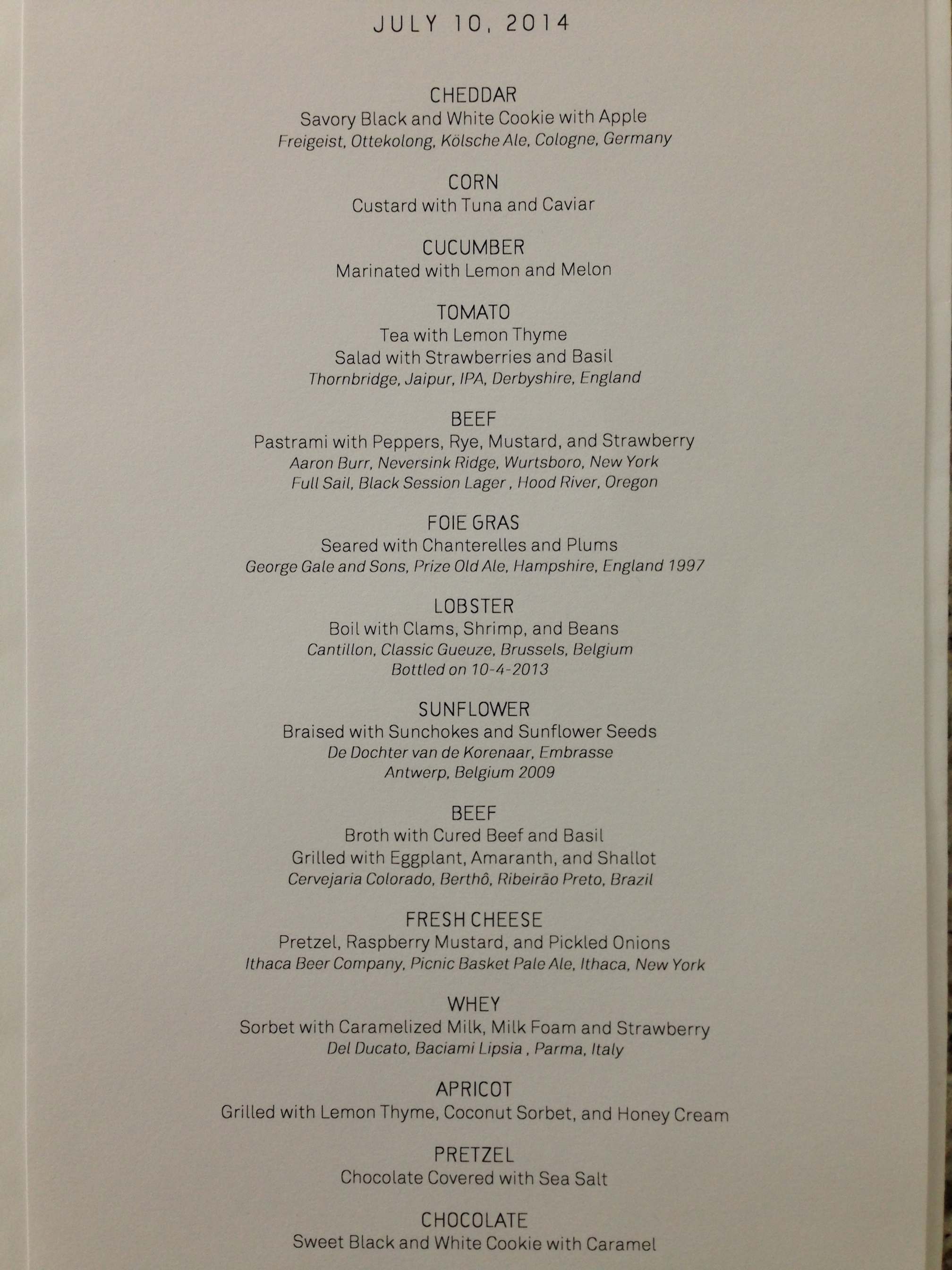 My story ends with me waking up at 6 a.m. in the hotel room – my suit still completely on, legs hanging off the bed, with all the lights on and the sink fully running. My head was foggy, mouth complete dry. How did I end up here? The answer I would soon learn over breakfast. Everything made sense right up until the last three courses (all dessert), but there was a blurry patch that still haunts me to this day. I had two choices. Either curl up into the cave of my bed sheets and allow the day to slowly dissolve away, or rally for day two of gluttonous extravagance, which included a lunch reservation at Marea (a two Michelin star Italian restaurant by Michael White) and dinner reservations at the prolific Le Bernardin (a three Michelin star restaurant, currently ranked No. 18 in the world, which is run by the god-like fish whisperer chef, Eric Ripert). Without question I rallied!
In hindsight, I don't think I could have done it any other way, but alas we have four lessons to learn about the "Do's and Don'ts" of fine dining as a beer snob! One – always eat your lunch, nourishment does a body good. Two – you really don't need to start with cocktail, wait and see how you feel at the end of the night. Three – don't be overzealous in asking for only big beers, some of those low ALC guys are pretty awesome too. Four – you don't need to finish everything yourself, share the bounty with the staff because they love beer too. To add on to that you must also fully relinquish yourself to the experience. Trust the staff to guide you through the journey. Just make sure to hang on for the ride. Lastly, always rally for the next day adventure.
---