No Comments
The Lorenzo Lamas of Beer Drinkers: My Interview with Andy Juett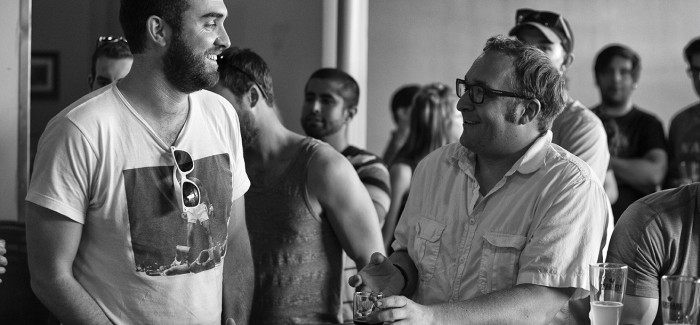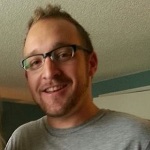 Andy Juett is a comic renaissance man in Denver, Colorado, focusing on stand-up, acting, writing, producing, and hosting. Andy is one of the creators of the High Plains Comedy Festival, which just celebrated its third successful year, and a partner in the Sexpot Comedy. Andy recently starred in and wrote season one of a short online comedy series, Glenn Has Idea$. Andy will be performing at and hosting Offensively Delicious (our preview here), a craft beer comedy show sponsored by Renegade Brewing on Wednesday, September 23, during the Great American Beer Festival.
I sat down with Andy at Renegade to share a beer and a few laughs.
Q: Tell me about the upcoming Offensively Delicious comedy show.
A: Offensively Delicious is in its 2nd year and the idea is that it's the unofficial kickoff to the Great American Beer Festival one day before everything gets started. Lots of industry is in town before GABF and my business compadre Kayvan Khalatbari and I love beer. We have this great relationship with Brian O'Connell and Laura Decker at Renegade Brewing Company and they really helped spearhead this amazing event that brings 10 breweries to the public starting at 6 p.m. with unlimited pours so you can really try different beers and then there's a full comedy showcase with Kyle Kinane, Adam Cayton-Holland, Sam Tallent and I. The brewers also send a representative from their company to do two minutes of standup at the beginning of the proceedings and it's a super loose fun time. It's one price for all you cant taste and Kyle Kinane. What's more fun than that?  Especially if you're a beer drinker? Go watch Kyle's episode of Drunk History on Comedy Central. It rules.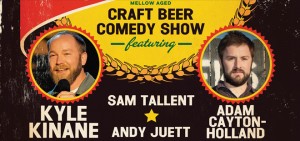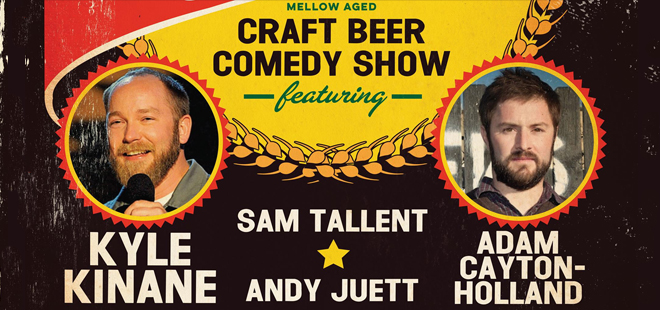 Q: How did you get involved with Renegade?
A: Laura and Keith Decker and Brian O'Connell and Kayvan and I have just had this great supportive relationship as their brewery and our weird comedy company grow concurrently. They make GREAT beer and Laura and Brian have really invested time and energy in getting more involved in the comedy scene. I think you'll see that continue. Beer and comedy are a nice pairing. And this is a beer and comedy party on all levels.
Q: What is your favorite thing about Renegade? What is your favorite beer of theirs? What would you recommend to someone on their first visit?
A: Consilium is probably my favorite summer choice. Redacted is another fave. I'd go to their bar and sit at the counter and sort of tell the person behind the counter what you're into. Or let them recommend something. They really know their stuff and every time I show up there's some other variation of what they're doing that I'm excited about.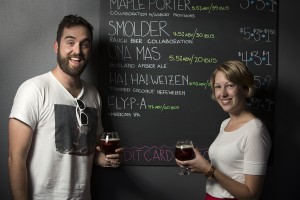 Q: Denver's comedy scene has exploded similarly to the craft brew scene. Do you see any correlations between them?
A: I do. There are parallel paths in the environments where those items (beer and comedy) are consumed and created and there's also a similar spirit in terms of passion for making something. There are home and local brewers that definitely grind out these small batches at their houses or in small breweries that are revelatory and delicious and I think there are comedians here 'sharpening the saw' when it comes to practicing their craft by any means necessary too. That's sort of the independent spirit of Denver. Making cool shit at all costs.
Q: Besides Renegade, what are a couple of your favorite Denver breweries? What about Denver beer bars?
A: Listen. I'm the Lorenzo Lamas of beer drinkers. So I go straight Renegade. If I veer outside, I like to go to TRVE Brewing at 2nd and Broadway. They brew preposterously good high alcohol volume beers and there's death metal art all over the wall. So if you like flavorful beers and cool art where the most beautiful woman is being cut in half by a donkey faced monk, you're going to want to get to TRVE.
Q: How adventurous are you when trying new beers? What are your favorite styles?
A: I like to go to a new brewery and get flights of beers and get a vibe for a brewery. Everywhere you go here has some sort of distinct quality. I'm really into sour beers right now. Last year I drank a New Belgium called La Folie that blew my hair back real hard. I think it's back but if it's not I'm going to get CRAZY in the marketing department and force the issue. Maybe like a drawer full of taco meat for Andrew Emerton over there until he delivers a palate.
Q: Glenn Has Idea$ strikes a chord with anyone that's worked in a cubicle wasteland. Did most of your ideas for the series come from real world experiences?
A: Yes. I worked running radio stations for 14 years for companies like Clear Channel, CBS Radio and Max Media among others. I had great experiences there, but Glenn is spawned from the nonsense that doesn't make sense. I always was decent at my job but viewed myself as a bit of a rabble rouser at times in those roles and this allowed me to branch out and create and improvise terrible schemes that would ruin my boss' life in really absurd way. There are ridiculous guest stars in this series and all the episodes are super short so check it out on YouTube under Sexpot Comedy's channel or Glenn Has Idea$. Gotta include that '$' or all you'll get is Glenn Beck footage.
Q: There are some amazing names for beers, such as Hoppy Ending (Palo Alto Brewing Co) and Haulin' Oats Stout (Redhook). If you could name a beer, what would it be?
A: Well we're really excited because we just did a brainstorming session about names for a beer Sexpot Comedy and Renegade Brewing Co are putting together for this event. A collaboration brew. I'm so pumped. 20 or so comics and Renegade made a list of about 100 names at a recent gathering. It was surreal and fun. We haven't chosen a name yet, but come to the event and drink the newly named Sexpot Comedy/Renegade Brewing beer! It will be dope. Preview: hints of coconut and banana.
Q: What have been some of your favorite places to drink craft beer? Do any Denver bars stand out in your mind with a surprisingly great beer list?
A: I really like Vine Street. They have a great debate show every month that Kevin O'Brien runs and the beer taps are abundant and perfectly varied. It's a warm place. I honestly really like to be at Renegade at 9th and Santa Fe and eat from the food trucks that are outside all the time. The Pasty's truck parked out front mixed with a 5 o'clock from Renegade makes for a chill afternoon. I basically sound like a snowboarder in this interview at this point. Sick beers. Sick eats out front. That's the Renegade difference, bra!
Q: In your travel for comedy, what are your favorite beer cities to perform at? What are some of the best beers you have found? In a new city, how do you go about finding places to visit?
A: The beers in Portland are fucking delicious and at Bridgetown Comedy Festival they deliver on free beer hard. All sorts of stuff. I want to live in the label of a Montucky beer.  Truly.
I also like Brooklyn Brewing in Brooklyn, NY and Friends and Allies Brewing in Austin, TX.
As far as finding new places on the road, I follow the flow of my friends recommendations although I definitely can follow up online sometimes. My friends in each comedy scene know how to drink so I usually let them lead me on an odyssey and yummy beers end up in these mitts.
Q: With so many guest comedians on your videos and for events you host like The High Plains Comedy Festival, where do you take them to introduce them to Denver's beer scene?
A: Renegade and TRVE primarily. I hate to beat a dead horse but see above. Sitting at Renegade is the bomb with friends from out of town. Their staff is friendly and they have non-stop beers that rule. TRVE for when things get nuts in my personal life go crazy I like to sit with Denver art wizard Michael King at TRVE or get get beer with Kayvan and out of town comics at Historians. Good head clearing spots. Illegal Pete's on South Broadway is my favorite casual bar. Hands down. Go there. It's like The Max in Saved By The Bell for comedians and your favorite bands and the burritos are god damn delicious.
---