No Comments
Brewery Showcase | Peddler Brewing Company (Seattle, WA)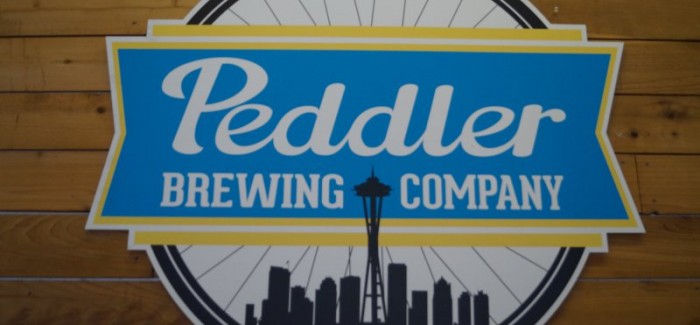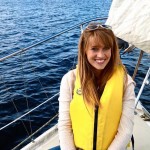 Haley Keller, co-founder of Peddler Brewing Company, wasn't always a biker. Come to think of it, she didn't always like beer, either.
"I would say that both of those were [Dave's] loves, not necessarily mine," Haley admits.
But it didn't take long for Haley to get hooked on to either activity. Shortly after meeting her future husband Dave Keller (while at a karaoke dive bar in Lower Queen Anne, Seattle, if you must know) Haley was going to dates not in cars but on bikes, and experimenting on her taste buds as she worked her way through all of Dave's homemade brews. Not long after that Haley had taken her bike out of her parent's garage, and had started to learn more about the styles of beer, and how each was made.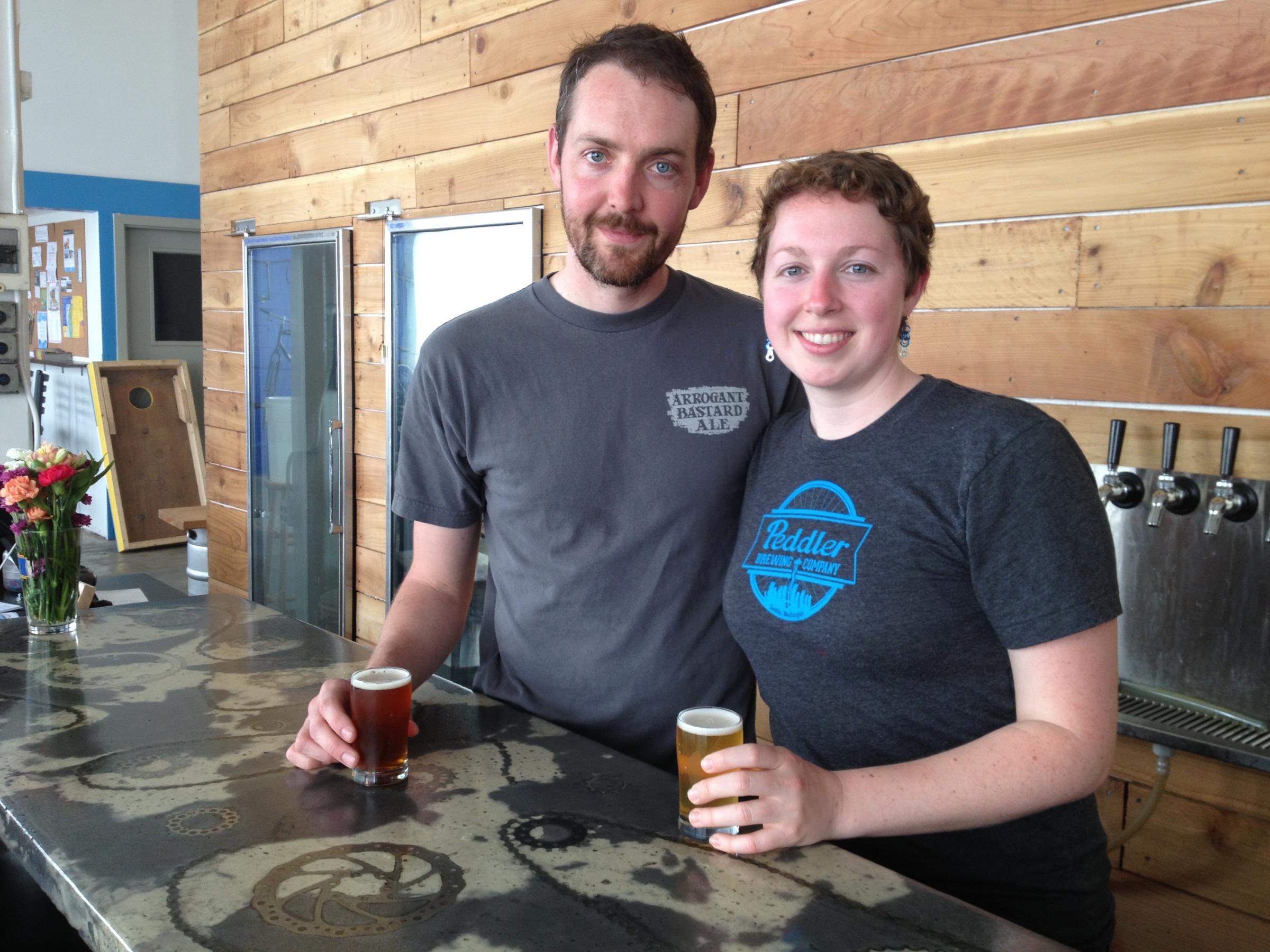 During this time, Haley and Dave were spending their days inside a high school teaching math, and working away at Boeing as an engineer, respectively. They were, by any standards, very far away from brewery owners. But that wasn't going to last for long – thanks to a fateful road trip, a drunken purchase, and lots of ambition.
"I guess the conversation [of starting a brewery] started the summer of our road trip," Haley reflects on their summer of 2011. "We based our tour on Brewer's News' magazine maps. We would say 'let's go into this town and try these breweries out!' – it was just a huge part of it."
As they went from town to town, sipping their way across America, a thought crossed their minds: Maybe we could do this, too.
"It was January of 2012 where we were talking about it again. We came up with a name we liked, we went on the Seattle city website, applied for a business license," Haley laughs. "I think we were kinda drunk when we did it. We get this thing in the mail – 'here's your business license!'"
But then it was real. It was go time. Peddler Brewing Company had been born. Haley and Dave did a bit of money calculating, and hit the bike trails to start looking at spaces. It was always very forthright in Dave and Haley's mind to have a brewery that was not only delicious but bike friendly and bike accessible.
"We wanted a space near a bike path if we could be," Haley says. As bikers, Dave and Haley knew that fellow bikers would appreciate the convenience of good beer on a good trail.
"There are people who use [biking] as a form of commuting. It's fun when you go out at night – you don't have to plan your schedule of how to get there and how to get back. You can go where you want to go and choose your own route to get there," Haley describes.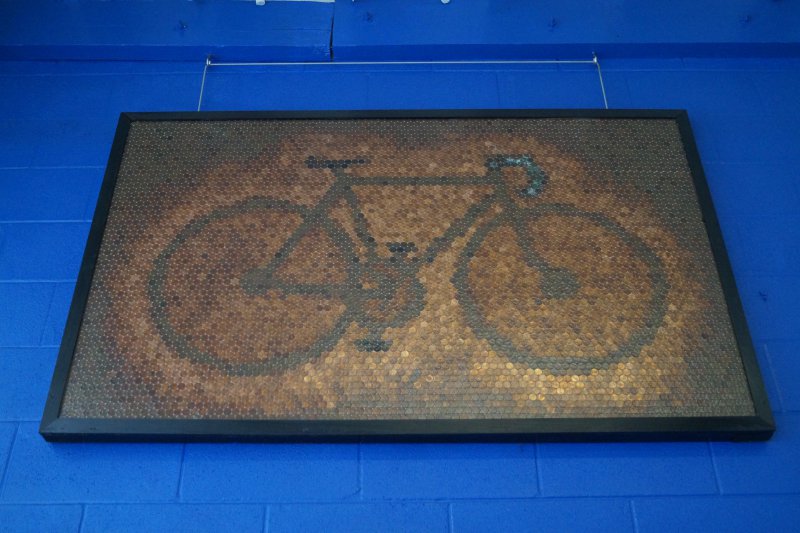 So they found their location today – an old auto shop with grand, garage doors, slick cement floor, prime location in the bustling, brewery-filled neighborhood of Ballard, and – you guessed it – not far from a bike trail. It was perfect. Haley and Dave went to work. They pulled tips from beer websites on how to open shop, capitalizing and learning from many forums, and started slowly and surely fixing up the place – doing construction each night after work. You heard that right. They put the place together while they were continuing to work. What kept them alive?
"I think we were living on a lot of stamina and alcohol. We worked our ass off at our day jobs, constructed in the evening and on the weekends," Haley laughs.
But the hard work was worth it. In March of 2013 Peddler Brewing opened their doors. Since its birth, the brewery has become a staple for Seattle beer lovers and bikers alike – as it has successfully married the two passions of craft beer and peddling to create a welcoming, engaging environment that is always pouring mouthwatering and addictive brews. And speaking of brews, it's time to fill your glasses.
Tangerine Hefeweizen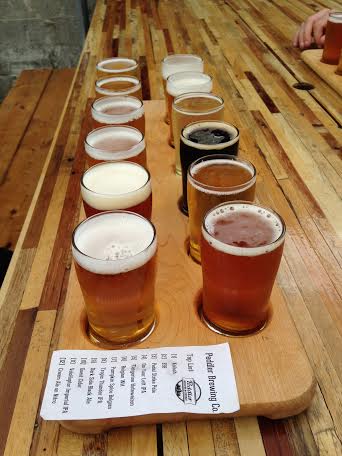 5.0% ABV
Peddler's signature beer, arguably, and a favorite of Haley's. This beer uses real tangerine juice to give it a light, citrusy flavor that results in a drinkable beer that you'll keep coming back to time and time again. This is a year-round staple at Peddler Brewing, and a hopeful for their 6 packs – which are set to debut this summer – if all goes as planned.
On Your Left IPA
6.2% ABV
The IPA that kickstarted my love for Peddler's was the On Your Left. Not only is the name clever – the beer is incredible. A balanced IPA – in typical Northwest IPA style –  with strong hops from start to finish. This is another brew that you can, most likely, find on tap year round.
Kolsch
4.6% ABV
Enjoy this beer on Peddler's patio – either watching one of their Thursday night flicks or challenging your friends to a game of giant jenga. This beer is refreshing and light – with light malt and hop flavor – resulting in a crowd-pleasing brew. It has a strong finish that will keep you reaching for your glass.
If you're able to fill your glasses sometime soon, we suggest you peddle your way to the brewery – just to get the full effect.
"Well I guess the whole biking experience is where you're going. It's about the journey as part of it," Haley says.
Needless to say, we're excited to see where these peddlers – and Peddler Brewing – will go next. In the meantime, make sure to raise your glasses to Peddlers this Saturday as they celebrate their third anniversary. More details on that event can be found here. 
Hours
Wednesday: 4pm – 10pm
Thursday: 4pm – 11pm
Friday: 4pm – 11pm
Saturday: 11am – 11pm
Sunday: 12pm – 8pm
---