No Comments
Ultimate 6er | Anthony Bourdain: Parts Unknown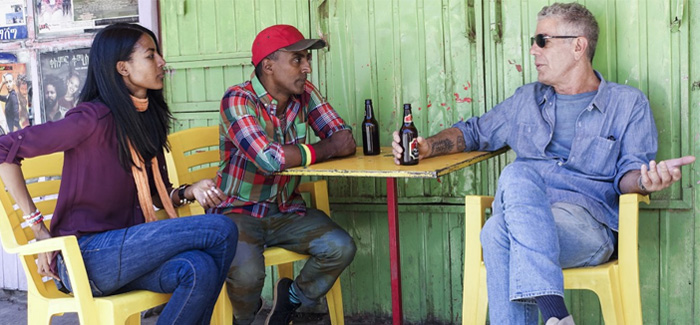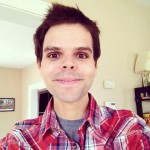 Photo Courtesy of CNN.
There are some television shows, for whatever reason, I only watch while enjoying a beer or two. It's as if the quality of the program is somehow diminished if I'm not cradling one of my favorite brewery-branded snifters, nursing a beer for the entirety of the episode, really drinking in the experience – pardon the pun. Call it tradition. Call it habit. Call it whatever you want, but there's just some intrinsic link between the two – an association that immediately transports me to a happy place few other combinations have the power to do.
Sure, ask those closest to me, my wife or good friends, and they'll tell you Anthony Bourdain is my spirit guide, and his CNN travel show Parts Unknown, now in its seventh season, is just the program I eluded to in the opening passage. When I sit down to stream the newest episode, a beer is almost always in-hand.
Perhaps it's the fact Bourdain's travels most often center around the native food and drink customs of the far-flung regions he visits. Or, perhaps it's the fact our intrepid host is prone to moments of over indulging on the local firewater and there's something about that I dial into – as if our communal buzz is a way of bringing me a wee bit closer to the globetrotting, cultural investigations Bourdain traffics in and that I secretly wish I could as well.
Whatever the case, I'll go the mat defending the argument Parts Unknown is one of the best shows on television today – it turns out Bourdain, a chef-turned-writer-turned-travel-show-host is actually an incredibly insightful documentarian – and in the event this little rant has inspired you to give the show a shot, here's an Ultimate 6er based on some of the best episodes thus far.
Season 1, Episode 4: Quebec
Bourbon County Brand Stout | Goose Island 
Not only does this episode take place in Quebec during the dead of winter – is there any better call for a little BCS? – but the sheer decadence Bourdain dabbles in as he travels across Quebec with chef's Fred McMillan and Dave Morin pairs perfectly with the deep, rich qualities of Goose Island's best offering – and one of my top 5 favorite beers of all time. Bourdain and company eat seared foie gras and drink the finest French wines in an ice-fishing shanty, gorge themselves on maple syrup-infused meats and treats in an authentic sugar shack, and cheer on the Montreal Canadians while sipping scotch and bourbon in an luxury box suite. The episode, which probes the true spirit of Canadian nationalism and identity, is big, over the top, boozy, and just plain delightful.
https://www.instagram.com/p/BDozJS0Aluv/?tagged=bourboncountybrandstout
---
Season 2, Episode 9: Detroit
Of course it's only fitting to spotlight a Michigan beer in a Michigan episode, but there's more to it than that. Bourdain's foray into Detroit's grand history, his look at its current decay, and his thoughts on the city's resurrection and potential bright future cry out for a brown ale, a beer style most commonly associated with tribute beers to those who leave us too soon. Short's Bellaire Brown, with its feet firmly steeped in the tradition of classic American brown ales – minus the slightly off-style 7 percent ABV – is the perfect accompaniment to an exercise in how far Detroit came and how far it's fallen. Plus, one could argue the food-pairing virtues of Bourdain's exploration of the Coney Island-stye hotdog with Bellaire Brown – the nutty, caramelized notes from the beer paired with the fat, smoke, and richness of a chili-cheese dog. Sign me up.
https://www.instagram.com/p/7nvtovpGp8/?tagged=bellairebrown
---
Season 3, Episode 6: Russia
Jolly Pumpkin, perhaps America's premiere sour, wild beer producer, makes a number of beers that perplex me – that seem to almost be in conflict with themselves, unsure of their own identity. Calabaza Blanca, a Belgian-style wit aged in oak casks and refermented in the bottle, takes the hallmarks of a wit and turns them upside down by adding some acidity, tartness, and earthy funk, giving the drinking experience a certain tension. Bourdain's trip to Russia just before the Olympic games in Sochi exposes a country resting on this same tension. The scandal surrounding the games, the political unrest, and a nation of people hungry for change yet still clinging to characteristics of the past make for a portrait as complex and layered as Calabaza Blanca. A match made in a strange kind of heaven.
https://www.instagram.com/p/_qNd4Lg1E9/?tagged=calabazablanca
---
Season 5, Episode 3: Miami
What seals this episode for me as one of the best in the series – aside from the food porn shots of Cubano sandwiches, fried plantains, and high-test espressos – is the final ten or so minutes where Bourdain sits down for a meal at a beachside restaurant with his idol, Iggy Pop. There's very little in the way of excess in these scenes: both men dine on relatively healthy dishes accompanied with a glass or two of chilled white wine. But what's so magical about it is the simplicity of the connection they share – two men who spent years living high-octane lifestyles fueled by drug addictions, neurosis, and a need for acceptance bonding over the calm that has become their later years. The final moments where the two stroll along the beach discussing the simple things about life they now find fulfilling is perfectly encapsulated in Pivo Pils – a crisp, hoppy, expertly made German-style pils that gives you everything you need and nothing you don't. It's refreshing, elegant in its simplicity, and just so damn delicious.
https://www.instagram.com/p/BFqeLRfQPDE/?tagged=pivopils
---
Season 6, Episode 1: Cuba
Sumatra Mountain Brown | Founders
Cuba. Now suddenly a place American tourists and cultural investigators have the freedom to explore. That's the thrust of this episode: how Cuba may – or in Bourdain's point of view – may not benefit from the tidal wave of American influence set to befall the shores of this small nation island. Why Founders Sumatra Mountain Brown? Why an imperial brown ale brewed with coffee? Well, aside from the imperialistic connection, the robust, some could argue aggressive coffee notes conjure up a morning brew that not only takes no prisoners but is unapologetic about the one or two notes in its flavor repertoire. Much like many of the Cubans Bourdain interviews, this beer is not only clearly proud of what it is, it's stubbornly unnameable to change even as each sip develops on your palate. It's a hugely coffee beer. This episode is full of people who are Cubans and want to remain as such no matter how many Hiltons are built. There's no changing either.
https://www.instagram.com/p/N4pKIKrPjD/?tagged=mountainbrown
---
Season 7, Episode 4: The Greek Islands
This episode from the most recent season got to me. There's something poetic about how Bourdain juxtaposes the tumultuous relationship between the people of Greece and their government with the unparalleled beauty of the landscape around him. Mountains, sea, beaches, rolling hills – all of it against the backdrop of people, in some cases, struggling to get by on a day-to-day basis. It may make little sense to pair this episode with Saison Dupont, but then again what beer straddles the line between high and low more deftly than Dupont – a farmhouse beer brewed for farm hands that has found a place among the most loved beers in the American beer landscape. It's rustic. It can have some rough edges. It's bright lemony, citrus notes and pronounced yeast character balance perfectly with the earthy hops and hints of funk. Dupont, much like the Greek Islands, walks such a fine line we can't help but be intrigued.
https://www.instagram.com/p/8_y0icoe86/?tagged=brasseriedupont
---