No Comments
River North Releases Cans of Colorado IPA & Pils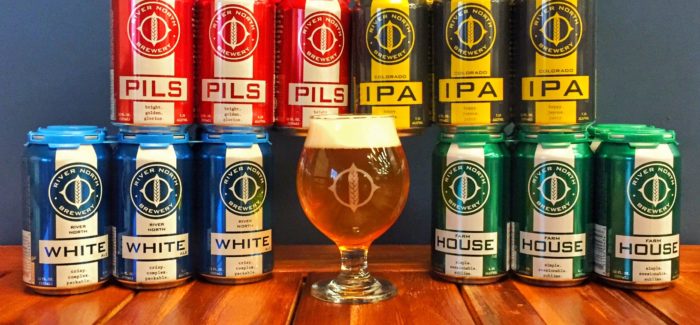 The blokes at River North Brewery (Denver, CO) have added two new beers to its can lineup, Colorado IPA and Pils. Joining perennial favorites River North White and FarmHouse, these new additions are the perfect complement to the brewery's lineup of #AdventureFuel canned exclusively for Colorado beer lovers. This is big news for a brewery that has recently moved to a new location that allows them to brew beers they have wanted to for a while. Although this is a branching out from their Belgian influences, they are quick to note that they are not retiring any of their longstanding beers.
Cans of both new River North beers hit store shelves throughout the state this week, and will be available year-round going forward. The brewery encourages all fans to submit their pictures of cans in the wild by tagging @rivernorthbrew and using the hashtag #AdventureFuel!
Colorado IPA is a classic American hop-bomb brewed with mountains of Citra, Amarillo, Azacca, Columbus and Cascade hops. Inspired by IPAs from both coasts, Colorado IPA strikes the perfect balance of bitter and floral hop character.
"We spent six months perfecting this beer," Founder Matt Hess said. "The hop blend captures exactly what I want in an IPA. This will be my go-to trail beer this summer, but until then, we have a month or two of good snow left to enjoy it on the slopes."
The second new can, Pils, is a Rocky Mountain lager for all four seasons – fermented low and slow, the way it should be. While it takes more time to brew a proper Pilsner, that's exactly what sets this beer apart.
"Inspired by a delightful afternoon at Kloster Andechs outside of Munich, I've been wanting to brew something like this for a while," Lead Brewer Derek Goodman said. "As a bit of a traditionalist, this is the beer I pride myself on."
Both new beers were canned last week, and have already started being delivered to stores in the metro area, ensuring maximum freshness. In May, River North will also debut a mixed 12-pack of all four cans, providing the perfect variety for gatherings at home or in the great outdoors.
Since 2012, River North Brewery has crafted #AdventureFuel for Colorado beer fanatics, with a full lineup of crushable cans and cellar-worthy bottles. Brewing in Denver, River North was named the 2015 Brewery of the Year in the Best of Craft Beer Awards. Like the brewery and follow them on their socials at facebook.com/rivernorthbrew or follow/tag @rivernorthbrew on Twitter.
---