No Comments
BREAKING | 2017 Collaboration Fest Pour List Preview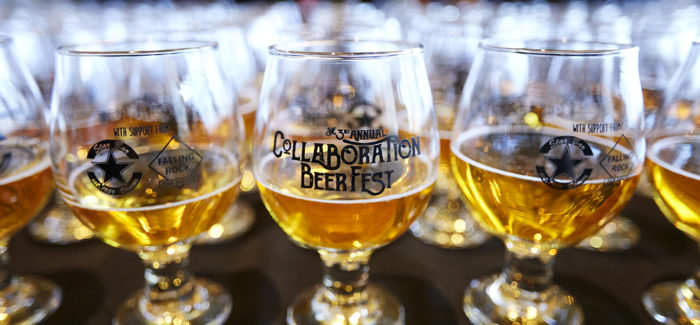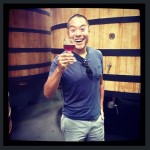 Over the past four years, Collaboration Fest has grown to represent the foundation of which this industry was built upon. Fostering a deep sense of community, pairing neighbors, friends from across the country, entire geographical regions, and even breweries from across the globe, Collaboration Fest celebrates the partnership of breweries near and far, coming together to brew unique, one-off beers specifically to be showcased at the festival.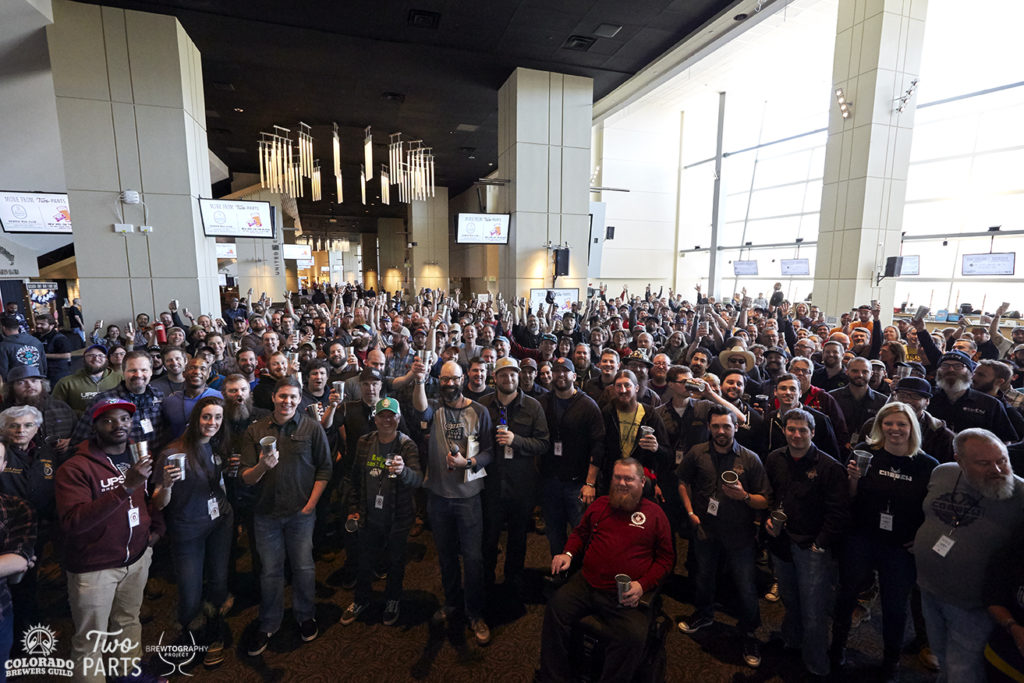 This year's 4th Annual Collaboration Fest taking place on Saturday, March 25 at The National Western Sports Complex, will be upping the ante to include over 110 unique beers from over 150 breweries. The event runs from 4-7pm for General Admission ticket holders with a VIP ticket holders having access to the festival from 3-7pm. Tickets are currently available for $60 for General Admission with VIP ringing in at $85.
Our friends at Two Parts, Collab Fest's organizers, along with the Colorado Brewers Guild have granted PorchDrinking an official first look at the 2017 Collaboration Fest Pour List.
105 West Brewing Company & Chain Reaction Brewing
Intergalactichoptopia Peach Rye IPA- This collaboration came together from a late night conversation and the desire of the two breweries to brew outside of the box together. The breweries have brewed two batches of this beer with separate yeasts. One batch features Cali 001 and the other WLP300 Hefeweizen.
38 State Brewing & Back Country Brewery
Knackered Knickers Olde Ale – An English Old Ale with flavors of malty, sweetness, and slight spice from black molasses. This beer was inspired by both breweries dedication to brewing historic and true-to-style beers. This collaboration came together after four friends sat down for beers at Wynkoop before GABF 2016. After reminiscing about the past they decided they wanted to create something together.
4 Noses Brewing Co & Wibby Brewing
Two Way Street Rye Imperial Pils-  The two breweries decided to collaborate out of their respect for one another. As they were developing the beer they began talking about how they could introduce one another to the other's respective home markets. Hence the name.
Alpine Dog & Mountain Toad Brewing
Lemon Zest Grissette – A low ABV, light malt character beer similar to a Saison. This beer will get its body from wheat and flaked oat additions with moderate farmhouse style esters and peppery aromatics. The breweries decided to work together based on their complementary avid love of the outdoors.
Barrels & Bottles Brewery, Golden City Brewery, and Holidaily Brewing Co.
The Beard, The Fro & The Ponytail Pale Ale – Named after a distinctive feature of each of our brewer's, the beer itself is a Pale Ale. The brewer's worked together to select one style of hops each would work with. They each brewed a batch at their own facility. The final product is a blend of all three beers in a delicious hop focused, smooth drinking Pale Ale.
Beryl's Beer Co. & Goose Island Brewery
TBD
Bierstadt Lagerhaus and Call to Arms Brewing Co.
Rye No More (No More) Hoppy Rye Lager – Brewed in traditional lager fashion, this Hoppy Rye Lager features Lemondrop, Mandarina Bavaria, and Mosaic hops. The beer is an easy drinking lager with citrus notes and a soft melon presence. All told this beer will have lagered for 145 days before being released at Collaboration Fest, and stands as a tribute to Bierstadt brewer, Ashleigh's, favorite band, Mumford & Sons. ABV 6.6%
BJ's BrewHouse & Shine Brewing Co.
Life's A Birch Strong American Cream Ale – brewed with Birch Bark. ABV 6%
BJ's BrewHouse & RedStone Meadery
Braggot N'Tag It – is a combination of beer and mead fermented with Saison yeast and lemongrass. ABV 7.7%
BJ's BrewHouse & Bryggeri Helsinki
Wild & Crazy Collaboration Sahti – is an authentic Finnish-style Sahti. ABV 8.6%
Black Bottle Brewery & Blue Point Brewing
Dark Passenger Tart Chocolate Salty Brown Wheat Ale – The brewers used malts from both New York and Colorado and added cocoa husks to the mash to add chocolate aromas. This beer will be a kettle sour, using Noosa yoghurt to create a tartness. The hope is that this beer will be an easy drinking tart salty chocolate brown ale. ABV 5.8%
Bonfire Brewing & Casey Brewing and Blending
Brettxit ESB  – ESB based beer fermented in stainless for two days and then transferred into white wine barrels with a blend of four different brett strains. The beer has been aged for more than two months to develop a unique fruity and funky character that complements the flavor of the traditional English Ale yeast. As the beer dried out in the barrels, it allowed the toffee and toasty notes to become more prevalent, pulling all the flavors together.
Bonfire Brewing & Breakside Brewing
The Imperial Black Oatmeal India Pale Ale – This black oatmeal IPA has smooth, well-rounded malt character with light notes of chocolate and mid-palate caramel sweetness. The big, pungent hop flavor is prevalent from the start of the beer with notes of papaya, citrus and stone fruit, and carries on with a bitter-orange-like finish. The somewhat contradicting flavors play well off each other making for one palatable beer.
Boulder Beer Co. and New Holland Brewing
Ladyfingers is a tiramisu brown ale bursting with smooth characters of coffee, chocolate and New Holland's house made vanilla extract. ABV 5.5%
Summit County United Brewers Alliance
Oxy Moracracy is a fantastically rustic, kettle soured imperial session ale with nice, sweet, white wine flavors up front followed by a tart but friendly finish that is uniquely crushable while still having the strength to calm your nerves in a rough political climate. 
ABV 6.66%

Call to Arms Brewing Co. and Spangalang Brewery
White Samurai is an approachable-yet-layered Saturday sipper with a ton of fruit notes and a smooth, velvety mouthfeel. This beer is a homage to both breweries former employers, Avery and Great Divide. The beer will offer nuances of the two beers it is inspired by, White Rascal and Samurai, with notes of blueberry and strawberry, the spiciness of coriander, and rounded layers of soft orange peel. ABV 5.3%
Cannonball Creek and Hogshead Brewery
Dog vs. Quail Pale Ale is brewed with British malts, British ale yeast, and a combination of American and German hops. This beer features prominent notes of tropical and citrus fruits complimented by fruity esters from English ale yeast. ABV 4.5%


Cannonball Creek and Left Hand Brewing Co.
Pompette is a decidedly fruity French saison paired with a blend of German, American and Australian hops. ABV 5%
CAUTION: Brewing Company, WestFax Brewing Company, Landlocked, Green Mountain, Great Frontier and Ironworks
Foster Child is a bananas foster beer.
CAUTION: Brewing Company and Two Brothers Scottsdale Brewery & Tap House
Wanna Be Stoutin' Somethin' is a white stout brewed with cocoa and Village Roaster's Sulawesi coffee.
C.B. & Potts – Highland Ranch and Dead Hippie Brewing
High As A Koyt is an American take on the oat heavy beer Dutch-style koyt.
Cerebral Brewing and Great Notion Brewing
Blurpleberry is an IPA hopped with Citra, Mosaic and N1/69, and brewed with oats and conditioned on lactose, boysenberry and vanilla beans.
CO-Brew and Grandma's House
Belgian IPA
CO-Brew and Southern Brewing and Winemaking
Caribbean rum cake beer
Colorado Plus Brewpub and Brewery Rickoli
Life's Hoppin' in Sweet Ridge is a hop forward citrus amber wheat with a dry hopping of Azacca. This beer is inspired by Wheat Ridge, Colorado.
Comrade Brewing and Überbrew
Überpower Triple IPA was hopped with more than 10 pounds per barrel of Mandarina Bavaria, Chinook, Citra, Simcoe and Mosaic hops.  ABV 10%

Copper Kettle and Bruz Beers
Lopsided Hop Slide is a New England style IPA brewed with Huell Melon, Mandarina Bavaria hops, and a Belgian yeast strain.  
Crazy Mountain Brewing Company and The Larimer Beer Company  
Peach Slap Sour Ale is a light and refreshing sour ale with very minimal hop presence and bitterness giving way to the flavor and aroma of fresh peaches and subtle notes of ginger root. Small amounts of wheat add a bit of body to this otherwise light and dry beer. This beer will give you a bit of that mouth pucker but will quickly be toned down by the refreshing presence of peach. ABV 5.3%
Crazy Mountain Brewing Company and 14er Brewing Company
No Such Thing as a Crazy 14'er is a New England style IPA. This IPA was developed in true New England style fashion. Explosive hop aromas of tropical fruit and citrus, Vermont ale yeast which lends a complementing peachiness, rounded bitterness, smooth body, and distinct cloudiness. A combination of Citra, Galaxy, Amarillo, Mosaic, and Medusa all play their part co-mingling in an array of fruit flavors and aromas. ABV 7.1%
Crooked Stave Artisan Beer Project and Omnipollo
Bianca Raspberry Wild Wild Brett is a milky smooth raspberry beer fermented with Crooked Stave's house mixed culture and a bunch of wild wild brett. This beer takes collaboration and ingredients to another level using copious amounts of lactose and whole fresh raspberries.
Crystal Springs Brewing Company and BRU Handbuilt Ales and Eats
Garage Brew is a Colorado/New England/Vienna style Mexican dark lager, that is an amalgamation of complex, yet softly elegant maltiness with a dry and slightly bitter finish. The name is a nod to how both breweries started in garages.
Declaration Brewing and Fate Brewing Company
Declare Your Fate is a kettle sour IPA brewed with a small amount of flaked oats and rye, soured using house grown Lactobacillus brevis, hopped with Citra, Mosaic, Huell Melon and Mandarina Bavaria hops.  ABV 6.9%
Denver Beer Co. and Altitude Chophouse and Brewery
Japance Off is a hybrid Japanese/French saison featuring a unique flavor combination created with sake yeast and floral French hops. Experimental French hop GJ2 and Mistral provide a delicate floral hop flavor and aroma to complement the apple and fruity esters derived from the use of sake yeast. ABV 6.5%
Diebolt Brewing Company and Proper Brewing Co.
Border Hopping is a hoppy golden rye lager.
El Rancho Brewing Co. and Shine Brewing Co.
Très Rouge is a wood aged red ale, aged on three different Colorado produced spirits, bourbon, rum and gin.
Elevation Beer Company and Spangalang Brewery
Free Your Dreams is a juicy IPA brewed with two row, white wheat, flaked oats, and Golden Naked Oats. A light boil addition of Chinook hops, followed by a huge dose of Citra, Amarillo, and Mosaic in the whirpool give this beer a mild bitterness and huge flavor and aroma. The beer was then dry hopped with three pounds per barrel of hops making this IPA incredibly juicy.
Epic Brewing Company and Melvin Brewing
An Epic Melvin is a painfully juicy white peach IPA.  ABV 7%
Epic Brewing Company and Telluride Brewing
Blizzard Conditions is a New England style IPA.  ABV 7.2%
Equinox Brewing and Coopersmith's Brewery
Sessions on Mt. Ave is a refreshing American-Belgo session IPA with generous (and sporadic) whirlpool hopping.
FATE Brewing Company and Reuben's Brews
Savor the Haze is a New England IPA featuring three Citra, Galaxy and Mosaic hops along with a special yeast strain.
Fermaentra and Blue Moon RiNo
MØØN JUICE IPÆ is a hazy tropical IPA. These brewers created two different version using two different techniques on different systems with different yeast strains. This collaboration uses eight different hop varietals from three continents for an overload of lupulin complexity. The grain bill was built with 48 percent oats and wheat, for a soft, velvety mouthfeel.
Fiction Beer Company and Ursula Brewing Company
Paperback Writer is a barrel fermented brett stock ale. This beer features English malts and hops imported from Great Britain. The fermentation profile veered from a traditional English profile with a blend of White Lab's Bruxellensis-like Trios. This yeast ferments quickly and results in an interesting fruit and funk notes.
Fiction Beer Company and Mystery Brewing Company
The Law of Sympathy is a dry malty English style gruit bittered with herbs instead of hops.
Florence Brewing Company and Bristol Brewing Company
Ziggy Zaggy, Ziggy Zaggy, Oi, Oi, Oi! Is a fruit flavored Berliner Weisse. This classic style of German beer is comprised of half wheat and half pilsner malt and is lightly hopped with just enough traditional noble hops to pair well with the heavy grain backbone. A generous dose of lactobacillus gives this beer the appropriate amount of sour flavor for just enough pucker.
Fossil Craft Beer Company and Cerberus Brewing
This team brewed two beers together, Nichoria, a New England style double IPA brewed with copious amount of Azacca, El Dorado, Wakatu, and Citra hops, and Scrimshaw, a kettle sour gose brewed with Hawaiian black lava sea salt, conditioned on Pineapples dry hopped intensely with Lemondrop and Wakatu hops.
Golden City Brewery and Nantahala
On the Road Again – Vol. 1 is a brown IPA.
Gravity Brewing and KettleHouse Brewing Company
Corner Store is a dry hopped imperial lager (malt liquor) with Citra, Mosaic, and Zythos hops.
Independent RiNo Collaboration (Great Divide Brewing Company, Epic Brewing Company, Bierstadt Lagerhaus, Beryl's, Our Mutual Friend, Ratio, Zephyr, Black Shirt, Crooked Stave and Mockery)
DRiNk RiNo ALTimate Secret is a Dopple Sticke Alt (Double Secret Alt-Style Beer) with Colorado malts and Colorado hops. The independent breweries in RiNo are working together more in terms of collective marketing and promotion, and decided that they should also create a beer together for Collaboration Fest.
Media Collaboration with Great Divide
Enemy of the People IPA is a fruity New England style IPA with flaked white wheat and a bit of oats. This beer features a fair amount of Magnum and Amarillo, Huell Melon, and Azacca hops. This beer was a collaboration between Denver's local media including Westword, Denver Business Journal, 9 News, Brewtally Insane, American Craft Beer Radio, Focus on the Beer, The Denver Post and The Brewtography Project.
Grist Brewing Company and Tommyknocker Brewery
Brunch Porter is a deceptively smooth, rich, full-bodied imperial porter brewed with pure maple syrup and rolled oats consist of an assertive hop profile with cold pressed Guatemalan Huehuetenango coffee. ABV 9%
Grossen Bart Brewery and Verboten Brewery
I Must Break You is a White Russian Imperial Stout.
Halfpenny Brewing Company and Seedstock Brewery
A Lichtenhainer.
Holidaily Brewing Company and Ghostfish Brewing Company
Wild Bill's NonBarely Wine is a gluten-free barley wine, made sans barley. This is the first ever collaboration between dedicated gluten-free breweries. Wild Bill's is a malt forward caramel and toasty based beer with fruit aromas and a hint of hop bitterness. This tasty brew is named in honor of the late William Soles, husband of Maltress & CEO at Grouse Malt House, Twila Soles. ABV 9.5%
Horse & Dragon Brewing Company and Pinthouse Pizza Craft Brewpub
Dragon Punch IPA is an Imperial IPA featuring a punch you in the face amount of American hops. ABV 9%
Horse & Dragon Brewing Company and Funkwerks
3 Blossom is a golden ale brewed with elderflower, rose, and hibiscus.
Jagged Mountain Craft Brewery and Vail Brewing Co
Colorado Forager is an all Colorado amber ale brewed with spruce, elderberry, and blackcurrant finished in gin barrels.
Jagged Mountain Craft Brewery and Überbrew
Japanese Saison is a saison with Japanese fruits, green tea, shiitake mushrooms, kelp, roasted seaweed, toasted sesame seeds and Japanese pepper.
Joyride Brewing Company and Little Machine Beer
West Side is the Blessed Side is a traditional Belgian Tripel.  The brewers created two batches of this beer, one with red grapes and one with white. This style of beer was originally made by monks in Belgium, and decided to add wine grapes to symbolize the communal wine. Both beers were blessed by a father from the local St. Dominic's Church.
Joyride Brewing Company and The Brew Hut
The Crooked Collusion is an imperial red. This beer features loads of Munich and CaraRed hops with small amounts of Melanoidin and Carafa 3 malts.
Kannah Creek Brewing Company and Roaring Fork
Two Valley Grisette is a light bodied four grain Grisette.
Launch Pad Brewery and Ursula Brewery
Octopus Nebula is a passion fruit saison fermented with brett and saison yeast.
Liquid Mechanics Brewing Co. and Comrade Brewing Co.
Red Menace is an imperial red ale. This beer is a harken to the movie, Red Dawn and to the cold war communist party.
Liquid Mechanics Brewing Co and UberBrew
Humulus Eruptus is an imperial pilsner.
Living the Dream Brewing Company and Pikes Peak Brewing Company
Smoke'em If You Got'em" is a smoked peach ale.
Living the Dream Brewing Company and Alter Brewing Company
A German Chocolate Cake Stout with flavors of pecans, chocolate, vanilla and coconut.
Locavore Beer Works and Aquanaut Brewing Company
Cherry Hammer is an American brown aged on cherries and cocoa nibs in Deerhammer Single Malt Barrels.
Locavore Beer Works and Goldspot Brewing
Bandwagon is a Juicy IPA.
Lone Tree Brewing Co. and Platt Park Brewing Co.
Unicorn Nectar ISB is a steam beer or California Common, one of the first truly American styles of beer. The brewers took the "America" to a whole new level, adding a healthy dose of hop bitterness and flavor. The beer will a clean, full bodied amber with notes of biscuit and a slight touch of sweetness, surrounded by copious amounts of earthy hop flavors.
Lost Highway Brewing Company and Stone Brewing
Lost and Stoned is hoppy and IPAish. ABV 6.7%
Makin Noise: A Pussy Riot Beer Goldspot
Imperial saison featuring Nelson Sauvin hops with strawberries.
Makin Noise: A Pussy Riot Beer Lady Justice
Imperial saison featuring Warrior hops in honor of strong women world wide.
Makin Noise: A Pussy Riot Beer 3 Freaks
Imperial saison with lavender.
Makin Noise: A Pussy Riot Beer Black Sky
Imperial black saison with peppercorns.
Makin Noise: A Pussy Riot Beer Brewability Lab
Saison with El Dorado hops and acai.
Mockery Brewing and Molly's Spirits
Good Golly Miss Molly is a Randlized Pineapple IPA.
Mockery Brewing, Baere Brewing and Inland Island Yeast Co.
A rum barrel-aged English IPA.
Nighthawk Brewery and Barnett & Sons Brewery
Big Clouds is a Bier de Miel brewed with honey and lavender and fermented in oak barrels with brett.
Odd13 Brewing and Kane Brewing
Spiciest Memelord is a kettle sour with habanero and raspberries.
Odd13 Brewing and New Image Brewing
Orange You Surprised It's Not An IPA? is an imperial stout with citrus.
Odell Brewing Company and Georgetown Brewing Company
Achilles Hop Around Brown is a brown IPA.
Odell Brewing Company and New Belgium Brewing Company
El Vecino is a double pale ale.
Odyssey Beerwerks and River North Brewing Company
Nightcap is a Manhattan inspired bitter. This beer begins the day as an English bitter, brewed with a blend of traditional hops and some New Zealand variants thrown in for fun. After fermentation, Nightcap is artfully mixed with oak and spices to achieve a delightful balance of beer and cocktail. ABV 6.5%
Our Mutual Friend Brewing and Fort George Brewery
The Deepest Darkest Fear is an American imperial stout. This beer is a big stout brewed with house roasted Colorado malt as well as molasses and honey.
Our Mutual Friend Brewing and Wiley Roots Brewing
Precious Medals is an expensive hazy triple IPA. The breweries channeled their faux-cynicism as an excuse to jump the shark. Jumping the shark is fun and both breweries wanted to make a fun beer. This collaboration features edible 24K gold flakes and has seven different kinds of hops.
Ratio Beerworks and WeldWerks Brewing
Chocolate Orange Belgian Tripel is a Belgian Tripel with pure liquid cacao and orange zest.
Renegade Brewing Company and Ozark Beer Co.
Scotch Ale Partigyle
Rock Bottom Orchards and Pumphouse Brewery
Winer' Gose-Hoppin is a gose style ale, dry hopped, and aged on wine soaked oak spirals.
Gunbarrel Brewing Company, Asher Brewing, Bootstrap Brewing, Sanitas Brewing Company and 12 Degree Brewing
Obstructed View is a hoppy red Weissenbock.
Ska Brewing and Boulder Beer
Mr. Kelly's is an iteration of a coconut curry Bavarian Hefeweizen from Charlie Papazian's The Homebrewer's Companion. ABV 5.5%
Sleeping Giant Brewing Company and Bosque Brewing Co.
Sangre de Coco is an imperial brown ale with coconut and Cholaca chocolate. The beer honors the Sangre de Cristo mountain range that runs between the great states of Colorado and New Mexico.
Something Brewery and Blue Moon Brewing Company RiNo
Brewmance is a Belgian Wit infused with cinnamon plum pear tea.
Something Brewery and New Boswell Brewing Company
Calvin and Hops is a Kumquat double IPA.
Station 26 Brewing Co., Colorado Brewers Guild and EatDenver
White IPA with mandarin orange, coriander, and fennel
Station 26 Brewing Co. and Exile Brewing Company
Space Goose Super Saison is an imperial saison refermented with gooseberries and dry hopped with Galaxy hops.
Station 26 Brewing Co. and 4Hands Brewing
Diese Scheiße ist Ananas is an imperial pineapple Berliner Weisse.
Steamworks Brewing Co. and Dry Dock Brewing
Rice, Rice Baby is an American light lager with lime.
Colorado Brewers Guild Board Collaboration: Strange Craft Beer Co, Ska Brewing, Left Hand Brewing Company, Pikes Peak Brewing Company, Funkwerks, Odell Brewing Company, New Belgium Brewing Company, Upslope Brewing Company, Renegade Brewing Company, Bristol Brewing Company and Pagosa Brewing Company
Board's in Session is an all Colorado beer featuring local malt from Colorado Malting Company, Cascade and Crystal hops from High Wire Hops, and a yeast strain from Brewing Science Institute. This beer is a collaboration between the Colorado Brewers Guild board members. ABV 4.5%
Spice Trade Brewing and Cheluna Brewing Company
Empress Mora Imperial Stout is an imperial stout aged in Infinite Monkey Theorem cabernet sauvignon barrels with blackberries. ABV 10%
Strange Craft Beer Company and Freetail Brewing Company
StrangeTail VI: Pale Lager is a smooth-drinking hop forward craft lager brewed with Colorado-grown Chinook and Northwest Lemondrop hops for a thirst-quenching finish.
The Rye Fest Collaboration (The Brew on Broadway, Black Sky, Strange Craft Beer, CAUTION: Brewing Company, Fermaentra, Brewery Rickoli, Boggy Draw, Dead Hippies, Halfpenny Brewing, Barnett & Sons Brewing Co., and Chain Reaction)  
Ow! My Rye is a big rye infested juice.
The Post and Sleeping Giant
A beer/wine hybrid made from barley, wheat, rye, Glacier hops, syrah must, oak and a special yeast farmed from the home of Robert, the VP of brewing operations at Sleeping Giant.
The Post and Dogfish Head
Bulky Oxen is an English-style barley wine brewed with smoked sweet onion and citrus marmalade. ABV 7.4%
The Post Brewing Co. and Rubber Soul Brewing Co.
The Schwarz Awakens is a schwarbier brewed with Concave Coffee from Philadelphia, PA.
Tivoli Brewing Company and Butcherknife Brewing Company
Highway 40 is a big hefeweizen with flavors of banana, backed up with juicy, tropical fruits. The bitterness from the hops will be subdued by a smooth mouthfeel and high carbonation, making the beer seem like a patio smasher.  ABV 8.5%
TRVE Brewing and Cerebral Brewing
Brain Transplant is a mixed culture foeder fermented golden ale dry hopped with Denali, Sterling, and Lemondrop.
TRVE Brewing and Burial Beer Co.
TRVE and Burial brewed two beers together Slow Death and Ritual Knife. Slow Death is a whiskey barrel aged dark mixed culture ale with cinnamon and lemon peel. Ritual Knife is a brandy barrel aged black braggot.
Two22Brew and Überbrew
Hoppy Keen IPA is a hop bursting IPA with subtle hints of peach. This beer is dry hopped with lupulin powder to saturate the senses with an amazing aroma.
Upslope Brewing Company and Resolute Brewing
Upslope and Resolute created two beers, Oaked Weissenbock and Oaked Rye Dunkelweizen. Oaked Weissenbock featuring neutral, first use, medium tasted, French oak. Oaked Rye Dunkelweizen is a dunkelweizen brewed with Colorado grown and malted rye malt and aged on medium toast French oak cubes.
WeldWerks Brewing Co. and Great Notion Brewing
Bitsbox is a New England-style Double IPA brewed with local wildflower honey, Galaxy, Citra, and Mosaic hops at a total hop rate of 7 lbs per bbl. This collaboration was born out of a mutual respect and appreciation for each other's approach to brewing and dedication to quality, experimentation and fun. The recipe drew inspiration from both Juice Box by Great Notion and Juicy Bits from WeldWerks.
Westbound & Down Brewery and Powder Keg
Hold on to the Hand Rail is a Belgian blonde.
Wiley Roots Brewing Company and Sap House Meadery
Brett Barrel Aged Sappy Roots is a farmhouse style saison with honey, aged in a wine barrel with mixed culture of sacc and brett.  
Wit's End Brewing Company and Prost
Don't Kvass the Streams is a Kvass-inspired German ale made with rye pretzels and German malts. The result is a slightly tart bready concoction that is at home both with caviar or bratwurst.
Wonderland Brewing Company and Grateful Gnome
Hoppy McHopface is a double IPA, McHop style. This pair dumped a bunch of hops into a Belgian pale ale.
Wynkoop Brewing Company and Pikes Peak Brewing
A rye ale aged on pistachios.
Zwei Brewing Co and C.B. Potts Fort Collins
Gold-n-Green is an American-style double India pale lager.
---