No Comments
Corner Bars | Pat Connolly's: A Story of Beer, Blues & Fried Chicken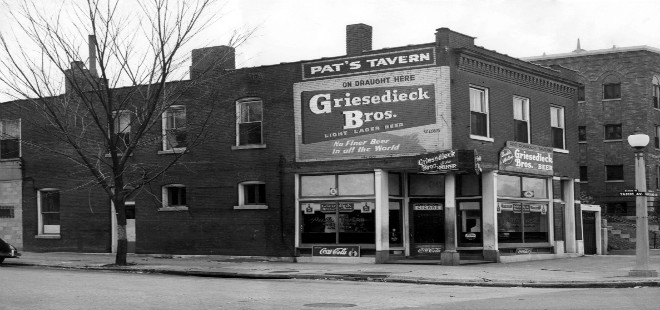 Sometime in the mid-1990s, when I first returned to St. Louis as a legal drinker, my friend Mike Green took me to the Black Thorn Pub located on the corner of Wyoming and south Spring in South St. Louis. Unknown to me at the time, this visit started my secret obsession with corner bars.
There is something about these pieces of Americana, especially the one's I discover living in south St. Louis. I think in some ways they remind me of what a saloon in the Old West might have been like; neighborhood folks gathering after a hard day's work to drink spirits or beer, spilling their guts and their worries to each other. Some corner bars can appear rough, dingy or even scary, but that is part of the appeal I dare say.
So, I've decided to honor the greatness of the corner bar. In this space, I will begin telling you the stories of some of our city's greatest haunts. And there is no better way to kick off the series then with our town's premiere corner bar, a place I grew up calling "Pat's Bar & Grill."
My family moved to St. Louis from Chicago in 1974. One of the first luxuries I ever enjoyed as a young kid was my dad's office owning a box at the Arena for Blues games. That box was like a second home to me as I got to watch the Blues of the mid 70s that would become legends to many of us, Garry Unger, Red Berenson, Barclay Plager, Larry Patey, Bob Gassoff to name a few.
Before most of those games you could find us pre-gaming at one place, the legendary St. Louis corner bar now known to all of us as Pat's or officially The Pat Connolly Tavern. Back then, the attraction for us kids was the fried chicken. Their chicken was what we called "Extra Extra Crispy," and it was what we craved before every Blues game.
My memories of the Pat's are of crowded, smoky nights, but that we somehow never waited for a table. The place was packed with Blues fans, with fists full of Busch and Bud beers, talking hockey. It was just so St. Louis.
Now, 40 years later, The Pat Connolly Tavern has survived the Blues moving downtown, the Arena implosion and remains one of the most important bars in St. Louis and it's west city neighborhood of Dogtown.
Now Pat's is celebrating its 75th anniversary this year and  is run by Joe Jovanovich, the grandson of its founder and namesake, who carries on the proud tradition of this family business, respecting its history while bringing his own modern sensibility.
"I never dreamed of running the family bar; but it dawned on me that it would be a real shame to not play my part in preserving this piece of history, not just for my family's legacy, but for the community," Jovanovich says. "Every week, someone tells me a story of their connection with this bar throughout the decades. They've been coming here for thirty, forty, fifty years. People feel a real attachment to this place."
A Rich History
Jovanovich's grandfather, Patrick Connolly of County Galway, Ireland, began his barkeep career when he opened the Pat Connolly Tavern in 1942. For two decades, he worked to create a St. Louis landmark in the historic Dogtown neighborhood. Pat's is believed to have been one of the first full-service restaurants in the Dogtown area.
Remember the "Extra Extra Crispy" fried chicken I mentioned before? Well, I wasn't the only one fall in love it's crispy goodness. In fact the legend is that Pat's was also one of the first restaurants in St. Louis to become known for its fried chicken. Connolly himself was no chicken expert, but wisely employed several women from the neighborhood who could cook up a storm, one such lady bringing in her fried chicken recipe that still stands the test of time 75 years later.
In 1959, he sold Pat's to Tom McDermott, a longtime bartender at the tavern, who changed its name to McDermott's. Connolly passed away in 1974.
In the McDermott's years, the bar's popularity soared due to its proximity to the St. Louis Arena and the rise of Blues Hockey during the late 1960s. The bar went from being a neighborhood mainstay to a St. Louis destination. On game nights, customers would line up down the block to get a table and many of the Blues team members would eat and drink at the bar after practice and games. The bar became one of the best spots in town to hang out with Blues legends.
As McDermott grew older and looked toward retirement, he contacted Teresa Connolly, one of Pat Connolly's two daughters. Teresa and her husband, Paul Jovanovich, offered to buy the bar back, returning it to the family name. Both the Connolly and Jovanovich families have resided in Dogtown since the 1930s. The business continued to thrive under Teresa and Paul until tragedy took Paul at an early age in 1993. Soon after, the Blues moved to the Kiel Center downtown and the Arena was demolished, significantly affecting the business. In the face of these challenges, Teresa continued to lead Pat's for six more years before selling it in 1999 to Joe Finn, a longtime employee and family friend.
A New Beginning
After a 15-year hiatus, the Connolly family once again took the reigns of the business in early 2015, officially restoring the bar's original historical name: The Pat Connolly Tavern. Teresa partnered with her son, Joe Jovanovich, to take over management of the bar.
Jovanovich literally grew up at Pat's, spending countless days of his childhood in the bar with his parents. He first started working at Pat's in seventh grade as a dishwasher and bus boy and did so through high school.
Today, The Pat Connolly Tavern is once again thriving as a bustling community gathering spot and dining destination. The restaurant has received praise for its updated menu (including a variety of vegetarian offerings), thoughtful cocktail selection and renovated appearance, while still retaining its historic charm and of course it's famous Fried Chicken.
"Reaching a 75th anniversary is certainly a proud milestone for my family; but really to get this far, our family only played a small part," says Jovanovich. "Countless scores of employees throughout the decades, several regimes of management, and thousands of loyal customers over the years have made this possible; and without the support of the Dogtown neighborhood, we could never have made it this far. To me, the 75th anniversary is a celebration of all those things."
---