No Comments
St. Louis Entrepreneur Crafting Take-Home Kegs for Draft Beer Lovers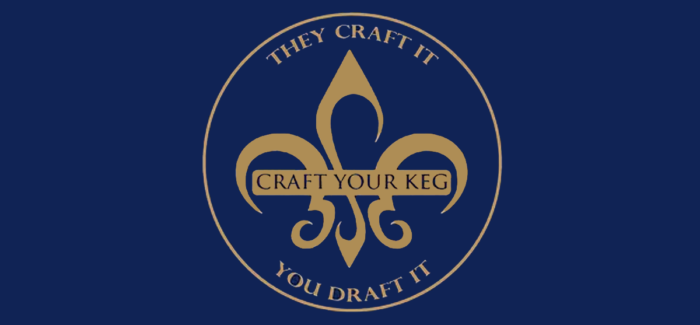 With so many of us enjoying more and greater craft beer, it's only natural that we would want to share the great beer we find with others. Bringing a cooler filled with your favorite cans and bottles is fine, but what about the great brew we love on tap?
The legend of the Growler, according to GrowlerStation, is that in the late 1800s, fresh beer was carried from the local pub to home by a small, galvanized pail. The term "growler" is rumored to come about when the beer sloshed around the pail, it created a rumbling sound as the CO2 escaped through the lid.
A century later, growlers and then later crowlers became the accepted way of transporting and enjoying tapped beer. Until recently, these two options were it, unless you were in the market for a full on keg. But the problem with the growler is that once you open it, you pretty much have to consume that beer that day, or perhaps the next, but any longer, you'll lose that draft beer quality. A perplexing problem for certain, but one American entrepreneur have sought to tackle head on. One such solution was born right here in St. Louis.
"I homebrew with a friend of mine," said entrepreneur Dan Borders. "He lives in South City, I live in Hillsboro. We prefer to keg our beer instead of bottling. This lead to a problem when it came time to decide who got to bring the beer home with them."
"I work at a local tool and die company and I was telling a co-worker about this issue we were having. He directed me to one of our manufacturers who was working on miniature kegs. That co-worker (Matt Davis) and I, with that manufacturer, developed the "Tanker" the product we have today. "That is how 'Craft Your Keg' got started.
These innovative kegs are charged with C02  to keep your "to go" beer as fresh as it came out of the tap. The kegs are large enough to pour many pints at home or share with friends, but small enough to fit in your beer fridge.
The mini-kegs or tankers is about 2 and 1/2 times larger than a 64-ounce growler, holding 169oz./5L. Each Tanker holds over 10 pints and stays fresh well over a week unlike the standard growler and fits easily into any refrigerator.
The C02 system is run off of small C02 cartridges. "There is some very simple assembly required with the kegs," said Borders.
"Once assembled, you screw a C02 cartridge into the regulator and that is how you control your C02 flow. Depending on the type of beer and temperature I tend to keep my keg between 5-10 psi."
As you would take a growler to your favorite brewery, you'll find you tanker welcome as well. "Our kegs are filled directly at the bar just like a growler and it holds 2.5 growlers," said Borders.
So far we know of successful keg fillings at Schlafly, Urban Chestnut, 4 Hands, Perennial, Modern, Kirkwood Station and Main and Mill. "It is a good deal for both parties, the breweries move a lot of beer, and the consumer brings home real draft beer that goes right inside your fridge," said Borders.
The 5 Liter Tanker Keg comes equip with everything you need for your next big party, tailgate or to just have your favorite craft beer on tap at home after a long day at work.
When you order your Tanker, you will receive:
Five Liter, light weight 304 Stainless Steel keg vessel with threaded screw cap for storage when not in use.
Solid connector and tap system providing the feel of a draft system at your local breweries.
CO2 module and meter dial ensuring your beer stays fresh with the proper level of carbonation at all times.
Two small disposable CO2 cartridges.
Black neoprene wrap aka The Sleeve.
A threaded CO2 adapter allowing you to set up your Tanker with a larger, reusable carbonation solution.
Set up and care instructions.
Very simple assembly – no tools required.
---