No Comments
Urban Artifact | Warmug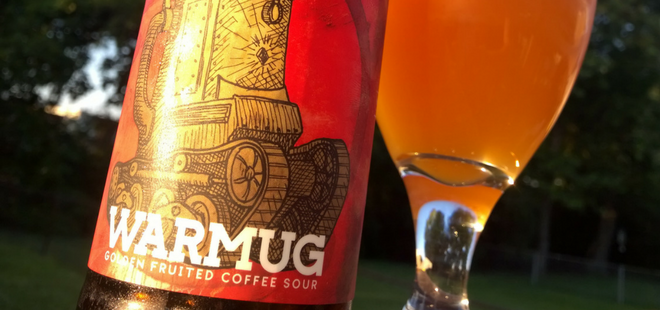 ABV: 7.7% | IBU: 20
Just because something is different doesn't mean it isn't great. And Urban Artifact Warmug is a perfect example.
Urban Artifact is a brewery in Cincinnati that has approached the craft beer world from a unique angle. First off, they chose an old church as their home. The taproom is in the basement, while the worship area is used for large events. Second, they didn't open their brewery making standard blonde ales and IPAs. From the very beginning, they knew who they were and the type of beer they wanted to make—wild ales.
Most will say that selling into a niche is a great way to start a business but selling wild, sour ales is quite the niche market. But they are winning over fans every day and quickly growing to meet the rising demand for their style of craft beer.
Golden Fruited Coffee Sour
One of their most recent releases is called a Golden Fruited Coffee Sour. Even Urban Artifact admits that they don't think those four words have ever been used to define a beer. Here's their official description:
Golden Fruited Coffee Sour Ale. A collaboration with Wolf's Ridge Brewing, Market Garden Brewery, and One Line Coffee. 1,500 lbs of peaches, 750lbs of passion fruit, 250lbs of plums, and 45lbs of whole natural washed coffee beans blended into a Golden Sour Ale base.
But Urban Artifact didn't make this beer on their own.  They told me that this was a true collaboration as they brought together the best of Wolf's Ridge Brewing, Market Garden Brewery and, of course, Urban Artifact, and put it into one bottle. This includes elements of fruit, coffee and true uniqueness. But they also wanted to make sure that it was balanced, drinkable and overall enjoyable. That isn't easy to do with a beer that has this much going on.
What I loved about this beer is how it surprised me.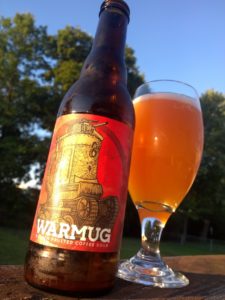 I read the description and was expecting a sour, fruited ale with coffee. Which is exactly what it is but was so much more because of how it opens up. The appearance makes you think you are about to drink orange juice and the nose confirms that. There is a slight sour note in the aroma as well. The taste opens up with a heavy dose of fruit. The peaches, passion fruit and plums blend perfectly without overpowering your palate. Then comes the sour and coffee notes which both are subtle and do not last long. I found it to finish very clean. One of the most interesting things about this beer is the flavor did not change much as it warmed up. I spent well over 30 minutes enjoying it and the taste profile was almost identical throughout.
So what is a Warmug?
It's actually an anagram of the first letters of all three breweries names (WR UA MG). You won't find it on Wikipedia.
So if you are looking for something different, look no further than Urban Artifact. Their beer is as funky as their location and they will help you better understand, appreciate and fall in love with wild ales.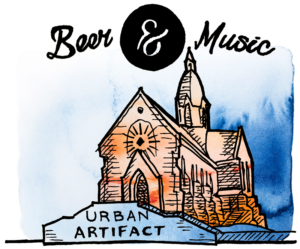 ---