No Comments
Brewers Describe the Value of Brewing Independence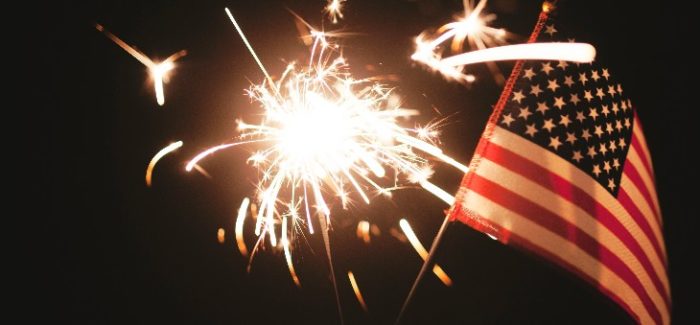 The United States started as nothing more than an idea, a dream and a determination to overcome perceived empire-driven injustices. For the overwhelming majority of breweries, those values presented by our Founding Fathers echo the idea of independent brewing. Sure, there are brewing empires that could lure one to the economic promised land, but the pursuit of "hoppiness" for independent breweries is best served through self-determination rather than corporate funding. As the nation moves toward celebrating its independence, we at PorchDrinking.com wanted to discuss brewing independence with a few breweries who have thumbed their proverbial noses at the King Georges of the world and exercise their freedom to brew.
The "About Us" page notes, "Opening in July of 2016, Scofflaw Brewing Company was created by Matt Shirah and Brewmaster Travis Herman. They initially developed beers on a one-barrel system in the basement of the home of Shirah's mother-in-law in Atlanta before opening an 18,000-square foot brewery nearby, where they self-installed their new equipment."
Scofflaw is the result of a dream and a lot of hard work, ostensibly building the brewery from the ground up. Shirah commented:
"Our independence allows us to be part of the community in a way that organizations with different or dislocated agendas cannot. We support our community and they support us, and this is something that I do not think would be possible barring independence. Sure, we are a bunch of crazy sons of bitches in here, but the folks around these parts know that Scofflaw is a place where they can be comfortable bringing their family and friends. Our beer brings people together, and that is something to celebrate."
https://www.instagram.com/p/BVDSlz7Agwk/?taken-by=scofflawbeer&hl=en
---
Chicago's craft brewing story is tad younger than most cities in the U.S, but one of the first to emerge in the Windy City was Metropolitan Brewing in 2009. Instead of making hoppy ales, Metro burst on the scene with an idea to produce lagers, but not necessarily the golden-yellow (clear?) lagers found in the supermarket. Metro is famous for its Schwarzbier, its Alt Bier and so many more.
Metro lagers. Metropolitan loves its robots. Many who work at Metro are decorated with ink. Metro is all about the freedom of expression and community-mindedness.
Tracy Hurst (President, Co-Founder, Business Manager, Head of Sales, image mistress, hanging out and drinking beer with people, Boss Lady) commented:
Being – and remaining – an independent craft brewery is an homage to all of the independent craft breweries who started up before us. Craft beer was born as a better alternative to industrialized, characterless, over-marketed, mass-produced beer. Remaining independent honors that past while offering the freedom to authentically and honestly express yourself in the present.
https://www.instagram.com/p/BVK-UdxlHg7/?taken-by=metrobrewing&hl=en
---
Most famous for its Yeti series and Yeti mascots (#YetiMafia), Great Divide owns a truckload's worth of awards for its many beers. The brewery came along at a time when Colorado brewing was exploding. Heck, most of the country still hadn't heard of craft beer when Great Divide opened its doors. To say Great Divide can offer perspective on the changing landscape of craft beer is an understatement. So, let's hear from Brian Dunn, Founder and President of Great Divide:
I decided in 1993 that I wanted to start a brewery for a couple reasons. 1) I love beer and the culture of beer so I thought that it would be a business that I would be thrilled to be involved in for a long time. I believed that one of the ways to achieve long term happiness is to work in a field that you have a passion for. 2) I wanted to be able to steer the company in directions that I felt strongly about. In the early years, those decisions ended up ranging from choosing a location, choosing art, and deciding the beers that I'd brew and bring to the market. I had strong ideas about how I wanted the brewery to turn out, and I wanted the autonomy to make those decisions, so I knew that I should start my own brewery.

Being independent in today's terms means that we still make the decisions that we want to make. Typically, that means we do whatever is best for the brewery long term, without another entity's agenda driving the decision. Not only do we make decisions based on what we think is best for the brewery, but we also heavily weigh what is best for the beer drinker and the craft beer culture.
And Great Divide knows how to have some fun, too.
https://www.instagram.com/p/BTsIKkogSTt/?taken-by=greatdividebrew
---
DC Brau | Washington, D.C.
Ironically, the very city where our nation conducts its business and carries out the mission (in theory) put forth by our founders, is essentially taxed without representation; no congressional representation (with voting privileges) exists for D.C. What the town finally does enjoy is its own brewery — DC Brau. And DC Brau has let it be known that it will speak for the people regarding the movement to obtain representation.
Both in terms of polity, and brewing, DC Brau understands independence all too well.
Co-founder and brewmaster Jeff Hancock from DC Brau commented:
"Being independent means that we get to play by our own set of rules without having to compromise on ingredient quality or integrity. It also allows us to brew what we want, when we want, without having to run ideas up an imaginary flagpole for permission. We have the ability to forge our own destiny and show solidarity with all the other big and small independent breweries that make up this great craft beer landscape."
https://www.instagram.com/p/BRE2056FRIF/?taken-by=dcbrau&hl=en
---
Great Lakes Brewing has been in the beer game for three decades and exists as one of the more well-respected breweries around. Known for its historically focused beers, such as its Edmund Fitzgerald Porter and Commodore Perry IPA, not to mention its popular Christmas Ale, Great Lakes Brewing also is passionate about its community. In fact, GLBC has recently gotten into the "farming game" including establishing the large, urban Ohio City Farm. From great beer to great, organic produce, Great Lakes Brewing has shown that success doesn't elude those breweries who remain independent.
Great Lakes commented:
 We are able to maintain a vision that goes beyond the bottom line, and our business practices reflect that vision of cultivating communities and conserving and celebrating resources. It's not just about maximizing profits, and we get to make decisions that more profit-driven companies don't get to make.

We're able to be directly involved in supporting the communities we serve not just through events, but through charitable giving and hands-on volunteerism. Our responsible purchasing practices, water stewardship, and local food partnerships are all ways we continually work to do more than just brew great beer.

There's an authentic personality and substance to an independent brewer that people can actually get to know. We have ambassadors and storytellers everywhere our beer is sold, and we're able to make personal connections and memories through our beer.

Even though we've grown to serve 13 states and DC, our beer labels continue to celebrate the Great Lakes region's icons, historical events, and landmarks. Our identity is tied to the city of Cleveland and to the state of Ohio, and having a strong sense of place and origin story is something we take great pride in. Being independent means we can keep our sense of identity, even as we work to share our beer and stories with an even larger audience. There's no mistaking where our beer is from.

We can grow and innovate at our pace. Our goal isn't to be the biggest brewery, but to be the best company we can be and to brew the best beer possible. We don't feel pressure to rush anything to the shelves that we don't feel confident in or chase trends. When we put something on tap or on a shelf, we stand behind it and feel proud to serve it whether it's one of our flagship styles or a limited draft-only release.

We have the flexibility to incorporate ideas from customers and our staff into the beers we brew, the food we serve at our pub, and the way we operate here at the brewery. We're a brewery of open doors. Comment cards, suggestions, and ideas flow freely here, and our culture and style support this candor. One of the best things about being independent, in our experience, is being open to working together to make things even better.

Our owners Pat and Dan Conway are daily reminders of what GLBC means to this neighborhood, the city of Cleveland, and craft beer. They are involved in our operations, and are open, generous, and regularly engaged with their co-workers in all areas of our company. Their presence at the brewpub bar at the end of a long day is a common but always special treat. They care about their employees, and it shows in how we've grown over nearly 30 years.

Being independent is generally assumed to mean "not owned." It really means free to pursue being the company we want to be.
https://www.instagram.com/p/BUHY3SCFv9Z/?taken-by=glbc_cleveland
---
The Ebel Brothers — 20 years into their brewing careers — have long championed the beauty of independence, citing the phrase "Staunchly independent" on the brewery website. Two Brothers also promotes "Craft with a conscience," which notes a dedication to quality crafting, environmental stewardship, philanthropy and all things "do it the right way."
Their feelings on remaining independent are quite clear, as noted in this video.
---
Meanwhile….
In the process of writing this article, the Brewer's Association announced its new program that will better signify to beer drinkers which breweries exist, proudly, as independent breweries. Modern Times reacted to this new marketing strategy.
---
https://www.instagram.com/p/BV2rKMcFcAf/?taken-by=moderntimesbeer
Che

ers
to
Indep

end

ence!
---