No Comments
Stillwater Artisanal | Insetto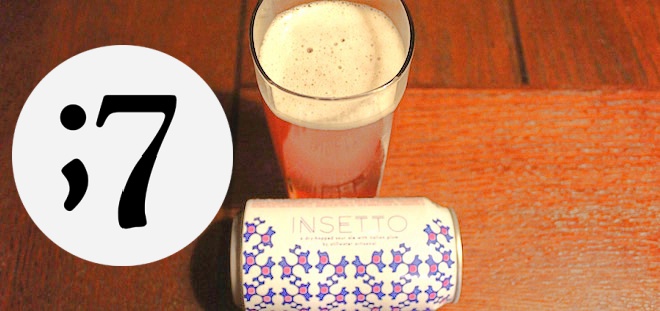 I was strolling through my local Whole Foods' beer department when my eye was drawn to something beautiful. It was a repeating pattern. Appearing almost like dark purple single-celled organisms with brighter violet nuclei, this pattern seemed to self-replicate across the face of the can, creating white insect shapes in the negative space. Once I read the description of the contents, I knew that Stillwater Artisanal's Insetto would be coming home with me that night. Yes. The whole thing was exactly as creepily seductive as it sounds.
This beer is a dry-hopped sour ale with Italian plum. Its name, Insetto, is Italian for "insect", and I like to think that it refers to the lactobacillus "bugs" that give it its signature tartness and sourness.
Insetto pours a purple-tinged orange with a quickly dissipating white head. The Italian plum is present in the color, nose and taste of this beer, but manages not to overwhelm it or throw it out of balance. This can be thanked, in part, to the dry-hopping, which imparts some dank and earthy notes to balance out the tart fruitiness of the plum.
ABV: 5%
https://www.instagram.com/p/BUPSsuChOEW/?taken-by=stillwater_artisanal
With a refreshing, easy-drinking nature and relatively low 5% ABV, Insetto could be considered fairly sessionable, but, at the same time, it is interesting and refined enough to use in place of a champagne toast. However you choose to drink it, this beer is unlikely to disappoint.
The tartness and plum notes in this beer would make it a shoe-in to pair with sushi. While Insetto's flavors would work well with a lot of Asian fare, the idea of consuming it alongside expertly sliced, über-fresh fish seems nearly orgasmic. With the addition of fresh fruit and a high-quality spirit, I think this brew could even make a pretty good beer cocktail. That, however, will have to be left to more creative minds than mine.
So, when your eye catches the unmistakeable pattern of Insetto's can, pick up a 4-pack of Stillwater Artisanal's sour plum ale and give it a try. You will be instantly seduced like I was!
Dirty Smirk Logo Credit: Stillwater Artisanal
---