No Comments
Wit's End Brewing | The Last Jed-IPA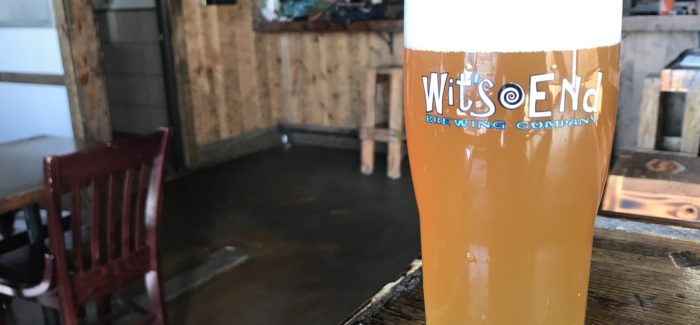 I've learned a few cardinal truths in my years of craft beer fandom. Most fall into the category of brewing basics, such as the fact that Brettanomyces imparts a funky flavor or that fresh-hop season begins in late August. But there are some cultural observations, too—like the industry's fanatical penchant for Star Wars.
Denver-based Wit's End Brewing owner Scott Witsoe is no exception to this axiom. Witsoe and his crew unveiled three limited-release beers to coincide with the latest installment of the inter-galactic saga: The Last Jed-IPA, Stay On Target Southern English Brown Ale and Kyber Kristallweizen Pale Kristall Weizenbock.
The trio is a welcome respite for those of us eager to partake in the fun of specialty holiday releases but for whom flavors like nutmeg, cinnamon and peppermint are better left for dessert. While each beer was tasty and complex in its own right, my palate was drawn to the Last Jed-IPA. As an unapologetic hophead, I appreciated the crisp, resinous bite, which was complemented by a fruity aftertaste.
ABV: 6.5% | IBU: 50
Malted oats punctuate a typical American IPA malt base, giving the beer a robust mouthfeel, while Centennial and Chinook hops impart piney and spicy notes. The tropical flavors are a result of dry-hopping with fruity, aromatic hops like Denali, Citra and Mosaic.
Indeed, the Last Jed-IPA is a nice marriage of a traditional West Coast IPA with some of the juiciness of a New England style IPA. According to head brewer Tyler Bies, that was the goal.
"I love those fruit flavors, but sometimes if you use too much of that style of hop it can be kind of too sweet and sugary," Bies explained. "So I kind of wanted to do a little bit of a hybrid of both and just do something that's tasty all-around, hitting a bunch of different parts of your palate."
The release comes at a busy time for Wit's End, which moved in with Strange Craft Beer Company at the beginning of December. While the breweries continue to operate as separate brands, they now share the same head brewer in Bies, as well as the same taproom and production facility.
https://www.instagram.com/p/BcvjDPcn91D/?taken-by=witsendbrewing
Not surprisingly, Witsoe was sure to put his imprint on the brewery's new home, with a mini Darth Vader overlooking the taps and a Han Solo cutout greeting patrons near some candy machines. There's also a large rendering of Luke Skywalker behind the bar. (I suppose this is the part where I mention that Mark Hamill attended Annandale High School, my alma mater in Virginia, for a few years.)
I'd be remiss if I didn't revisit the other two special beers, Stay on Target and the Kyber Kristallweizen. Stay on Target—not just an English Brown Ale mind you but a Southern English Brown Ale (many of the Star Wars films included scenes shot in Southern England)—is true to style, with a mahogany hue and rich roasted malt flavors coming in at 5.0% ABV and 19 IBUs. It features Target hops, giving it an herbal, earthy taste.
The Kyber Kristallweizen, named after the kyber crystal that powers light sabers, is a pale kristall weizenbock that shares some familiar flavors of a hefeweizen, such as banana, but included additional fruit notes like pear and apple. It's got 7.0% ABV and has 16 IBUs.
While you don't have to be a Star Wars fan to enjoy these beers, you do have to be quick—there's just one barrel of each and once they're gone, they're gone. All three beers are available in the taproom (notably, Stay on Target is also being served on nitro) and in crowlers to-go.
---