No Comments
Event Preview | Fresh Fest Beer Fest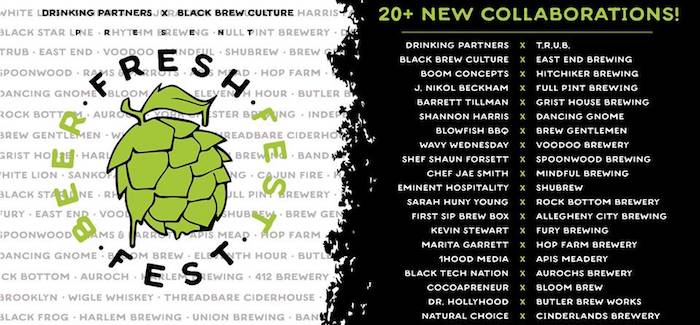 If you're going to be in Pittsburgh this weekend, it would be a big mistake to skip Fresh Fest Beer Fest. A co-production of the Drinking Partners Podcast and Black Brew Culture, Fresh Fest is being billed as "Pittsburgh's first Black beer festival".

Hosting more than 15 black-owned breweries (as well as dozens of other local favorites), this groundbreaking craft beer event will take place on August 11, 2018 with early access at 4:00 pm at Nova Place in Pittsburgh's Northside. 
The breweries in attendance will include Black Frog Brewery, Harlem Brewing Company, New Orleans-based Cajun Fire and Pittsburgh favorite East End Brewing Company.
A day of summer fun and entertainment awaits festival attendees. Fresh Fest promises to please all palates, especially those who love collaboration brews. More than seventy beer samples will be available, many of which will be collaborations created specifically for this event.
https://www.instagram.com/p/BmGy20qlDbb/?taken-by=blackbrewculture
Eventgoers can expect music, art, IPAs, lagers and all styles in between. Almost thirty local breweries will collaborate with local Black artists and entrepreneurs and their brews will be featured exclusively at Fresh Fest.
Mike Potter, founder of Black Brew Culture stated, "I consider it a huge step toward creating the diversity in craft beer that we often talk about. Collaborations will be enjoyed by people of all races, backgrounds, and demographics."
Food trucks will also be available just steps away from Nova Place and will offer many of Pittsburgh's favorites throughout the day. BBQ, chicken and waffles, Caribbean fare and ice cream will all be on the menu, so be sure to bring your appetite!
https://www.instagram.com/p/BlnTcx4gx2x/?taken-by=freshfestbeerfest
Local Pittsburgh musical acts such as Byron Nash, Clara Kent and Jonny Goood will keep festival-goers entertained as they enjoy their beers. 
Multiple ticket options are still available, including General Admission for $45 and Early Admission for $70. Designated driver tickets cost $20.
A special VIP "Meet the Brewers" session will also be available, during which Pittsburgh-based comedians Day Bracey and Ed Bailey will be interviewing several brewers for a live recording of their Drinking Partners podcast.
Featured Image courtesy of Fresh Fest Beer Fest
---