No Comments
Rhinegeist Is Expanding to Pittsburgh | Launch Parties March 20 – 25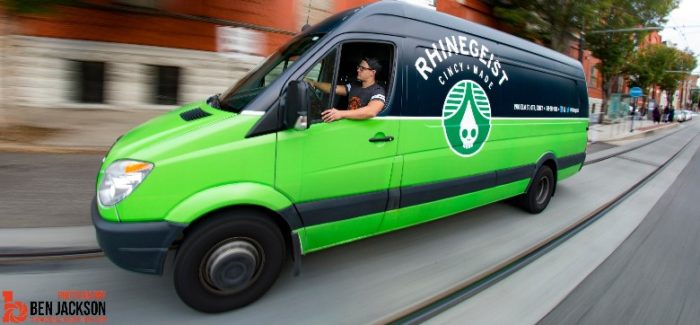 Rhinegeist had a great 2016: The Cincinnati brewery was part of the New Belgium Fat Tire and Friends Colla-beer-ation, expanded to Massachusetts and Cleveland, increased production by 80%, from 31,470 bbl in 2015 to 56,500 bbl in 2016 and grew from roughly 50 employees in 2015 to more than 200. Rhinegeist also opened a rooftop deck, the Annex and — the best part — married more than 100 couples in the new brewery.
It appears that 2017 might include the same success story. The first step involves an expansion to Pittsburgh. Folks in the Steel City can enjoy brews as early as March 6, but Rhinegeist will arrive on the 20th to help kick-off the a week's worth of launch parties to help make it official.
A recent press release noted, "Rhinegeist will be procurable on draft in the Steel City starting March 6, 2017, and in 12oz six and four pack cans in May. [the Rhinegeist] portfolio includes core beers of Truth (IPA), Cougar (Blonde Ale) and Knowledge (Imperial IPA), along with Cidergeist offerings of Semi Dry, Dry Hopped and Bubbles (Rosé Cider). In addition to these core staples, there will be a slew of seasonal cans and limited release rarities rotating throughout the year."
Although 60% of Rhinegeist beer arrives to stores and bars via self-distribution, Rhinegeist will partner with Fuhrer Wholesale Company to bring its beer to Pittsburgh and southwestern Pennsylvania. A relationship for which both noted excitement. To celebrate this new relationship and this new expansion, Rhinegeist and Fuhrer are throwing a few launch parties.
Now, before you think, "Ho-hum..another launch party." Let me show you three pictures to describe the Rhinegeist idea of a party — let's just say "growing up," is unlikely part of the Rhinegeist employee handbook.
https://www.instagram.com/p/BQwG11lBqiq/?taken-by=rhinegeist&hl=en
https://www.instagram.com/p/BMp6Zceh6pK/?taken-by=rhinegeist&hl=en
https://www.instagram.com/p/BJdVtIVD4oX/?taken-by=rhinegeist&hl=en
So Pittsburgh, you have been warned — some crazy Cincy folks are coming, and they are bringing the beer.
Monday, March 20
Pork & Beans | TBD
136 6th St, Pittsburgh, PA 15222
Hough's | 7—9pm
563 Greenfield Ave, Pittsburgh, PA 15207
Tuesday, March 21
Harris Grill | 7—9pm
5747 Ellsworth Ave, Pittsburgh, PA 15232
Fuel & Fuddle | 5—8pm
212 Oakland Ave, Pittsburgh, PA 15213
The Urban Tap | 5—7pm
216 S Highland Ave, Pittsburgh, PA 15206
Wednesday, March 22
Bacon, Bourbon & Beer | 6—8pm
1000 Park Place Dr, Washington, PA 15301
Thursday, March 23
Blue Dust | 7—10pm
601 Amity St, Homestead, PA 15120
Industry Public House | 5:30—8pm
4305 Butler St, Pittsburgh, PA 15201
The Beerhive | 5—7pm
2117 Penn Ave, Pittsburgh PA 15222
Friday, March 24
Sienna Mercato | 4pm
942 Penn Ave, Pittsburgh, PA 15222
Saturday, March 25
Whole Foods Market Wexford | 12—2pm
10576 Perry Hwy, Wexford, PA 15090
Giant Eagle at Settlers Ridge Market District | 12—2pm
100 Settlers Ridge Center Dr, Pittsburgh, PA
15205
Giant Eagle at Shadyside Market District | 2—4pm
5550 Centre Ave, Pittsburgh, PA 15232
Rhinegeist isn't a brewery that takes itself too seriously. But, expansion doesn't happen without good beer, and the one thing the brewery does take seriously, like all good craft breweries, is take the beer seriously.
https://www.instagram.com/p/BPLds7jhOku/?taken-by=rhinegeist&hl=en
---