One Comment
Event Preview | Pittsburgh Craft Beer Week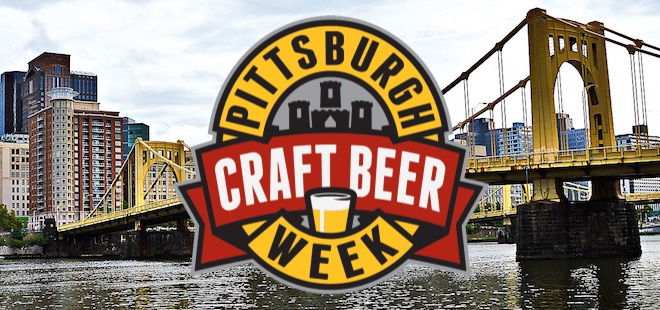 Featured image logo credit: Pittsburgh Craft Beer Week
Yinz better mark your calendars because Pittsburgh Craft Beer Week (PCBW) is back and bigger than ever! Running from April 21 – 30, the sixth annual PCBW will play host to 18 local breweries, which is a record number for this event. There will be plenty of regional and national craft breweries in attendance as well.
"Throughout the country, Pittsburgh is known as a hotbed of craft beer, and we're proud to have Steel City's finest participate in Pittsburgh Craft Beer Week…Our number of breweries is larger than ever, and we look forward to yet another successful event that will showcase craft beer not only from Pittsburgh, but from around the country as well." – Brian Meyer, president of Pittsburgh Craft Beer Week.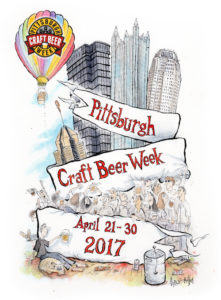 Whether it's the Yards Brewing Company-sponsored Pizza Eating Challenge or enjoying a Fat Head's beer float, Pittsburgh Craft Beer Week will feature dozens of events and have something fun for everyone. If you like to do a lot of eating while drinking beer, there will be opportunities for that, too! On April 23, you can start your day having breakfast beers and AYCE pancakes at the Pancake Apocalypse or enjoy a burger with your beer at the Brunch and Burger Beer Pairing. To satisfy your inner artist, you can check out Paints and Pints. PCBW will be rounded out with beer releases, scavenger hunts, tap takeovers, and more! If you're heading to Pittsburgh, there will be no lack of things to do.
For all of you souvenir aficionados out there, the official artwork of PCBW has also been recently announced. Designed by local artist, Mark Brewer, this artwork will be used on T-shirts, glassware, posters, and the printed guide. Mark will be available for a meet-and-greet on April 27 where T-shirts and copies of Mark's book Brewology will be available for sale.
PCBW has a strong focus on Pittsburgh breweries. While there will be plenty of more national brands represented, the local brewers will be the ultimate stars of the show. The growing craft beer scene in the Burgh is a hotspot for creativity and warrants a lot of exploration during the course of the week.
Participating Local Breweries:
Pittsburgh Craft Beer Week is an creation of the Pittsburgh Craft Beer Alliance (PCBA). This non-profit 501(c)(6) organization is overseen by a board of brewery managers, restaurant managers, and other beer industry employees. Their primary goal is to promote and raise awareness for the Steel City's burgeoning craft beer scene. PCBW is estimated to bring $2.4 million to the Pittsburgh region annually. If you are interested in becoming a member of the PCBA, you can find additional information here.
For additional information, download the official PCBW mobile app for iOS or Android devices.
---