No Comments
Craft Beer Highlights from Four Unique European Cities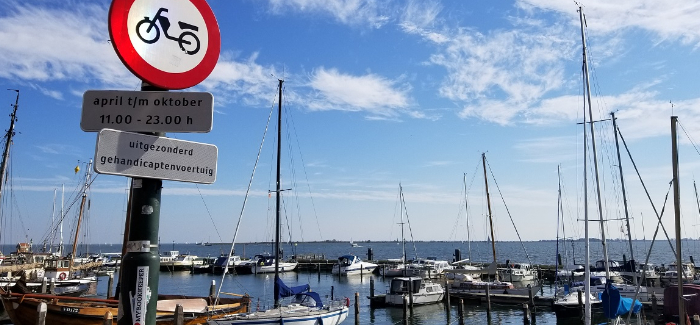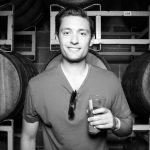 I was lucky enough to attend Oktoberfest, but that's only part of the 11-day beer journey I took across four cities in early October. Outside of the Bavarian beer fest, Munich has a bunch of awesome beer history, quaint beer gardens and famed beer destinations like Hofbrauhaus. Much like Munich, the Belgian capital of Brussels is steeped in brewing tradition thanks to its array of world-renowned trappist breweries and Belgian beer bars like the Delirium Cafe. These two beer-fused cities offer an embarrassment of riches to any beer lover, but it's the beers and experiences I had in the other two cities I visited: Budapest and Amsterdam, that really opened my eyes to just how diverse and vibrant the beer scene is in Europe. From beer baths in Budapest to a craft brewery situated under a picturesque windmill in Amsterdam, my beer experience in Europe was amazing. Here are my main takeaways from the unique beer scenes in each city I visited.
Munich
Munich does casual drinking better than any other city I've been to. Yes, the bar scene is great, but the brewery houses and beer gardens that line the streets of this historic city are what makes it truly stand out.
The nice thing about these beer gardens is that they can be found in suburbs and city centers alike. One day, my buddies and I moseyed around the quiet streets near our hostel, eventually landing in the Schneider brewhaus. This was a wonderful development for several reasons. First, the beer made in-house was delicious and varied. I got to try out  Tap 5, which was their delicious and bright Weiss beer. Add in excellent sausage, including the best curry wurst I've had to date, the Schneider operation was truly memorable.
Day 1 in #Munich resulted in numerous beer gardens. pic.twitter.com/ZxsHLoZmMj

— Taylor Laabs 🍺 (@TaylorLaabs) October 6, 2018
But this was only the first of many beer gardens we encountered. Perhaps the most scenic was one nestled in the middle of a park, enclosed by trees filled with Fall foliage. Having a stein alongside elder neighbors enjoying a beer with their friends was a really cool experience and showcased how communal the activity of beer drinking is to Munich.
I also got the chance to check out the historic Hofbrauhaus. With three floors, a brick-laid beer garden and a five-piece brass band continuously playing drinking ballads, Hofbrauhaus is the enjoyable epitome of the Bavarian drinking experience. Along with more steins of their Fest and Weiss beers, the Hofbrauhaus also served up delicious cooked meats (shocker) along with a full helping of the checkered history behind the historic operation.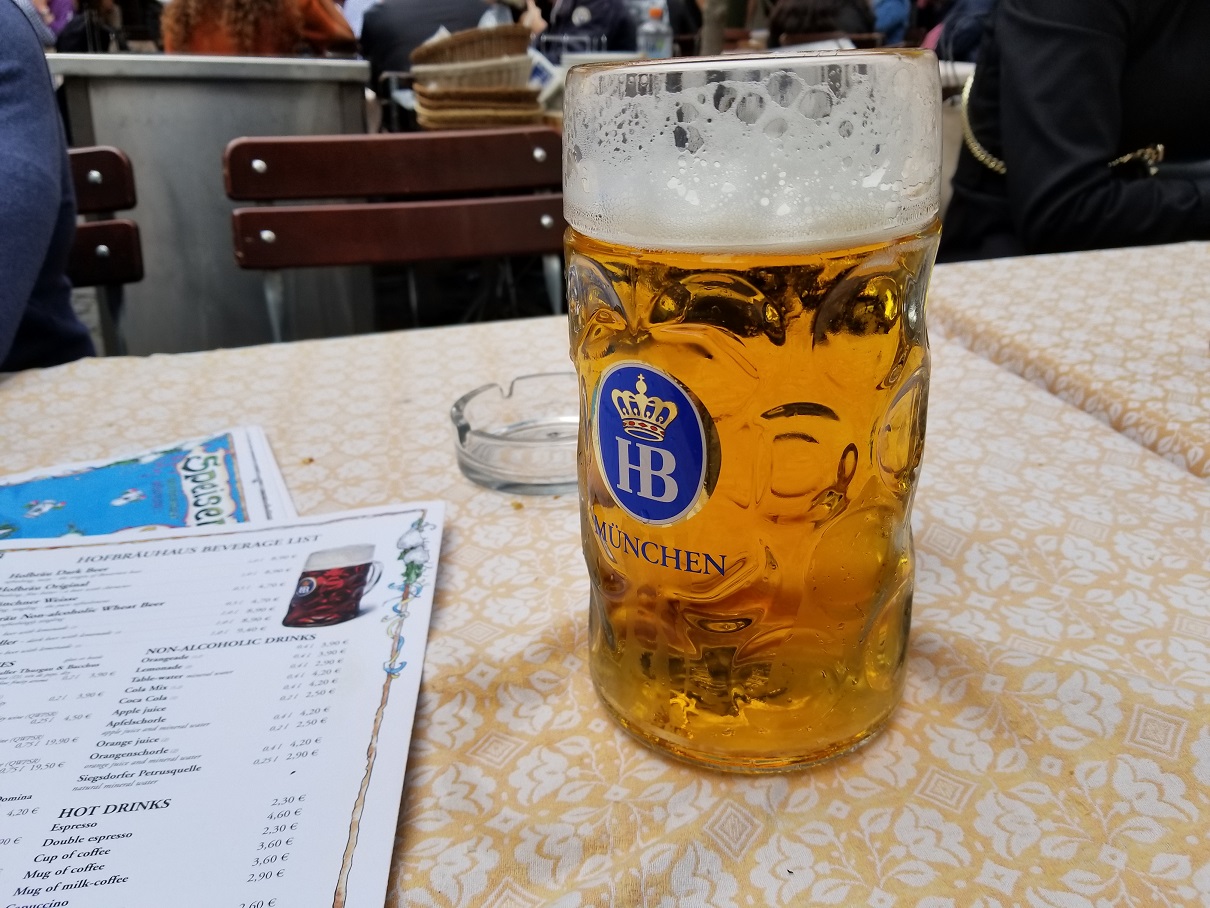 Budapest
I never thought I would have one of my most memorable beer experiences sweating off the beers of nights before, but sometimes you just need to take the plunge—literally. One of the coolest things to do in beautiful Budapest is check out the Széchenyi thermal bath complex that features numerous thermal-heated pools, cold baths and saunas. After some lagosh (Hungarian fried-bread with cheese) and a bevy of saunas and warm baths, my hangover from the night cruise before was gone.
When you have the chance to do a thermal beer bath with unlimited beer…you do it pic.twitter.com/bZUu3GVymp

— Taylor Laabs 🍺 (@TaylorLaabs) October 9, 2018
Then, I discovered that the famous bath house also housed a new thermal beer spa, where patrons could actually bathe in beer—well, the ingredients of beer—while pouring their own suds from a tap nearby. The idea was too good to pass up and did not disappoint. While the person working the bath was quick to denote the myriad of skin and joint benefits that things like hops offer, my favorite part of the experience was just sitting in the beer bath, shaped like a beer barrel, and relaxing. Yes, the dank hop scent and unlimited beer helped.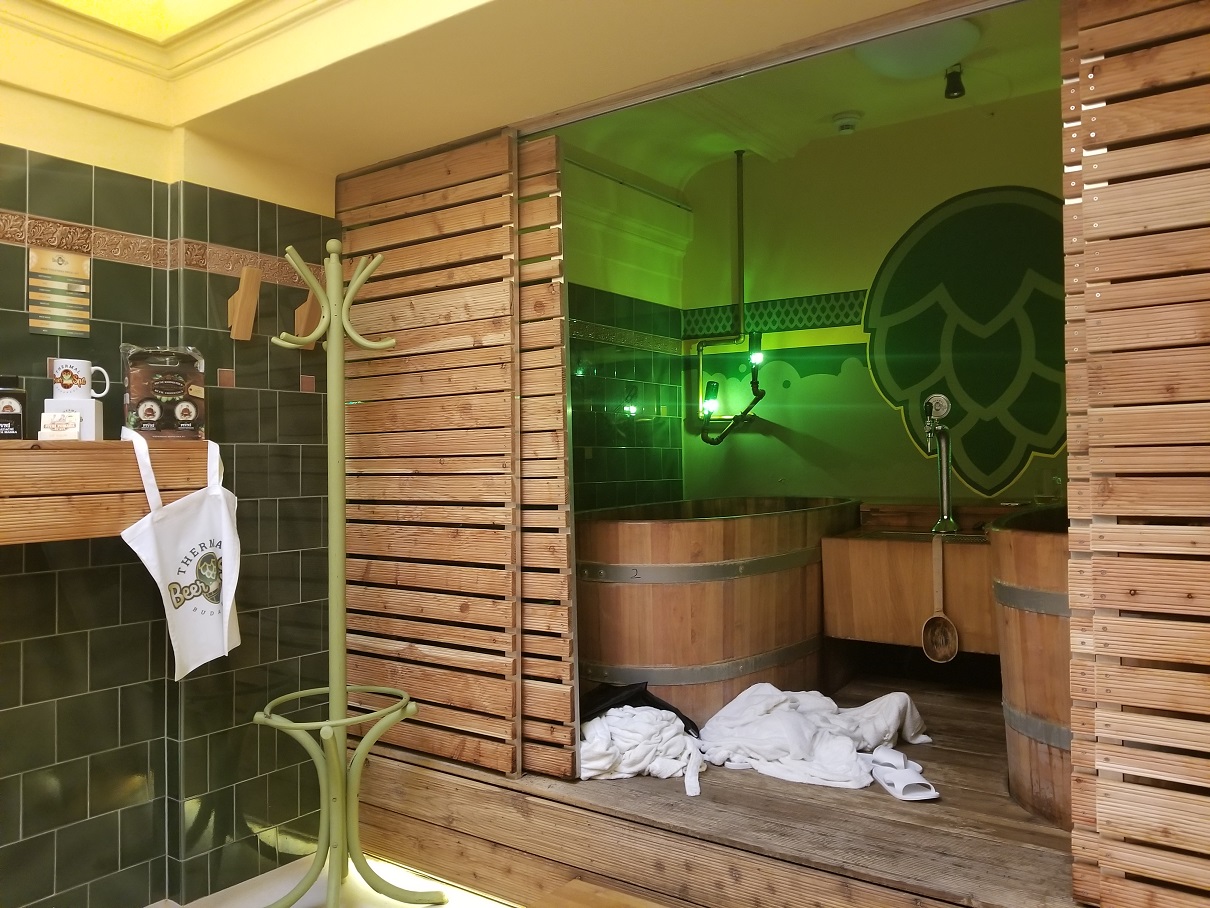 Brussels
The Belgian capital is one of the most storied beer cities on the planet and my experience within its city limits did not disappoint. For any sensible craft beer fan these days, the first stop of any Brussels visit has to be to the sour stalwart that is Cantillon. I visited on a Thursday morning around 10 a.m. to find the cozy, wood-forward taproom already filled with thirsty patrons. The staff was friendly, the place was homey and the beer was excellent. I've been to few better taprooms than what I experienced at Cantillon.
Made it to Cantillon 🙏 pic.twitter.com/NEPbIIgnxN

— Taylor Laabs 🍺 (@TaylorLaabs) October 11, 2018
Oh, and the beer was great too. I tried the Gueuze, their classic blend of several lambics, the cherry-forward Kriek and the deliciously tart Rose made with raspberries. Each of these beers were excellent for how they presented their fruit qualities in different ways. The subtle tartness of the Kriek, the bright sour burst of raspberry in the Rose, and the balanced fruit notes in the Gueuze all resonated. A nice addition to the Cantillon taproom experience is that you can buy and drink bottles on-premises, which meant that I got to try out Zwanze 2018, which showcased the height of the brewery's lambic expertise.
I also had the ambitious goal to visit one of Belgium's six famous trappist breweries, but the long journey to the trappist locations outside of the city made the trip impossible as I only had one full day in the city. Thankfully, there are numerous bottle shops around the Brussels city center well-stocked with the offerings from each trappist brewer. I even got my hands on a bottle of Westvleteren 12, consistently ranked one of the best beers in the world, and boy, this beer did not disappoint. Although it is a Belgian Quadrupel with a 10% ABV, this beer is incredible smooth and drinkable, offering rich notes of sweet caramel alongside a subtle yet toasty malt backbone. If you can get this beer, within a reasonable price, you should get it.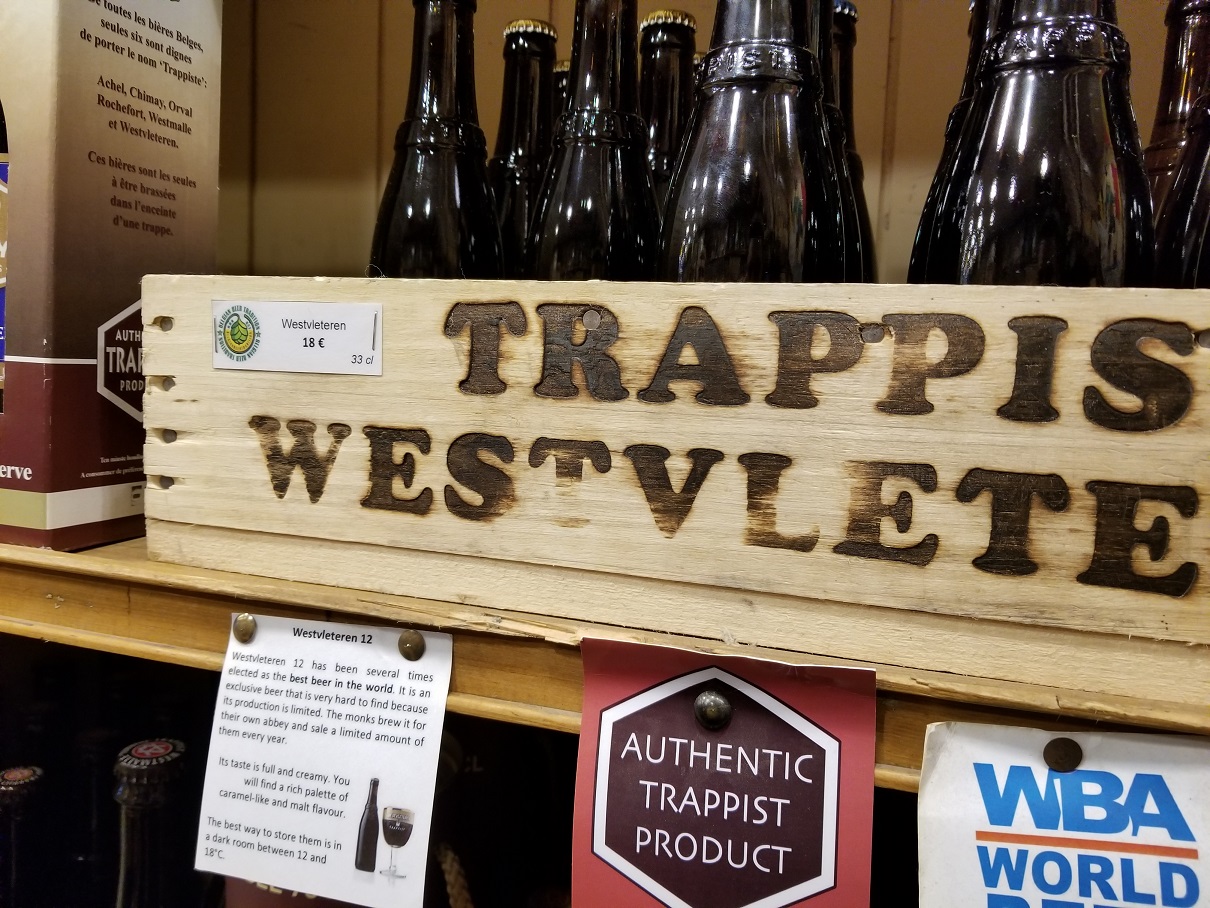 Amsterdam
The capital of Netherland's is the home of Heineken yet it has a surprisingly vibrant craft beer scene that has been embraced by tourists and locals alike. Perhaps the most well-known craft beer spot in Amsterdam is Brouwerij 't IJ, conveniently located underneath a massive windmill. It's a great spot for photos and an awesome space to drink beer with a great outdoor beer garden and a surprisingly great selection of sausages and cheeses. Their beer is stellar too and it's all organic. My favorites were Zatte, their artfully crafted Belgian Tripel, and I.P.A., which could hold up well against some of America's West Coast staples thanks to its dank aromatics and rich malt body.
Amsterdam is pretty great 📍 pic.twitter.com/YYQCS6rTzQ

— Taylor Laabs 🍺 (@TaylorLaabs) October 13, 2018
My other favorite destination had to be Oedipus, both for their colorful branding and refreshing sour-focused menu. Their taproom is located in an industrial area, similar to what you might find in the states, but it was also next to a recently-squatted on building filled with new inhabitants. The whole squatting premise is unique to Amsterdam and worth a read. Back to the beer, Oedipus excels in the sour and saison realm, consistently hitting on several fruit-forward variants. Standouts for me were their Polyamorie Sour Pale Ale, Mannenliefde Saison and Thai Thai Tripel. The Tripel in particular was surprising to me due to the huge hits of lemongrass and orange you get. These flavors aren't what I traditionally expect from an 8% tripel but that made the beer that much more intriguing. Yeah, I may have had 2 or 3.
So, there's a quick recap of my beer highlights in each location of my four part Eurotrip. Each place was different and offered something new to my traditional experiences with beer. I'm very thankful for the experience and highly recommend something similar for anyone that is curious. Cheers!
---