No Comments
4th Tap Brewing Cooperative Brews Spooky Concept for Haunted House Entertainment Pioneer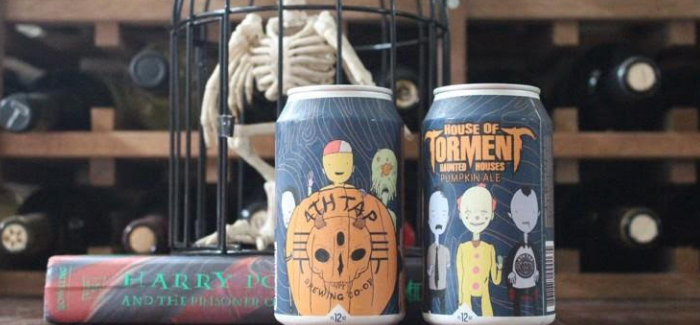 Halloween is upon us and haunted house fans in Texas know the House of Torment in Austin, Texas is as good as it gets. Nationally recognized, this pioneer in haunted entertainment features three re-imagined immersive experiences and a new bar, Torment Tavern.
Erin Stecker, co-founder and general manager of 4th Tap Brewing Cooperative has been in love with all things macabre for many years and is obsessed with beer, makeup and horror. Last year, she started moonlighting at the House of Torment as a makeup artist and quickly became enamored and integrated into the culture. The same year, the House of Torment started selling beer in their outdoor space for guests to enjoy while waiting to experience the horror that awaited them. When Erin and the 4th Tap team discovered they were adding a full indoor bar that featured signature cocktails this year, it presented the perfect opportunity to collaborate on a beer.
https://www.instagram.com/p/Bm6PZ2BhdOt/?taken-by=4thtap
House of Torment Pumpkin Ale
"Our head Brewer, Chris [Hamje] – the Pumpkin Master – roasted 240 lbs of real pumpkin to throw into the churning mash. What resulted is a well-rounded and subtly spiced pumpkin ale. Toast and biscuit flavors in an amber base provide a monstrous level of drinkability," said Erin. Waiting in line for a terrifying experience requires a lighter, palatable, yet flavorful pumpkin beer.
Cans of House of Torment are available around town and at the attraction, while draft beer is only available at 4th Tap while supplies last. Embodying the spirit of the season, artist Rory Blank of Rory Blank Comics and Party World Rasslin created artwork for the cans.
https://www.instagram.com/p/BmbQU4ZBY4I/?taken-by=4thtap
The House of Torment runs until November 10th and tickets are starting to sell out, so get yours now!
Follow 4th Tap Co-op on Facebook, Twitter and Instagram
Follow House of Torment on Facebook, Twitter and Instagram
Keep up with events at 4th Tap Co-op on Craft Beer Austin.
---