No Comments
Meanwhile Brewing is One of Austin's Best Outdoor Spaces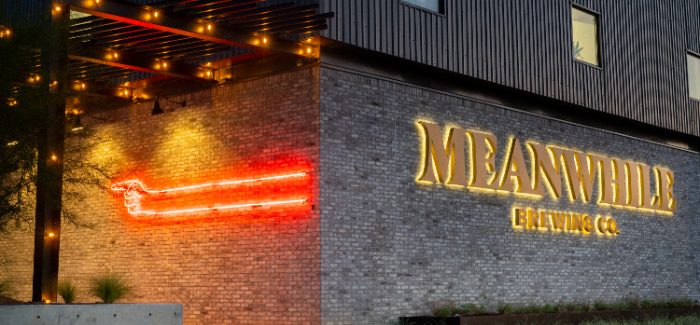 Meanwhile Brewing Co. has one of the largest and most unique outdoor spaces in Texas. When Will Jaquiss, Meanwhile's founder and brewmaster, was searching for a location in Austin, he wanted to find the biggest space possible.
"We wanted to focus on the taproom experience, first and foremost," Jaquiss said.
Despite opening within the last year, Meanwhile has been able to offer plenty of customers a beautiful outdoor space in southeast Austin. The 3.7-acre property has a large stage for music, jungle gyms for kids and a soccer field. Although not everything has been usable in the last six months, they have plenty of ideas for the future.
The massive space took inspiration from the coffee garden culture and Hill Country vibes unique to spaces west of Austin and they brought it right into the city. Since opening in October 2020, Meanwhile hasn't been able to offer everything they originally planned: the soccer field was closed, and music wasn't initially booked. In fact, most of the space was used to keep safe distances between customers.
Despite those issues brought on by the pandemic, Jaquiss remains optimistic about what Meanwhile is currently offering and what the future holds.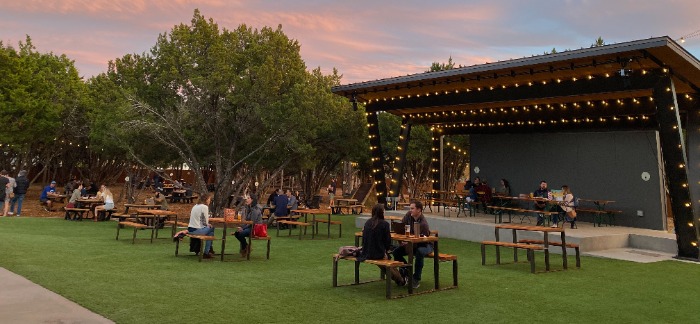 Exercise & Music
At the end of March 2021, the brewery hosted its first Barre class. The plan is to offer various recreational activities like Barre and yoga to allow for guests to physically engage in a safe space. Later in the summer, the hope is to start renting out the turf field for soccer practices and eventually allow people to use it openly.
Additionally, they have been running free live music on Tuesdays and Thursdays for a little more than a month. Eventually, the intent is to sell tickets to shows once or twice per week to maximize the stage and create a music-focused environment for approximately 500 people.
Currently, though, they will continue offering free shows and space for anyone hoping to enjoy some beer or coffee.
Food & Beer
For food, Meanwhile has multiple trucks with complementing schedules to offer a variety of options. Pueblo Viejo is open each day of the week offering a variety of Mexican food, but the highlight is the breakfast tacos. Craft Woodfire Pizza is open Wednesday through Sunday and provides a Neo-New York pizza option. Finally, Garbos offers an Austin twist on lobster rolls, burgers. and other New England-inspired food.
All of this can be enjoyed alongside delicious beer, courtesy of Nao Ohdera, the director of Brewing Operations. Jaquiss knew Ohdera from their time at Breakside Brewery in Portland, OR and he thought their collaboration would be great for Meanwhile.
The combination of activities, food and beer work very well together in Meanwhile's large space. Soon enough, they're hoping to offer everything they originally planned and provide the elite and expansive taproom experience they envisioned.
---