No Comments
Stem Ciders | Chile Guava Apple Cider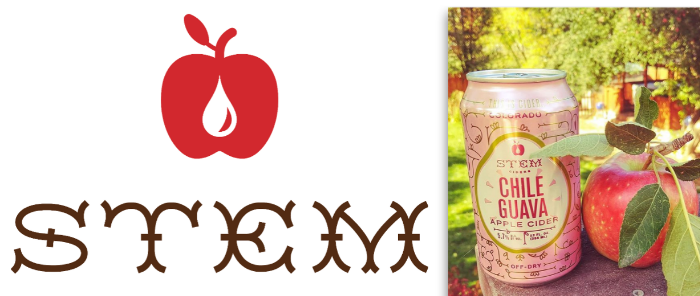 "Cider is too sweet. Cider isn't beer." If that's your thought on the matter of ciders, I would implore you first to refrain from comparing cider to beer. Beer is beer. Whiskey is whiskey. Wine is wine. And cider is cider. Yes, the packaging and crafted nature of the business has often allowed the two imbibe industries to converge, but they are not the same. I would then suggest next that you explore ciders as its own entity; you'll find that the ciders of today are nothing like the jugged-cider sold at family pumpkin fests, and they differ greatly from the hard cider that first emerged fifteen to twenty years ago. Cider today is innovative, nuanced and balanced, demonstrated exquisitely by Stem Ciders' Chile Guava Apple Cider.
My first taste of Stem Chile Guava occurred in Chicago at Bitter Pops, a popular bottle and tasting shop on Chicago's north side. Stem, Bitter Pops and PorchDrinking.com hosted a fun pumpkin carving and cider tasting event, but what struck this writer—a beer nerd whose come to admire cidersinvolved the complexity of the Chile Guava cider.
https://www.instagram.com/p/BpVeYaKF8zg/?taken-by=chicagobeer
ABV: 5.7% | IBU: 0 | Zero Gluten
Up front, one notices the crisp apple flavor (from the pressed apple juice) which provides slightly tart and gently sweet characteristics. Just as the taste buds begin to pick up on the sweetness, the spicy heat derived from the guajillo chiles surface.
The complex, multi-note nature of the cider differs from its "drink-ability," which can be compared to a Kolsch-style beer or a well-mixed fruited cocktail. But, as much as Stem Chile Guava is enjoyable on its own, there is no question the cider would shine as an accompaniment to a meal, notably with Mexican food or even an old fashion American meat and potatoes dish.
Stem never shies from producing bold cider flavors. In addition to the Chile Guava, Stem offers such items (sometimes seasonally) as Salted Cucumber, Coffee Apple, Pear, Raspberry and hoppy ciders. But, Chile Guava is a seasonal offering that's perfect for long nights and cool temps, so grab it while you can.
In short, whether you are one who often delves into the cider world, or you are new to the drink, give Chile Guava a try because it embodies the innovation that's dominating the cider world. More importantly, Stem Chile Guava is an excellent beverage that's fun to drink.
https://www.instagram.com/p/BpVgg1CAsNa/?hl=en&taken-by=bitterpops
---