No Comments
Ultimate 6er | Fall TV Beer Pairings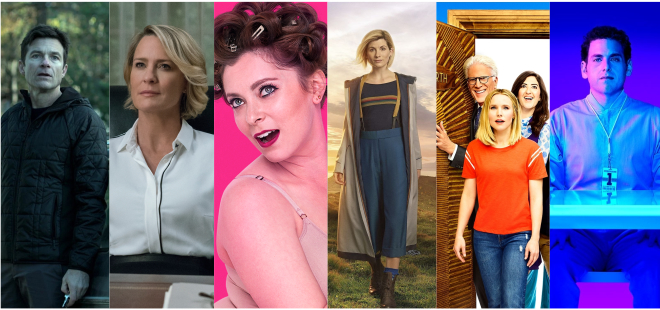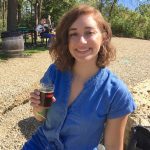 Each fall, networks from NBC to Netflix release what seems like an unwatchable amount of television. The line-up this season is no different, leaving viewers with lots of choices – both for shows to watch and beers to drink while watching them. For those struggling to choose from the flood of good TV, the below is a manageable list of fall's top TV to binge-watch and beers to have in hand while doing so.
Maniac
Illuminated Brew Works' Junior Astronaut Juice
When Netflix releases a limited series with leads like Emma Stone and Jonah Hill, people pay attention. And for good reason. Maniac is set in New York City, possibly in 1984, or maybe it's 2084. The show follows Annie (Emma Stone) and Owen (Jonah Hill) into an experimental drug trial promising to relieve depression and anxiety by thrusting participants into alternate realities and those all their own.
The neon-lit, trippy show deserves an equally hazy beer to drink with it, like Chicago-based Illuminated Brew Works' Junior Astronaut Juice. Not only is the beer's artwork as groovy as the cast's wardrobe, but its hoppy, orangey punch keeps drinkers on their toes for the unexpected worlds into which the drug-induced characters dive.
https://www.instagram.com/p/BpALlpTA7r7/
Crazy Ex-Girlfriend
Odd Side Ale's Bean Flicker
The label on this Odd Side Ales' brew alerts drinkers that "looks can be deceiving." The same is true of the CW's musical comedy Crazy Ex-Girlfriend, which premiered to unexpected acclaim in 2015. The show's self-deprecating humor and witty musical numbers even earned writer and leading actress Rachel Bloom a Golden Globe.
Just as Crazy Ex-Girlfriend shouldn't be judged by its network (which regularly produces poorly written teen fantasies), Bean Flicker can't be judged by its light gold color. From the first sniff and sip, drinkers will recognize a potent, sweet coffee aroma and flavor that packs enough caffeine to stay alert and catch the blink-and-you'll-miss-it jokes during Rebecca Bunch's solos.
https://www.instagram.com/p/BdvnixvDPtN/
The Good Place
Little Creatures' Original Pils
The flawed yet lovable bunch that make up the main characters in The Good Place are back on Earth (and spoiler: alive and well!). With the morality-seeking study buddies finding each other back in Australia, it's only fitting that the show is paired with a beer from Fremantle-based brewery Little Creatures.
The brewers at Little Creatures have a love affair with hops and are inspired by the Pale Ale, craft beer with hop-forward character. An especially earthy brew from Little Creatures is the Original Pils, made with German Perle hops for an extra-bitter version of the style. Even though hops are at the forefront of this beer, the refreshing finish allows drinkers to sip easily while catching up on a few of The Good Place's light-hearted episodes.
http://www.instagram.com/p/BneUYPAnnxH/
House of Cards
Denizen Brewing Co.'s Lowest Lord
Former president Frank Underwood may have been killed off the show, but the new Madame President does not have time for tears. Claire has work to be done in the oval office – no matter how morally questionable her intentions are. Even though Claire Underwood isn't the best female role model on television (see next show for a better one), she is making waves in House of Cards' warped U.S.A.
And so, she should be celebrated with a beer made by a brewery also empowering women to take up positions most often held by men, like brewers and brewery owners. That's what Denizens Brewing Co., located outside of Washington D.C., is doing. One of Denizens' beers, Lowest Lord, is an extra-special bitter with a toasty malt and floral hop flavors. This beer will help you feel balanced when the fictional U.S. government depicted in the show is not.
http://www.instagram.com/p/Bbm9Kcig5RY/
Doctor Who
Deschutes Brewery's Pacific Wonderland
Here's another lady fighting for what she thinks is right– just in a much less power-hungry and terrifying way. With Jodie Whitaker cast as the thirteenth doctor, the first female for the science-fantasy series, the show regains an excitement that had been dimming in previous seasons. Whitaker's clever, charming Doctor, accompanied by not one but three companions, returns the show to its core: adventure.
A similar sense of new beginnings and wanderlust can be found in many of Deschutes Brewery's beers. Pacific Wonderland is a great choice for sipping while daydreaming about a trip across the country or one across the galaxy. This lager inspired by the Pacific Northwest is citrusy, crisp, and fit for a quick TARDIS road trip.
http://www.instagram.com/p/BanI_vHDk-w/
Ozark
Side Project Brewing's Black and Berry
Between the death, torture, and constant stress-inducing mood in Netflix's Ozark, many watchers may need a pick-me-up before, during, or after viewing. The title of the show gives away the south-Missouri setting, but don't be fooled by comedian Jason Bateman's face in the show's cover photo. This isn't Arrested Development.
Cartels, money laundering, and unhinged characters give this blue-tinted experience a heavy vibe. This is why it deserves a heavy and complex beer to match from inventive, Maplewood, Missouri-based Side Project Brewing. One of Side Project's wild ales in which they specialize accurately describes the show's cinematography color choice: Black & Berry. This bourbon barrel-aged ale, like Ozark, is anything but easy-going. It has chocolate and vanilla notes to be expected from a bourbon barrel-aged beer, but surprises with acidic flavors from the blackberries and black currants with which it's aged. At 10% ABV, it might be able to dull some of the emotional pain of each episode.
http://www.instagram.com/p/Bm1s__PlIzz/