No Comments
Event Recap | Maple Bacon Coffee Porter Festival 2019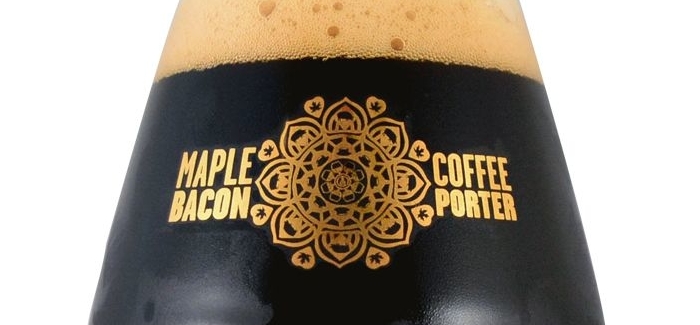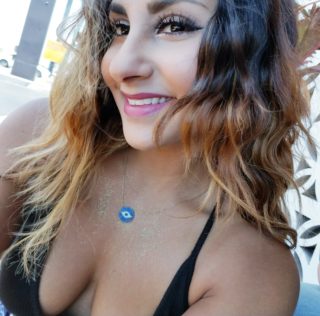 Starting off the year by attending a beer festival is the best way for any beer enthusiast to set themselves up for success. The idea of unlimited beer sampling from a stellar brewery, along with over 50 local and regional breweries is heavenly. Add that with a solid time with friends enjoying food and music and you have the Maple Bacon Coffee Porter Festival at Funky Buddha Brewery.
Maple Bacon Coffee Porter sounds like a mouth full right? Well so is the beer! Highly regarded in the beer world for many of their pastry-inspired beers and a Gold Medal winner in the 2016 World Beer Cup for Specialty Beer, Funky Buddha Brewing comes through to begin the new year in Oakland Park, Florida with an extremely fun beer festival for anyone 21 and up to attend.
They named this festival after the Maple Bacon Coffee Porter to celebrate its yearly release. The Maple Bacon Coffee Porter Festival invites over 50 different breweries near and far. Many qualities of this festival raise popularity and excitement every year. One of those qualities is the tap list that features the guest breweries that embrace the breakfast style beer theme or any other style they choose.
---
2Toms Brewing Co
Sawyer: NEIPA brewed with Amarillo, Citra, and Mosaic hops
El Cucuy: Mole stout brewed with guajillo, ancho and habanero chilies, chocolate and cinnamon
7venth Sun Brewing
My Everything: Blueberry, blackberry, raspberry, vanilla and lactose berliner
Image Is Everything: New England IPA brewed with Mosiac and El Dorado hops
18th Street Brewery
Freaky Flow: (collab with Brewski) East Coast-style double IPA
Invisible Benefactor: Imperial Stout with peanut butter and chocolate
81 Bay Brewing
Here Plums the Sun: Sour ale brewed with plums, coffee, cinnamon, vanilla and lactose
Guzumba: Sweet stout aged on organic Ecuadorian cacao nibs and a Jamaican blend coffee
450 North Brewing
Flapjack Nuggets: Sweet stout brewed with maple syrup, lactose, vanilla and a touch of cinnamon
Hazy Nuggets: IPA brewed with galaxy and vic secret hops
Sunny Paradise Slushy: Fruited sour conditioned on pineapple, mango, and peach
903 Brewers
Birthday Sasquatch: Whisky barrel aged imperial chocolate milk stout with toasted marshmallow and double fudge
BA Birthday Sasquatch: Imperial chocolate milk stout with toasted marshmallow and double fudge
Aardwolf Brewing Company
Space Jam: Strawberry marmalade New England IPA
CCCP: Coconut Cream Pie White Russian Imperial Stout
Accomplice Brewery and Ciderworks
Maple Bacon Coffee Cider: Maple syrup, coffee and bacon flavored cider
Sneetches Cider: Acai berry cide
Aslin Beer Company
Volcano Sauce: Sour ale made with blackberry, blueberry, vanilla and lactose
Pinkies Up: 5x dry hopped IPA made with Citra, Galaxy, Nelson, Mosaic, and Amarillo hops
B Nektar Meadery
Punk Lemonade: Tart apple and lemon character with light raspberry sweetness
Core Crusher: Encompassing the apple in its entirety. Notes of earth and barn wood to compliment the dry, refreshing finish
Bangin Banjo Brewing Company
Autumn Serenade: Imperial Stout with maple syrup, cocoa nibs and orange zest
Blood Orange Grapefruit Gose: Gose brewed with seasalt and coriander with blood orange and grapefruit added
Barrel of Monks Brewery
Clotho: Tripel ale aged in apple brandy barrels for 1yr. Notes of honey, vanilla, caramel apple, with hints of cracked pepper and oak
Chocolate Strawberry Singel: A light belgian singel ale with rich notes of chocolate and light strawberry characte
Bayou Teche Brewing
The Waking Dead: Coffee kolsh
Techeticles III: Triple IPA, dry hopped a pair of times
Broski Ciderworks
Passionfruit Cider: Brewed with passionfruit
Apple Pie Cider: Brewed with roasted apples, brown sugar, vanilla and spices
Cigar City Brewing
Barrel-Aged Snack Attack: (Funky Buddha & Blue Jacket D.C. collab) imperial porter with FL sea salt, cacao nibs, vanilla, and dry roasted peanuts
Margarita Gose: Gose-style ale with orange, lime and salt
Copperpoint Brewing Company
Coco for Coxness: Imperial stout brewed with cocoa nibs and fresh coconut. GABF 2018 Gold Medal Winner - Chocolate Beer category
Key Lime WTF: Hazy DIPA dry hopped with mosiac and citra lupulin powder. Brewed with locally sourced key lime for a tart finish
Coppertail Brewing
Seasonal Relief: Imperial stout brewed with elderberry and goji berry
Guava Pastelitos: Light berliner brewed with guava, raspberry, and vanilla
Crooked Run Brewing
Merrang!: Pastry Berliner inspired by lemon meringue pie, with lemons, Mexican vanilla, milk sugar, and graham crackers
Coming to America: Double IPA collab with Proof Brewing solely brewed with African hops
Devour Brewing Co
Neon Daze: Blonde Ale brewed with ocean breeze fruit blend tea. Aged on hibiscus blossom
Fruity Loops: Blonde ale aged on Skittles Candy
Due South Brewing
Land, Sea, and Air: Brut IPA with cashmere centennial, ekuanot, mosiac and simco hops
Saigon Blonde: Blonde ale with lime, cucumber and jalapeno
Dunedin Brewery
Ritual Madness: Tart belgian dark strong ale aged 10 months in cabernet barrels with oregon red raspberries and brettanomyces (silver medal winner world beer cup)
Dram Alter: Saison brewed with organic golden raisins, cinnamon and oak
Florida Avenue Brewing Co
Bourbon Barrel-Aged Imperial Stout: Bourbon BA Imperial stout with maple, cinnamon and vanilla
Neapolitan Berliner Weisse: Berliner brewed with strawberry, chocolate, vanilla and lactose
Florida Keys Brewing Co
Bean Me Up Scotchy: Vanilla bean and scotch infused oatmeal stout
B.I.G. Brown Ale: Coconut infused brown ale
Forbidden Root Brewery
Big DAMN Scoop: Fried ice cream golden stout
Assembly Required: Sour Mango IPA
Four Quarters Brewing Company
Pickleback: Bourbon barrel aged light sour ale with cucumbers, honeydew and fresh dill
Waffle Star: Imperial milk stout with coffee conditioned on bourbon barrel aged maple syrup soaked belgian waffles
Garagiste Meadery
Cilice: Raspberry, cherry and red currant mead fermented on bourbon staves
Purple Waffle: Raspberry and blackberry mead with maple syrup
Gulf Stream Brewing Company
Holograms: Imperial DDH DIPA with juicy aroma bomb of persimmon, candied orange, ripe mango and esters of bubblegum
Paloma Spritza: Paloma cocktail inspired sour has tons of fresh squeezed grapefruits, lime, and honey, all aged on tequila oak
Invasive Species Brewing
Mosaic Mo Problems: IPA brewed with Mosaic Hops
Sour Scoop: (collab with 3 Sons) Neapolitan flavored berlinerweisse
Lazer Shark: NEIPA triple dry hopped with SA Southern Passion, African Queen, and AU Vic Secret
Jdubs Brewing Company
Rosemary & Blood Orange Berliner: brewed with large amount of blood orange puree, a touch rosemarry, and pinch of sea salt
Macaroon Imperial Stout: sweet and roasty imperial stout brewed with six pounds of coconut per barrel
Kane Brewing Company
Mexican Brunch: Imperial milk porter with coffee, maple, cinnamon, cacao and chilies
Secret Mezzanine: Brewed with American Two Row, lots of wheat and a small amount of British caramel and hopped in the whirlpool with Simcoe, Chinook and Mosaic then dry hopped with a bunch of Eureka, Chinook and Simcoe
LauderAle Brewing Company
C Porter: Porter brewed with coconut for a sweet, smooth finish
Maple Bush Brown: Brown ale with notes of caramelized nuts, milk chocolate and maple
Lexington Brewery & Distillery
Kentucky Old Fashioned: Imperial amber ale brewed with cherries and orange peel. Aged in KY bourbon barrels for 8 weeks
Vanilla Barrel Cream Ale: Imperial cream ale brewed and aged on madagascar vanilla beans. Aged in KY bourbon barrels for 6 weeks
Lone Pine Brewing Company
Oh-J DIPA: A carefully selected arrangement of late-addition hops produce a pure citrus punch
Chaga Stout: Balancing citric west coast hops with Chaga from the ME woods. Chaga provides vanilla and earthy spice
Lord Hobo Brewing Company
Museum: Triple IPA with Citra, Mosaic, and Galaxy
Boom Sauce: NEIPA featuring six hop varietals and a blend of spelt, oat, and wheat
MadTree Brewing
Joon: Ale aged in gin barrels with juniper berries and ginger
Are You Ready For Some Darkness?: Stout brewed with hemp seeds. Aged in bourbon barrels
Mathews Brewing Co
8 Way Santa: Belgian Tripel Ale aged for 7 months in whiskey barrels
Better Than Yours: New England style double vanilla milkshake IPA
MIA Beer Co
Tremenda TIPA: Triple IPA
Encanto de Amor: Award winning Berlinerweisse made with raspberries and passionfruit
NOBO Brewing Company
Go Fluff Your Nutter: PB&fluff brown ale
Red White & Boom: cinnamon whiskey oak aged imperial stout
Non-Prophet Brewing Co
Strawberry Basil Kombucha
Pineapple Turmeric Kombucha
Odd Breed Wild Ales
Stabbing Elbows: Heavily fruited cherry wild ale
Artistic Bugs: Strong golden wild ale
Ology Brewing Company
Hop Gradient: DIPA
Sprinkle Factor: Guava passionfruit tart milkshake IPA
Orchid Island Brewing
Star Ruby: smooth and juicy double IPA. Dry hopped with Amarillo, Centennial, Citra, Simcoe and locally grown grapefruit zest
Mimosa Brut IPA: brewed with 100% Pilsner malt base, Centennial and Citra hops and finished with fresh Glo tangerine juice and zest
Playalinda Brewing Company
Surreptitious: Belgian-style specialty honey ale, made with local honey
Key Lime Slice: Fresh, Florida Key Limes give this refreshing blonde ale a terrifically tart twist
Pontoon Brewing
Snozzberries Taste Like Snozzberries: Berliner with strawberry blackberry black currant vanilla and milk sugar
Earth Shifter: Imperial stout aged in maple rum and maple bourbon barrels conditioned on maple barrel aged coffee beans
Gravity Glaze: BA Imperial Stout aged in Apple Brandy, Vanillla Bourbon, Four Roses and Cinnamon Vanilla Whisky barrels with tongan vanilla and apple pie spiced coffee beans
Triple Combustible Pineapple Milkshake IPA: Tripel NE IPA with over 800lbs of pineapple, vanilla and milk sugar
Proof Brewing Co
Grandpa's Goin Nutz: Boubon barrel aged milk chocolare stout with peanut butter and toasted coconut
Strawberry Banana Evil Kiss: Traditional Berliner with strawberries, bananas and vanilla
Prosperity Brewers
Mexican Hot Chocolate: Milk stout with sinnamon, vanilla beans, cocoa nibs, and ancho chiles
MSRP: Mosiac, Simcoe, Rye Pale Ale
Red Cypress Brewery
Imperial Death Roll Stout: Imperial english sweet milk stout
Robot Brewing Co
Cache Me Outside: Mixed berry berliner
Exuberance Upgrade: Sour with coffee, vanilla, lactose and cinnamon
Sailfish Brewing Co
Barrel-Aged Drinkin Thing: Bourbon barrel aged barleywine
Cut My Life Into Peaches: Imperial sour ale brewed on TONS of peaches
Saltwater Brewery
Confused in the Morning: Belgian tripel aged on belgian waffles. coffee and maple syrup
Hazelnut Mayday: Hazelnut imperial coffee porter
Slim Pickens Cider and Mead
Jealous Punks Can't Stop the Dunks... and Donuts: Donut caramel cinnamon apple cider reminiscent of an apple fritter
True FuPick-ens: incredibly righteous cider with a plethora of fruits, spices, and adjuncts
Tarpon River Brewing
Stan Lee: Cacao nibs and vanilla imperial stout
Prickly Pear Gose: Kettle sour beer with flavors of a prickly pear margarita
Tomoka Brewing Co
Tom Yum Thai Gose: Brewed and dry-peppered with 4 different types of hot peppers, and coriander, salt, and lemongrass
Tart Dark Cherry: Sour ale brewed with tart black cherries
Toppling Goliath Brewing Co
Dragon Fandango: Kettle sour, blended with dragon fruit, mango and passion fruit puree
King Sue: Citra hopped double IPA
Pseudo Sue: Single hop pale ale with ferocious aromas of grapefruit, citrus, mango and evergreen
Walking Tree Brewery
Barnacled Manatee: English Barleywine
Sassy Flamingo: Tart Cherry Sour
Wicked Weed Brewing
Dark Age: Imperial Bourbon Barrel Aged Stout with Coffee
Metatropics: Foeder Aged Brett Farmhouse with Pineapple, Mango, Grapefruit, Passion Fruit and Dry Hopped
Wynwood Brewing Company
Mango Passionfruit: Berlinerweisse brewed with mango and passionfruit
Barrel-Aged Grand Pops: Whiskey barrel aged imperial porte
---
Funky Buddha History
How was a beer as interesting and flavorful as Maple Bacon Coffee Porter created? Kristen Lorow, the brand marketing coordinator at Funky Buddha shared the story of this epic beer and festival to follow.
PD:

How did MBCP come about and why did it become a main focus?
Kristen: When Funky Buddha first started back in 2007 we were located in a tiny hookah lounge in Boca Raton and brewing on a small system. (Basically, the size of a large kitchen pot.)
Ryan has a super creative pallet and was creating a lot of these unique and culinary inspired beers. He created an orange creamsicle wheat, a mango habanero blonde ale, and eventually created Maple Bacon Coffee Porter. Ryan wanted to recreate beer that was reminiscent of a diner-style breakfast in a glass, with flavors and aromas of roasted coffee, maple syrup-soaked pancakes and smoky bacon. He bottled this beer and sold it to a few of his regulars, who sold and traded for this beer all over the world-one bottle went as far as Denmark, and another sold on Ebay for over $300!
Within a few weeks Maple Bacon Coffee Porter was rated the #1 rated porter in the world on Ratebeer.com. Soon after, we began receiving invitations to these really exclusive beer festivals and people were so excited to taste our beer they would sprint from the entrance to get in our line-which was consistently one of the longest and wrapping around the building.  Funky Buddha has been growing like crazy ever since. When we moved to our production facility in Oakland Park we wanted to pay homage to the beer that put us on the map and throw a festival in it's honor.
The festival has evolved and has seen many different formats throughout the years. The first few MBCP fests were open to the public however, the crowds increased exponentially each year so we decided to move it to a ticketed event to make it a little more manageable. The festival has always been a celebration of out of the box, culinary inspired beers.
When inviting the other breweries, are they encouraged to bring breakfast-inspired beers? 
Kristen: We do not request for the breweries to bring breakfast inspired beers, however, guest breweries tend to embrace the theme.
Have you personally seen growth in the festival throughout the years and how does it feel to be a part of that growth?
Kristen: The first year Funky Buddha held MBCP fest I was blown away. For starters, there weren't any other breweries near us where you could go and drink at the source, but there was also not nearly as many beer festivals, so getting to try so many different beers in one setting was such a unique experience.
Although now, I work the festival rather than attending it's still a really fun day and it's amazing to see how many guests come from all over to celebrate with us. The festival has grown in size and attendance throughout the years, and we're always looking for new and innovative ways to make it better.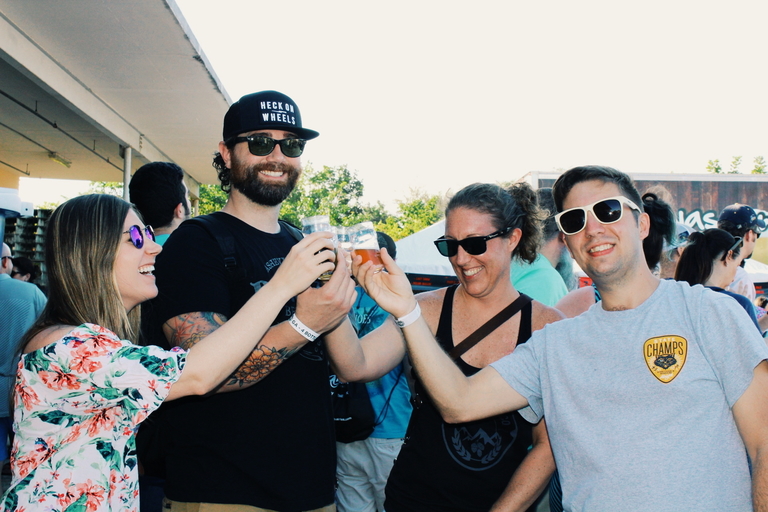 Funky Buddha brewery allows this festival to showcase their 2019 Maple Bacon Coffee Porter; afterall, they named the festival after it! There is something to be said about a beer that brings so many loyal craft beer fans together. The innovative brewery also has a trailer of their other beers for everyone to enjoy as well. That's right! An actual trailer that has Funky Buddha's MBCP and its variants, barrel-aged, specialty, and last but not least, core beers.
---
MBCP & Variants
Maple Bacon Coffee Porter 2019
Free Range Kopi Luwak Maple Bacon Coffee Porter Variant
Jamaican Blue Mountain Maple Bacon Coffee Porter Variant
Barrel-Aged
Louisville Bourbon Barrel-Aged Morning Wood Variant
High West Barrel-Aged Mint Julep
Bourbon Barrel-Aged Old Fashioned
Last Buffalo in the Park
Saint Toddy
Rum Barrel-Aged Batida
Rum Barrel-Aged El Jefe's Coquito
Rum Barrel-Aged Pina Colada
Chardonnay Barrel-Aged Dreamers of Dreams
Chardonnay Barrel-Aged Undefeated Saison
Chardonnay Barrel-Aged Tripel Lindy
Tequila & Rum Barrel-Aged Black Goblin
Specialty
Indian Moonson Malabar Nikolai Vorlauf
Jamaican Blue Mountain Snowed In
I'm So Excited, I'm So Scared
Chocwork Orange
Wide Awake It's Morning
Nib Smuggler
Last Snow
French Toast
Save Some Room For Later
Sweet Potato Casserole
No Crusts
Fire in the Hole
Cosmic Journey
Grapefruit Miami Miracle Double Lateral IPA
Miami Miracle Double Lateral IPA
Melon Ballin'
Day Walker
Raspberry Floridian
Sticky Treats
Sticky Nuts
Dragon Fruit Berliner
Key Lime Pie
Core
Floridian
Hop Gun
Crusher
Eternal Summer
Pineapple Beach
Tripel Lindy
Vibin
Hazy Daze
El Camino
Gloves Of
---
With a plethora of beers and four hours to try them all, I would say that VIP to the MBCP festival is well worth it. VIP attendees do get an extra hour of time before general admission begins. I still managed to put my taster cup to work by trying tons of brews. Looking for the standout beers was tough because they all sounded intriguing; however a few managed to create decent sized lines of people anxiously waiting to try.
Pontoon Brewing out of Atlanta, Georgia had one of those lines that made you double look because it was so long. That comes at no surprise when they were pouring beers like their decadent Berliner, an Imperial Stout with delicious maple flavors, a Barrel-Aged Imperial Stout aged in Apple Brandy, and a triple New England IPA that had over 800 pounds of pineapple, vanilla and milk sugar. So, if these beers sound like they were worth the wait, they definitely were!
https://www.instagram.com/p/Bs1ZfO7AnW6/
The chance to try beer from breweries I don't usually have access to is incredible. The MBCP festival presented the opportunity for us Floridians to get a taste of what Vermont has to pour. Four Quarters had a wonderful lineup of beer that I kept lining up for one after the other. They poured two sour ales, an imperial stout, and a DIPA that sparkled- literally!
https://www.instagram.com/p/BseHoEQgZIV/
How else did people get funky that day you ask? Well the DJ had no problem getting the crowd to show their moves. Needless to say, things became intense when bacon and hot dogs became involved.
---
"When all else fails, there is music. When that fails you, there is beer." – James Hauenstein
---
Hot dog vs bacon#MBCPfest pic.twitter.com/KybBWDewr9

— Funky Buddha (@funkybuddhabrew) January 12, 2019
MBCP festival has a relaxing, laid back vibe. For the locals, it is always a fun surprise to see what your favorite brewery will bring to the table. Mathews Brewery in Lake Worth was happy to pour a taster of their Belgian Tripel Ale and New England style double vanilla milkshake IPA. I can see their enthusiasm for craft beer; I also found their passion for music is shared at their brewery, with frequent concerts that attract many people.
JDub's Brewing Company in Sarasota had an incredible lineup of a blood orange Berliner and a macaroon imperial stout with a future lineup of awesome bands that would help celebrate their five year anniversary this March. It is great to hear news like this from the different breweries at the festival; Funky Buddha did an awesome job at selecting them.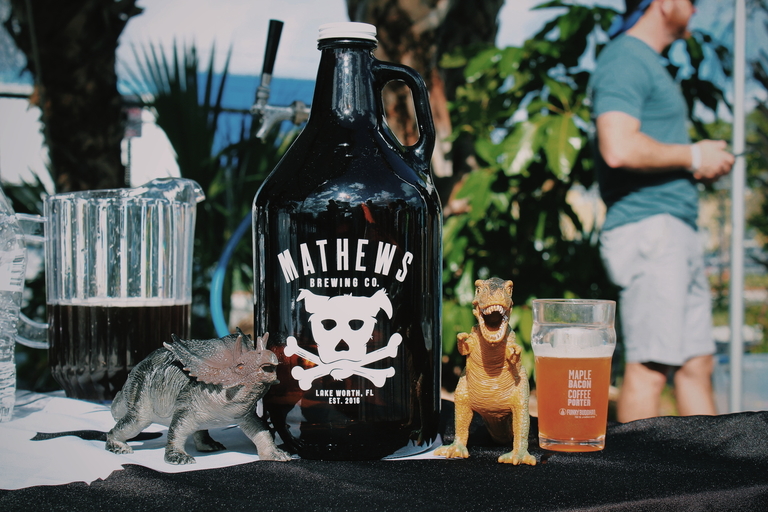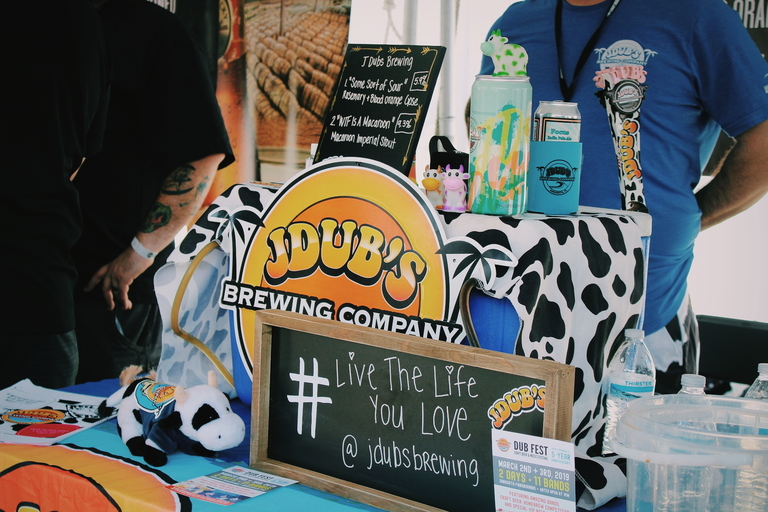 I thoroughly enjoyed all of the beers I was able to try; however the most excitement was for the infamous beer everyone came for. This year, Funky Buddha brewed an exceptional porter that left us speechless. This bottle release was the type of release that no matter how many you purchased, you would say to yourself, "I should have got more." Fortunately, bottles are distributed throughout the state until they are sold out.
This 6.4% ABV Porter pours a deep black with expressive coffee they brew locally. You will get your breakfast fix in this beer; there's a subtle bacon smoke that meets a distinct, rich syrup flavor. Needless to say, Maple Bacon Coffee Porter is easy on the palate. So, get ready to immerse yourself in the creamy layers of breakfast heaven.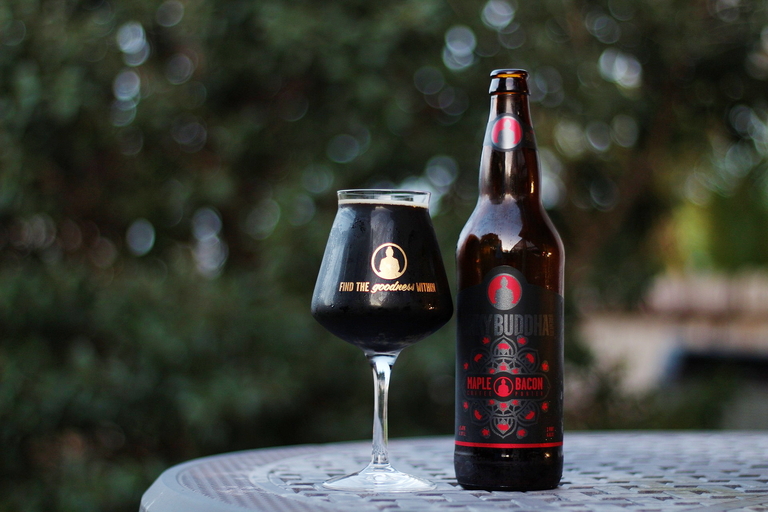 If you are in Florida, the MBCP festival is definitely worth checking out! The town of Oakland Park has truly embraced Funky Buddha; and that shows in the ease of the event from start to finish. Nearby parking, ride share accessibility, and local law enforcement makes getting in and out of the event stress free. If you can't make it to the festival, join Funky Buddha any other time in their tap room. Also be sure to enjoy the unique beers they pour as well as their craft kitchen; it's conveniently located in the brewery to get your food fix too.
https://www.instagram.com/p/Bsobh75lckS/
Feature image from Funky Buddha Brewing
---