No Comments
San Francisco Beer Week 2019 | Opening Gala Preview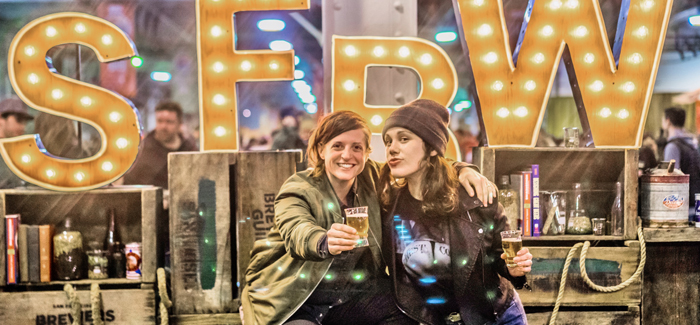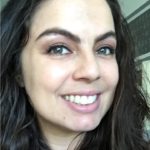 That's right, San Francisco Beer Week is BACK! #SFBW2019 kicks off on Friday February 1 this year, a little earlier than in previous years, and ends on February 10. Our Pacific regional team is amped up and ready to conquer this beer week – RIP to their livers – and you can find below the list of all breweries that will be in attendance and the beers they will be pouring. Oh, and check out the 1st timers – breweries that are new to the Craft Beer Scene.
*All pour lists are subject to change.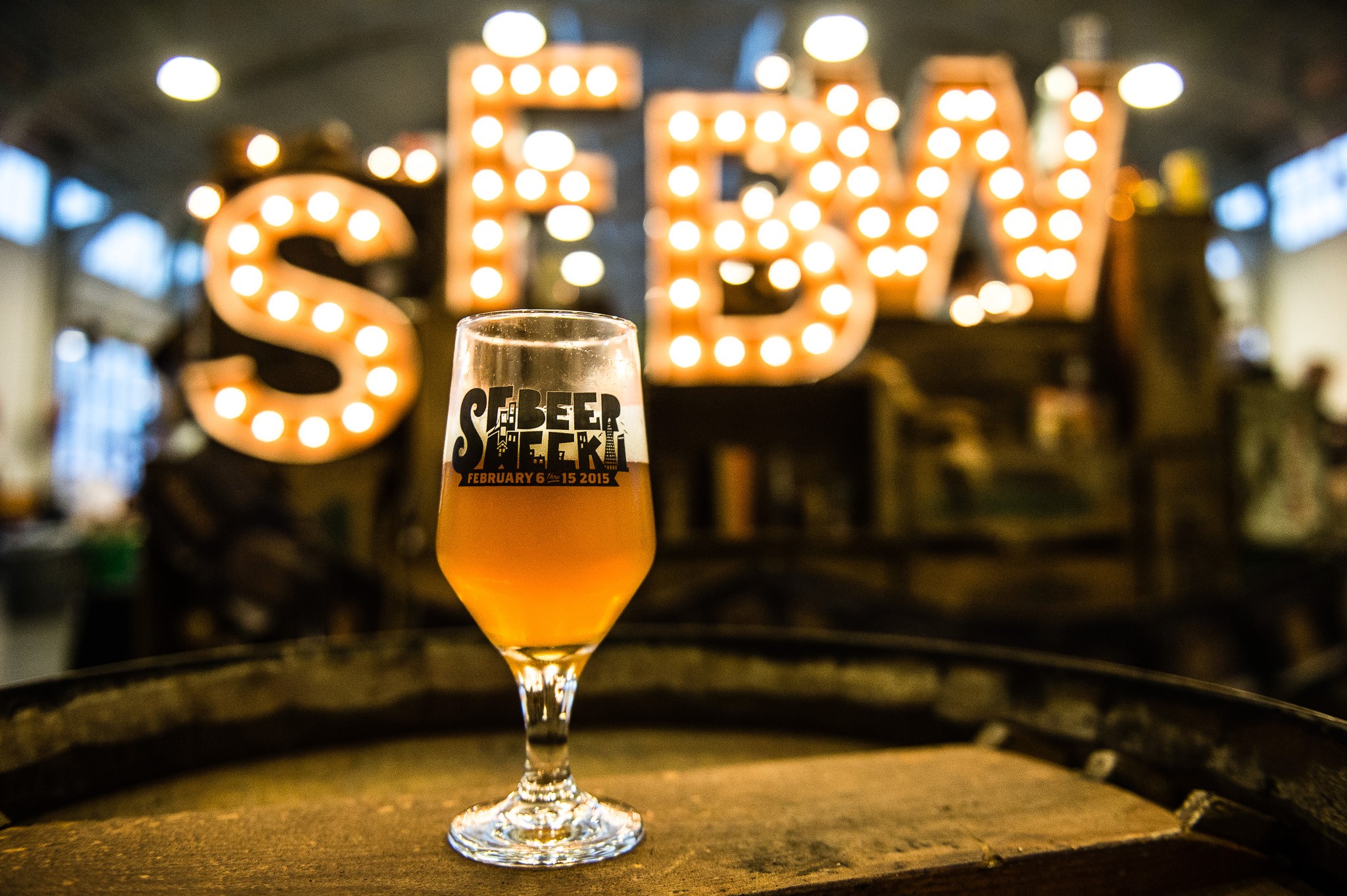 Pour list by Region
COAST
Alvarado Street Brewery: Palio, Double Haole Punch, Triple Cone, Motor Oil No. 3
Brewery Twenty Five: San Benito Sunrise, Island Ninja, Coconut Moons
Corralitos Brewing Co.: Hop Kiss, Lupulin Express, Richter Red, Early Spring Lager
Discretion Brewing: Redwood Mountain Blonde, Barrel-Aged Oh Black Lager
Elkhorn Slough Brewing: In Search of Lost Time, Pajaro Negro
Firestone Walker Brewing Co.: 22nd Anniversary Ale, Double Jack, Mind Haze, Lager
Half Moon Bay Brewing Co.: Lost in the Fog, Astral Ascension, Tomorrow is Cancelled, Kol-I Sch-Ee
Hop Dogma Brewing Co.: TBA
Humble Sea Brewing Co.: Tiny Umbrella, Vin Pinot, Vin Cabernet
New Bohemia Brewing Co.: Uncharted Lagers #1, Velvet Revolution, Nubo Noir, Captain Figs
Peter B's Brewpub: Shrub Lite, Connect the Hops, Worst Case Ontario, Disco Biscuit, Black Lodge
Sacrilege Brewery + Kitchen: L'Ultima Crema, Mo's Winter Pajamas, Respect Your Elderberries, Jesus "Hops" Christ, Soup Pale Ale
Santa Cruz Mountain Brewing: Admiral Smash, Ha Ha
Seabright Brewery: Sameting, Royal "We", Yeast Brown and Down
Shanty Shack Brewing: TBA
Uncommon Brewers: Coffee & Waffles, Dive Beer, The Tramp, Hop Wallah
Woodhouse Blending & Brewing (1st timer!): Dark and Ominous, Slack Tide, Brewbies Fest Blend, Hazy Cosmic Jive

---
EAST BAY
21st Amendment Brewery: Sparkale, Blood Orange Brew Free! or Die IPA, Fruit of the Dragon Pale Ale, Smog Monster Double Hazy IPA, Hop 9 from Outer Space, Monk's Blood with Raspberries & Chocolate, Blood Orange Sorachi Saison
Admiral Maltings: TBA
Alameda Island Brewing Co.: East End Lager, Island Haze, Isla De Brumoso, Yellow Boat IPA, Bourbon Barrel Aged Broadside, Sea Haggis
Ale Industries: Peche, Oh, You Betcha, Cherry Kush, Bay Cat Ale
Almanac Beer Co.: Grissly Bear, Raspberry Sournova, Love Hazy IPA, Oslo Hot Chicken Honey DIPA, Farmer's Reserve No. 5, Zomby Woof Hazy DIPA, Universal Ghost Stout
Altamont Beer Works: Scarcity IIIPA, Maui Waui 3x, Juice Above the Clouds, Galaxy Fuel
Armistice Brewing Co.: Berry Pavlova, Fog Harvest
Berryessa Brewing Co.: TBA
Brooklyn Brewing Co.: Brooklyn Lager, Bel Air Sour, Defender IPA, Sorachi Ace Saison, Black Chocolate Stout, Black Ops
Calicraft Brewing Co.: Karl the Foggier Hazy DIPA, 2017 Barrel Project: Sour Hibiscus-Chamomile, 2018 Barrel Project: Sour Zinfandel, Calicraft Spritzer: Pom-Blue, Rose Ale
Cleophus Quealy Beer Co.: Violet Delights, Cherry Bomb, Citron Golden, Snark Mark, The Pitcher of Durian Grey
Danville Brewing Co.: Chux, Midday Mellow, Tres Diablos, Oatmeal Raisin Cookie
Del Cielo Brewing Co. (1st timer!): Orange You Delicious, Guava Dreams, Coffee State
Drake's Brewing Co.: Hopocalypse Triple IPA, Maximum Tool, Mission Kriek, Death of the Sun, Santa's Brass, Oater Limits
East Brother Beer Co.: English Strong Ale, Oatmeal Stout, Bo Pils, Red Lager
Eight Bridges Brewing: I'm Easy, Not Your Father's Fruit Beer
Elevation 66 Brewing Co.: Two Beagle Brown Ale, Contra Costa Kolsch
Epidemic Ales: Cataclysm, 2 Shawnz, Nutty But Nice, Chemical Warfare, Guilty Pleasure
Federation Brewing: TBA
Funkwerks: Raspberry Provincial, Saison, Tropic King, Pineapple Provincial
Ghost Town Brewing: Percussive Maintenance, Geisterfaust, Old Trepanner, Oath
Gilman Brewing Co.: Pineapple Jardin, La Ferme Rouge, Quarter Panel IPA, Champ Rochaux
Heretic Brewing Co.: Juicier Than Thou, Twig and Berries, Chocolate Hazelnut Porter, Evil Cousin
Lucky Devil Brewing: TBA
Novel Brewing Co.: Interpunct, Beer Hoarder, Simulacrux, The Poet
Oakland United Beerworks (1st timer!): Black Lager, Belgian Dubbel with Coffee
Ocean View Brew Works (1st timer!): TBA
Original Pattern Brewing Co.: Haze-a-tron, Gateway to Haziness, Hoppier Than Thou, Hella Hull
Shadow Puppet Brewing Co.: Livermorium IPA, Tartbreak, Smoke & Coffee Break, Double Suede
Temescal Brewing Co.: Summer Somewhere, Mimosa, Vertical Integration, Temescal Pils
The Rare Barrel: Kerfuffle, Solidarity Forever, Ensorcelled, Sourtooth Tiger
Triple Rock Brewing Co.: TBA
Trumer Brewery: TBA
Working Man Brewing Co.: The HR Problem, The Intern
---
NORTH BAY
101 North Brewing Co.: TBA
Barrel Brothers Brewing: Clusterfranc (sour), Plumogranate (sour), The Upside Down (sour), A Beer for Ants, Milk was a Bad Choice, Neighborhood Squatch
Bear Republic Brewing Co.: Thru The Haze, Sonoma Tart, Cafe Racer 15, Big Bear Black Stout, North of the Wall
Cloverdale Ale House: Floyd IPA, Cloverdale ALe, 70lbs Soaking Wet Hope Ale
Cooperage Brewing Co.: Dancing Duck, I like Curtles
Dempsey's Restaurant & Brewery: Screaming Egret, How many Dan's does it take…
Fogbelt Brewing Co.: Stardusk, Forty-Four, Pinnacle
HenHouse Brewing Co.: Time is a Flat Circle, The Walrus is Paul, Big Chicken 2019, Pilsner, Oyster Stout, Saison, Cheetahs on the Loose
Iron Springs Pub & Brewery: Compulsory, Comet Baby Light My Fire, Mount Rauchmore, Anne Marie's Amber
Mad Fritz Beer: Napa Ale-Terroir Series, Local Origins -Rauchbier, The Kite, The Frog and Mouse – Rye Ale, Geranium Thyme Blonde
Marin Brewing Co.: Arnebru, Marin/Gamecraft Mai Taison IPA, Liquid Bacon, Redwood Kriek
Moylan's Brewing Co.: Just a Sec Brut IPA, New Zealand Double IPA, Hop Craic XXXXIPA, Midnight Ritual Mocha Imperial Stout, Celt's Golden Ale
Napa Smith Brewery: TBA
Old Possum Brewing Co. (1st timer!): TBA
Plow Brewing Co.: Haflinger, Donnybrook, Scythe
Russian River Brewing Co.: Pliny the Younger, STS Pils, Pliny the Elder, Sanctification
Seismic Brewing Co.: Stemwinder, Star Killer (Nitro), Seismic Porter, Doppel Beast
Sierra Nevada Brewing Co.: Sierraveza, Brut IPA, Hazy Little Thing UPA, 2010 Bigfoot, Torpedo – Cask
Sonoma Springs Brewing: 2Shawn'Z Triple IPA (Collab with Epidemic Ales), Plum Drunk, Juicy in the Sky, Captain Save A'Mo
St. Florian's Brewery: Station 5, Pumpin' That Pils, Barrel-Aged Lager
Stumptown Brewery: TBA
The Woodfour Brewing Co.: Sour Farmhouse Ale, Batch 14, New Ridge Lager, Quercus Reserve: Wildo Ranch, Batch 1, Quercus Reserve: Fragaria, Batch 4, Neolithic Revolution, 2017
Third Street Aleworks: Tattered Sleeves English Ale, 99 Problems (Haze Ain't 1) NE IIPA, Double Standard Double IPA, Bootleg Baltic Porter
Trade Brewing (1st timer!): TBA

---
SAN FRANCISCO
47 Hills Brewing Co.: Yelling at Cars!, Shark Jumper, Bay Mud, Holiday Hellper
Barebottle Brewing Co.: Parallel Pils, Perpendicular, Ooolong Saison, Brew Tang Cran, Witever, Eclectic Boogaloo, Dust Hunt, Doom Bloom
Barrel Head Brewhouse: Bend 'N' Snap Blonde, Cuvee Du Satja
Bartlett Hall: About:Blank, Future World IPA, Denny The Poet, Layer Bar
Beach Chalet Brewery & Restaurant: TBA
Fort Point Beer Co.: Manzanita, Bonanza, KSA, Native, Carbon, Resonance, Farallon
Black Hammer Brewing: Let's get Fizzical, Paradise Found
Black Sands Brewery: Baja, Skinny Dipper
Cellarmaker Brewing Co.: TBA
Ferment.Drink.Repeat: Cupcake Reincarnate, These are the Daze
Harmonic Brewing: El Mero Mero, Dubpatch, White Lines, Disappearing Act
Headlands Brewing Co.: Hawk Hill, Wolfback Ridge, Lightship Sour Solera, Wolfback Ridge – Cask
Holy Craft Brewery: TBA
Hop Oast Pub & Brewery (1st timer!): Invicta IPA, Caffeinated Cow, Rhine or Reason
Laughing Monk Brewing Co.: Carnal Sin, Tiki Kettle Sour, Whiskey Trip, Brother Murray
Local Brewing Co.: Nerds in Paradise, SF Bae, Flashbulb, BBA Dark Matter is Everywhere
Magnolia Brewing Co.: Promised Land Imperial IPA, Cucumber Constrictor Double Eclectic IPA, Strata Fortress Double IPA, Yuzukosho Gose, Stop Motion Stout
Pedro Point Brewing (1st timer!): Funky Gold Medina, Admiral Ambar, Strawberry Rhubarb Hopsicle
Pine Street Brewery: Black Bay Milk Stout, The Tides of Kokomo, Embracing Guavana, Sucker Free City
San Francisco Brewing Co.: TBA
Seven Stills Brewery & Distillery: TBA
Social Kitchen & Brewery: Dry Bones, Chengzi Saison, Who Let the Dog Stout?
Southpaw BBQ & Brewery: All the Lees are Brown, Corbin Cash Barley Wine, Bromdon Brett, Ollie English Brown Ale
Speakeasy Ales & Lagers: Blind Tiger Imperial IPA, The 'Stick DIPA, Mexican Standoff, Omertà, Metropolis, Syndicate 04
Standard Deviant Brewing: Petit Saison, Stickle Altbier, Kölsch, Hazy IPA, Brah?
Sufferfest Beer Co.: TBA
Sunset Reservoir Brewing Co.: Outside Lands Kolsch, Seeing Triple, Moraga's Pale
ThirstyBear Organic Brewery: Howard St IPA, Stave Series #22: Le Cavalier, Shipwrech, Panda Bear Ale
Triple Voodoo Brewery: Angelheaded Hipster, Anxiety Pils, Winterscothc, Unclear Inentions
Woods Beer Co.: Brut Morpho, Crusoe IPA, Bob's Apple Fritter Quad, Divine Origins
---
SILICON VALLEY
Alpha Acid Brewing Co.: Vanilla Rye Barrel Constrictor, Divine Fruit, Final Final, Gummi Bear Juice, Vintage Vanilla Rye Barrel Constrictor
Armstrong Brewing Co.: TBA
Blue Oak Brewing Co.: Cloudgazer, Retribution
Camino Brewing Co. (1st timer!): Pale Rider, The Ferryman
Campbell Brewing Co.: TBA
Clandestine Brewing: Black in Black, Strong Arm, Coffee Milky Way Stout, Hopothetical
Devil's Canyon Brewing Co.: Full Boar Scotch Ale, Belle Sparkling Ale, Kaleidoscope Blackberry Sour, Rum Barrel Aged Baltic Porter
Floodcraft Brewing Co: Curry for 3, Great Minds Drink Alike
Freewheel Brewing Co.: Winter IPA Cask, Winter IPA Keg, Dark & Stormy Mild, Rough & Ready IBA
Golden State Brewery: TBA
Gordon Biersch Brewing Co.: Unfiltered Blonde Bock, Dry Hopped Cider, Altbier
Hapa's Brewing Co.: Butterfly Wings, Engraved Hourglass, Seeker of Truth, Little Angel
Hermitage Brewing Co.: Clean Spin Triple IPA, I'm your Huckle Berry
JP DasBrew: Mean Monkey, Secret Sidewalk
Kelly Brewing Co. (1st timer!): Motel Lover, Snowdon, Ish's Irish
Loma Brewing Co.: Appeasement, Jew Jitsu, Loma Kolsch
New World Ales (1st timer!): The Haze Odyssey, Eagle Rare BBA Unity, Elijah Craig BBA Unity, Weller BBA Unity
Santa Clara Valley Brewing: Alviso Mills Hefeweizen, Alum Rock
Strike Brewing Co.: Valley of Dragons Kveik DIPA, Bleacher Seats Lager
Taplands: Forty Whacks, Sid's Serrano Ale
Tied House Brewery & Cafe: TBA
See the full list here.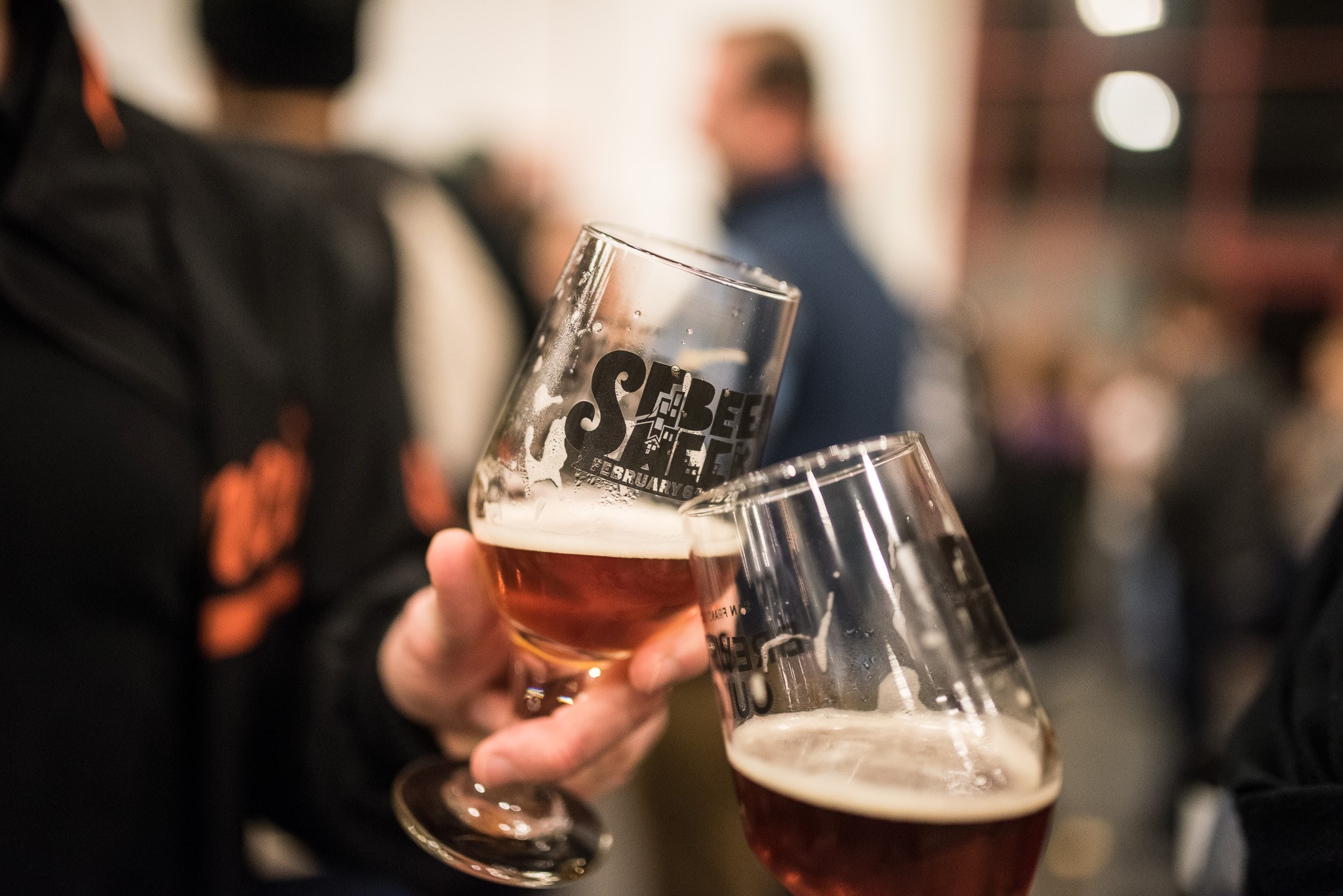 Follow along with Constance's beer adventures on Instagram @ConsciouslyCrafty.
Feature image courtesy of Suni Sudhi.
---