No Comments
Brewery Showcase | Cleophus Quealy Beer Co.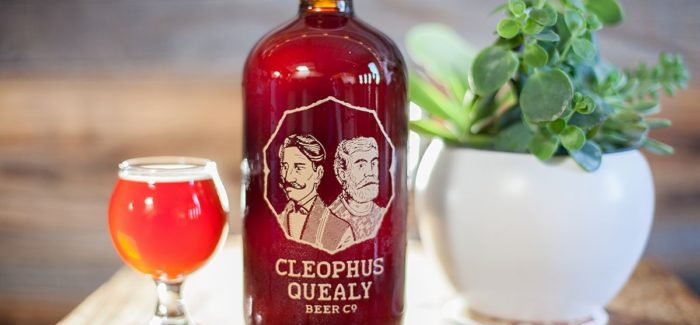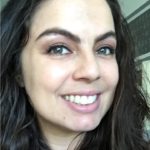 If you haven't heard about Cleophus Quealy Beer Co. consider this your formal introduction to a great farmhouse brewery in the East Bay! They are located at 448 Hester Street, San Leandro, CA 94577 – which is right by the Oakland International Airport! So, you know it's good to grab a great beer on your layover or on your way out of town.

Their hours of operation are Thursday through Friday 3 p.m. to 9 p.m., Saturday 12 p.m. to 9 p.m., and Sunday 12 p.m. to 8 p.m. They are closed Monday through Wednesday.
Their permanent food truck is Canasta Kitchen food truck, located right outside their taproom. They offer Latin fare, such chile relleno, locos nachos and flautas. Check out their full menu here. Their happy hour (Thursday and Friday 4 p.m. to 6 p.m.) menu features a street taco and one of two beers for only $5! That's only $5.50 after tax, which is a steal.
https://www.instagram.com/p/BYzA5_pgpuJ/
Brewery Deets
They have a seven-barrel brew system, which is the same size they started with. A lot of small breweries start with a system smaller than this, but CQ decided to go big. Their system can yield about 14 kegs from a full brew.
The inspiration for Cleophus Quealy was brewing the low country styles, like farmhouse ales. Dan, one of the founders, lived in Europe for a while and likes the style. Cleophus comes from Dan's great grandfather's name and Quealy from Peter's, another founder, mother's maiden name.
The style is fun to brew and the ability to play around more with the style was a huge draw. Peter and Dan had met in London, both there for work but independent from each other. Both have brewed together for a long time, maybe 10 to 12 years before they opened CQ. Their homebrew system is actually in the back of the brew house, which they'll use going forward for experimental brews and other small batch ales.
Flagship Beers
Although their beers change during each batch, the core of the beer stays the same. They add seasonal ingredients to keep the beers fresh and you won't generally find the same type of beer on tap week after week. Their tap list changes about every two weeks, or more frequently when a keg kicks. Some of their beers include:
Saison style: This brew you will see listed as Saison or with a twist, like their killer Hibiscus Saison. The beer changes throughout the year but you can still find a saison on the menu.
Fruit beers: For example, their Apricot Golden and Framboos.
https://www.instagram.com/p/BYOySTSA-EI/
They will be keeping the Saison around, with different variations of it like the Hibiscus Saison. They are also thinking of doubling up on their fruit beers as well. On Thursdays they are starting to tap into smaller kegs of older brews, like their Cassis and Desist which is more of a winter saison.
Team Recommendations
Try the Saison: It's nice, simple, accessible and drinkable, a great anytime beer.
Anything that is brewed with fruit in it, usually barrel aged.
Passionfruit Saison bottle to go.
Try things even if you don't think you'll like them. Just because you don't know if it's a style or ingredient you didn't like or if it was the way a brewery made it. Expand your horizons!
Cleophus Quealy features the The Menagerie of Distinguished Drinkers. Some of the perks include 10% off your tab all year long, a sweet membership pin and custom Menagerie glassware and growlers. Memberships are for one calendar year, January through December. You also get access to exclusive events and members-only swag.
https://www.instagram.com/p/BRr-fBkhqMu/
They have select bottles, glass growlers and what the team calls a "growlitio" – 16 ounce glass mason jars with lids – as well as shirts and tanks.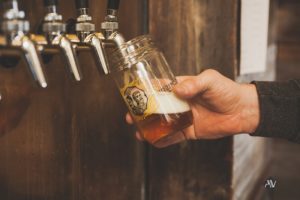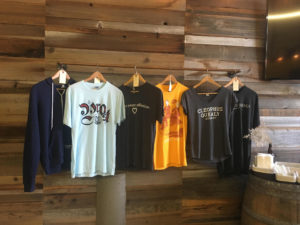 Cleophus Quealy bottles their wonderful beer but have talked about the possibility of canning fruit beers in the future.
The outdoor patio sits right next the delicious food truck! They even have corn hole for those that want to have a friendly game while drinking great beer. Be sure to order your food at the bar though!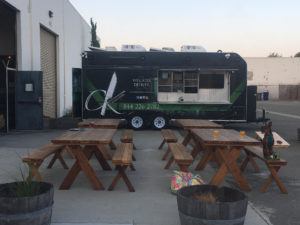 CQ is very dog friendly, with treats behind the counter and a dog bowl by the water tap. You can even tag your pup on Instagram with #dogsofcq.
Special Events
Saturday Socials: CQ partners with a non-profit and a portion of the proceeds of the mason jars purchased at the event go to that non-profit. They are partnering with Save the Bay in October and every April they will be partnering with the East Bay SPCA.
Coming Soon
Saturday, October 7 is the annual Oktoberfest with Drake's Brewing and 21st Amendment Brewery, which will be from 12 p.m. to 5 p.m. This is their second time hosting Oktoberfest with the other San Leandro breweries. A shuttle will run between all three breweries.

$20 gets you a plastic half-liter stein, rides on the shuttle between the breweries during the event and one beer at each brewery.
The food truck will offer German fare, like brats. You can look forward to German beers on tap such as a Kolsh, roggenbier (a dark beer brewed with rye), hefeweizen and a gooseberry gose.

On December 9

,

 CQ will be hosting their third anniversary party Canasta Kitchen is setting up a fun menu for the event and CQ will be releasing their quadrupel too. This is the third quad they have brewed, this time with vanilla and orange peel before being barrel aged for a year. This quad should be on tap and available in bottles, but beware – it comes in around 10% but doesn't taste like it. Dangerously delicious!
They are adding two more taps, going from eight to 10, and will be tapping older stuff for fun at events soon!
If you're ever in San Leandro or the surrounding areas, be sure to check out Cleophus Quealy. The great beers, tasty food and taprooom ambiance won't disappoint!

Photo courtesy of Alex Vakulin, photographer for Cleophus Quealy. Check out his website here.
---