One Comment
Tour de Brewtah | The Thirst is Out There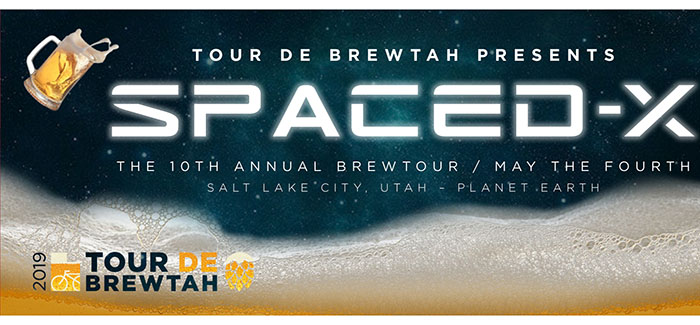 No need to travel to a galaxy far, far away. Or to another dimension. The 10th Annual Tour de Brewtah—dubbed Spaced-X—is set to blast off right in our own backyard.
Scheduled for May 4—May the Fourth Be With You, after all—the bicyclist-meet-brewery space-themed event brings together cyclists and craft beer enthusiasts to "tour our ever-expanding local 'brewiverse.'"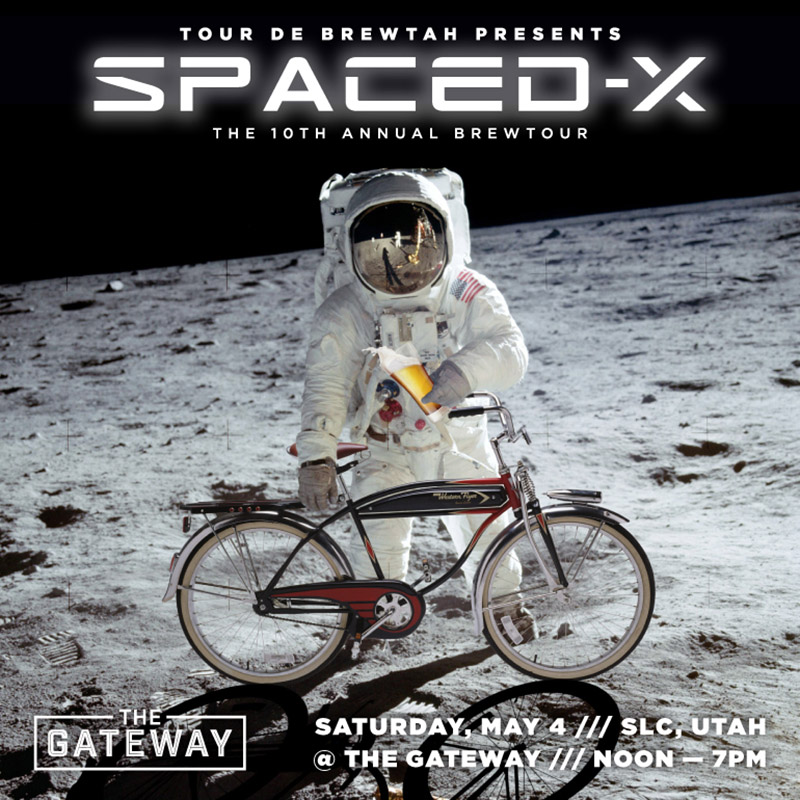 Spread across the Salt Lake Valley—and even into Ogden—the Tour de Brewtah includes 10 unique routes that feature 26 breweries, a cidery and a distillery.
Each ticket costs $40 and includes four beverage tokens. Advanced registration is encouraged. At least one route has already sold out.
Bicyclists pre-register for their preferred route and a "blast off" time, and they start pedaling toward their first destination. Riders should plan to arrive at "Mission Control" (The Gateway) at least a half-hour before their scheduled departure time.
Tour de Brewtah isn't limited to Tour de France-caliber cyclists, either.
"There's something for every bike level," says Brandon Smith, distiller at Dented Brick Distillery, who, with Bohemian Brewery's Will Gillane and Kelly Schaefer, are commanders for the event. "We all like to have fun, but we also like to help the community."
In fact, a portion of proceeds from this year's event benefit the Leukemia & Lymphoma Society.
On the Road
The event, which takes place during Utah Bike Month, features tours encompassing a variety of distances. The shortest Tour de Brewtah bike ride—Journey to Planet OG—is six miles, but that one also includes a FrontRunner trip to Ogden (train pass included in registration fee).
The longest bike route is 29 miles. That one takes cyclists to Midvale's Hoppers Grill & Brewing and Bohemian Brewery, as well as to South Salt Lake's Level Crossing Brewing.
Other routes include (my favorite names below; here's a complete list):
Close Encounters of the Thirst Kind. Uinta Brewing, SaltFire Brewing Co. and Shades Brewing.
IBUFO: I Want to Brewlieve. Red Rock Brewing, Kiitos Brewing and Park City Brewing, which recently moved in to share resources with Shades Brewing.
Mission to Bars. Bonneville Brewing will be pouring at Handlebar, 2 Row Brewing at Beerhive and Strap Tank Brewing at Piper Down.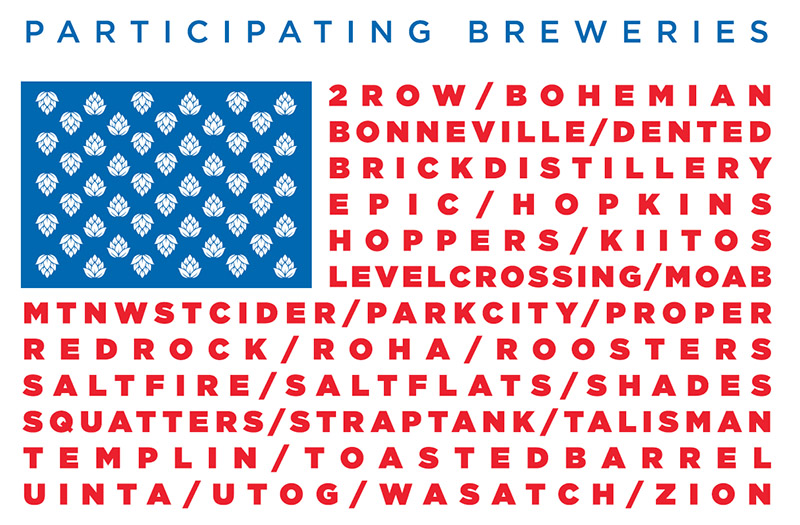 What's New for 2019?
Organizers are going big in celebration of the Tour de Brewtah 10th anniversary. It drew more than 800 cyclists last year, and this time around (with the added beer festival) Tour de Brewtah expects to knock those numbers out of the stratosphere.
Visit the Tour de Brewtah website for complete details and answers to FAQs. Here are a few noteworthy changes or additions for the 2019 installment, according to Smith:
Instead of six routes, this year's Tour de Brewtah features 10 unique voyages—including a trip to Ogden (another first).
Several local breweries will set up at "Mission Control"—aka The Gateway—from noon to 7 p.m. for a free, all-ages festival featuring beer, food and music. "We're going to give everyone a chance to try something from a brewery they might not have been able to visit on a bicycle," Smith says.
A cidery (Mountain West Cider House & Bar) and a distillery (Dented Brick) will participate for the first time. "We've had requests in the past for gluten-free routes," Smith says. "We're trying to be all-inclusive by adding Mountain West and Dented Brick since they have gluten-free products."
Feature image provided to PorchDrinking.com by Tour de Brewtah.
---