No Comments
Creature Comforts Set to Release First Core Offerings from Its Expanded Wood Cellar Program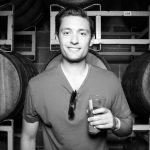 Athens, GA-based Creature Comforts has quickly grown into a regional powerhouse thanks to its mix of tart and bright Berliner Weisses, movie-star endorsed IPAs and commitment to the local community. And, until now, only beer drinkers in Athens have been able to pick up some of Creature Comfort's more exclusive, taproom-only offerings that highlight their work in barrel-aging and mixed fermentation.
Starting this week, Creature Comforts' will release DaySpring, a Grisette made with local wheat from DaySpring Farms, and Common Things, a mixed fermentation Saison made with local honey from the University of Georgia's Honey Bee Program, in both their tasting room and to their distribution footprint in 750-mL bottles.
The ability to expand distribution of these locally-sourced beers is a credit to Creature Comforts' recent expansion of their barrel facility. Earlier this year, the brewery added three foeders from a winery in Sardinia to their current setup to increase the quality and output of their specialty brands. The expansion also included a new bottling line which can package 500mL, 750mL and 1500mL formats. This new bottling line can package 750-mL bottles at a rate of 1,000 bottles per hour; I'm anticipating most of Creature Comfort's more widely-distributed wood cellar offerings to come will be available in this format, starting with DaySpring and Common Things.
The move comes at an exciting time for the brewery which continues to grow its footprint and trophy cabinet. But to Wood Cellar & Mixed Fermentation Director Blake Tyers, this moment of time takes on special meaning for the brand thanks to the unique variety they will now be able to offer to a wider subset of curious beer drinkers. 
https://www.instagram.com/p/B1FW7WWBz26/
"We like to offer every facet of the beer world to our consumers to help them navigate what can be a very complex world," Tyers said. "These classic, rustic beers inspired by European tradition are an important part of the beer landscape, and they also allow us to grow our relationship with local farms—relationships we cherish deeply. By having these available on a regular basis, I hope these beers find their way into the everyday life of our fans just like our cans have."
DaySpring is current available onsite and will be available in select locations in their distribution footprint beginning this week. Common Things will be available in their tasting room starting August 20 with select availability across their distribution footprint to follow. Cheers! 
*Feature image courtesy of Creature Comforts
---