No Comments
San Francisco Beer Week Event Recap | Berkeley Media Preview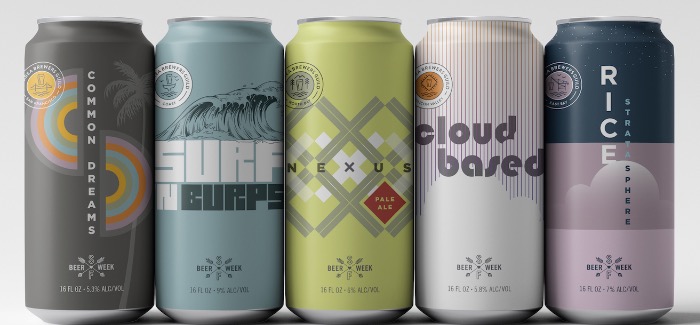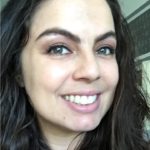 It's that wonderful time of year again where Craft Breweries and Craft Beer lovers alike rejoice in copious new beer releases, fantastically planned events, and can all relate to being both excited for San Francisco Beer Week (SFBW) to be here and counting the days until their livers aren't screaming at them. Our writers in the San Francisco Bay Area were invited to preview some of the local wares and can releases for this year's SFBW and we wanted to share the good word you!
On January 21, North Bay and East Bay Guild Breweries gathered at the DoubleTree by Hilton Hotel Berkeley Marina and provided some tasty sneak peeks into new brews that will be showcased at the SFBW Gala on February 7th. Breweries in attendance were Almanac Beer Co. (Alameda), Cleophus Quealy Beer Co. (San Leandro), Drake's Brewing Co. (San Leandro), East Brother Beer Co. (Richmond), Ghost Town Brewing (Oakland), HenHouse Brewing Co. (Santa Rosa), Original Pattern Brewing Co. (Oakland), Pond Farm Brewing Co. (San Rafael), The Rare Barrel (Berkeley), Third Street Aleworks (Santa Rosa), Russian River Brewing Co. (Santa Rosa), Sierra Nevada Brewing Co. (Chico), Sonoma Springs Brewing Co. (Sonoma), Temescal Brewing Co. (Oakland), and Trumer Brewery (Berkeley).
https://www.instagram.com/p/B7Zx_WGpFMH/
New Year, New Canned Beers
Five never-before-tasted Bay Area Brewers Guild official collaboration beers will be tapped for the first time at the SF Beer Week Opening Gala on Friday, February 7. For SF Beer Week 2020, local craft breweries joined forces to design and brew five unique one-off beers. All five recipes included freshly kilned California-grown malts from Admiral Maltings, in Alameda, one of the nation's few traditional artisan floor-malting facilities.
These Bay Area Brewers Guild collaboration brews are an annual hallmark of SF Beer Week, expressing the brewers' collective state of mind each February, and honoring the cooperative and creative spirit of the craft beer community. The 2020 official SF Beer Week collaborations offer an exhibition of the bright, hoppy, drinkable beers brewers love to make.
Rice Stratosphere | Rice IPA | 7% ABV
From the East Bay brewers, Rice Stratosphere delivers an aromatic explosion: tropical, dank and onward into the strata. One of the best new hops to hit the tanks lately is Strata, a monster of a hop with huge aromatics of citrus, indica, and guava. Citra and Denali hops add further layers of complexity, while a dry and clean body from extra pale Pilsner malt, Admiral Pils and puffed Jasmine rice give these hops room to shine.
Common Dreams | California Common | 5.3% ABV
This modern SF lager brought to you by the San Francisco brewers, is a nod to one of the original SF beers—updated with vibrant hop varieties developed in New Zealand and America. With an underpinning of flavors from two craft grain products, Admiral Maltings Feldblume Malt and Canadien Maltings Oat Malt, Common Dreams ties brewing heritage to the 21st Century delights of Motueka, Nelson Sauvin and Strata hops.
Common Based | Oat Cream Pale Ale | 5.8% ABV
Upload a fluffy tropical Cloud Based Compression IPA—delivering those big hop flavors—all dialed in. It's a collaborative venture from—who else—the Silicon Valley brewers. Engineered from 2-Row malt, Admiral Maltings Gallagher's Best malt and the pillowy contributions of Admiral Maltings Clipper Oats, Cloud Based is powered by Strata and Galaxy hops.
Surf 'n Burps | West Coast Double IPA | 9.0% ABV
This is an exceptionally bright, true-to-form West Coast Double IPA, Bay Area-style from the Coast chapter. Surf 'n Burps features exciting new hop varieties that include Cashmere and Sabro, along with the always popular Mosaic. Strong citrus notes of lemon and lime combine with peach, pineapple and coconut flavors and aromas from this blend of hops. A firm, but smooth bitterness follows before finishing bone dry, without the faintest kiss of alcohol from this 9.0% beast. This coastal classic is crafted on a base of Admiral Maltings Pilsner and American 2-Row malts.
North Bay Nexus | Pale Ale | 6% ABV
From the North Bay brewers, this contemporary Pale Ale is new beer at the balancing point: crisp, balanced, citrus, tropical and subtly spicy. Brewed with Admiral Maltings Pilsner, Wheat, Oats, and Rye malts and utilizing old and new brewing techniques to deliver a crisp, balanced brew, North Bay Nexus is infused with brightness from Citra, Amarillo, Saphir and Mandarina Bavaria hops. Nuanced spice notes from the grain bill combined with citrus and tropical notes from the hop additions result in a refreshing beer suitable for any drinking occasion.
At the SF Beer Week Opening Gala, participants will have a chance to compare all five beers and choose a favorite. After the Opening Gala, the five collab beers will be available on draft or in cans at different locations during SF Beer Week as supplies last.
In addition to Admiral Maltings, these releases came together with help from Guild trade partners White Labs and Custom Label.
Stand Outs
HenHouse Brewing Company brought the noise, as per usual, with some killer swag and amazing brews. They brought freshies of Reptilian Shadow Government Double IPA, and lots of other tasty offerings, and it was totally crushable and paired well with their Big Chicken IPA new enamel pins—yes, enamel pins!!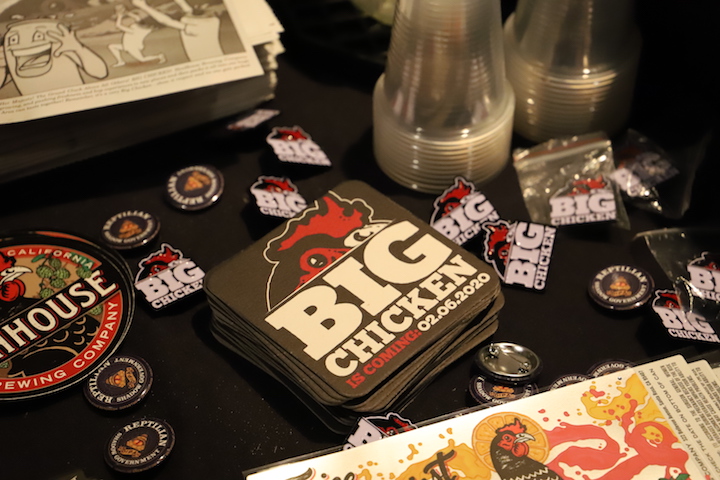 Sierra Nevada Brewing brought the ruckus as well with Day 1 Barrel Aged Narwhal, their Imperial Stout, packaged in pint cans!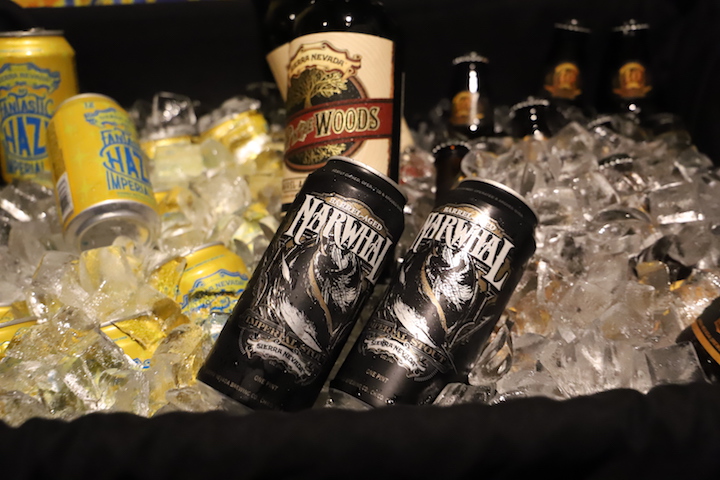 Pond Farm Brewing, whose been on the scene for nine months now, brought some fun brews as well. We geeked out over their Yes, and … Hazy Pale Ale, cause who doesn't love a good improv inspired beer series?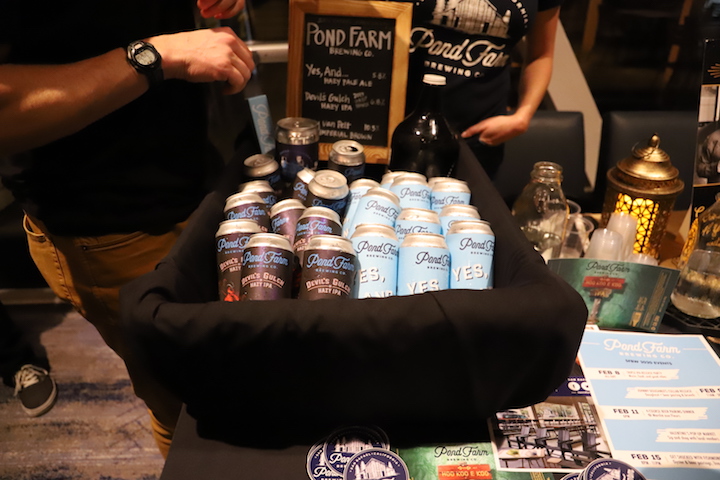 The Rare Barrel lead the sour train with their Blurred T, a tart Saison aged in oak barrels with Tempranillo grapes. It wasn't a bracing sour, had wonderful oak characteristics, and had us going back for seconds, and maybe thirds!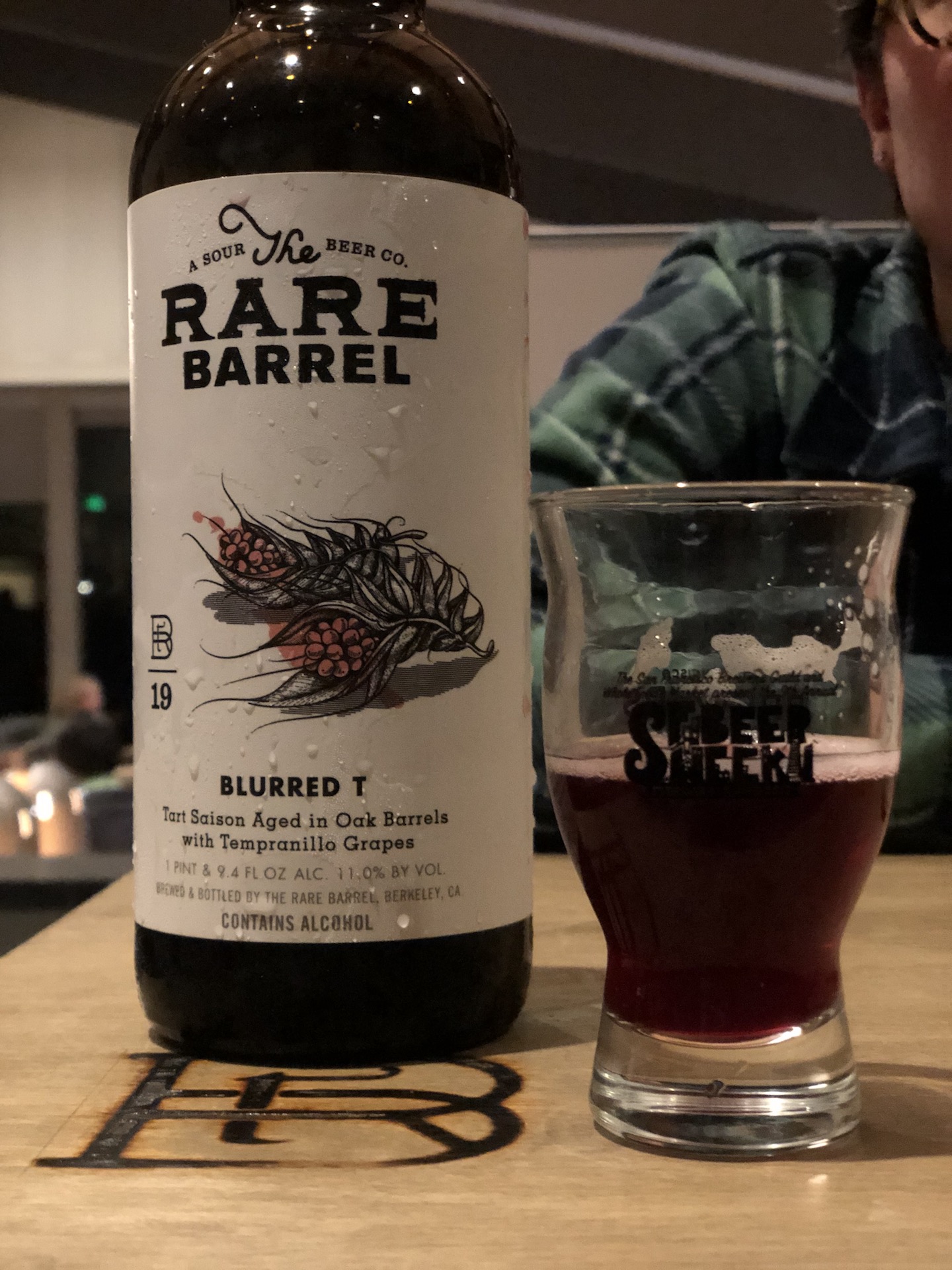 Third Street Aleworks brought a 2019 GABF Silver Medal award winning beer to this preview event—they weren't messin' around! They won Silver for their Annadel Pale Ale and we'd have to agree with the judges – for sure tasty!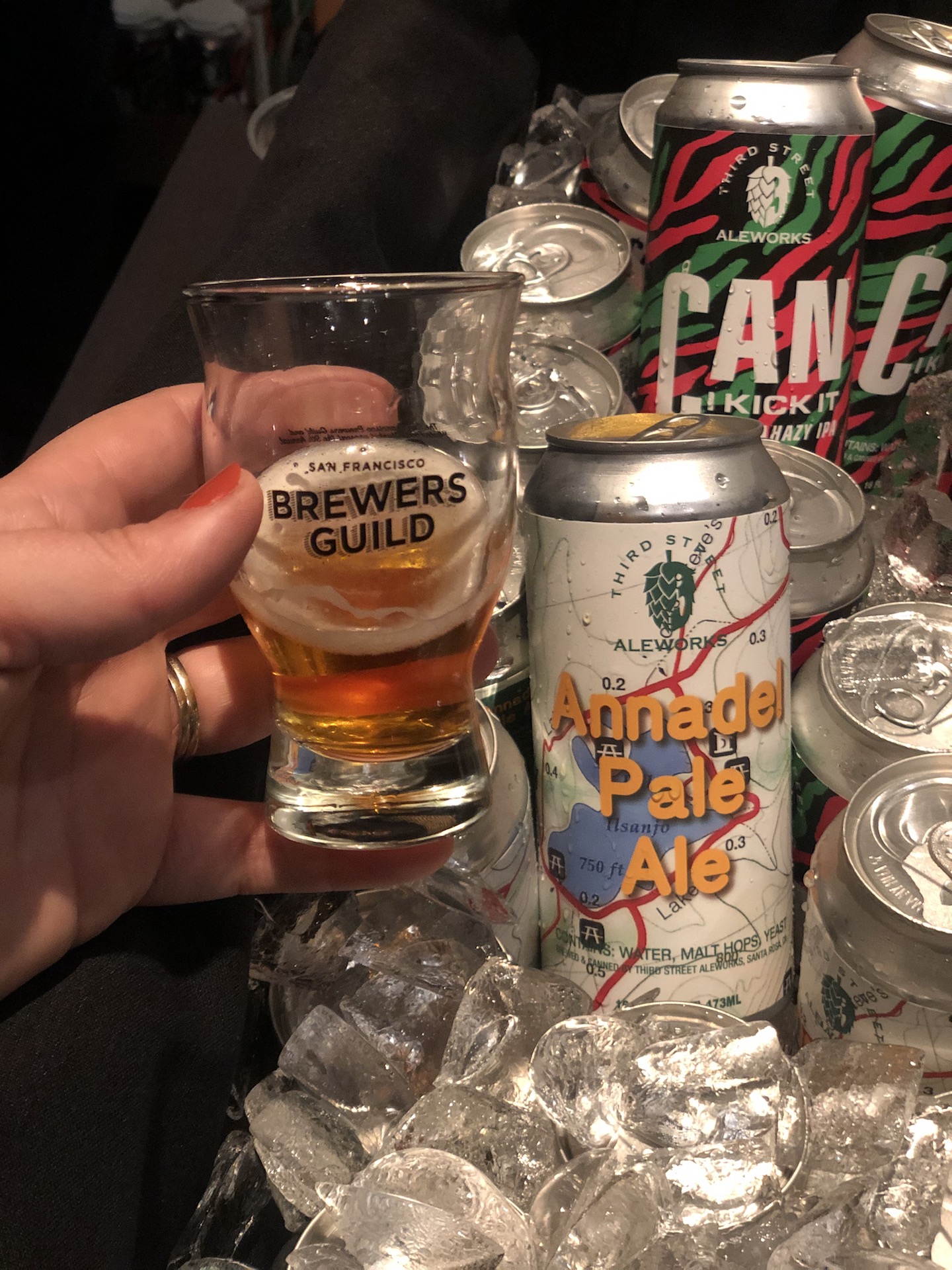 SFBW is not over yet! Keep checking in as we recap our highlights from the week!
Feature image courtesy of the Bay Area Brewers Guild.
---