No Comments
What We're Cooking | Doppelbock Chicken Étouffée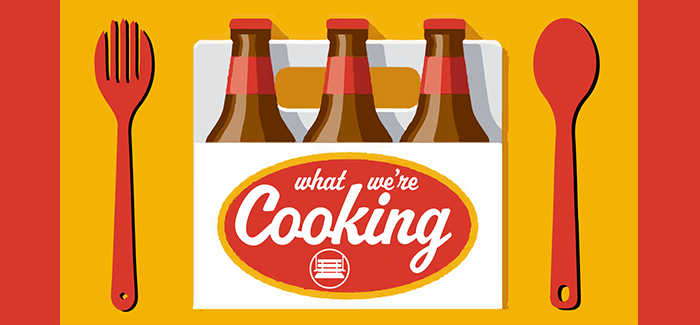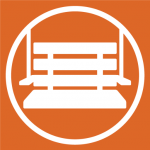 This week's recipe comes from Scott Johnson, our resident home chef. In his household, gumbo was served often, with Scott's dad using a recipe from Emeril Lagasse that Scott's brother would later adapt. Turning the standard chicken and andouille sausage gumbo made with white wine recipe into a dark étouffée was Scott's way of putting his own spin on this Cajun classic.
Étouffée is usually identified with seafood, but it is most commonly characterized as a sauce. In order to coax depth of flavor from the nutty roux, Scott kept chicken as the base. A Doppelbock, particularly Weihenstephaner Korbinian, contains roasty, bittersweet malts that highlight smoky flavors so prevalent in Cajun dishes. Simply adding the beer would be too bitter on its own, but incorporating brown sugar and hot sauce balances the whole.
A long cook time results in a paragon of soul-satisfying comfort. This étouffée lasts for weeks in the fridge and is sure to become a favorite amongst all your friends. Enjoy!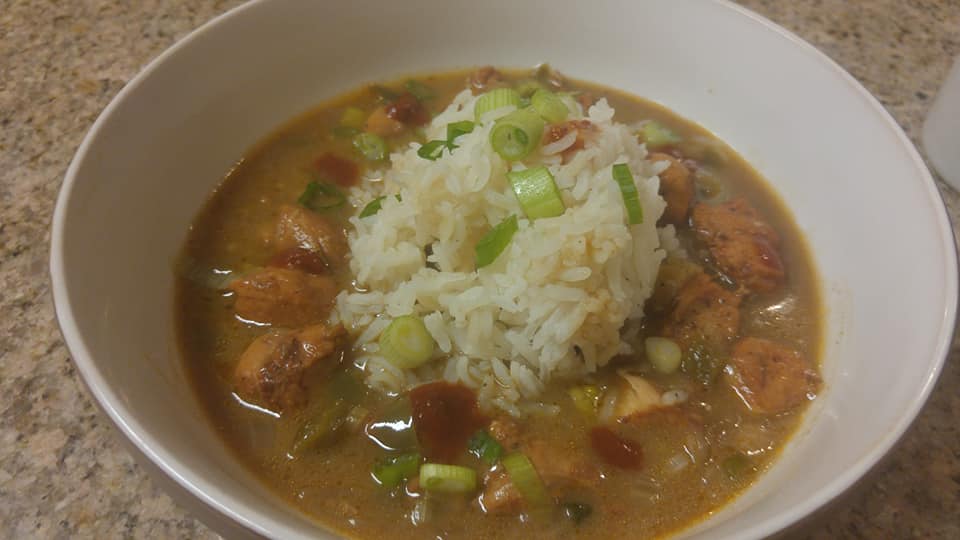 Serving Size: 1/2 Gallon of Étouffée
Ingredients
3 lbs of chicken (white or dark)
2 onions
3 bell peppers
4 celery ribs
1 bunch of green onions
4 cloves of garlic
1/2 stick of butter
1/2 cup of vegetable oil
1 cup of flour
12 oz of Weihenstephaner Korbinian Doppelbock
2 tbsp of chicken base
8 cups of water
1 tbsp of Worcestershire sauce
1 tbsp brown sugar
3 bay leaves
Salt
Pepper
Cajun spice blend (paprika, garlic powder, salt, black pepper, cayenne, thyme, oregano, parsley)
Hot sauce to taste
Instructions
If this is your first time making étouffée, it's best to start off this recipe by preparing all of your ingredients ahead of time or mise en place. This is primarily a safety measure because the roux stage is the hardest and most intimidating task for those new to the process.
Dice the onions, bell peppers, and celery ribs into similar sized pieces and put them in a container. Set aside.  

 

Dice your chicken into bite-sized pieces and place them in a large mixing bowl. Coat the chicken with about 2 tbsp of Cajun spice blend. Every piece of chicken should have an orange-reddish color.
Mince garlic cloves. Set aside.
Chop your green onions, including the white and green parts
In a large stockpot, set heat to medium-low and add your oil, butter, and flour. Once the butter has been melted, stir in your roux mixture with a wooden spoon until there are no more lumps. The roux should be a pale yellow color.
Cook this mixture for about 15-20 minutes while stirring for about every minute. The color will slowly change from yellow to sandy, then tan brick, then brown. The smell will also intensify, ranging from cooked pie dough to a roasted, nutty aroma. Use caution when stirring this mixture as the roux is incredibly hot (which is why it's nicknamed Cajun napalm!).
Once your roux reaches a chocolatey-brown color, add your onion, pepper, and celery. Cook for about 10 minutes while stirring intermittently until the vegetables turn translucent. The roux should start to coat the vegetables.
Add your garlic. After about two minutes, the garlic will elicit a nice fragrance.
Turn up the heat to medium-high and add your Worcestershire sauce.

 

When the Worcestershire sauce evaporates, add your doppelbock. The liquid will foam up very fast so be sure to stir to incorporate the roux into the liquid.

 

Once the beer starts to boil, add water, chicken base, brown sugar, and bay leaves to the pot. Stir thoroughly with a spoon until incorporated. There will be some oil and foam floating to the top but this is normal.
When the mixture comes to a boil, add the diced chicken to the pot. Go slow to prevent splashing.

 

Once the liquid with the chicken comes to a roiling boil, place the heat back to medium-low until it reaches a steady simmer. Add half of the green onions.
Leave the pot of liquid to cook for about 4 to 5 hours. Yes, this is a long time, but that's so the stew can reach a "saucy" consistency. When the consistency is thinner, it's more similar to traditional Gumbo.

 

Taste the stew and adjust for seasoning with salt, pepper, or cajun spice mix as necessary.

 

When half of the liquid has evaporated, check the consistency of your étouffée. If it coats the back of a spoon with a clean line then your dish is done.
Serve with white rice, more green onions, and hot sauce if desired. Enjoy!
About the What We're Cooking Series
Beer, with all of its flavors and nuances, can enhance some of your favorite dishes. Many of us at PorchDrinking love to cook, so we've rounded up some of our favorite recipes featuring our favorite ingredient: beer.
From beer cheese fondue to milk stout brownies, each week we'll publish a new recipe for you to enjoy. Make sure to check back often to see our growing collection of recipes curated by PorchDrinking staff. Cheers!
---