No Comments
Q&A with Beers With(out) Beards Founder Grace Weitz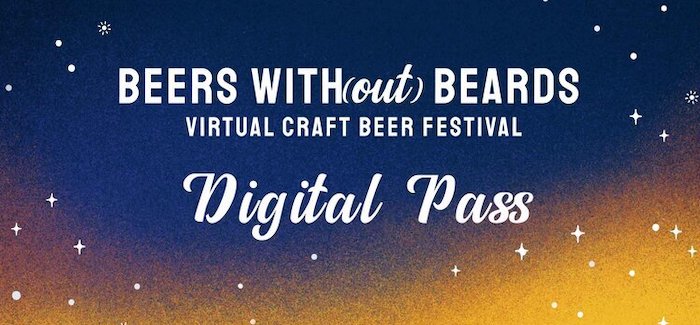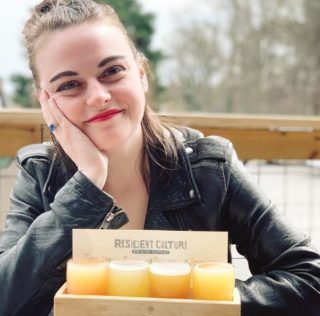 As with every other 2020 beer festival, Beers With(out) Beards, the country's largest celebration of women in craft beer, is doing things virtually this year. I had the chance to chat with Grace Weitz, the woman who started the festival back in 2018, about how the festival began, what we can expect for this years' festival, and how going virtual offers up the ability to reach an entirely different group of women.
While the main virtual festival is on Saturday, October 10, you can add on workshops that take place on the Wednesday, Thursday, and Friday before. You can buy the digital passes up until the day of the event. However, if you are looking to purchase the beer box of female-led breweries, sales end on Monday, September 14 (at the end of the day).
You can find the digital passes for all the workshops, the beer boxes, and the merchandise here.
PorchDrinking: What is your role in Beer With(out) Beards?
Grace Weitz: I actually started Beers With(out) Beards as my graduate school thesis project. I had been working at Hop Culture while getting my Masters in Food Studies at NYU. As we traveled around the country hosting craft beer festivals it dawned on me that we had the platform and experience to craft a socially-driven festival. As a woman in the industry I had never been to an event that focused solely on highlighting and showcasing the achievements of women in craft beer. I approached Hop Culture Founder Kenny Gould and pitched him on the idea. He basically said if you want to organize and plan it go for it and I'll support you 100%. So I did!
Q: What is the history of the festival?
We hosted BW(O)B for the first time in August 2018 in New York City, NY. That first year over the course of one week I organized 11 different events from panels to educational workshops to beer dinners to even beer and yoga. Everything culminated in a large tasting festival with over 20 of the top female-led breweries in the country. We had over a 1,000 people join us over the whole festival. Based on the success of our inaugural year we sought to make BW(O)B even bigger in 2019. We had gained some attention at that point and in BW(O)B's second year had the chance to work with a few amazing partners including our title sponsor Yakima Chief Hops and other partners such as Origin Malt, Lallemand, YETI, the Brewer's Association and more.
This year we had plans to host BW(O)B in NYC for the third straight year and bring the festival out to the West Coast for the first time in the Bay Area (I actually moved out to Oakland in preparation for planning the event out here). Obviously, the COVID coaster had other plans for us. BW(O)B is about pride and empowerment. These goals were too important to us to simply let go of this year. We knew we could continue to inspire and cultivate community, even if we had to pivot and move things online. To move the festival to a digital format we had the amazing opportunity to partner with Bumble, our title sponsor for our virtual BW(O)B 2020. Bumble is a social network that encourages its users to make meaningful connections in love, friendship, and work by promoting kindness, respect, and empowerment. We both have similar missions to create programming that promotes inclusivity, equity, justice, and empowerment.
Q: What has been your favorite part of the festival in the past?
The sense of community and camaraderie that I see and feel among all the amazing rad women and men drinking and celebrating during the festival. Let me actually tell you a story to help illustrate this. The first year of the event, it poured horribly during our festival, which took place in the backyard of a Brooklyn-based bar called The Well. While setting up, I must've changed clothes two or three times.
At one point during the festival, I remember standing in the deluge, fearing everyone would just pack up and head home. Instead, people huddled under a big tent, drinking and bonding over the beer, the weather, and our shared values. Every once in a while, someone would scamper out for a new beer. But seeing people believe in — and celebrate — the mission of Beers With(out) Beards reminded me why we created the event.
Q: Tell me a little bit about the festival this year.
This year, when COVID forced us to cancel all our in-person events, I actually thought of that downpour. I thought of the camaraderie, bonding, and empowerment of our inaugural Beers With(out) Beards celebration and realized this would be a similar opportunity to turn a downpour into a moment of inspiration.
This year we've put together an amazing lineup of programing. We have three separate events during the week starting on Wed. Oct. 7th with a Bringing Beer to Life Panel in collaboration with Tröegs and Craft Beer Cellar. On Thurs. Oct. 8th we're teaming up with the amazing women of Two Roads Quality Assurance team for a Sensory Workshop. On Fri. Oct. 9th we're hosting a Virtual Cooking Class sponsored by New Belgium and Queer Food Foundation. On Sat. Oct. 10th we've created a whole day of programming including a beer and yoga class, a panel on women in beer social media, a keynote presentation from Katie Wallace and Patrice Palmer of New Belgium's diversity and inclusion team, a women in beer leadership roundtable sponsored by Chart Industries, and a live body positivity art class sponsored by Collective Arts and featuring the empowering artist, Natalie Very B.
You can buy a $5 digital pass that will get your access to all of the events on Sat. Oct. 10th. Additionally, we wanted to figure out a way to highlight a great group of breweries with either women owners, brewers, or other females on their team, so we put together a brewery box with 11 different beers that we'll ship right to your door if you live in any of these 8 states OH, OR, PA, VA, ND, NE, NV, NH, or DC. As an added bonus if you purchase a VIP BW(O)B Beer Box you'll actually receive a free pass to all of the programming on Sat. Oct. 10th!
Q: How has been the shift to virtual?
Overall, it's been pretty smooth. We're all in unprecedented territory, but we're learning something new every day and working hard to put together an event that will hopefully impact people all across the country.
Q: What is the thing you are most excited about for the festival this year?
Going digital means that we have the opportunity to now reach and connect with people all across the country. I'm proud that our team decided to carry the torch in the face of adversity. When COVID hit instead of simply folding up shop we preserved and found a new way to bring issues of gender disparity to the forefront. Working to break down barriers in our industry needs to happen daily. BW(O)B is just one platform to cultivate conversations and spark change, but as we're starting to see the different movements across the country we need to be proactive every day, in every decision we make.
Q: What can the beer industry do to become more inclusive? Most breweries are owned by white, straight, cis-males, and it is an extremely white male dominated industry. In the era of #MeToo and police brutality issues, is this something that the beer industry should look to improve upon?
Absolutely the beer industry can improve on its inclusivity. We're making strides, but we have a lot of work left to do. We need to do the work. And, we need to do the work every day. When I first started BW(O)B I used to run this experiment. I'd ask people, "Think about the last beer you drank. What did it taste like? Maybe it was an IPA and you found notes of grapefruit and citrus. What did that beer smell like? Maybe you drank an Imperial Stout and noticed notes of coffee beans and chocolate. Now, imagine who brewed that beer. Who did you picture in your head? Were they short or tall? Big or small? Blonde haired and blue-eyed?" Nine times out of ten, when I asked people that question, they envisioned a burly white man with a button-down flannel shirt and a beard. That's the stereotype I originally set out to change with Beers With(out) Beards.
We chose to use a festival as a vehicle to incite more inclusivity, but that's just the spark right? Five days out of the year isn't enough to make a tangible impact. I always encourage anyone that comes to the event, a panel, a workshop, etc to bring what they learned back to their own communities. Start a meetup of women drinking beer, if you work in the industry join your local Pink Boots Society chapter, educate yourself and learn more about who actually brewed the beer you're drinking, etc.
Q: What do you see for the festival in the future (post-COVID)?
We're going to continue to host this event as long as we need to whether that's through a digital format or an in-person event as soon as we're safely able to host one again. But, I mean the ultimate goal is to not even need a festival like BW(O)B right? To have the scales of our industry be equal.
Q: What are some of your current favorite female-led breweries/specific beers brewed by women?
Oh man too many to count and that's one of the things I actually love about my job. I'm constantly learning about new breweries and people are always giving me suggestions about new female-led breweries to check out. Obviously, I'm so excited for all of the breweries joining us at BW(O)B: New Belgium, Two Roads, Rhythm Brewing Co.(the head brewer and owner Alisa Mercado also owns a dance studio – hence Rhythm and specializes in Lagers – very rare to find), Collective Arts, Tröegs, Oozlefinch (their head brewer Rachel Edwards just turned 25 this year and she's making some of the best under-the-radar beer in the country!), Fifth Hammer, Twin Elephant, Lamplight, Talea (a female veteran duo in NYC that just broke ground on their new taproom), and Resident Culture.
Other great breweries to checkout: Harlem Brewing, Japas Cervejeria – team of three women make up this Brazilian/Japanese brewery, Prison City, Torch and Crown, and Denizens, which is an amazing LGBT-female owned brewery.
Browse through the amazing workshops that Beers With(out) Beards are offering this year and leave a comment with your favorite female-owned brewery!
Featured Image Courtesy of Hop Culture Instagram
---