No Comments
Shannon the Dude's Brew Has Cult Following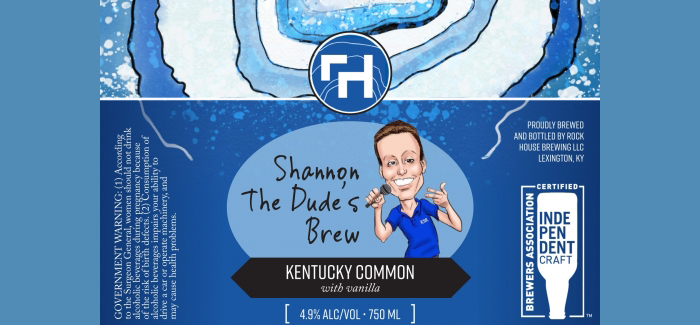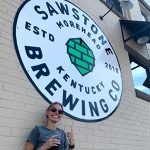 What happens when someone tweets you a picture of Shannon's Sweet Tea? Well, you end up getting your own beer, of course. That's what happened to Shannon Grigsby, famously known as Shannon the Dude. Shannon the Dude is an on-air radio personality and producer for Kentucky's top radio show Kentucky Sports Radio. He is also the Ohio Valley Wrestling World Heavyweight Radio Champion.
"Well I was in New York, I was in Manhattan and somebody randomly tweeted me," Shannon said. "I guess it was a local tea, like a sweat tea that somebody had and it was Shannon's [Sweat] Tea and they said I didn't know you had your own tea and I retweeted something to the effect of I never wanted to have my own tea but I have always wanted to have my own beer."
One of Shannon's Twitter followers saw the tweet and reached out to the radio personality, saying he knew one of the brewers at Rock House Brewing in Lexington, Kentucky, and could introduce the two.
"One thing led to another and next thing I knew I had the guys from Rock House reaching out to me and talking about what types of beers that I liked to give them something to base it off of," Shannon said. "And, then they just kind of went from there."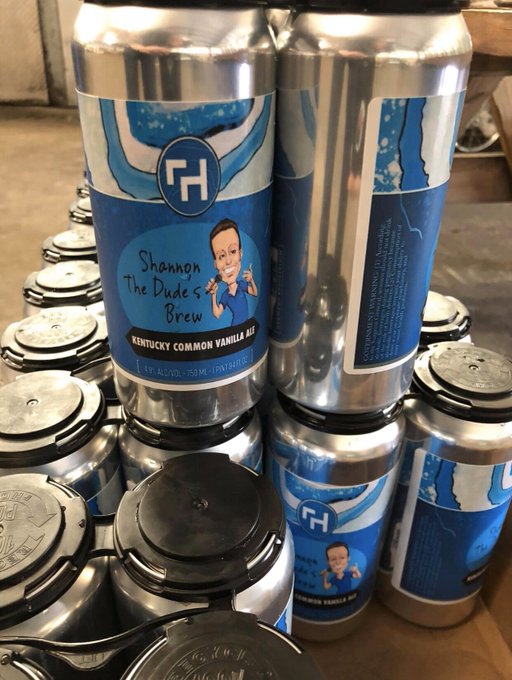 Deciding On a Style
When planning what kind of beer this was going to be, Rock House wanted to make sure they made a beer that Shannon the Dude liked. They quizzed him on his favorite types of beers, what flavor notes he liked, whether he wanted a dark, heavy beer or light, easy-drinking beer.
"I told them I liked dark beer, but I don't want it to be heavy," Shannon said. "So, I said something that's dark, I want something that's light, smooth. And they asked what [flavor] notes I want. I am a coffee drinker, I like coffee so it has a little bit of coffee, so when you try this beer you can definitely taste that. And a little bit of vanilla in the after taste."
"It's amazing how they were able to take bullet points, characteristics of what I like in a beer and take that and go back and match it almost perfectly. So credit to Rock House," Shannon said.
What Rock House came up for the Shannon the Dude's Brew is a Kentucky Common Ale that's accented with vanilla beans, which complements the light roast and dry finish typical of this style of beer. 
"I think picking a Kentucky Common was kind of a simple idea," Billy Hacker, co-founder of Rock House Brewing said. "It made sense to use a Kentucky Common for a collab with a local Kentucky celebrity and a local brewery. Obviously, the Kentucky Common has historical roots but three years ago not many breweries were brewing the common."
Shannon the Dude had never had a Kentucky Common before or even knew about the style. A style that is not only from his home state but also the city he calls home: Louisville, Kentucky. According to the Beer Judge Certification Program, a Kentucky Common is "a darker-colored, light-flavored, malt-accented beer with a dry finish and interesting character malt flavors. Refreshing due to its high carbonation and mild flavors, and highly sessionable due to being served very fresh and with restrained alcohol levels."
The Kentucky Common was almost exclusively made in the city of Louisville from the time of the Civil War until Prohibition. Prohibition almost caused the style to go extinct, but thankfully the rise of craft breweries across the country, and especially in Kentucky, the style has started to make a grand return. 
Building a Following
Since its birth in December 2017, the Shannon the Dude's Brew has become one of the most popular beers among Kentucky beer drinkers. This beer turns the heads of both the veteran craft beer drinkers and the American light lager drinker.
Kentucky Sports Radio is the state's top radio show, and one of the top college sports radio shows in the country. Listen to any show and you will hear callers for places like Alaska, Guam and Cuba. To say KSR has a cult following is putting it lightly. Due to the show's large audience and Shannon's celebrity status in Kentucky, people are always looking for a Shannon the Dude's Brew on tap or making the trip to Lexington to try this infamous beer.
When Kentucky Sports Radio opened their own sports bar and grill, KSBar, the Shannon the Dude's Brew had to have a permanent spot on the tap list. Having a permanent spot is one thing, keeping the beer from running out all the time is another thing. The support from fans is Shannon's favorite part of having his own beer.
"It means a lot to me to have fans not only come out and support it, but it means even more that they keep coming back. It's one thing to get somebody to try your beer for the first time, but the fact that it continues to sell out and continually one of our top-selling beers at KSBar just proves that it's a good product. And that means more to me that people continue to drink it and continue to come back and just to drink the beer more so than somebody who just tried it just because they wanted to support me one time."
Rock House is incredibly grateful for Shannon's support of not only the beer but also the brewery as a whole. Not only does Shannon the Dude talk about the Rock House on the radio show, but KSR has done multiple remote shows at the brewery.
"Shannon is a valuable asset in promoting the Shannon the Dude's Brew and the Rock House brand," Hacker said. "He has such a broad reach across the state of Kentucky that it's hard to imagine a small brewery getting that type of publicity any other way. It is always cool to hear Rock House mentioned on any media platform."
Supporting Rock House is easy for Shannon, and not because they brew his beer. Promoting local, small businesses in Kentucky is important to Shannon, but he also respects and supports businesses that are loyal to him as a human being, not just because he is on Kentucky Sports Radio.
"I'm also very loyal to people who take a chance with me," Shannon said. "So like for instance, Rock House didn't have to do this, they took a chance by doing this so for me to be able to just in return support them, it means a whole lot for them to just to take a chance and be willing to make a beer because it's something I've always wanted too and both sides kind of benefited from it."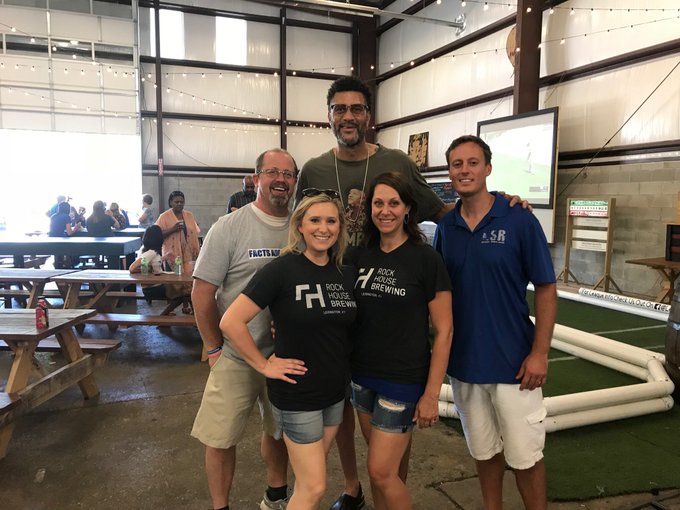 Finding This Beer
Like many other breweries during COVID-19, Rock House started canning the Shannon the Dude's Brew for the first time. Right after the beer was released, Rock House released a limited amount of the Kentucky Common Ale in bombers, which sold out quickly. When the shutdown didn't allow people to visit the taproom and have a beer on draft for months, Rock House knew they needed to start packaging their beers, and especially their best-seller.
What was it like for the state's top radio producer to see his beer in a can? It's really cool. A cool-ness that the radio personality and Ohio Valley Wrestling World Heavyweight Radio Champion hadn't experienced before.
Rock House had planned to have the Shannon the Dude's Brew widely available in distribution throughout the state in 2020, but we all know what happened. However, Rock House hopes that in 2021 you can find the Kentucky Common Vanilla Ale at your favorite bar and restaurant. And if not, request it!
Until then, you can always find Shannon the Dude's Brew at KSBar and Rock House Brewing in Lexington, Kentucky.
Learn more about Rock House Brewing and Shannon the Dude's Brew at rockhousebrewing.com.
---