No Comments
How City Built Brewing Landed a Collaboration with Run the Jewels After Infringing on Their IP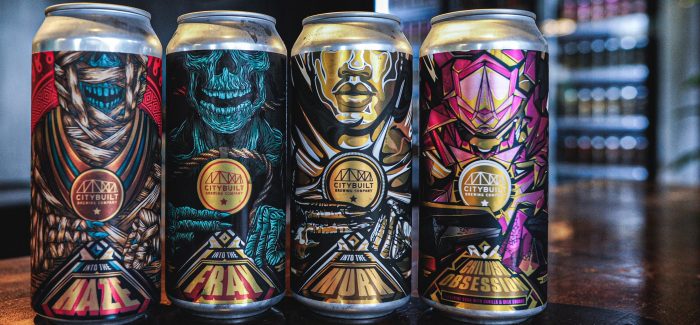 As the first anniversary of COVID-19 hijacking everything as we knew it laps us, City Built Brewing Company, in Grand Rapids, Michigan, reflect back on their risky, yet well-executed homage to Hip-Hop duo, Run the Jewels, which otherwise could've easily tanked them in legal hot water.
Okay, so what had happened was…
2020 in Hindsight
Last year's shutdowns forced Edwin Collazo, City Built's president and Puerto Rican face of the brewery, to lay off 50 employees. That decision weighed on him, understandably so. Their absence intensified both his workload and the quiet time he had with his own thoughts. The pressure of an unknown future for City Built felt isolating. Killer Mike and El-P, the two brothers from other mothers, known and respected as Run the Jewels (RTJ), kept him company.
For months, Collazo bumped RTJ's catalog on repeat in his empty taproom, during his drives around town maintaining brewery accounts and to and from home everyday. Coping with the literal and figurative imposed distance that disconnected him from business as usual, one song from 2014's Run the Jewels 2 became a symbolic challenge to shake off the dust and rise.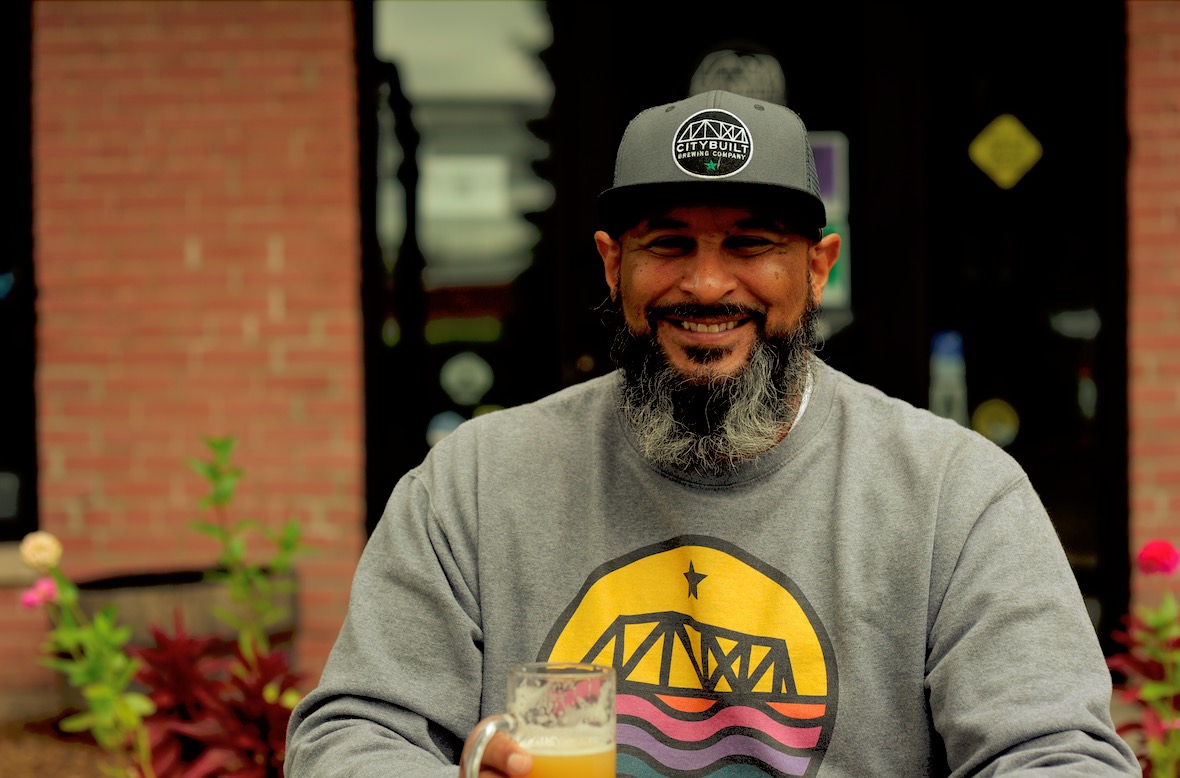 The Crown Series
Inspired by four lyrical phrases El-P fires off in "Crown," Collazo conceptualized a four-beer EP, the Crown Series. Three of them, Into the Fray, Into the Haze and Into the Murk are — you guessed it — double dry-hopped Double New England IPAs. Collazo thought, smiling at the connection, "Oh, shit — those are perfect names for Hazy IPAs!" The fourth, Childish Obsession, is the lineup's black sheep — a tangerine Sour with vanilla and lactose, which might've been the sleeper chart-topper next to its hazy homeboys.
Collazo shares, "My brain runs wild with ideas for the brewery daily, but every once in a while instead of processing them more like 'suggestions,' an idea feels so compelling that I have to chase it." One could wager that there's an obvious, yet perhaps subconscious correlation between the beers' names and Collazo's personal journey to navigate through the opaque unknown of whether he or his brewery were going to find their way out of the pandemic's drudgery. The pursuit of these beers seemed cathartic.
But, metaphorical significance aside, the volume of these beers was about to get louder and earn more attention than Collazo had originally dreamed.
Pistol + Fist 
Anyone who knows RTJ could pick their iconic "Pistol and Fist" logomark out of a lineup. It's the cover of their four albums, Killer Mike and El-P rarely take a promo photo without tag-teaming it, their fans throw it as if they're part of the gang (Mike and El would tell you they are), and it inspired the #tagthejewels graffiti art campaign a few years ago. It's got such an unspoken cool factor that even Marvel Comics immortalized it on the covers of Deadpool and Howard the Duck issues. To even think about ripping it off in any commercial capacity would be the type of chump, amateur move lawyers salivate over. To actually do it and think you won't get popped?! C'mon bruh…
So, yeah, City Built actually did the unthinkable. Collazo didn't just chase the idea of naming a few beers after a RTJ song, he ran with it — so fast that he might as well have held up a jewelry store while he was at it.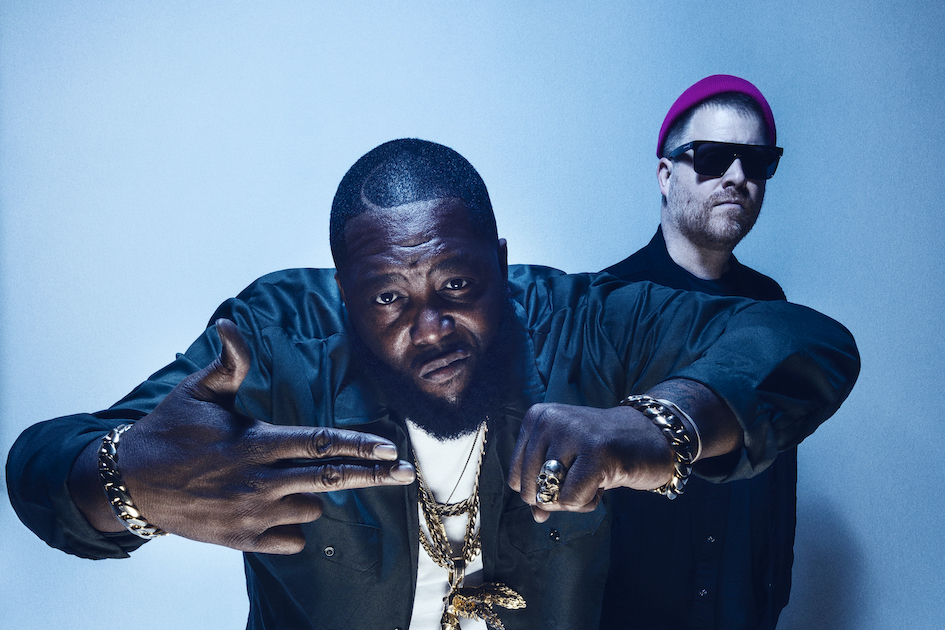 At Face Value
After Collazo and head brewer, Rob Qualls determined the profiles for each beer in the Crown Series, it came time to work on label artwork. Collazo posed an intriguing question to his two graphic designers: "What might the faces look like if we could see the rest of the bodies that belong to each set of Pistol and Fist from RTJ's four album covers?" Collazo wanted a creative interpretation of faces, knowing full well that he'd never get away with using any representation of the hands. The angle was cool, it had legs.
Following Collazo's "What if…" loose directive, City Built's designers  — considerably apprehensive — went to work. During their creative process, knowing well enough that they were walking a fine line, one of them texted Collazo, asking, "Dude, how are we able to do this? Are you sure we can do this?" Collazo admits, "I had an opportunity to clarify 'NO HANDS,' but they're great at what they do. I was appreciative of their concern, but didn't sweat it. I normally give them any ideas I have then trust them with creative freedom. I replied, 'Don't worry about it' because I honestly didn't think the text was questioning the inclusion of the hands." It was.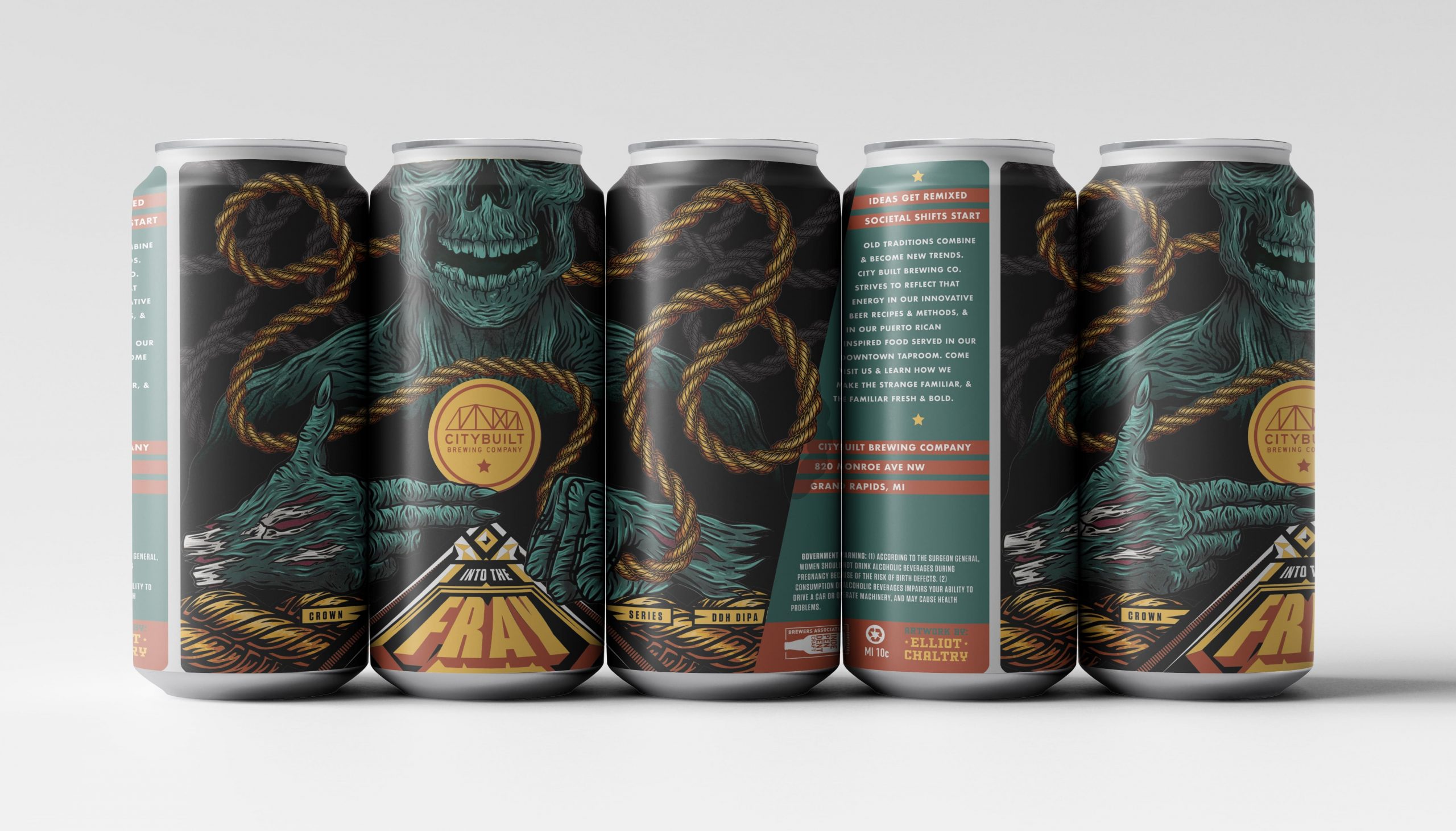 The first time Collazo saw the finished artwork was literally hours before the still-naked yet already-filled cans of all four beers were expected to be available for their online sale late last August. City Built's designers did a bang-up job delivering on Collazo's vision, literally embodying who owns the hands. Granted, the label artwork turned out dope AF, and here comes the "but" — RTJ's signature Pistol and Fist were front and center and unmistakable. Uh-oh…
Collazo remembers, "When I saw it, my stomach sank. The clock was ticking, and I knew we were stepping on RTJ's [intellectual property]. But then I thought, 'Man, we're such big fans. We're not selling any merch with the artwork on it — just the liquid inside the cans.' In my head, I rationalized it. I told everyone, 'Run it.'"
Get Ahead of It
Collazo raced to somehow try to get the press release in front of RTJ first. He wanted to give them the courtesy before the beer was released even though the train was already leaving the station. "That was the least I could do," Collazo says, "but, man — if they would've told us to stop, I don't know if at that point I could've. My intent was never to have the hands on the beer, but rather a creative design inspired by them."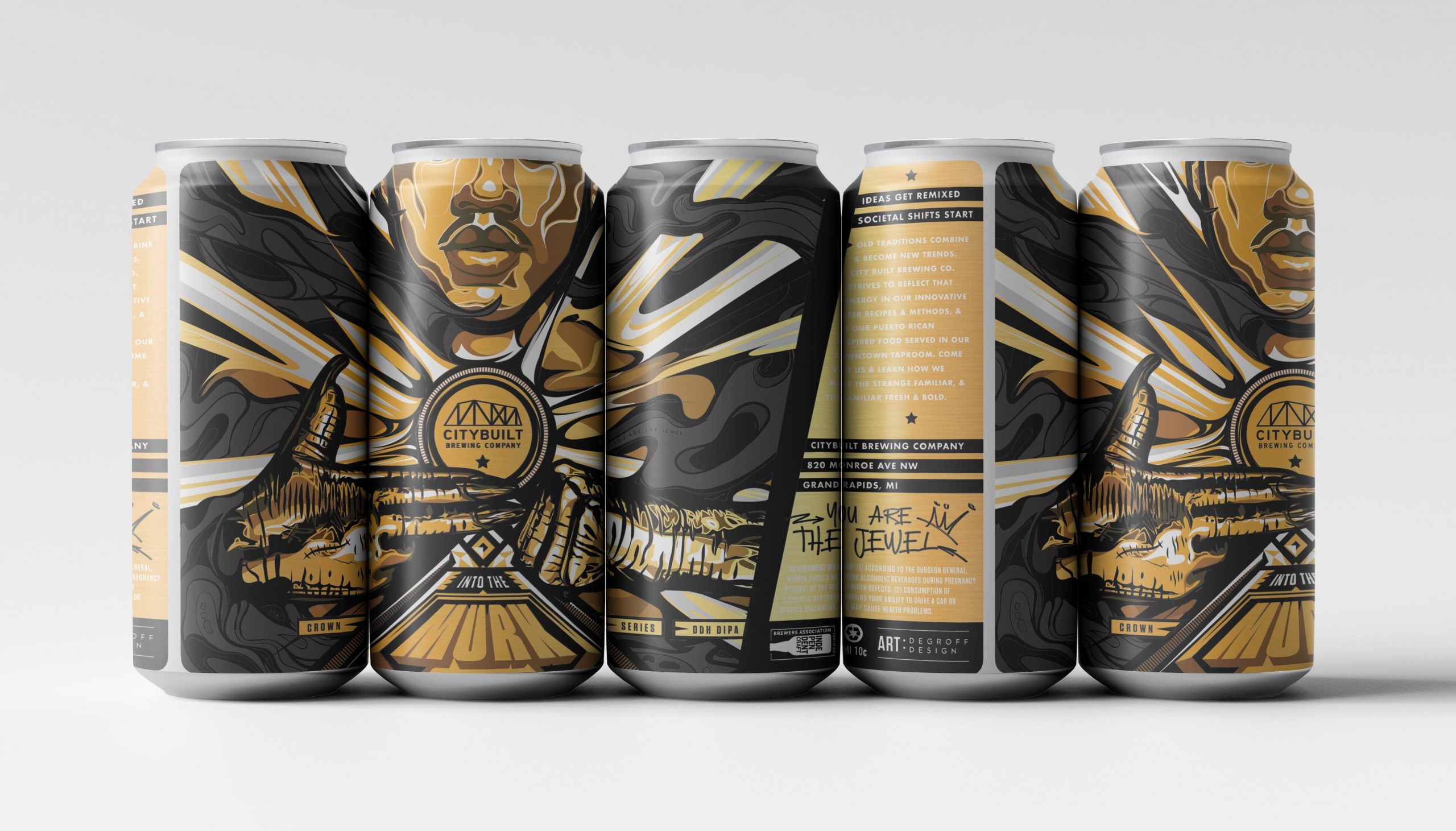 With the press release now circulating around major, national publications, it was bound to land on RTJ's radar sooner or later. It did. And quick.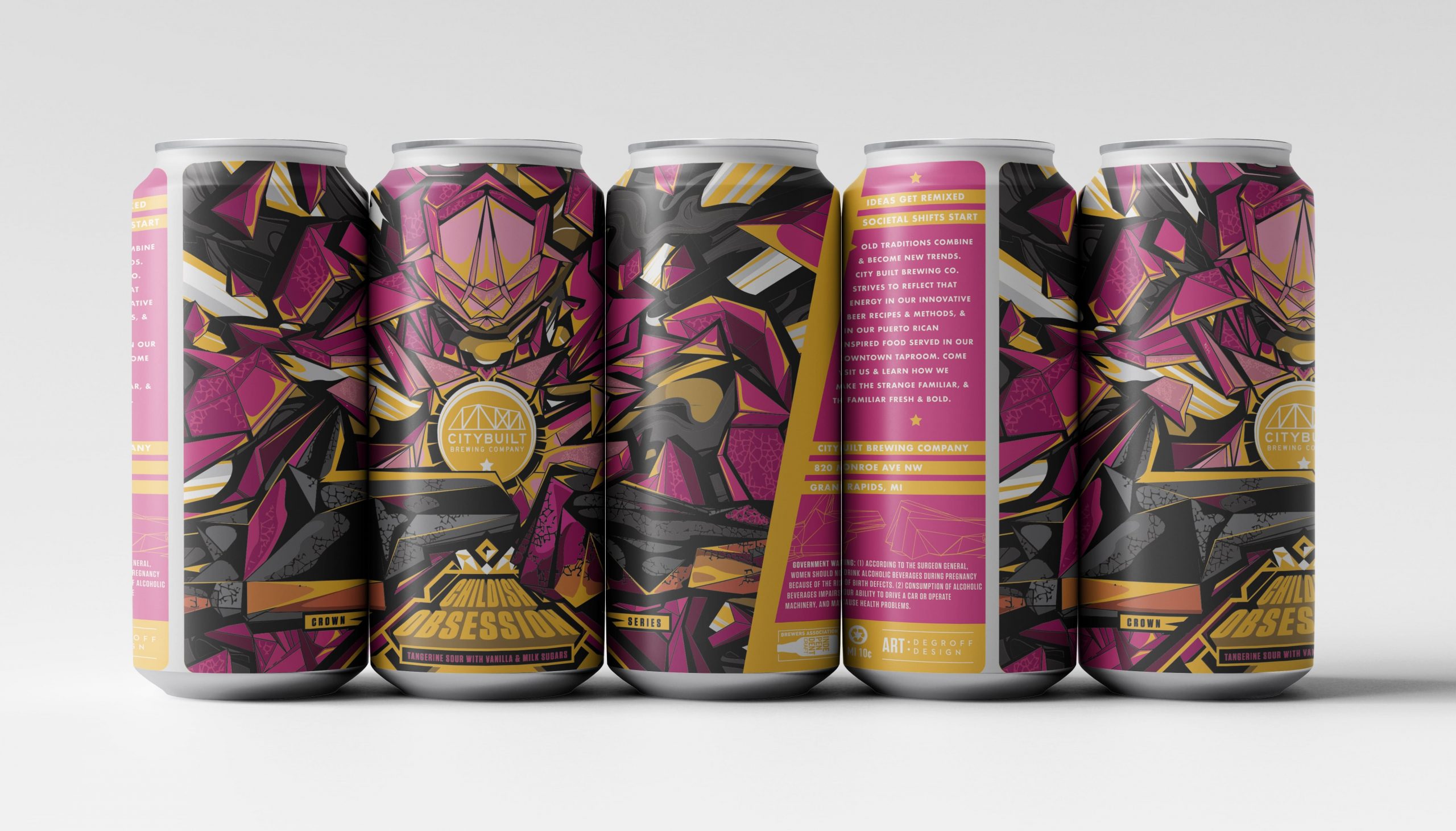 RTJ's Response
Without being able to secure any prior acknowledgement or communication from RTJ's camp, their manager, Amaechi Uzoigwe sent a direct message to City Built via Instagram. Collazo paraphrases Uzoigwe's original outreach, "I saw your tribute, respect. The boys are honored, but we have one issue. You stole our intellectual property." Oh, shit.
There's no denying that borrowing that liberally, even in honor of two artists Collazo admires and respects as much as he does, should not put City Built on the chopping block for litigation, if not at least a swift and non-negotiable cease and desist. So, why weren't they sued?
Impressively, Uzoigwe welcomed the conversation with PorchDrinking and answered our questions without hesitation and like a consummate professional. He shares how he found out: "I read an article in a Grand Rapids publication talking about their Crown Series. It included a little background about who they were as a brewery and what they do for their community. It struck some deeper chords with me — as a fellow Michigander from Ann Arbor, as a fellow person of color in an industry where there are painfully few and as entrepreneurs turning their passions into their professions."
Uzoigwe continues: "The homage was super flattering. I was really impressed by their creative approach from concept, to the beer names, to the artwork itself which is flames. That said, I also couldn't help but be concerned about the use of our IP without permission. It was a bittersweet discovery to some degree, and something we've previously encountered in the craft beer scene and in other mediums. I guess you can call them 'pirate tributes.' But, at least it wasn't like a brewery [unnamed] in Colorado we discovered selling [unauthorized] RTJ-branded glassware and RTJ/Black Lives Matter t-shirts, all of which they claimed were for charity. They never got our permission nor provided any proof of what they did with their ill-gotten gains. 100% fucc shit."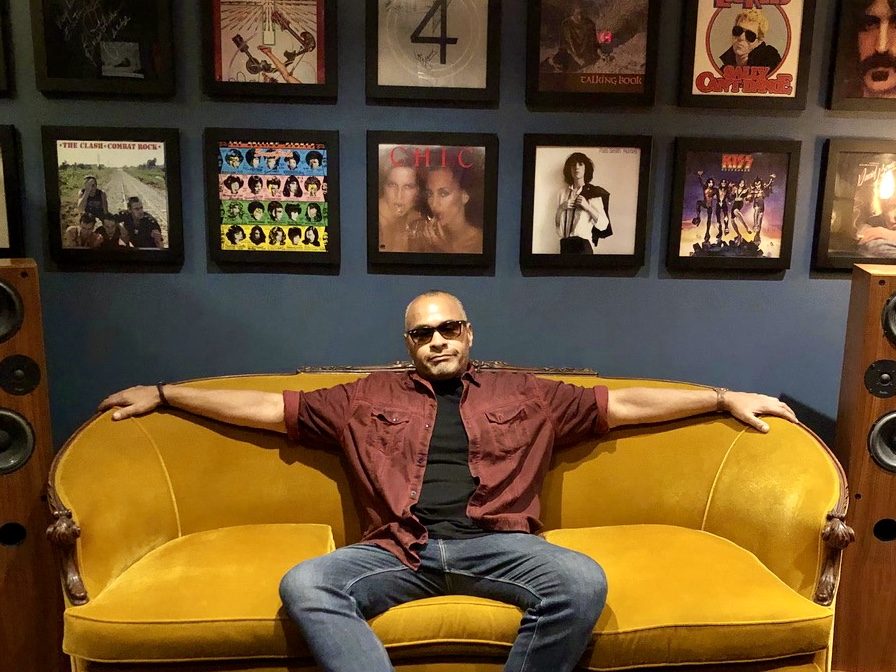 An Unexpected Outcome
A private conversation continued between Collazo, Uzoigwe and Kate Brankin — RTJ's marketing boss who oversees their global Run the Brews endeavors. Probably hanging on by a margin as thin as anyone in his position deserved, what City Built had going for them was that Collazo didn't try to pull any shady shit over on Uzoigwe, Brankin, and RTJ. He humbled himself, showed his own hands, and owned the mistake.
After multiple exchanges, which included input and approval from Killer Mike and El-P, and redeemed trust in City Built, they reached a surprisingly unexpected agreement. RTJ could have access to the label artwork files from the Crown Series, and Brankin invited City Built to be the final brewery (out of 13) to participate in RTJ's No Save Point worldwide collaboration to promote the November 2020 release of action role-playing video game, Cyberpunk 2077.
By the grace of Killer Mike and El-P, City Built dodged the worst case scenario and came out better than they went in. Collazo acknowledges, "They definitely did their due diligence in examining the Crown Series from every angle to understand the scope of the project and how far we took [their IP]. Through it all, they were even kind enough to compliment us on our attention to detail."
While they were definitely within their right to do so, RTJ never kicked in City Built's doors, guns blazing. Instead, Uzoigwe and Brankin approached gently and unarmed. They acted as ambassadors of patience, generosity and without being too mushy — love. Collazo adds, "They allowed us the space to engage in a civil dialogue. They gave me a chance to share where our heart is as a brewery and a business — as well as how I, as a Brown dude, believe people of color should have a more prominent voice in our industry. And they listened. They were so cool to us when they could've squashed everything. All I can say is that they were very gracious to us."
Mics Down, Crowns Up
What City Built did should've gone so sideways if not for Uzoigwe teaching a masterclass in damage control. When asked about the rationale behind his approach to how he ultimately handled the situation, Uzoigwe comes off cool as a fan. "Given the circumstances, it seems like it was the best possible outcome we could've extended to City Built. To be honest, when I reached out to Edwin, I had three intentions. First was to introduce myself and make a connection by showing love for the Crown Series. Second was to address the unauthorized usage of RTJ's IP, which is never a fun conversation to have, especially when it's with someone who's embracing your brand. And third, I recognized these guys were real fans and showing RTJ love in a really cool way — even if how they were doing it was no bueno from a legal standpoint. So, rather than take the typical adversarial approach — our legal system — my math was more like, 'We make beer, they make beer, and they're big fans.' So, ultimately we let the initial transgression slide and focused on constructive outcomes, which led to inviting them to participate in the No Save Point/Cyberpunk project. Everyone makes mistakes. Last thing you want to do is punish people for supporting you."
Collazo hustling on behalf of City Built to elevate the brewery's recognition is not lost on RTJ. Uzoigwe draws on the uncanny parallels between RTJ grinding through their come-up in the indie music scene and the connection they have to those like City Built trying to make their own mark in the world of craft beer. Uzoigwe connects those dots: "From the literal craft, care and commitment required to make something you really love — doing it as great as it can possibly be done requires a lot of major moves. Maintaining focus on the quality of the product and the impact of the artwork, the community and collaborative ethos that underpins it, and all the challenges of running a small business is serious work. And, while tackling all of it, you're also trying to keep the lights on and pay your team, not to mention feed your family. It can be brutal, but when you get it right, it's more than worth it."
RTJ got it right, and they gave City Built the opportunity to turn their wrong into one, too. Uzoigwe recognizing where City Built was coming from, without shaming them for the faux pas, reinforces that very ethos on which RTJ cut their teeth. By opting to lift up City Built, Uzoigwe deserves to drop the mic. And, now that 2020's in the bag and City Built's on the map, Collazo —renewed — can confidently step out of the fray, out of the haze and out of the murk to finally pick up that crown.
---