No Comments
Boys Are From Märzen Podcast | Pam Catoe Craft Beer Austin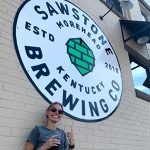 In Episode 38 of the "Boys Are From Märzen" podcast, Kindsey Bernhard converses with Pam Catoe, owner and chief contributor of Craft Beer Austin and Southwest regional editor for PorchDrinking.com.
Pam Catoe began writing for Craft Beer Austin in 2015. In January of 2020, she and her husband David took ownership of Craft Beer Austin from Founders Rich and Irina Plakas.
The mission of Craft Beer Austin is to centralize Austin and Central Texas Craft Beer News & Events to make it easier for you to find out what's going on, what's on tap and what's on the shelves!  In addition, the news and articles presented on this blog are intended to inform and act as an outlet for the many Central Texans who actively participate and care about Craft Beer and the Craft Beer community.
Craft Beer Austin features brewery showcases, beer releases, beer events and other stories about all things Austin craft beer. The website also features a very popular map of all Texas breweries and a job board.
View this post on Instagram

In addition to Craft Beer Austin, Catoe is the Southwest regional editor for PorchDrinking.com, covering the Texas, Arizona, New Mexico and Arkansas beer scene. She began writing for PorchDrinking after seeing the lack of Texas beer news in national outlets.
Catoe is a member of the Austin Chapter of the Pink Boots Society and the co-organizer for Beer Necessities Austin, a non-industry beer group for women. 
In this episode, Kindsey and Pam discuss covering the Austin craft beer scene for Craft Beer Austin and PorchDrinking.com, the Austin Chapter of the Pinks Boots Society, Beer Necessities and all things Austin craft beer!
Like what you're hearing and want to support Boys Are From Märzen? We are looking for new sponsors to join the PorchCast family. If you are interested in sponsoring the podcast, please reach out to [email protected].
All episodes are available on Apple, Spotify and Google.
---