No Comments
Odell Brewing Co. Celebrates Grand Opening of OBC Wine Project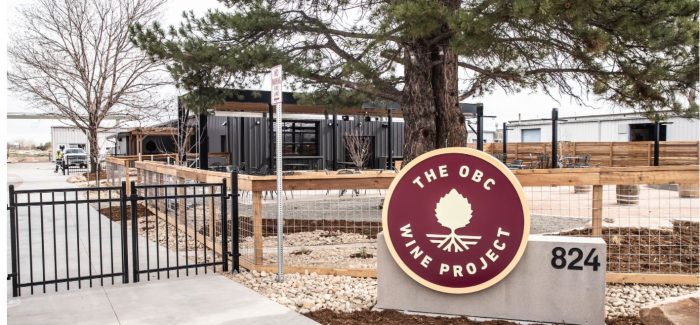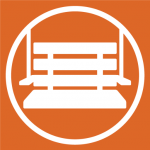 "Less snobby, more sippy."
This is the mantra of OBC Wine Project, Odell Brewing Co.'s latest adventure of craft and creativity. Though cans of their wine have already hit distribution across Colorado and several other states, May 5 marked the official opening of their tasting room and patio located directly across from the well-known brewpub in Fort Collins, Colorado. And when we say directly, we mean directly: it takes about a dozen steps from Odell Brewing Co.'s famous patio stage to the front door of the OBC Wine Project. But despite this proximity, upon entering it is immediately clear that a great deal of thoughtful effort went into carving this space its own personality.

The interior is intimate compared to Odell's sprawling brewpub, with sophisticated yet fun splashes of melon red, baby blue, and dark maroon livening up the wood and iron decor. An open-air section leads out to the generous outdoor seating area, which is going to be Odell Brewing Company's only rival for the title of best bar patio in town. But enough about the looks–let's talk liquid.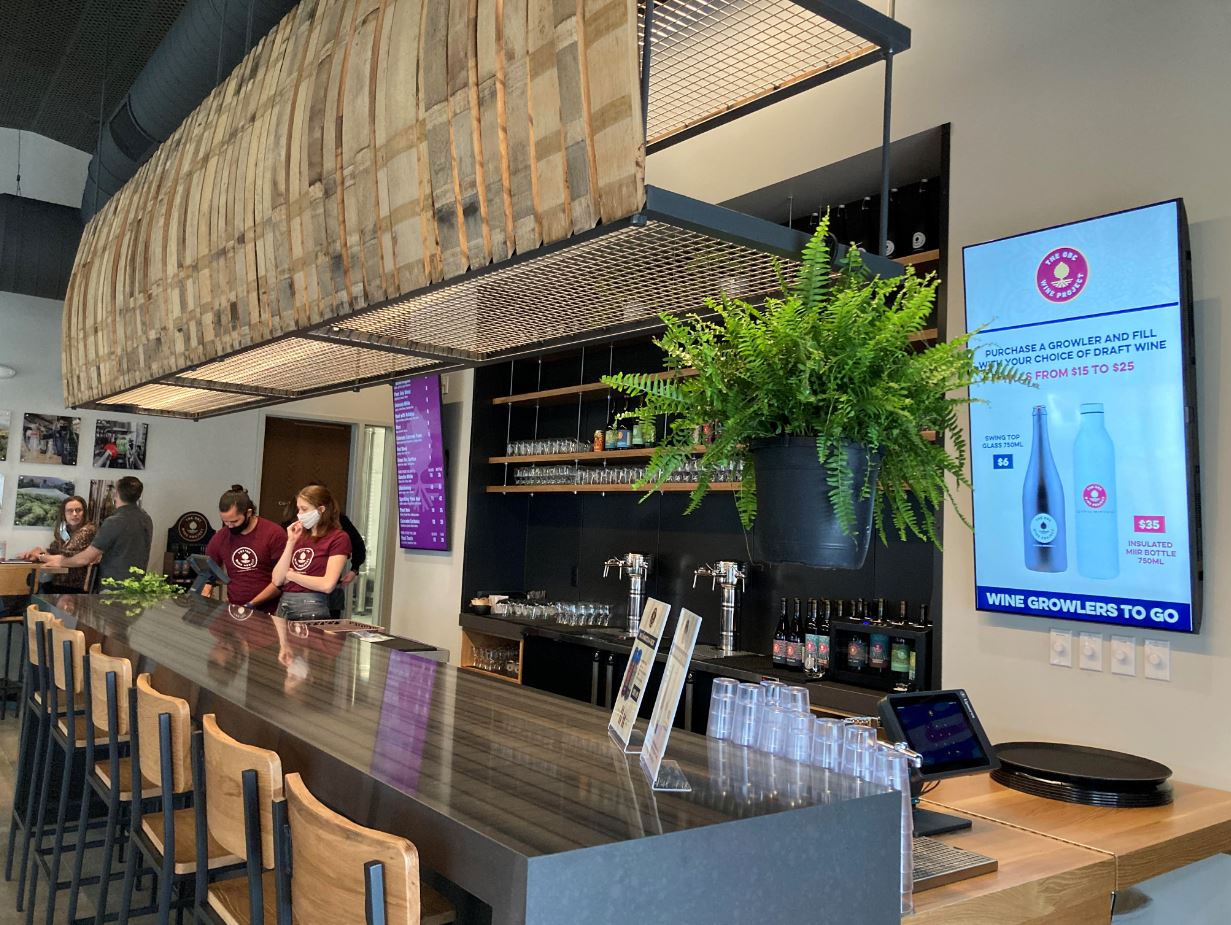 The tasting room has eight wines on tap: four of them are the core options that are widely available, and the other four are limited releases exclusively sold on-site. Those "taproom only" releases will be a rotating series, not dissimilar to the brewpub's approach with their beers (other than the fact that rotating wines take a smidge longer to develop than, say, a rotating IPA). For the grand opening, guests can sample four year-round options (a Pinot Gris, a Rose with bubbles, a Rose blend, and a Red Blend) and four limited releases: an Oregon White, a Colorado White Blend, a Colorado Cab Franc, and a Green Tea Spritzer made with white wine and local green tea. (The spritzer, along with a white wine aged in Friek barrels, are definitely the two most unique options.) They also have cans, vintage bottles, flight options, charcuterie boards, and branded merchandise for sale.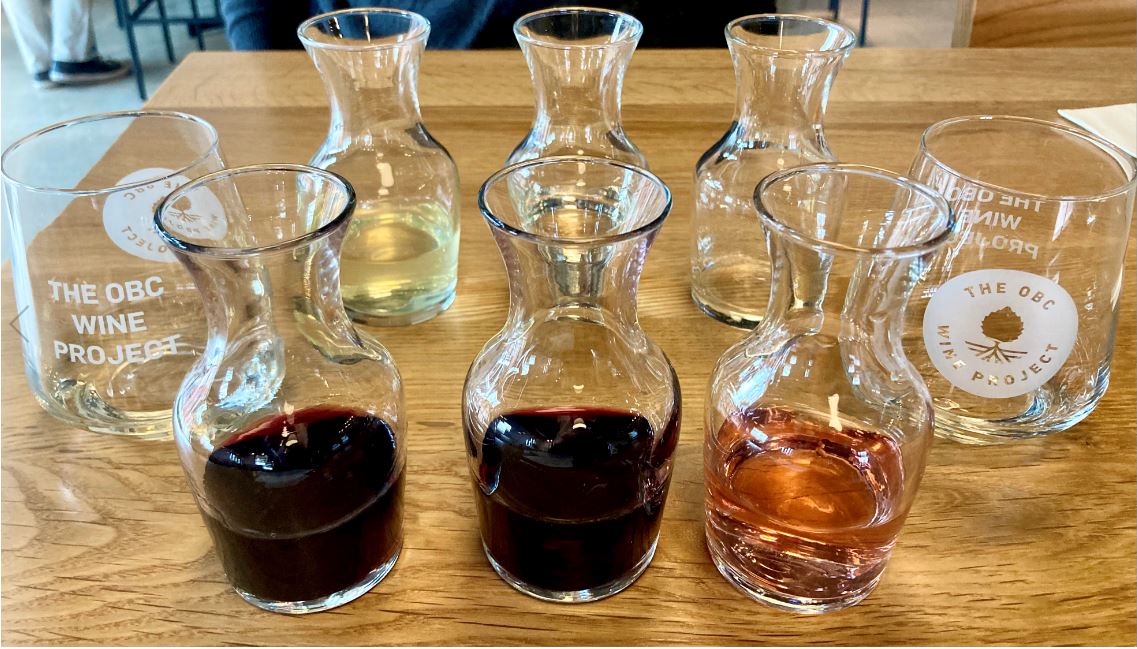 Kelly Wagner, the tasting room manager, gave us that fantastic line about OBC being less snobby and more sippy with their wines. This mindset was apparent through many thoughtful touches in the tasting room, via pricing (all tap options are $8 per glass, and flights start at $12) as well as the design of the packaging (no corks to be seen; all options are twist-off or canned).
But Travis Green, the winemaker for OBC Wine Project, really personified this theme as he stopped by each guest's table to eagerly discuss all aspects of the process. In fact, he is the living embodiment of their 2017 Sparkling Pinot Noir (which we would highly recommend): Travis is bubbly, unexpected, and delightful. His obvious expertise pairs beautifully with his approachable passion and infectious excitement. The stories he shared about winemaking sounded more like the kinds of tales you recount with old friends, rather than a formal vintner dryly pointing out tasting notes. His eyes lit up as he described how he's spent the past two years "flying towards fires" to find perfect grapes all along the West Coast. "I've had the freedom to walk a lot of fields," he explained, which gives the OBC Wine Project a unique ability to bring many different flavors and experiments back to Fort Collins without their own personal harvest.
Perhaps the best example of this is their fantastic Oregon White, also known as their Goshie Viognier. Goshie Farms, Travis explained, has been a long-standing partner of Odell and a supplier of their strata hops (which are used for their Mountain Standard IPA). So when OBC Wine Project wanted to start using Goshie Farm grapes as well, it was an easy decision as both parties had proven time and time again that they would do right by each other's work. "They know we'll showcase their product well," Travis said.
OBC Wine Project is, at its heart, classically Odell: it's creative, it's craft, it's community. We cannot recommend it highly enough. Go see the beautiful space, go meet the ridiculously charismatic crew, and most importantly, go sip some excellent wine. (Just keep those pinkies down, please.)
---