No Comments
Red Leg Brewing Co. Opens New Facility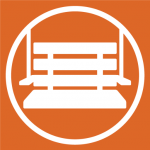 The community needed it. That's the overwhelming reaction to Red Leg Brewing Co.'s new facility at 2323 Gardens of the Gods Rd. in Colorado Springs, CO. To say that people are raving is an understatement. The new facility has been highly anticipated since they announced the plans in December 2019. It took longer than expected, but it's every bit worth the wait. This facility was built from the ground up specifically for Red Leg with plans to be a space "where community and culture meet", says Todd Baldwin, President and Founder of Red Leg Brewing Co.
The new space offers sweeping views of Pikes Peak and Garden of the Gods. Its rooftop bar, outdoor patio and lawn give customers many options to enjoy these gorgeous views. The indoor seating area boasts a clean, modern decor with interspersed greenery that tempts you to enjoy another beer. You will also find inviting artwork from a local artist, Madeleine Einfalt, who was able to tie in the beautiful landscape of Colorado Springs with the local history as well. The lawn has already proven to be a great space, hosting several live music performances since opening. When asked about what other events we might see in the future, Baldwin says "We hope to host an extremely wide array of events. Nothing is off the table."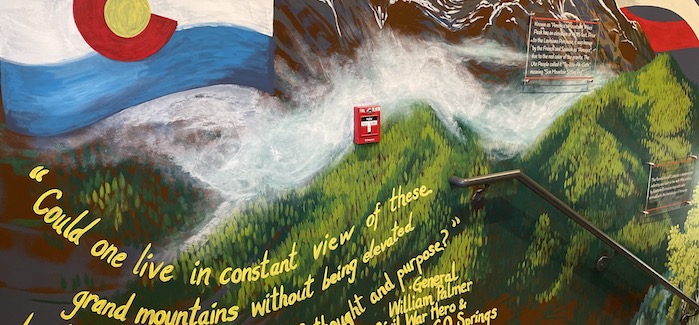 Baldwin and his team have already proved that they can make great beer since they opened July 4, 2013. The Howitzer Amber took gold in the 2020 Great American Beer Festival and silver in the 2019 Great American Beer Festival. With the new brewing equipment you can expect to enjoy more of Red Leg's flagship beers, but there is also a new expanded capability to experiment with new beers. Fingers crossed for an even better stout month! The facility houses a brewing system that many craft breweries would love to have. "The brew system is a four vessel 20 barrel and a two vessel 7 barrel system. It gives us a lot of flexibility with production batches and unique one-offs," Baldwin states.
For those less familiar with the brewing process, the four vessels are used for mashing, lautering, boiling, and whirlpooling. Systems that have only two or three vessels have to combine some of these steps and do more cleaning to produce the same beer. Red Leg's new system will allow them to produce 341,000 gallons of craft beer annually. You may be thinking that is a lot of beer, but Red Leg has been packaging and distributing their beer for years throughout Colorado Springs. Their new facility allows them to easily continue this and may possibly lead to more opportunities. Baldwin says, "Our goals of being the craft beer of the military will continue with the new facility. We will continue to look at new ways to grow within our military bases across the country."
Another big improvement for Red Leg is the addition of their lagering tanks. Lager beers take longer to make than Ales. The bottom-fermenting yeast works at a much slower pace and therefore requires long storage times. "It's been challenging to do lager beers in the past," explains Baldwin "but with the new equipment we will be able to have numerous on draught and in the market." Rejoice Lager lovers!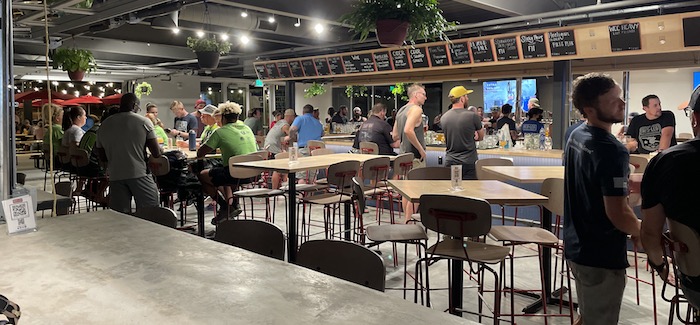 The taproom has something for everyone with beer, wine, cider, and non-alcoholic beverage options. They have a variety of local breweries on tap as well. When asked if they will continue to offer beer from other local breweries in addition to their own, Baldwin says, "I think so. Our project was meant to be where community and culture meet and by including our great state of craft beer into that mix shows our commitment." In addition to the current daily food trucks, the container structures will fill in over the months with other local business participating, including Public House "PH Burger Bunker Bar", Oliver's Deli, Nekter Juice Bar, Criterium Bikes, Sasquatch Cookies and Ice Cream, and TacoQ by The Warehouse. They still have more containers available for businesses and are planning to get feedback on customers to help fill these in.
The new facility is a great addition to Colorado Springs. Local business and beer lovers alike have shown their support all over social media. If you haven't yet checked out the new facility, it is open 12-10pm daily. So gather your friends, plan to stay awhile and make sure to say "Congrats" to Todd Baldwin and his team.
For more information visit Red Leg Brewing.
---