No Comments
Zine Review | Pairing Beer & Chocolate by David Nilsen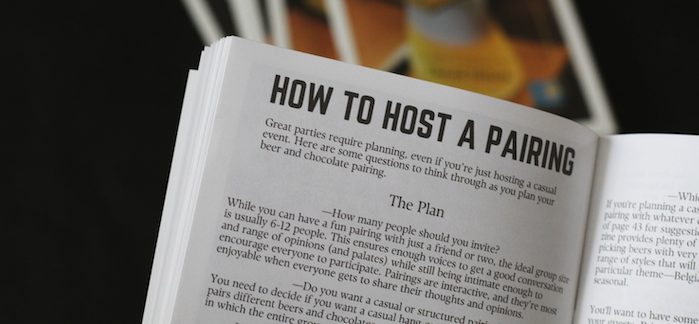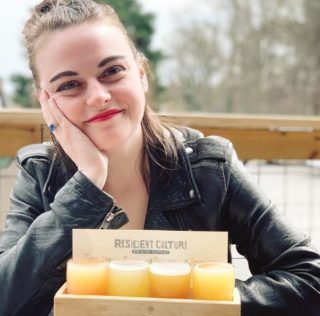 Disclaimer: The author of this zine, David Nilsen, writes for PorchDrinking. 
Becoming incredibly good at something takes a lot of time, effort and patience. In our constant need for instant gratification and expectation to be perfect at something the first time you do it, it becomes more and more rare to find a true expert. Do you think that a master woodworker was making a canoe during their first time using an oscillating saw? Or an Advanced sommelier knew how to tell what region of France a grape was from when they were 21? No. That's why when someone shares their expertise and encourages others to learn from the time and effort they have put in, it's a gift.
As someone who loves to bake (and has used many a YouTube video and cookbook to get better), one goal that I have in 2023 is exploring more about beer pairings and how the flavors of beer affect different baked goods and sweets in general. The zine that David Nilsen has put together, Pairing Beer & Chocolate: A Bean to Barstool Zine, is a treasure trove of knowledge about how pairings work, types of beers and what they pair best with, some of his favorite pairings and more. I read this, set it down, drank half a cup of coffee, then immediately picked it back up again to take notes.
View this post on Instagram
Oftentimes, guides that are about craft beer or pairings in general can be incredibly pretentious. You do not need to be an Advanced Cicerone to truly understand and appreciate what Nilsen has put together. This is clearly a guide to demistify the process of pairing beer and chocolate, rather than a thinly disguised ego boost of his own knowledge. You can tell how much passion he has when it comes to hosting the perfect pairing event, from discussing the importance of lighting, music, proper plating to providing ideas for the actual pairings.
The first part of the zine goes through your basics; information on chocolate and beer, as well as some great information about your senses and how they affect tastings. Additional tasting tips are listed, but they can also be found throughout the zine. The meat of the zine is a wonderful guide on a variety of beer styles and how to properly pair them with chocolate. While Nilsen gives some examples of his favorite beer pairings, it certainly encourages and prepares you to come up with your own if you so desire. If it is a type of beer that can possibly be paired with a chocolate, it is in the zine. From Hoppy Ales like Two-Hearted Ale to Fruited Sours, the guide has you covered.
View this post on Instagram
As a deep lover of both (good) chocolate and beer, pairing the two should have seemed like a no-brainer. However, my experience with this was severely lacking, to say the least. Fortunately, that changed when I went to a pairing event during the Great American Beer Festival hosted by Nilsen at Lady Justice Brewing in Denver, Colorado.
Listening to the crack of tempered chocolate is just as satisfying as hearing a craft beer can open. I am a big believer in indulging in delicious, good quality sweets; you will never see me eating those heinous store bought circular sugar cookies with the fake icing (you know the one). The way Nilsen pairs chocolate with beer is so smart because he doesn't just stick with a Stout or a Porter; he thoughtfully chooses what makes sense with different ethically sourced chocolates. Pairing a Hazy Pale Ale with a dark chocolate that has hints of orange zest, a Bock with an Icelandic white chocolate that has activated charcoal and burnt barley – these are the types of pairings you can expect to be explained and showcased in this zine.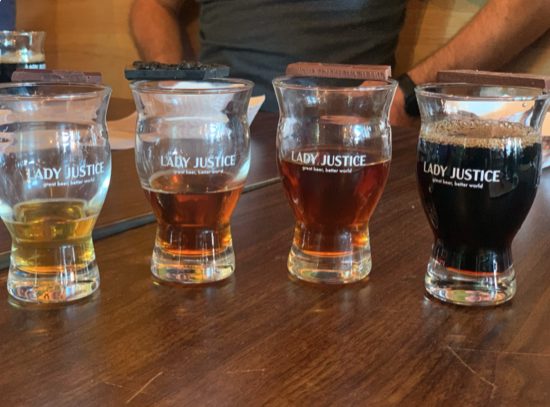 If you are interested at all in beer and chocolate and want to learn more, you can purchase Pairing Beer & Chocolate here.
Additionally, Nilsen is available to host virtual beer & chocolate pairings. You can get more information on this here.
Featured image Courtesy of David Nilsen.
---