No Comments
Nevertheless, We Persist: Eden and Anxo Cideries Launch 5th Collaboration WHM Ciders Benefiting Women's Rights Charities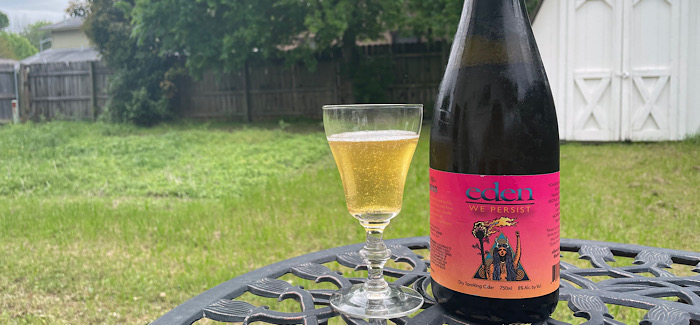 "She was warned. She was given an explanation. Nevertheless, she persisted."
In February 2017, Mitch McConnell's attempt to justify his silencing of Elizabeth Warren on the senate floor went viral, backfiring against the Republican party and transforming into a feminist rallying cry. His phrase sparked the hashtags #ShePersisted and #LetLizSpeak and became the theme for 2018's Women's History Month.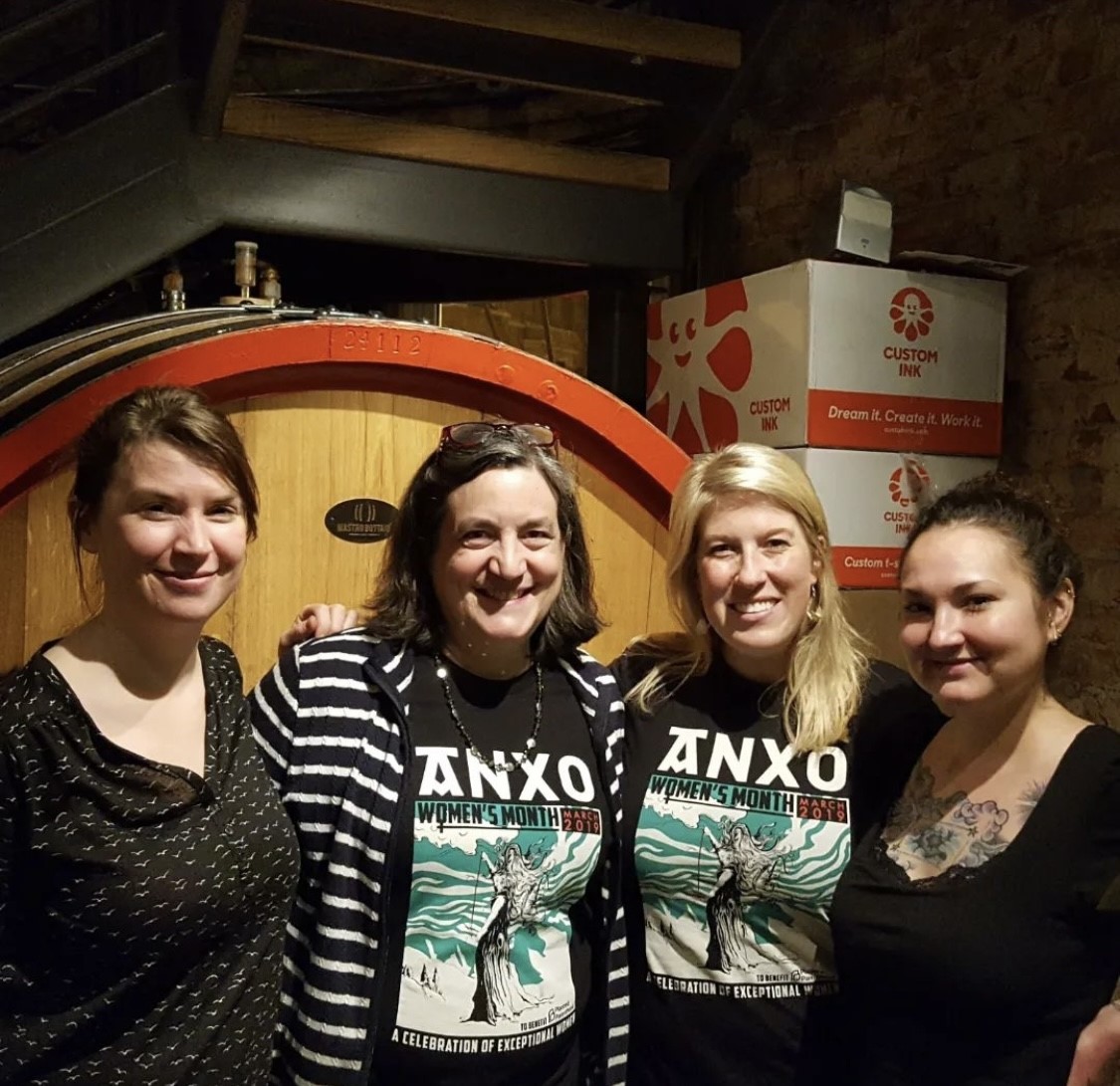 For Eleanor Leger and Rachel Fitz Topelius, owners of two high-profile award-winning craft cideries, Vermont's Eden Specialty Ciders and DC's Anxo Dry Cider respectively, the phrase was a perfect fit for their collaboration project creating an annual Women's History Month cider release to support and fundraise for reproductive rights.
Match Made for Good
The two met at CiderCon midway through the Trump presidency and found common ground through their similar cider-making orientation and their shared desire to improve and promote gender equality in the cider industry and beyond. "We wanted to support reproductive rights using cider as platform to represent our values," said Topelius. "And Eleanor was our first thought for a collaborator. She creates an incredible product and champions inclusivity in the industry."
"Rachel played a huge role in anti-racism committee on board of American Cider Association, and we also have so much in common in our focus on capturing apple flavors without a lot of adjuncts or added sugar," added Leger. Anxo took the 'Nevertheless' and Eden adapted the remainder of the phrase to 'We Persist', and thus the project was born.
"Cider has been a particularly welcoming place for women. It's a new industry both for drinkers and makers, and we have good representation. As someone who has been in the industry for a while, fighting for it to continue to be that way is important to me personally, as is the issue of reproductive rights. It's unfathomable how we cannot support women's right to choose," said Leger.
Cider Collaboration
The collaboration was cemented when the Anxo team visited the Eden cidery in Vermont to gather apples for the first releases. For Topelius, this was a particularly special experience. "I'm not a cider-maker, so being part of the production process picking apples on-site was very cool," she said.
The collaboration has developed and evolved over the last five years, allowing both cideries space to adjust it around their specific business needs and wider issues such as COVID, something that Leger and Topelius both value highly. "We've adapted and adjusted the project around real life. Because we're both on board with this, we're are able to stay connected and do things differently when we need to."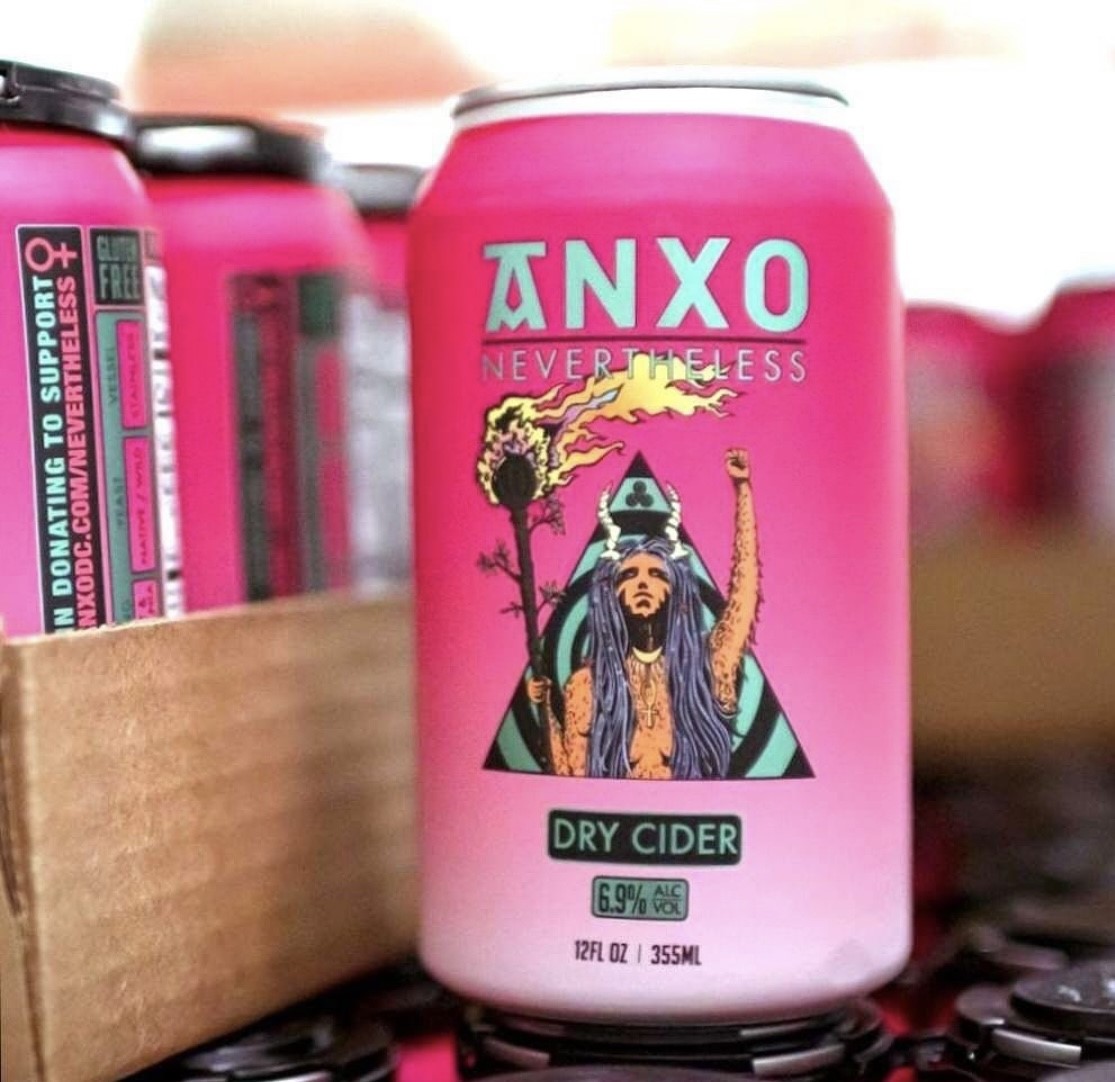 With Topelius currently on maternity leave and Eden in the process of relaunching their line of bottled ciders, this year's collaboration is made up of two separate ciders with shared branding and messaging. In the past they have worked on some ciders together and some apart. There are a few common threads that have run through all the collaborations though. "We always use apples we regularly work with, some from Vermont and some from Virginia/Pennsylvania. It's a geographic collaboration," explained Leger. "And it's always a dry cider."
Strength of a Woman
The emphasis on evolution and adaptability is captured in the pro-choice message of the ciders, as is women's strength and persistence, captured in the project's packaging. The collaboration's bottles and cans are decorated with images of Basandere, the female counterpart of Basajaun, 'Lord of the Woods.' In Basque mythology, this figure is depicted as a strong, empowered icon, part warrior, part forest creature, fist raised and torch aflame. Anxo (which also means Basajaun) felt that this project was the perfect place to showcase their namesake's female counterpart.
"Basandere's story is often left out of Basque myths, so we wanted to celebrate her," explained Topelius. "Our idea of her has changed over time and we've given her different depictions, but for this project we've illustrated her at her most fierce. She's spirited and stands up for what she believes in, cares about the community and is her own person."
"We all agreed we loved the character of Basandere," adds Leger. "And Cooper Sheehan at Anxo has done a great job designing her image."
Spirited Cider
Basandere's fighting spirit is also captured in the ciders. At Eden, Leger has created a unique high quality bottled blend of eight naturally fermented apples at different stages of aging. "This is a high volume cider," she asserted. "We've turned up the sound!"
"When I looked at Basandere, I thought we couldn't make a wimpy cider," Leger explained. "Because we are persisting."
The cider is a mix of three tannic English apples, two bitter-sharp (Somerset Red Streak and Stoke Red) and a bitter-sweet (Tremletts). The remainder are flavorsome, acidic North American varietals (Esopus Spitzenburg, Kerr Crab, Lawfam and Northern Spy), with the addition of Franklin, a newly discovered Vermont apple. The Franklin is "bitter-sharp with a ton of tannin," according to Leger.
The result is a highly sophisticated, so gloriously effervescent you can hear it sizzle. It is deeply aromatic and dry with firm tannic apple skin. There are notes of lemon, orange, strawberry and a light spiciness. "This is not a throwaway cider. We decided to make a really great cider with really expensive rare apples," said Leger. "It's an experience to drink, and I hope enough people will enjoy it to raise more money for the cause."
They certainly should.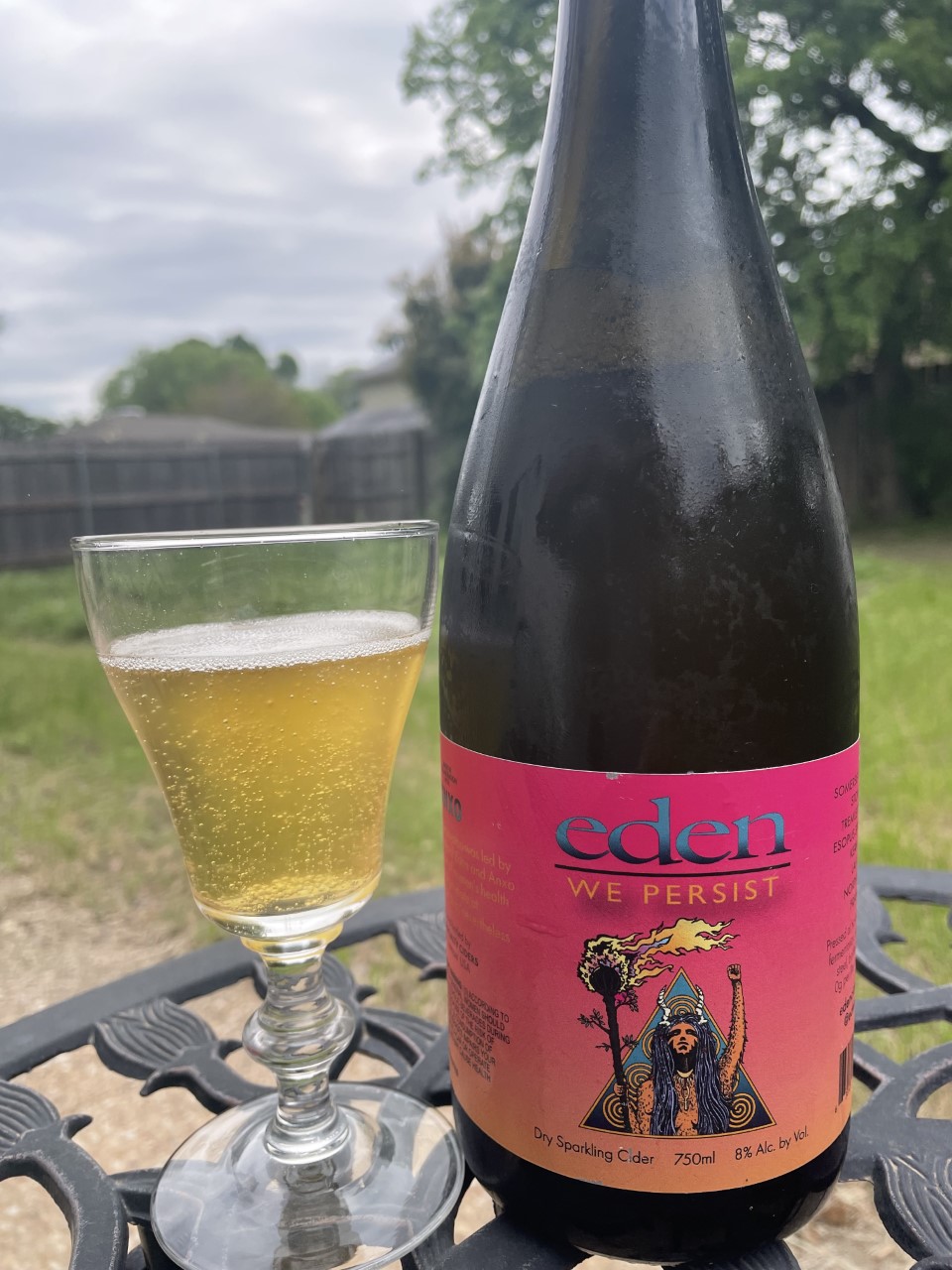 At Anxo, their canned Nevertheless combines a blend of juice from Eden apples from Vermont and locally sourced Northern Spy. "The Vermont apples are very aromatic and flavorsome because they don't grow all year," Topelius explained. "And we chose Northern Spy because they are a local heritage variety with great acidity. We naturally ferment the cider with goal of letting apples shine."
Fighting the Fight Together
Over the past five years, 'Nevertheless' and 'We Persist' have raised over $5,000 for Planned Parenthood, both breweries' charity of choice. "We wanted an organization that everyone can relate to and that is so committed to women's health," said Leger. "And it's often the only provider in the state."
This year, they decided to change strategy due to the recent Supreme Court ruling overturning Roe v. Wad. They are donating to The Brigid Alliance and Vermont Access to Reproductive Freedom. "We felt access has become really important now, much more than in the past. So we brought in a local and national perspective to cover both," said Leger.
Both Leger and Topelius emphasize the importance of collaboration in making the project successful. "Collaboration is a special thing that offers so much opportunity," said Topelius.
"We've raised thousands of dollars because we worked together. It's been really fun, but also an important reminder to live our values which Eleanor and I both do that through our business." Leger agreed. "Collaboration is one of the pleasures of the cider industry, and I look forward to working with Rachel and Sam in the future. I would love to say 'until we don't need to raise money for this cause any more!'"
Buy Eden Specialty Ciders We Persist here and Anxo Dry Cider Nevertheless here.
We Persist courtesy of Eden Specialty Ciders; opinions writer's own
---