#bbqandbeer Archives – PorchDrinking.com
September 5, 2019 | Taylor Laabs
While Colorado's New Belgium Brewing Co. boasts the oldest wood-aged sour program in the country and a stable of well-crafted IPAs, their biggest brand remains their Fat Tire Amber Ale. First introduced in 1991, the iconic Amber Ale remains a pivotal beer in the U.S. beer scene. Now you can consider it a part of America's grilling culture as well.
In partnership with Niman Ranch, New Belgium recently introduced their Fat Tire BBQ Collection, which combines the malty deliciousness of Fat Tire with Niman Ranch's Certified humane pork and beef raised by independent U.S. family farmers. With five current offerings at launch, the Fat Tire BBQ Collection offers a variety of great grilling options perfect for a Saturday tailgate or backyard grill session. 
April 16, 2019 | Danielle Engel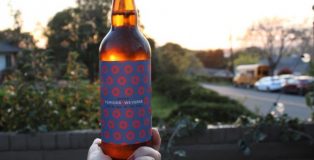 Spring is upon us! The sun is peeking through, trees are sprouting leaves, flowers are blooming and drinking outside has once again become a pleasant possibility. There is something about seeing the first blossoms of warmth makes us crave a saison—more than usual, of course. 
Sacramento, CA-based Urban Roots Brewing & Smokehouse has made quite a name for themselves since they opened to the public in May 2018, becoming known not only for creating award-winning beers but also for their succulent Texas-inspired, California-influenced BBQ. Read More